Vegas! Marian's Suffering-est Race Ever
By Marian Jamison
Reno, Nevada
Alternate post titles:
How I lost my helmet in the Las Vegas Airport.
The longest day ever.
The suffering-est race ever.
Erm, yeah, Cross Vegas!
So, my whole Las Vegas trip (lasting all of 24 hours) was a bit of an adventure. Cody dropped me off at the Reno airport on Wednesday, the day of the race, at 7 AM. When I got to Vegas my bike was there at the luggage claim (no seriously alarming holes in my bike box!) and I stepped out of the terminal to figure out how the hell I was going to get to the convention center. Ah yes, airport shuttle. $12.00 round trip, and I just had to call them to schedule my return trip the next day. Not too hard. The guy driving the shuttle grumbled about loading my enourmous box into the van, repeatedly telling me that they wouldn't allow it in the convention center. Um, it's a bike expo, and this is my bike . . . huh? But then he was hella nice and drove me all the way to the doors of the convention center, even though they usually just drop people off at the Venetian and make them walk. And Milo and Otis was playing on the TV in the shuttle van and some foreign dude behind me was cracking up. All in all a good start to the day.
So, I walked into the convention center and immediately saw the coat/bag check office. I asked them if I could check my bike (box and all!) and, after some deliberation, they allowed it! Sweet, one less thing to worry about. I picked up my badge that my boss had arranged for me (it said I was a distributor from Belgium . . . haha) and wandered around the expo for awhile. Talk about sensory overload. I found my coworkers at the Ridley booth and verified that I could stay with them that night (3 dudes sleeping in a room together, one on a cot, and they offered me the couch. Pretty sweet deal if you ask me!). Sampled some of Clif's new offerings, tried to get some free stuff, and then took a nap in the lobby on the floor.
Ultimately I decided to take a cab to the race venue. It was a little pricey, but at least I could bring my bike and then build it at the venue. I was just putting my wheels on in the parking lot when I saw Alex from Velo Bella getting set up at the Kona tent. Yay! People I know! I walked over and said hi, met some new people, and set up camp. Lots of Bellas (really freaking fast ones!) racing. Anyway, the team support from Alex and Melanie was awesome!
Anyway, to get to the point (finally) the race started at 7:30. I felt decent – kinda tired from my early morning and my wanderings at Interbike, but ready for a thorough ass-whooping. They called everyone up, and it was pretty freaking cool hearing my name, "Marian Jamison, racing for Velo Bella, from Reno, Nevada!" – or something like that. My friend Harry was there at the start line (I think he'd had a couple beers at this point) and he yelled, pretty much right into Laura Van Gilder's ear, I think, "This is Marian Jamison, people! Marian Jamison!" It made me smile.

Ready, set, hurt! The start of the race was sooo fast! LVG was right in front of me and she popped out of her pedals and almost went down. Holy crap, I almost ran over Laura Van Gilder. Anyway, we got going on the little parade lap and it was pain pain pain, hard hard hard from the very beginning. I was pretty far near the back, worked my way up past a couple of people, and then jockeyed back and forth with a couple of girls for most of the race. The course was mostly flat, with a couple little gnar up sections. Those little up sections made me feel like my brains were going to pop out of my eye-sockets. Seriously, pain. But there were lots of people around the course who knew me (I had no idea who they were at the time) and were cheering for me, and every time I went by Alex he told me to suffer more (that was essentially the gist) so I was pretty encouraged to flog myself for the whole race. Or, almost the whole race.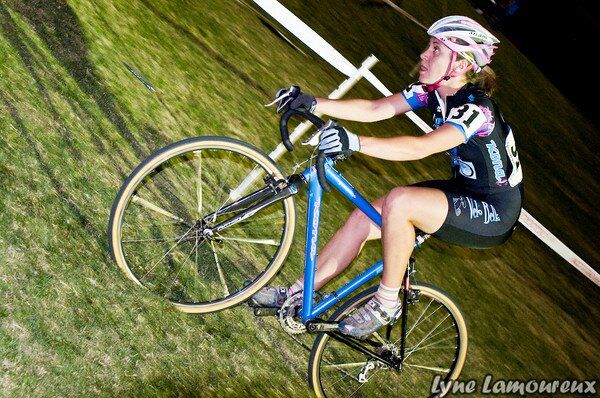 Photo copyright, Lyne Lamoureux. Used with permission.
My accomplishment for the evening was being the last girl to not get lapped and pulled. I was riding sooo hard going into my last lap so that Katie and Katerina wouldn't catch me, and I think I went through the finish when they were maybe 100 feet back and closing in fast! So, there was no one behind me on my last lap, and the girl in front of me was pretty far away, so I backed off a little, since I was pretty sure I was dying at that point. But I did my last lap, and sat down on the grass to wait for death. Alex came by, congradulated me, and told me to cool down.
I took a spin and ran into a couple of the people who'd been cheering for me. Bella Marian (California Issue) was there. I hadn't seen her since Kern, so that was pretty much rad, 'cause she's pretty much rad. Also Maureen Kunz, Pro-MTBer extraordinair and collegiate rival (if you can be in a rivalry with someone who is hella faster than you) and maybe one of my favorite people to get beat by, was there offering congrats and catch up with. Plus Harry and his friend, were was pretty much awesome with the cheering. Ha! Even my old boss who I routinely avoid, and some fun ex-coworkers were there cheering for me like crazy. I felt like such a star coming in 5th from last that I can't even imagine how those people who actually do well must feel. Golly.
So, thus ended the extremely fun and painful part of my adventure. I watched the men's race, which was rad and hella exciting. There was some dude named Lance Armstrong racing? Anyway, people seemed pretty excited about him. It was so awesome to watch some of the fastest guys in the world (Frischknecht and Sauser were there) and they were all so fast. After the race there was a bit of a mass exodus from the venue to where they were shuttling people back to the strip. I was planning on taking the shuttle, but the line was like, a mile long, so I decided to ride. I strapped all my bags of crap on my back and got ready to depart. Some dudes from Boston offered to let me ride with them because they had lights, and we had a jolly nice ride back into Vegas. It was a pretty surreal experience, tho. I mean, I'm a Reno-ite, so I'm used to bright lights and tall casinos, but Vegas is on a whole other level. It was pretty weird riding towards all that through darkened neighborhoods at 11 o'clock at night.
My destination was the Rio – I was heading to the Sinclair party where my coworkers could supply me with a room key to get washed up and then go get drunk with Phil Liggett at the party (haha, only kidding). Long story short (too late), I was way too tired to enjoy the party much, but I hung out for a while because California Marian was there, as were my Bostonian riding buddies. So that was cool. Anyway, the pole dancers were a little much at the end of a very, very long day. So I headed to my couch at 2 AM, only to be woken up by a phone call from some number I didn't know. See, in all the hustle and bustle to get back to the Rio, I'd forgotten to dispose of my cardboard bike box, and it had my name and phone number on it. Some dude was wicked pissed that I'd left it in the parking lot (totally on accident! I don't litter!) and called me to tell me so. Sorry dude! It was an accident! Oops! Well, I felt like a jack ass. Oh well, moving on.
I got up at 5:45 the next morning to take the shuttle back to the airport. Ouch, 3:45 hrs of sleep. I left my bike with my coworkers (they would be driving back to Reno after Interbike). In my sleep deprived state I managed to leave my helmet somewhere in the Las Vegas airport. I realized I didn't have it with me about 20 minutes before my plane left. D'oh! I checked, very quickly, with the lost and found folks at the Security check – the only placed I feel I could have left it – but it wasn't there and if I waited any longer I was going to miss my plane. So that was a bummer of a way to end my trip.
Well, I'm still getting caught up on sleep from that trip, but I think it was worth it. I think next year I'll go to Gloucester instead, tho . . . I know lots of people there, too, so I should have a good cheering section.

See more photos from Cross Vegas, by Lyne Lamoureux.
---
This fabulous post was written by one of our awesome bella volunteers ~ To change this standard text, you have to enter some information about your self in the Dashboard -> Users -> Your Profile box.
---