Hollenbeck's (Cookie Race) in Virgil, NY May 3, 2009
Michelle was a champion cheerleader at the race yesterday! What a blast – I love Hollenbecks. Everything but that last hill that is ;-).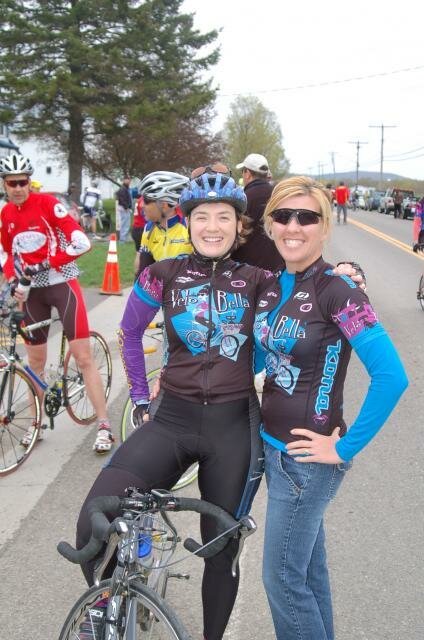 Holly and I raced the Cat 4 race. Holly rode like a champ and got into the lead breakaway on the first hill. I was excited to be in the MIDDLE OF THE PACK!!! The lead break was 6 women and then there were 3 of us in the middle playing leap frog with each other after the first climb. They caught me on the rollers and then slingshot off me when we were "working together". I then TTed for a while to hop back on, then they would slingshot again. I was mildly aggravated since I knew there was a straggler off the break ahead of us that we could catch if we worked together. It felt pretty awesome to be aggravated though – I never had any reason to be before, I was never actually in sight of anyone for previous races :-). I ended up catching them on the last corner when they slowed to make the turn! Speedskaters can always make up time in the corners :-D. Unfortunately I was riding with a 25 in back and just couldn't mash it up the finish hill fast enough. Still I hung on for 10th out of 16 women and was right there with places 7-9. I was only about 8 minutes off the leaders – I was feeling pretty heroic after the ride!
LiLynn was also out with Carol Bayles wife. They were hammering up the finish hill ahead of me in their sexy jerseys :-). Linnie Wieselquist was also riding a triple with a MIni-Bella in the middle seat :-). I got a chance to meet Cynthia Schnedeker who was volunteering with a wheel van. It was wonderful seeing everyone on a perfect cycling day with the fantastic post-race cookies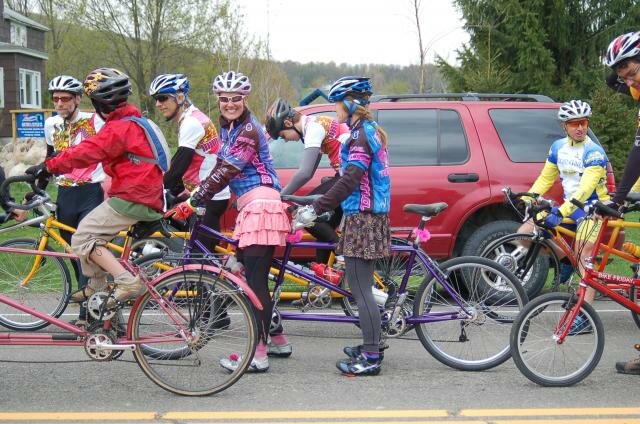 From LiLynn:
am so proud of Holly and Jenn! They really put out some watts yesterday showing off their bella flair as they challenged the field of cat 4 women. Holly was able to stay with the front pack all the way to the finish and bring home a 4th overall in a tough field battling all the way up the wall to the the line. Jenn hung on with the front pack up Parker road, the road that will make anyone puke. That was enough to keep her smiling and motivated to ride strong and finish not too far behind and pulling off a 10th overall finish!! What a comeback kid she is this year.
I captained a tandem with Carol Bayles and we ended up 5th overall and were the only womens tandem team. We got to ride with the triplet men most of the race. That bike can fly on the downhills and just hug the road through turns.
There was allot of Bella support out there cheering us on. Kira, Laura, Cynthia and Madonna of course taking photos. Thank you girls, it's really nice to have that. Be sure to congratulate Holly and Jenn on a great race!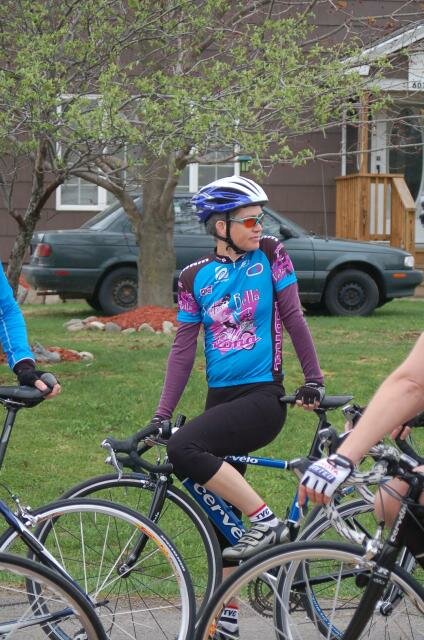 ---
This fabulous post was written by one of our awesome bella volunteers ~ To change this standard text, you have to enter some information about your self in the Dashboard -> Users -> Your Profile box.
---