A Box of Chocolates: Raja Q's for Worlds
By Raja Lahti-McMahon
San Diego, California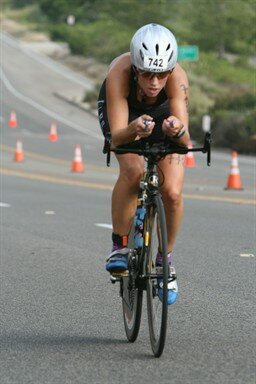 It's been a tough year for me. After all, it is already the end of July and I feel like all I've done this year is work… cough. My physician, a sports med doc, a pulmonologist, now an allergist, and perhaps an ENT later… all I know is that my lungs are healthy and my sinuses are less than ideal. Why? who knows, check's in the mail.
So when I got clearance from the doc to work out again mid July, I felt like someone had released me from shackles. Like my dog Vela, when you take her off the leash… she goes crazy. Spins and whirls, wiggles and gyrates. It's pretty cool to imagine yourself so flexible your butt can touch your head. I imagine I would break if I tried, so I'll live vicariously through our not-so-little bounding joy of canine companion.
With 10 solid days of workouts, 3 swims, 3 trips to Gino (ART physical therapy) to work on a strained right hammy, Dave & I packed up for a fast & furious weekend. Friday started with an early 2 hr ride before work and ended with dinner with 25 of my Velo Bella teammates and host Alex Burgress. Lessons on what it means to be a Bella, and how the cross girls really do flair! Y'all are nuts! Good thing us tri girls are… errr… sane.
Saturday morning just dreamy. Sleek and slippery, that new Ellsworth CoEfficient stared at me and I couldn't help the drool. Sandra restrained herself, the thoughts of perhaps the first person to lick the bike would be able to claim it as their own. Then hunger struck and Tony cooked up a fabulous BBQ. To think all this time I've been riding Highland Valley… my precious CoEfficient has been sooo close.
DeeAnn, Amy, Vicky & myself take off for Newport Beach to check in for the Pacific Coast Triathlon, host of the USA Triathlon Sprint National Championships. This was the Hail-Mary pass to qualify for Worlds. I convinced Dave to go for a little swim, play in the surf a little since I hadn't yet been able to due to sinus infections. We walked down the steep bank and thought it best to check in with the lifeguard first. Surf had been labeled "hazardous" for the last couple of days and just around the corner at The Wedge, a body surfer was killed under the crushing surf.
"Nobody's getting in the water today, surf is too dangerous here" said the lifeguard. Ok, no swimmy for me. Tomorrow? We'd have to wait to find out in the morning. If we do swim with this surf…. I think I'm going to pull out the water wings. Dave & I take off and drive to a friend's for the night.
Later that night, reports were flying of 25′ surf at the wedge earlier in the day.
Sunday morning arrived waaaay to early. I do have to remind myself at 4:30AM that I paid money to do this.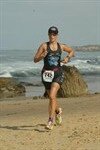 I rack my bike and realize I've forgotten my chip in the car. Oh goodness, everyday racing is a learning experience! I just back on the bike and wiz off back to the car for both my chip & swim cap. Ugg. Lucky for me, the girls in my wave were nice enough to save the rack spot for me. Then.. the bullhorn. Swim is cancelled, and we will instead run down the length of the beach, up the steep bluff walkway and to T1. Although I had not yet done a duathlon before, I was quite delighted not to have to challenge mother nature and her washing-machine wrath of 10′ surf.
Off we go, running through the sand. I was smart enough to bring 2 pairs of running shoes (race flats & a dry pair for after) and chose to wear my training shoes for the short sand run and leave my race flats sand-free for the post bike 3 mile run.
Before you knew it, we were off on the bike. My mounts & dismounts blow. Gotta work on those.
The course was a short 13 mile rolling 2 lap course. I tried to hit the hills hard to make up for a soon-to-be sorry run. I just didn't really think about the lack of high-intensity training, and at the top of every hill I would adorne myself with a little extra "flair". Yeah, it was going to be one of those days. Not much was going to stay down. I clocked at 35 n'change bike for the 2nd fastest in my age group. The run was brutal. I'm not sure there's a race where the run isn't brutal. Just the nature of the beast. Lesley's Scottish voice chased me the entire run, "come on Rrrraa'ya!"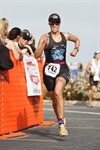 Out, around and down to the sand… again. I hate sand, but geeze it looks good in the backdrop of a photo. Just when you're done running in the sand, you have to haul your poor lactic legs up the bluff. I probably could have walked up faster… but alas, I wouldn't have been able to pick up running again if I did. I felt like I was dragging a bowling ball and just throwing myself up the hill. I finish unchallenged and promptly drown myself in water.
I catch Marisa, Amy, Neily and DeeAnn finishing. They all looked better that I felt. My poor husband has now been finished for quite some time, has already changed and looks like he just jumped out of the shower. Not to mention he's starving. God knows, keep the man fed!
Amy & I walk over to the results – My results were posted, 5th in the division. Top 12 qualifiy for Worlds! I'm stunned. I wasn't supposed to qualify that easily. Turns out, we all qualified!
I will accept the invite to ITU Age Group Sprint World Championships in Australia Sept 13th. If I never qualify again, I would regret turning down the opportunity. So as retarted as it is to spend a rediculous amount of money to fly for 24 hrs to the other side of the world for a race that will maybe last an hour that you have no business racing (for lack of any quality training), it it an opportunity that may be once-in-a-lifetime. Hi-ho, hi-ho, it's off to Australia I go!
In the twisted words of Hollywood, Triathlon is "like a box of chocolates, you never know what you're going to get."
Special thanks to those around me who have kept my head above water at times I felt like I was drowning: Coach Peter Clode, Confindant Neily Mathias, Lesley "The Inspirer" Paterson, Sports Med Doc John Martinez, Gino "The Thumb" Cinco, and of course, my hubby Dave, who was pretty sure I was going to drop dead from a chronic cough.
---
This fabulous post was written by one of our awesome bella volunteers ~ To change this standard text, you have to enter some information about your self in the Dashboard -> Users -> Your Profile box.
---