Cap City Cross #2, OH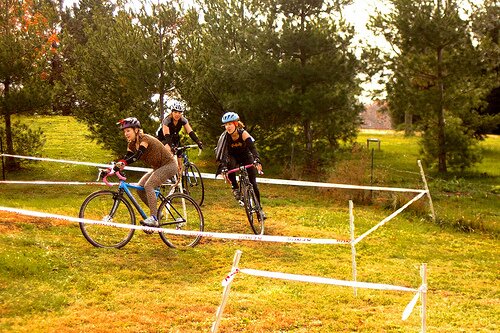 4th, Josie Stubenrauch, Women C
SCCX #2, Santa Cruz County Fairgrounds, Watsonville, CA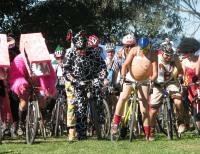 19th, Marian Jamison, Women A
21st, Natasha Perry, Women A
22nd, Kelly Chang, Women A
24TH, Beth Welliver, Women A
13th, Rebecca Dyas, Women B
17th, Miss Mary Perez, Women B
2nd, Soni Andreini-Poulsen, Women 45+
4th, Amy Abele, Women 45+
5th, Dionne Ybarra, Women C
10th, Cindy Shambaugh, Women C
13th, Rachell Wolff, Women C
BASP #2, Coyote Point, Burlingame, CA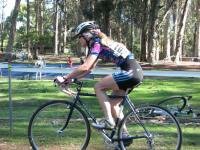 19th, Kelly Change, Women A
24th, Natasha Perry, Women A
6th, Amy Able, Women 35+ A
5th, Janet Bellantoni, Women C
Red Cross Race – hosted by the Cornell Cycling Team
Broome-Tioga Sports Center, Richford, NY
October 24, 2009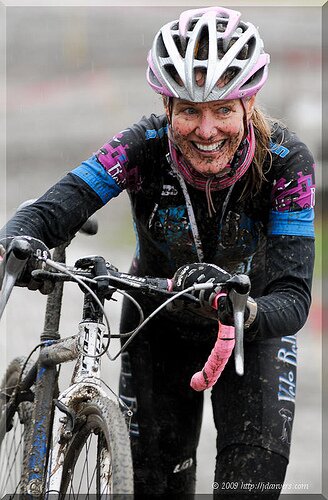 How is it cold, rainy and muddy weather still don't prevent L Dawg from flashing her model-like smile? Must be the pink handlebar tape. In any event, it was wet, it was muddy, it was gross. But hell yes, it would have been a blast on the moto-cross track if it had been dry.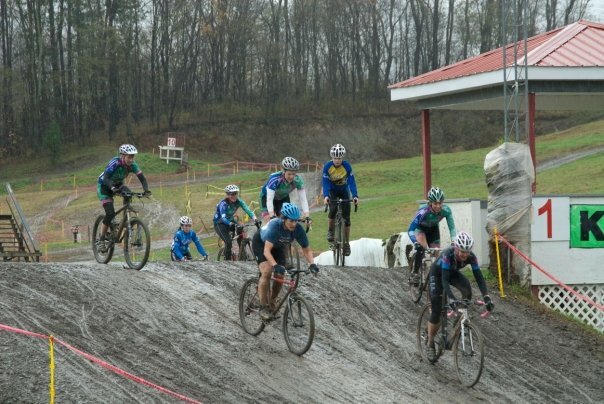 Classic Whoop-de-doo bumps!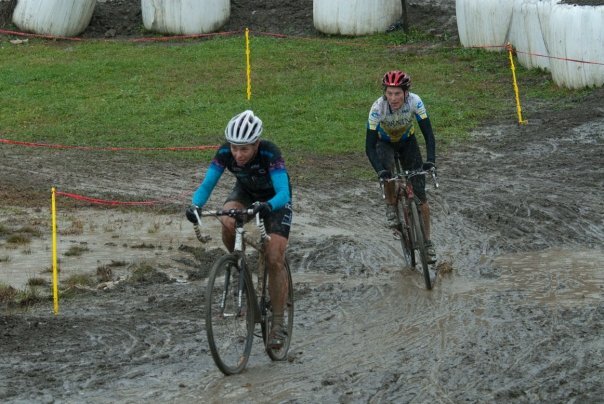 Katina shows her winning pace. A hanging tongue helps to keep the momentum up.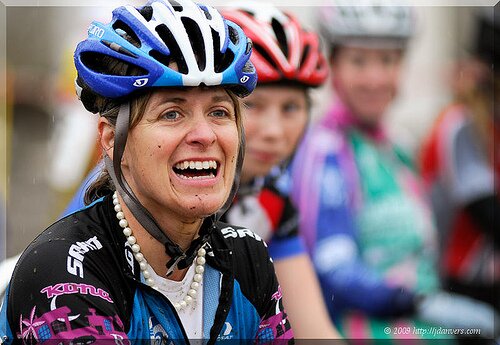 Another NY Bella with great teeth (and pearls): Laura Koz.
Final results – Open Women:
1st – Katina Sayers-Walker
5th Laura Kozlowski
8th LiLynn Graves
USGP Derby City Cup #2, KY
7th, Kari Studley, Elite Women
11th, Devon Haskell, Elite Women
Cross Crusade #4–Washington County Fair Complex,OR

67th, Beth Hamon, Beginner Women
Mission Bay Triathlon, San Diego, CA
7/64 Marie-Line Fournier, Women 40-44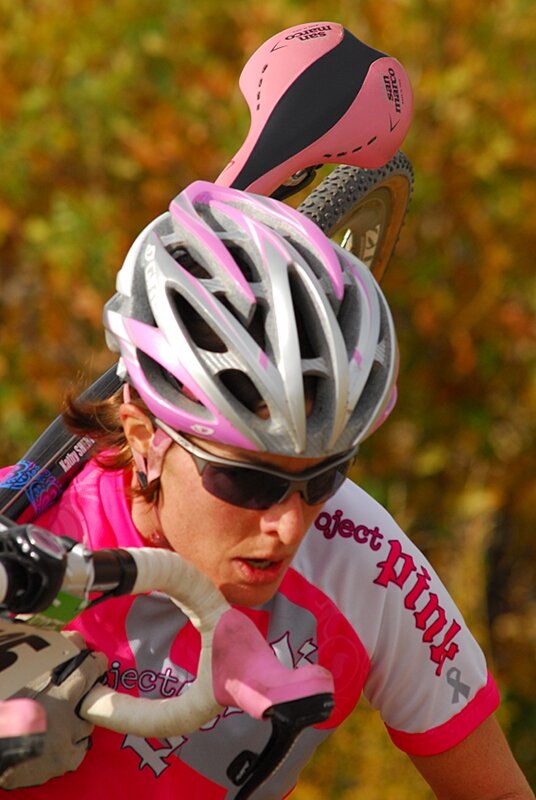 Kathy Wins Three Straight!
Velo Bella-Ellsworth rider Kathy Sherwin currently leads the Utah Cyclocross Series after winning three straight races. This weekend, Sherwin put 30 seconds into the field after just one lap of racing at Andy Ballard Equestrian Center in Draper, Utah. She held just under a minute lead over the second place rider all the way to the finish. The course included a 500 meter road climb, followed by a descent into sandy terrain, and a run-up. Kathy is racing this season in memory of her mother, who passed away recently. She will race next at the Longmont and Boulder races on Halloween weekend. Congrats to Kathy on another win!
Read more about the Velo Bella-Ellsworth Pro Cyclocross Team!
Christopher See contributed reporting to this story. Photo is copyright Christopher See and is used by permission. See more images from the Utah Cyclocross Series.
USGP Derby City Cup #1, KY
9th, Kari Studley, Elite Women
12th, Devon Haskell, Elite Women
Utah Cyclocross Series #4–Andy Ballard Equestrian Center, UT
1st, Kathy Sherwin, Women A