Mudbath for Beth
By Beth Welliver
Somewhere in Louisianna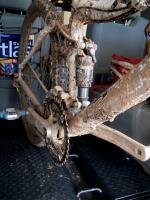 Finally. I'm writing a race report. Granted, I did do some road races this summer, but they were not blog worthy. That's because road racing is lame. This weekend I headed just down the road to Ruston, LA for the Piney Hills Classic. The race is actually part of the Texas Mountain Bike Racing Association's Fall Cup points series (weird, huh?), so the turn out is pretty good with lots of fast folks from Texas coming over to race. I raced on these trails for the duathlon I did back in June when I first got here, and have ridden them a few other times. It's an incredible 10-mi loop of mostly singletrack up and down ravines and through the woods. Plenty of technical with tree roots and stuff. The event follows a stage race format, with Cat 2's (that's me) doing a 3-mi time trial and the regular cross country race towards the stage results. There was also an optional short track cross-country race on Saturday morning, and the cyclocross fiend in me couldn't pass that up!
Weather geek interjection: I should mention that its monsoon season down here. I don't think we normally have monsoons here, but its an El Nino year (that's Spanish for "the Nino") so the rain just keeps coming. Rumor today was that in the last 41 days a rain gauge near the course has collected 26 inches of rain. I think they got somewhere between 3″ and 4″ in that area last week. Fortunately the weekend brought crisp, sunny autumn days, but there was plenty of mud out on the trails.
Short Track
Well, the starting field for this one was a bit sparse. There was me and one other girl. Wow, two of us. Since the short track didn't count towards the stage results for us, most girls chose to skip it. But I wanted do the the short track more than any of the other events to get me ready for cross…yes that's right, I haven't done a cross race yet this year. The race official asked if we wanted to shorten the race and I kindly said, no thank you, full length please. So off we went, I guess I got the hole shot, and cruised from there. It was obscenely muddy, but riding in soupy mud is strikingly similar to riding in Ft Ord sand. I sort of didn't know what to do once I had a good gap…keep hammering for the fitness, or conserve for the coming races? I kept hammering along with taking some lines I wouldn't normally take through some spots for the practice. Overall, it was fun, I got covered in mud, but stayed safe and upright the whole time. Felt great, with that nice lung burn at the end.
Time Trial
After I got the bike and myself cleaned up, lubed up (the bike, not me), and made a quick trip to the Subway in nearby Wal-Mart for lunch (Wal-Mart in southern town…that 15 minute experience is worthy of whole other blog), it was time for the time trial. I generally loathe roadie time trials, with the crazy wheels and crazy bars and crazy helmets. But a mountain bike time trial…heck yeah! Plus, given that I got dropped in all those CCCX pro/expert mountain bike races at Ft Ord, I'm fairly familiar with the solo mtb effort. The course was sa-weeeet…started at the top of this crazy steep hill–coming over the top of it was like cresting the top of the big hill on a roller coaster…super steep, straight down, and only a bit bumpy, so you could let go of the brakes, hang your butt off the back of the saddle and go…just make sure you don't launch yourself over the berm at the bottom! I felt amazing, but didn't know how long 3.5 miles would be, so I was conservatively hammering. The course had just a few gooey sections, but otherwise it was generally tacky and fast. We went off at 30-second intervals, and I caught the two girls ahead of me, so I was happy. The only bummer was that it was over so fast. I think I could have gone harder had I realized the course was so short. But, in the end, I posted the fastest time in my age group, so I held the lead after Stage 1.
Cross-Country
Despite how hard I'd ridden yesterday, I was still feeling pretty good during my warm-up this morning. I held close to a 1-minute lead in the GC (saying GC about a mtb race makes me giggle), but I didn't want anyone in my class to get a gap once we started. The xc was supposed to be 2 laps around the 10-mile loop, but due to all the rain, they had to chop off about 2 miles for parts of the trail that were unrideable. My great warm-up was really all for not…the officials had us all stage 10 minutes before the start. And by all, I mean every single age group of Cat 2 men, then they finally staged the women…but the first group of men still hadn't started. So I think we stood around in the upper-40 degree early morning shade for about 20 minutes before we finally got the gun.
The race started off fast and furious, with a couple of girls from the 20-29 age group getting a good gap on the rest of us. There was one girl right on my wheel thru the first section of woods, and it turned out it was one of the local Shreveport riders, so I was happy to let Kim go by…she was flying and looking great through the technical stuff. The ride was going well, rather uneventful, just muddy, until I clipped a handlebar on a little tree…I crashed. But, no harm done, just a little muddy, so up I got and on I went. Then, sometime in next few mud puddles or stream crossings, my rear cog/freewheel/derailleur/chain decided it didn't want to cooperate anymore. Every time I was grinding up a grunter of a climb, my chain would either slip the freewheel or I'd get chain suck that would lock up the cranks. I guess my cyclocross trail running training paid off, because I had to start running up a bunch of the hills. Then I crashed again in the weird place when my front wheel just slid right off the trail. Lesson learned: 30 psi is too much in the Schwalbe's in the mud.
Slowly my competition started catching back up, and as we neared the end of the first lap, I was exhausted, covered in mud, and Tammie, my main competition, was right on my wheel. Eeek! And with a whole lap remaining, I still had another hour to race. My technical skills would allow me to get a gap on her, but she would reel me back in on the climbs. The soupy mud from the previous day was now gooey, sticky, clay-like mud that sucked your wheels down and bogged you down…and with a finicky rear freewheel, it was quickly getting miserable. But I knew I needed the fitness so I just kept hammering. I slowly caught the other younger girls who had gotten away at the start when they had major mechanicals, so I was at the front of the women's Cat 2 race. It really was a race of attrition in those conditions. Finally, towards the end of the lap, I finally got enough of a gap to relax a bit and cruise in for the win. I think this was my first ever cross-country win.
Bummer of the day…Kim, the local girl who was crushing it ended up crashing pretty hard during the race. She broke her arm near her elbow and has to get it surgically repaired. Heal up fast Kim! I want to go ride with you!
The aftermath…this (photo above) is what the bike looked like when I got home today. She was clean at the start. I think I'll have to replace the chain, and possibly the rear cog. I also have mud stains on my legs that I can't get off. Stupid red mud. I have also official resigned from road racing. Its lame…this was so much more fun!
---
This fabulous post was written by one of our awesome bella volunteers ~ To change this standard text, you have to enter some information about your self in the Dashboard -> Users -> Your Profile box.
---