Here at Velo Bella, we get mail…
Bay Area Women's Cycling is pleased to announce the schedule for the 2009
Northern California Women's Racing Series sponsored by NCNCA. This year we
are pleased to add a Master's Series for women 35+ in addition to the
traditional Category 3 and Category 4 competitions. All three Series strive
to provide more opportunities for women to race in single-category fields
and to provide additional prizes for participants.
As in previous years, each Series includes both an individual competition
and a team competition, and prizes are awarded to the leaders in both
competitions at the midpoint of the series and after the final race. This
year several local teams have stepped up to sponsor special cash "BAWC
primes" at participating races, so there are even more reasons to
participate in the Series!
The Category 3 and Category 4 Series races are:
– Menlo Park Crit (March)
– Altamont TTT (April — team competition only)
– Wente RR (April)
– Kern RR (May)
– Calavares ITT (May — individual competition only)
– Memorial Day Crit (May)
– Ohlone Crit (July)
– Dunnigan Hills RR (August)
– Giro di SanFrancisco (September)
The Master's 35+ Series races are:
– Berkeley Hills RR (May)
– Kern RR (May)
– Dunlap ITT (June — individual competition only)
– Benicia Town Race Criterium (June)
– Berkeley Bike Club Crit (July)
– Dunnigan Hills RR (August)
Big thanks to the participating races and promoters! For more information on
BAWC or the Series (including results from past years and information on how
points are awarded), please see http://www.bawcycling.com. If your team would like
to sponsor a BAWC prime, please feel free to shoot me an email. For those of
you who are on Facebook (it seems to grow daily…), we have a public group
where we will post updates and information, please join us if you're
interested.
Please share this email with Category 3, Category 4 and Master's women —
the more the merrier. Thanks for your support, we'll see you at the races!
Best,
Elis Bradshaw
Women's Series Program Manager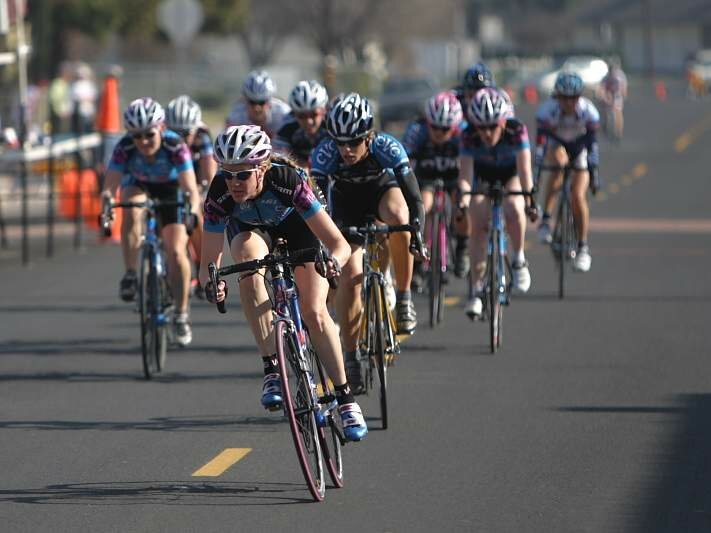 Photo copyright Steve Weixel. Used with permission.