Binghamton Bingo Cross Race – 15 November 2009
"My report" from L. Dawg Graves
About 3 weeks ago I started taking this sport a little more serious. I started pointing questions to the "pros" on strategy and specific training and all I could get was just go "balls to the wall" and hope you don't blow up. Well easier said than done. That is a very scary place to go without a little guidance. So I had to practice this feeling and try to get used to it. Kinda like riding "crossed eyed."
I've been dragging my cross friends out on Tuesdays to do these painful 30 second to 1 minute all out sprints with 1 minute easy x 12 times on a gradual uphill. We have been doing these on our road bikes and they make you want to puke especially when it's 40 degrees out. Then skills work on Wednesday in some park for a few hours. Some really cold road rides for as long as we until we can't feel our extremeties on the other days. On saturday we get together and do a little skills work and then some 5 min medium intervals with 5 minute rest and then some 1 minute grass sprints with 5 minutes rest and race on Sunday. Not much but it definitely kick started my confidence into cyclocross "redlining" for 45 minutes.
No more riding a cross coarse like a 50 mile road race. NO SPINNING. And to think I have spent a few years mastering the art of high RPM's. Just throw it out the door and make those thighs burn baby. Power to the pedal. Well that's what I keep telling myself and it's starting to work. Plus my sprint work has helped my starts so much. I have started out in second place the last two races and finished 3rd overall. Up until my "training" started 3 weeks ago I was mid to bottom of the pack. Whoooo Hooo.
And now that I'm figuring it out, It's quitin' time. And soon it will be time to go back to spinning on the road bike. So I guess I am hooked on cross and will be back next season. I might even train a little before I start racing.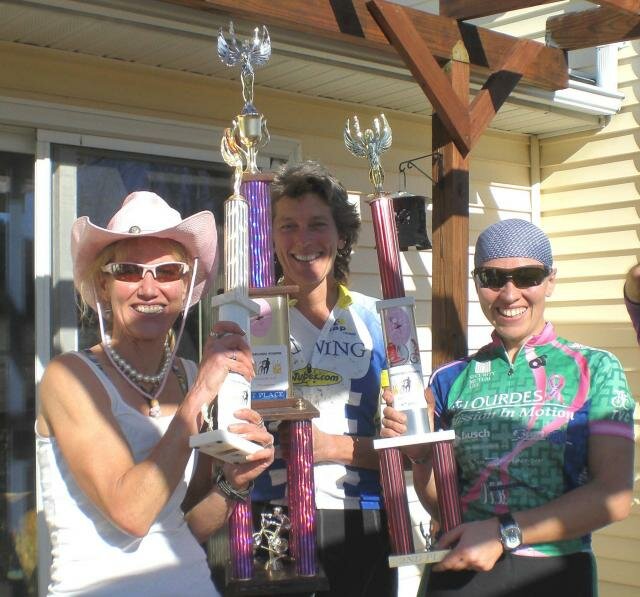 Clinton, NY
September 20, 2009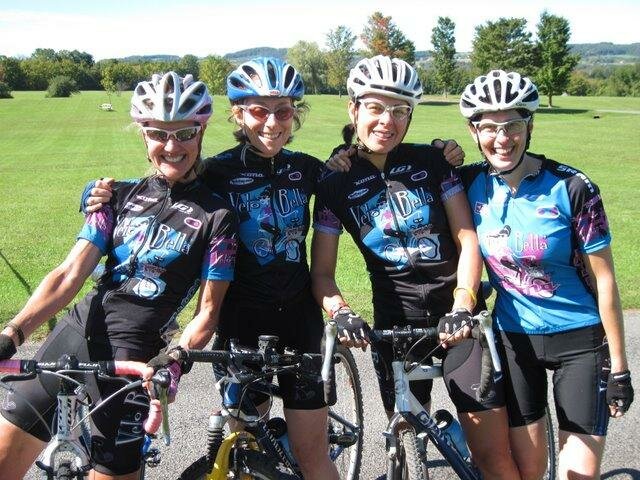 LiLynn Mad Dawg, Kap'n Kate, Kat-Grrl, Sue Slayer
For the first time in a long time, multiple Bellas turned up to hit the greens on an unseasonably warm Sunday morning in Clinton, NY. Totally not appropriate 'cross weather, it was delightfully balmy and sunny. This was the first 'cross race of the year for some, and the first 'cross race EVER for others. (Initials are LiLynn D. Graves.)
The course was a fun mix of swoopy turns through shaded woods, open fields complete with pagoda, a sandpit of death, and a nasty steep and rooty run straight up to heaven. Enough to keep everyone content with one "special" favorite somewhere.
For the record, I think LiLynn let me beat her…not sure why, but she's that kind of teammate, tho.
L.L.Dawg in the pit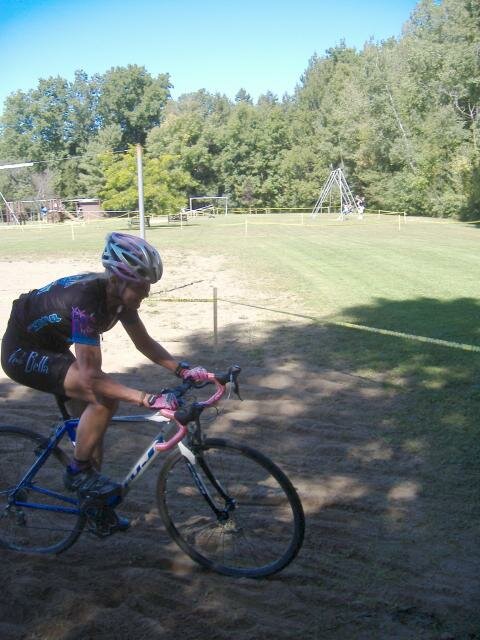 And Sue slays the competition RIGHT HERE. Looking mighty calm by the volleyball net.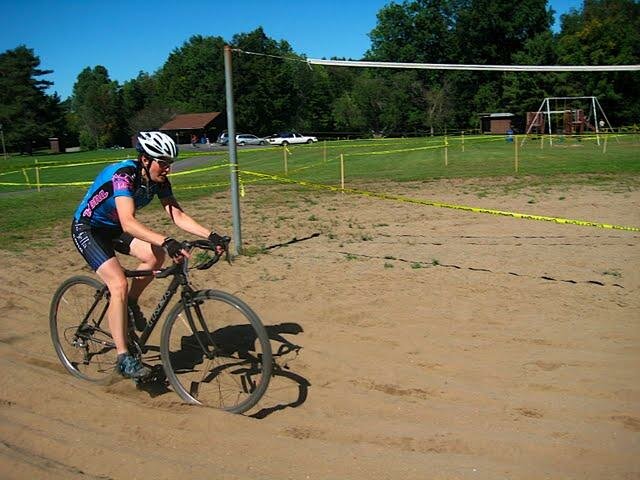 Kate finds amusement in an odd moment on the back stretch.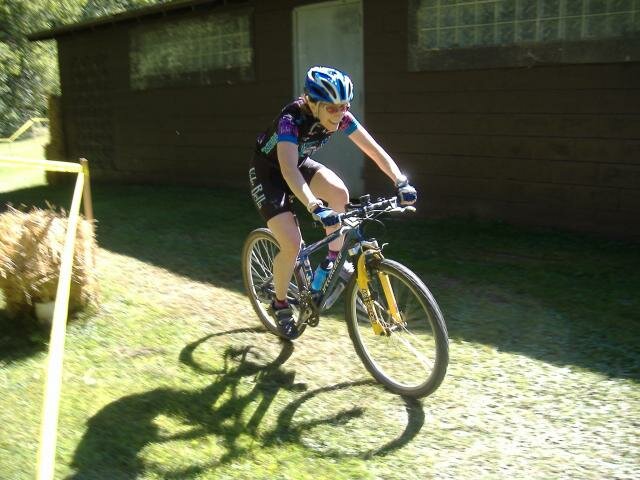 Our NY Cross Queen, Katina.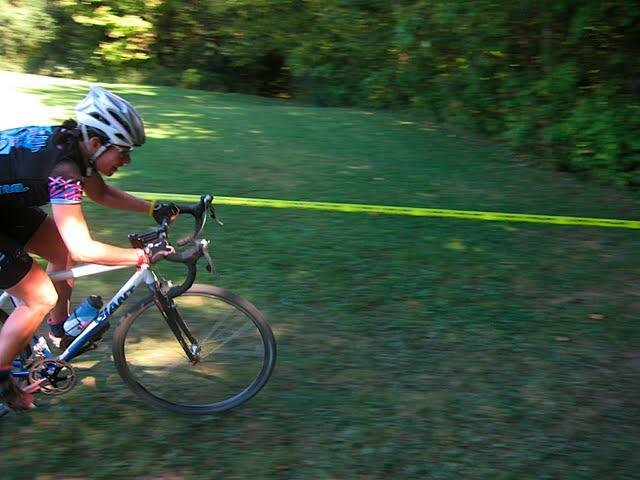 Newlywed (the day before!) Bella Christina Chambers rode the women 4 race earlier in the day and stayed to cheer on the open women Bellas. In her haste to get to her wedding, she forgot to pack her Velo Bella togs. Priorities, woman, please!!
We were not first, but we weren't last either:
Open women 1/2/3/4:
2nd Katina Sayers-Walker
8th Kate Stewart
9th LiLynn Graves
11th Sue Atwood
Women 4s:
1st Christina formerly known as Chambers, now Perkins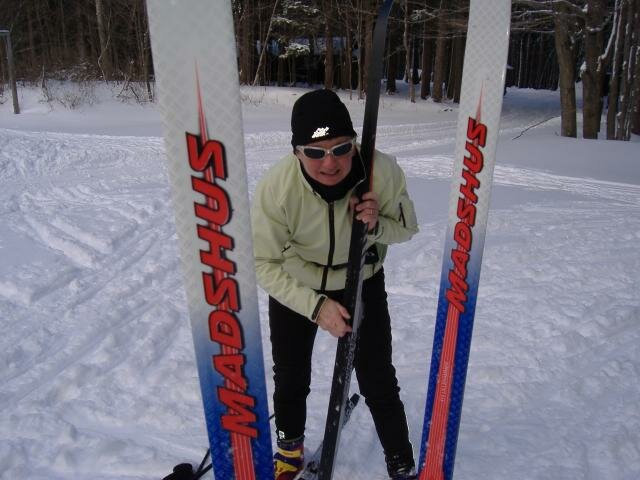 Jano heads out classical skiing in Highland Forest.