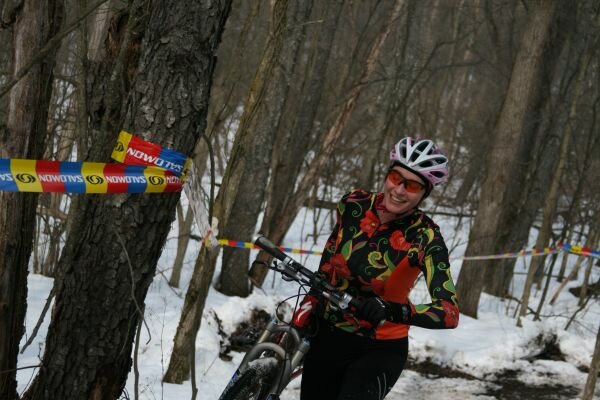 Cyclocross in February? Oh yeah!
Sure, in February, we're usually thinking more about hitting it hard on the indoor trainer, or maybe getting out for early season road rides and races. But, that sounds a little boring! After all, when a friend decides to host an informal & free 'cross race to see if the venue would work for a training or racing series later in the season, who would say no???
Many thanks to friend and trikat Rich James-Jura, who set up a tough, but sweet 'cross course on his parents' motocross setup, just west of Kalamazoo, Michigan. A sharp turn in the weather the morning of the event took us from near zero temperatures to a balmy … and super slushy 40 degrees! Deep snow quickly turned to mush, treating us to an ultimate bike handling test.
The inaugural event was a huge success, with many first time riders catching the 'cross bug. Can't wait to go back again when it's a little less muddy….and a little more rideable

More race details!
—Monica Tory
Kalamazoo, Michigan