Shop 'til You Drop at the Bazaar!

Ever wonder where your friend got that cute Velo Bella tee shirt or that water bottle? You can get it all right here at the Velo Bella Bazaar. Shop for clothes on the bike, off the bike and accessories galore! Everything is going fast. So shop now and get your Bella gear while its still in stock!


Clothes on the Bike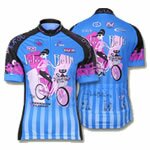 The polls are in and this year's 2005 Velo Bella kit is ranked hotter than ever! Designed by Velo Bella's personal brand designer extraordinaire, [email protected], this year's Velo Bella kit is produced by Hincapie Sportswear and the reviews are outstanding. The jersey breaths just right and the shorts are smooth, slimming and oh so sexy. Oh! la la!

These clothes are such a hit, we're almost out of stock but you can still find them at Team Estrogen, Velo Bella's official web store for the complete line of Hincapie clothing. You'll also find matching arm warmers, gloves and socks. So don't wait. Get your gear today!

Bellaccessories and More!


You won't ever find a Bella without her accessories so don't be caught without yours! If you're looking for tee shirts, "boy beater" tees, matching Velo Bella socks or our famous Velo Bella water bottles, you'll find them at our unofficial web store. Now Velo Bella is offering the cutest Velo Bella Purrier Bags by Timbuk 2, in pink and blue! Get them while their still hot!