Cyclocross Love Affair
Velo Bellas love cyclocross. Why? Because it's the hardest, most difficult, funnest, silliest 45 minutes you could ever spend on a bike.
Picture the grace of a smooth runner, the strength of a steely crit racer, the grit of a muddy mountain biker, the foaming fitness of a competitive athlete, and hook them up with the most versatile, elegant bicycle around, and you've got cyclocross.
Don't miss all the action in our Cyclocross Gallery.

09/12/04 - It's Finally Here!
'Cross season is finally here and Velo Bella is busy putting together three—count 'em—three 'cross races. Surf City Cyclocross Series is underway. To find out more, go to the Surf City Cyclocross Series page!

12/20/04 - Surf City will rise from the dead
The rumors are true. The Bellas have given a little mouth-to-mouth
resucitation to our favorite cyclocross series in the world. Our preliminary plans are for a 3-race series with a finale on November 19th. The finale will also be a Category 1 UCI race. The finale will also be a stop in the US Gran Prix of Cyclocross Series. This series is the closest thing the US has to a national series and in its first year it attracted all the superstars of cross. We were thrilled to be asked to host one of the six races and to be given the opportunity to resurrect Surf City. We are currently looking for sponsors who might be interested in getting in on the excitement! More info as it emerges.

12/15/04 - Flamingos in Germany
Congratulations to our own Barb Howe and Sarah Kerlin for their nominations to represent the US at the 2005 Cyclocross World Championships. The USACycling junket will cost them $3,750 each to attend. OUCH!!! Please click on the paypal button below if you can help. We promise to send race reports and pictures (including the fun partaaaay pics) in return!!

12/01/04 - And now a word from our Sponsors
Just want to take a moment to give bella kisses (mmmmmuuuwaaah!!) to those sponsors who are helping out our amazing CX team:
Rock Lobster Bicycles,

Easton,
Chris King,
Truvativ,
Paul Component,
Fi'zi:k,
Crankbrothers,
Pedalsoft,
A Bicycle Odyssey,
and the incredible Sheila Moon.

11/01/04 - Where's the Dirty Dozen?
We've had to suspend our Dirty Dozen contest in 2004 because we were busy with keeping Surf City alive. It was worth it though because through various contests, like the "Catfight", and prizes to ALL first timers, we were able to attract about 75 women to our cross race. Meeeowww! plus, I think we threw the best party....er I mean, cross race on the calendar. Thank you to all of those who attended and especially to those who helped make it happen.
2004 Spirit of Surf City Pics

12/31/03 - Dirty Baker's Dozen 2003
The Dirty Baker's Dozen 2003

#1

Nancy Vallance

#7

Laura Keller

#2

Gail DeCamp

#8

Susanne DeCosterd

#3

Ashlyn Coats

#9

Lisa Safstrom

#4

Valerie Mangin

#10

Kathleen Tokuda

#5

Amy Hall

#11

Suzy Nahlik

#6

Tracie Nelson

#12

Barbara Howe
#13
Alex Fabbro
12/31/02 - Inaugural Dirty Dozen 2002
The Dirty Dozen +

#1

Adriel Dealy


#7

Goldberry Skeel

#2

Ann Cigan

#8

Ella Lawrence

#3

Jennifer Udall

#9

Melissa Gambol

#4

Flo Queen Stover

#10

Leah Christian

#5

Monica Flesher


#11

Brenda Cranford

#6

Arleen Jouras

#12

Elizabeth Caraker

#13

Alicia Bailey


#14

Kelly Miller

#15

Cathy Boland

#16

Michelle Lee
#17
Elaine Zeasly

Introductory Links
Some stuff to get you started:
Cyclocross for the Novice
The editor of the NCNCA Cross pages provides this nice little introduction to cyclocross.
A History of Northern California Cross
Read how NorCal did it back in the day.
The Cyclocross Bicycle
While a mtn bike with skinny knobbies and no bar ends will do, there is nothing comparable to racing cross on a cross bike.
UCI – What is Cyclocross
The UCI has their official word on what cross is.
10 Tips for a Better Cross Race
Dave Carr is a busy boy what with writing all this helpful stuff.
Cyclcross 101
Our buddy, Pat O'Grady gets cranky when he's not racing cross. Poke around his website for other fun cross stuff.
Big Shark's Intro to Cross
Lots of helpful tips from the St. Louis bike shop.
An Overview of Cross
Cyclingnews.com hosts this page on cross stuff
NCNCA Links Page
Lots of links and links to other list of links. Link you very much.
Cross Clinics Across the Country
East Bay Cyclocross Clinics (CA)
Surf City Clinics (CA)
Northern California Clinics (CA)
Casino Cyclcross Clinics (CA/NV)
Boston Cross Clinics (MA)
Five Borough Bicycle Club (NY)
Utah Cyclocross (UT)
ECV Racing (MA)
Cross Races A"cross" the Country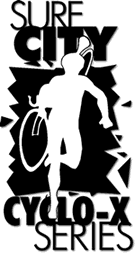 Surf City Cyclocross (CA)
Surf City gets special mention because it's the coolest race series around, we're sponsors, and it's in our back yard. We convinced the very wise promoters to add a "C" category for women last year, and it was a big success. We've promised them that this will increase women's attendance&don't let us down and don't sandbag. Be sure to visit us at the Velo Bella Tent and say "Hi" and buy a T-shirt. Also, we are providing the prizes for the C category winners. If you'd like to earn Velo Bella admiration and points, help donate to the prize list. for more info.
California:
Northern CA/NV
Bay Area Super Prestige Series
Sacramento Cyclocross Series
Southern California Cyclocross Series
East Bay And Southern Mines
So Cal Cross Cup
Pacific Northwest:
Cyclocross Crusade 2003
Seattle Metro Series
East Coast:
Verge MAC Series
Boston Cross Schedule
New England Championship Cyclocross Series
The Stuff in the Middle:
Georgia Cross Series
2003 Colorado Cyclocross Calendar
Bikeride.com Events Calendar
North Carolina Cyclocross Series
Boston Cross Schedule
Kansas Cyclocross
Utah Cyclocross Series
Michigan Cylcocross Series

Soooooo, just how FUN is cyclocross? It's really really fun!
As shown here ...our honorary Velo Fellas!

And this... Cyclocross Blasphemy!

Our own taking care of our own... American Cyclocross Foundation

And don't miss Karen's Cyclocross Article in the Santa Cruz Sentinal. Did we mention she's gonna be sporting a Velo Bella jersey?

Peep Show! Watch us Race!