Series Info
11/07/05 - UPDATE! Surf City Technical Document Now Available
Read our technical document for the final Surf City Race: the CrankBrothers US Gran Prix of Cyclocross Race #5, prepared specifically for the Big Kahuna's of UCI. You'll find every last detail, all the nitty gritty, including course detail so you can get a leg up on the competition! Check it out.

The Series

Points are awarded 18 deep in each race. Points schedule is – 26,20,16,15,14,13,12,11,10,9,8,7,6,5,4,3,2,1.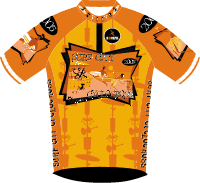 Points will be awarded to all riders in each group at each race. Each race will be counted equally. Cash and or merchandise will be awarded to the top 3 Sr. A Men & Women at each race. Overall prizes will be awarded to the top placing riders in each group at the end of the series. All series winners will receive a special edition Surf City 2005 jersey by Hincapie Sports. Series prizes are in cash and merchandise with a combined value as follows:

$13,000 Prize List!!

Men: 35+ B

$250/5

Men: 45+ B

$250/5

Men: Cat C

Really Nice Awards

Men: Jr B

$250/5

Men: 35+A
$750/5
Men: 45+A
$500/5

Men: Cat B

$750/5 & CX Bike provided by Scotts Valley Cyclesport

Men: Jr A

$250/5 & Bontrager Race X Lite tubular wheels

Women: 35+

$250/5

Women: Cat B

$500/5 & CX Frame provided by Pegasus Cycles

Women: Cat C

Really Nice Awards

Women: Jr

$250/5

Women: Cat A

$800/5 & Redline frame provided by Bicycle Trip

Men: Cat A

$1000/5

Singlespeed

$500/5
In addition there is $6,500 prizelist for the UCI events on Nov 19 th and $600 each race to Men A and Women A.

Note: Women Cat A and Men Cat A will need a UCI license to compete in Race #3 of the series.
The Fine Print
Held under USA Cycling event permit (pending). USCF or NORBA license required (one-day licenses are available). All USCF/USA Cycling Cyclocross rules apply. *Race #3 will be held under UCI rules for Men Cat A, Women Cat A, U23 and Jr A. UCI license will be required for Men Cat A, Women Cat A and U23.
Mountain bikes will be allowed WITHOUT bar ends.
Early registration is encouraged. There will be a $5 late registration fee.
Juniors whose parents or legal guardian won't be available on race day should download the athlete's release form and have it signed by the appropriate authority before coming to the race.