Copperopolis Road Race Podium Sweep!!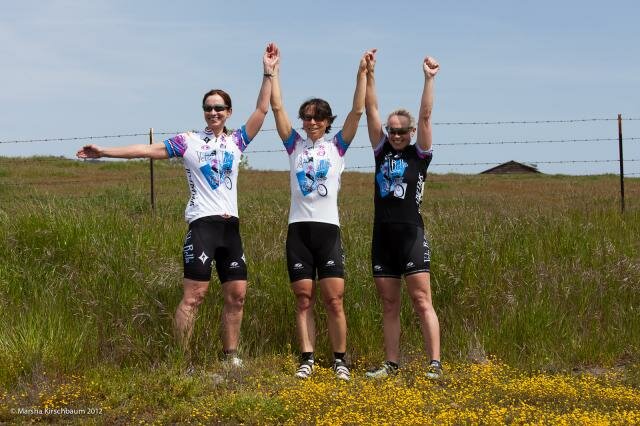 This is Cammy's report of the day:
The race is billed as "The Paris Roubaix of Northern California". The setting is a beautiful, practically unspoiled swatch of the eastern edge of California's Central Valley, where pastures rise to meet the rocky vanguard of the Sierra foothills. Always held the Saturday before Easter, the vistas are spectacular in their mosaic of poppies, lupines and other wildflowers woven into the brilliant green hillsides. Unlike "The Hell of the North" (source unknown), the "Heck of the West" (L. Benishin, ca 2000) is a 21-mile circuit versus point-to-point, rough, broken patchwork pavement (>75%) versus cobbles and it is not flat (1500 feet of elevation gain per lap). The race has historically drawn pros like Leipheimer and Jacque-Maynes.
Flying the Bella flag were Monica Neilson and Marsha Kirschbaum who committed their Saturday to supporting the three of us and crafting some gorgeous photography! Sue Martine, Liz Benishin and I lined up with Leslie Jensen (One Team, fearless descender, world champ stripes, extreme competitive spirit and a wicked sprint), Lauraleen Fenech (Los Gatos, no "Off" switch, relentless and capable of winning on a long solo effort) and newbie Cindy Mike (Penn Velo). A small field but worthy. Notably absent were the Wells Fargo girls – we miss them and wish them all speedy and full recoveries from the tough breaks their team has suffered this year.
Priorities: (1) Bella win (2) Bella podium sweep (3) All-Bella selection. Strategy: neutralize threats by wearing down / shutting down the competition before the final pitch and plunge to the finish.
I was amped – I love this race, I love the course, it was a beautiful day. Liz had turned in two podiums in back-to-back 20K TTs (MW and W1,2,3) two weeks prior, so I figured she was flying and a good bet for a long haul effort. Sue is a fast finisher and eager to "pop [the] Copper cherry". I was the wild card. We had agreed to stay together but I could not help myself and went off the line in a crescendo-ing tempo, giving Liz a great leadout to the first climb. She launched and left the 5 of us gasping. I covered the front as Lori tried to reel Liz in. At one point Lori must have wanted to bridge, but hesitated. The momentum gained by covering her move took me half way to Liz with air space behind. I thought about either trying to out-descend Leslie or suffer in a two-up break for 37 miles and went for the latter. Once together we steadily pulled away, up and over the remainder of the climb and out on to the rollers. Sue followed Leslie and Lori. At the far point of the course we had built up a one minute gap. Up and over the last pitch on to the twisty, fast, patchwork-surfaced (feels like the pavement was carpet-bombed) descent. Behind us Sue accelerated on the final pitch, Leslie chased and as expected flew past on the descent. Sue regrouped with Leslie; Lori apparently got stuck in the middle of the hard-charging pro field and was gapped off.
On the final lap's long climb, Liz and I were tiring but still maintaining a good tempo. Monica and Marsha on the feed hill, cheering, smiling, channeling energy! Near the top, out of nowhere, a fast-approaching whirrrrrr became audible – the instant I looked back, heart in mouth thinking it was Lori, Leslie et al, SUE shouted out "it's just me!" How she bridged a one minute gap in the space of that short (but painful) climb was absolutely phenomenal – she is certainly one to watch! Over the rollers, into the apex and back home the three of us worked together happily and fully committed – it was within our grasp to achieve all three race priorities. At the base of the final ~100m climb, we agreed that each of us would go when ready. Monica and Marsha cheered wildly on the finish line hill. I crossed the line first, then Liz and then Sue.
 I was totally choked up watching my team-mates finish – we had nailed it! It is only fitting to conclude with another L. Benishin quote: "I love being a Bella"!
.
---
This fabulous post was written by one of our awesome bella volunteers ~
Send me your race results so I can post them here!!
---