Well, Barb, the Prez has asked for an update on what the "Snow Bellas" did over Birkie weekend. HAD A GREAT TIME! That's all. They ended up shortening the course to less than half the distance- and only timed the Elite racers. Surprisingly, Velo Bella Maria Stewart was not allowed to compete in the elite wave (she was very magnanimous about it, considering it was really unjust- as she has been skiing SO WELL lately and on the podium so many times!) So she skied out there with the masses- which includes the rest of us, like Lori D., Laurel S. (were you out there?) and myself. Hope I didn't forget anyone!
As you can well imagine, I myself spent most of my time chatting during the "tour" and getting to know some Birchwood gals who ski, and inflicting "Ole and Lena" jokes to anyone who tried to pass me on the hills. I do think I was successful in communicating to the Birchwood Betties that Velo Bella is THE PLACE to be and we are always welcoming here in the pink and electric blue. So, stay tuned… 😉



Otherwise, we are just so happy to have snow and good health! See attached photo of Birkie finish line smile….
Until the trainer ride then! Allez allez!
-Sheryl-
March 24th – Free Rookie Clinic, 9AM to 11AM, Shoreview Community
Center.
Send e-mail to info@turtleman.org
Train Safe,
Dan Conway
Race Director, 2007 Turtleman Triathlon
Hi, it's Kate, with the post-Birkie report.
This was a particularly mentally grueling Birkie due to the changing nature of the press releases in the days leading up to the event. My boyfriend, Michael, went up to Hayward on Wednesday to set up the Craft booth at the expo. He called me that afternoon to tell me it was 52 degrees and raining there.
I didn't let that depressing news deter me from packing up my many bags of stuff and heading over to Northern WI on Thursday morning to meet my mom, sister and niece at the cabin we rent on Lake Namakagon. It was my mom's 24th Birkie, my sister's 14th, and my 4th. My 17 year old neice has done a Birkie event every year since she was three years old, and this was her 2nd Kortelopet.
On the drive over, I got a call from Michael "did you hear? the race is on hold unless they get snow before saturday morning." I started to wonder whether I should stop my carbo loading process, and was it worth it to pay to have my skis waxed? I remembered previous years when there was no snow on the ground anywhere else, but the trail still held that ribbon of white, so I dropped my skis off anyway. At Outdoor Ventures in Hayward, they looked at me a little funny when I said I wanted them waxed "did you hear about what's going on with the race?" Yes, but I was holding out hope anyway.
All day Thursday we wondered whether it would be another cancelled Birkie. The forecast didn't look like we'd get the three inches of snow they said they'd need to put on a safe race.
On Friday we got the good news. The Birkie was on for half the distance, but there would be no times recorded, and people could start anytime within half hour time frames. This was a little odd, but hey, we still got to ski!
The weather was great, the people were good-humored, and the trail, despite any snowfall prior to the race, was in surprisingly good condition.
Everyone was very cautious on the icy downhills, especially after we saw one poor guy lying on the trail who had a broken hip and compound fracture of his leg. It reminded me that even a seemingly safe sport like cross country skiing can have its dangers.
Even though it was a recreational ski, I did bring a watch and noticed that if I'd have done the whole thing, I probably would've done better than last year. It gives me something to aim for next time.
Sunday morning we attended the Birchbark Leggings breakfast with my mom, who belongs to that special club for people who have completed 20 or more Birkies. It's so inspiring to see all these people who have participated in up to 34 of these races, and they really want to pass along the enthusiasm to the younger people.
Our family is not the fastest bunch of skiers, but we know how to enjoy ourselves while keeping up a tradition. My mom dubbed us "Team Sturdy Women." I'm looking forward to next year, when my niece will be old enough to ski the 51 km race, and we can have three generations of Sturdy Women in the Birkie.
Hope everyone else who attended had a great time as well!
"if you're gonna ski the birkie, you better put some time in trainin'
cuz if you don't pay attention to that, you're in for a little pain-in'
:: Columbia Cyclocross Report, Jan. 13 and 14 ::
SATURDAY, JANUARY 13, RACE #1
1st place :: Molly Graves
2nd place :: Laura Sweeney
3rd place :: Joy Denney
SUNDAY JANUARY 14, RACE #2
1st place :: Laura Sweeney
The dollars have not been counted, but the Velo Bellas of Tennessee can call their cyclocross bake sale a success!! In addition to feeding hungry racers, we had three Bellas participate on Saturday and one on Sunday.
Our podium gals, Saturday, January 13, from left: Joy, Laura, Molly

:: Columbia Cyclocross Report, Jan. 27 and 28 ::
Saturday was a great day for women, with a turnout from some of the best females in the area. Temps were a little nippy but fine, with temps in the upper 40s at race time.
SATURDAY, JANUARY 27, RACE #3
1st :: Becky Walter, Nashville, TN
2nd :: Carolyn Heichel, Nashville TN
3rd :: Joanie Redman, Team MOAB, Nashville, TN
4th :: Laura Sweeney, Velo Bella KONA TN
5th :: Angela Brown, Velo Bella KONA TN
6th :: Dee Davis, Velo Bella KONA TN
7th :: Yvonne Horn, Velo Bella KONA TN
Sunday, the weather challenged even the bystanders, with a race temp of 32 degrees or so, and gusts of wind not for the faint of heart! Our women still had a good showing that day, and braved the temps with smiles on their faces.
SUNDAY, JANUARY 28, RACE #4
1st place :: Molly Graves, Velo Bella KONA TN
2nd place :: Laura Sweeney, Velo Bella KONA TN
3rd place :: Dee Davis, Velo Bella KONA TN
Full results are at the Columbia Cycling Club website, www.columbiacyclingclub.com
Natasha, our first pro Bella in the Southeast, swept the Seniors on Sunday!! She was the only female in the category and walked away with 1st!!
Senior (19-29)
1st :: Natasha Cowie
All of the pics are from Sunday's chilly race. Pics from Saturday will be posted as soon as they become available. Natasha is in the red helmet, Laura in the pink helmet, Molly was decked out in rad socks and pink "Hot Cyclocross Buns" underwear in honor of our bake sale," and Dee has the yellow helmet with the white balaclava.
GO BELLAS!!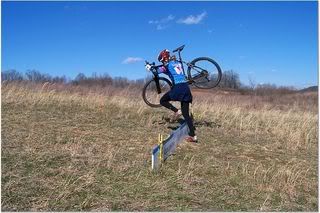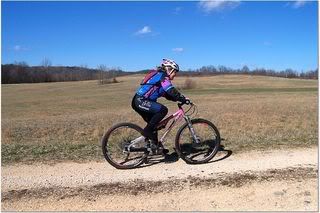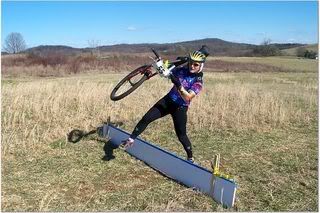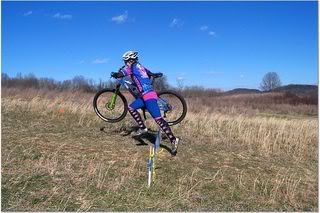 Bella blogs for this region coming soon.
Original Merced Criterium, CA
4th, Mary Maroon, Women
TBF MTB #2, Chanoko, CA
1st, Yvette Crockell, Sport Women 40-49
1st, Renee Ridgely, Expert Women 20-29
Snelling Road Race, CA
24th, Jennifer Chapman, Women 1/2
9th, Tracy Loper, Women 4A
20th, Denise Ramirez, Women 4A
21st, Katie Norton, Women 4A
23rd, Soni Andreini Poulsen, Women 4A
38th, Marlisa Mejica, Women 4A
12th, Elizabeth McAfee, Women 4B
We've been kind of busy lately…but more news is coming super soon. In the meantime, race reports are pouring in. Go
lookie

by Tracie
Pine Flat is a race for climbers. It's a race for girls who eat salad for dinner, put safety pins in their arm warmers to keep them from sliding down their boney limbs, and seem to have bikes filled with helium. It's for the girls who can glide uphill without breathing hard and crest the top of a grade without going cross-eyed.
I'm not one of those girls, but I am a pretty damn good wanna-be. I wanted to use the race for training and to see where my fitness was at, so I said Bring it ON.
The field was fairly small by most race standards, but just hitting double digits it was pretty decent for Pine Flat standards. The players were Kelly, Pat and Maria from Touchstone; Lisa Penzel, Jen Joint, Tracy Lillig, Jane Despas; and Erika, Liz B and myself from VB.
From the gun, two of the girls decided to attack their way up the neutral promenade driveway. "Shit. If I get dropped in the first 500 feet on a neutral driveway, things are going to be pretty damn rough" I told myself.
Things mellowed out for a while and Jane Despas seemed content to sit at the front for pretty much ever. If she wasn't on the front, she was off to the side of the group riding by herself in the wind. Normally I would roll my eyes at such behavior, but knowing it was Jane Despas and that she could probably ride out in the wind all friggin day and still kick my ass, I just shrugged it off and appreciated the draft.
Mostly the pace remained pretty comfortable, although there was a longer roller where things got pretty fast and strung out. Jane the Train was up there putting the hammer down. I remember realizing that we were going pretty hard, and then realizing that to my surprise I wasn't about to get dropped. "You're going to have to try harder than that if you want to get rid of ME, pansies!" I yelled at my competitors in my best british accent. At least I did in my head.
At one point, we stopped for a pee break. I won't go into great detail but I can say that I witnessed a pretty infamous occurrence here at the pee stop and can vouch that everything I've heard from follow vehicle drivers is true. Very true.
Somewhere on the flat section, Pat Ross' rear shifter cable broke. She had a choice of 53×12 or 39×12 and kept mashing along with us. That woman has some serious power and made it over a couple of rollers that I would probably have fallen over on given her gearing. At the toe of the climb she bid us farewell and later as she zoomed by in VeloBob's pick-up yelled some words of encouragement.
It was fairly obvious throughout the race that the Touchstone girls were doing everything they could to keep Maria out of the wind and fresh for the end, so I wasn't really surprised when she attacked up the early part of the climb. I hung onto the group for a while before things shattered, and finished up the rest of the race alone.
All in all, it was a great day's training. I am pretty pleased with where my climbing is at and feel like I have a better idea of what I need to work on. It was great to have Liz in the race too as she knows how to read a race and was a great resource. A big congrats to the Touchstone girls for a well-earned win.