Surf City CX Clinic Presented by Velo Bella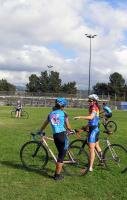 Brooke Miller at one of our CX Clinics in Soquel
Interested In Cyclocross?
Want to hone in your techniques or fine tune a particular cross tactic?
Then the Velo Bella/Surf City CX Clinic is for you!
Beginners encouraged, seasoned riders welcome!!!
As is tradition, VB will host this year's Clinic before the 1st Surf City race of the season
on Saturday October 10th at Soquel High School in Santa Cruz County.
(race on Sunday October 11th)
Local Top Riders will lead the clinic on the actual Surf City course
and lunch will be served (included in fee).
Only $20 and Juniors are always FREE (but do require a Parent/Guardian waiver).
For more info, please see: http://www.cyclo-x.com/clinics.html
And for questions, please email Miss Mary Perez at unicornisamore@yahoo.com
(If interested in instructing, please email Miss Mary)
…and in your teeth, in your ears, in your nose, and every other orifice you have..
Buck Hill CX Race
Ithaca, NY September 27, 2009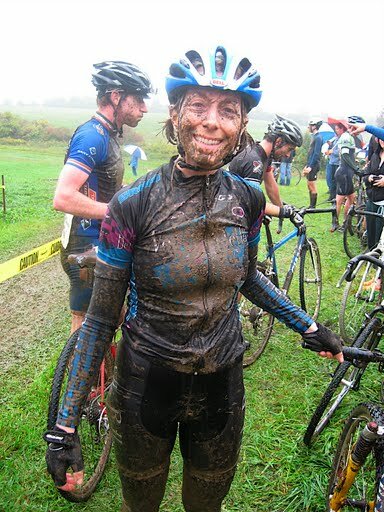 At last, "real" cross conditions in upstate NY.  Cold, rainy and muddier than hell.  Just what people, ahem, "want".  Not to go on and on about it, but in order to get the kits cleaned, we had to lay them on the driveway and spray each article of clothing one by one with the garden hose on full blast before we could even think of putting them into the washer.
About 16 women lined up – this was not part of the NYS series and wasn't a race to earn points to anywhere or win big – other than bragging rights, a bagel and and apple.  It started after the rain had damped the course all night and the masters had been slogging thru a light drizzle.  About halfway through the first of the five laps, the rain began anew and with an increased intensity…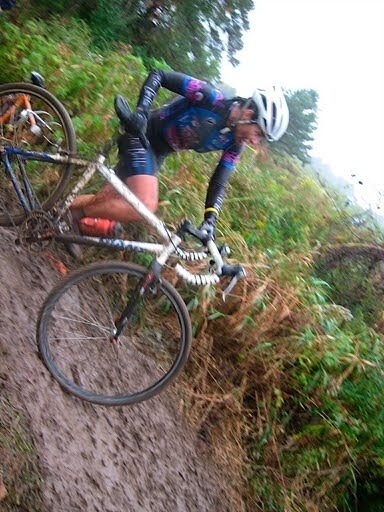 As in every previous race, Katina Kat-grrl dominated.  Few of the women in the Open category were anywhere even close to Katina – other than the usual suspect "Ruthless" Sherman from the Corning Cycling Team.  (And she's an honorary Bella anyway.)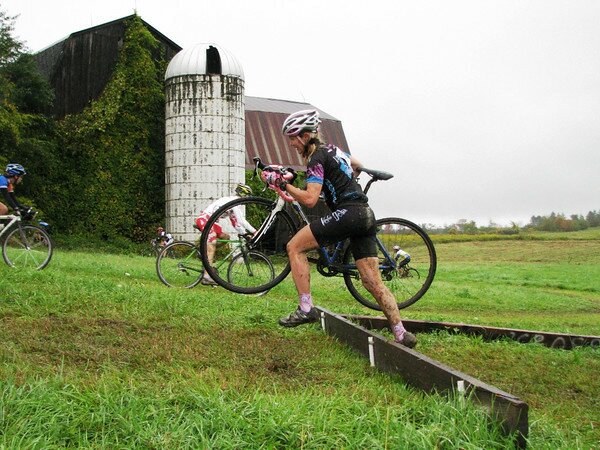 G. Dawg shows off her tremendous barrier hurdling form on the very first (still dry) lap.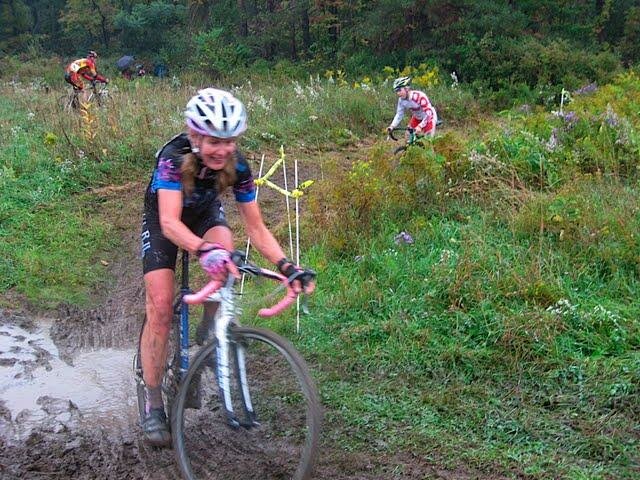 And shows here her sheer pleasure at whipping little boys' butts.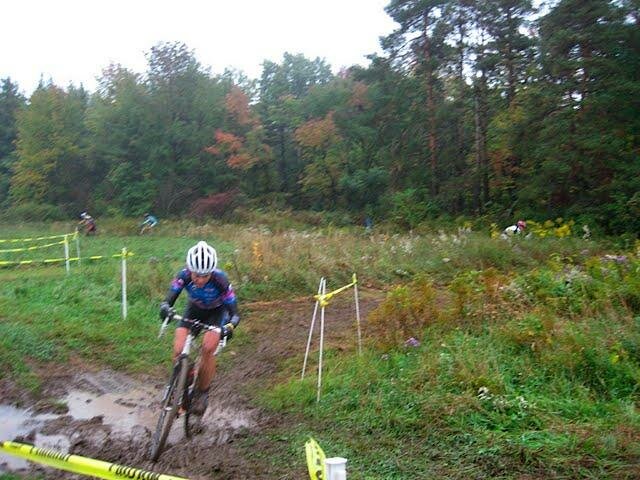 Katina less smiling, but on the other hand, she's out in the front and there are no little boys to splash with mud up here.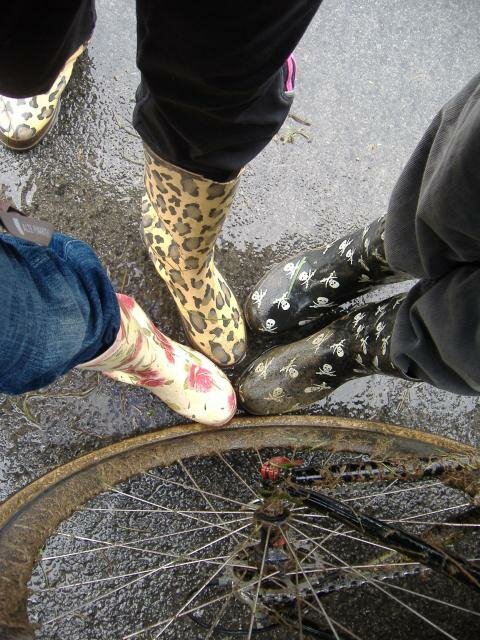 Lastly, this was the footwear of the wise:  decorative rubber boots.  Now that's what I call Functional Flair.
Results:
1st Katina Sayers-Walker
5th (?) Kate Stewart
6th (?) LL G Dawg
(results aren't up yet, but we only care about #1!)
1st, Katina Sayers-Walker, Women
5th, Kate Stewart, Women
6th, Lilynn Graves, Women
3rd, Marian Jamison, Elite Women
10th, Devon Haskell, Elite Women
13th, Kari Studley, Elite Women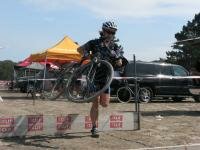 9th, Natasha Perry, Elite Women
7th, Miss Mary Perez, Women B
4th, Janet Lafluer, Women 45+
3rd, Brenda Mai, Jr. Women
7th, Devon Haskell, Elite Women
11th, Kari Studley, Elite Women
 
10th, Laura Kozlowski, Women 3/4
14th, Kari Studley, Elite Women
15th, Devon Haskell, Elite Women
34th, Marian Jamison, Elite Women
Clinton, NY
September 20, 2009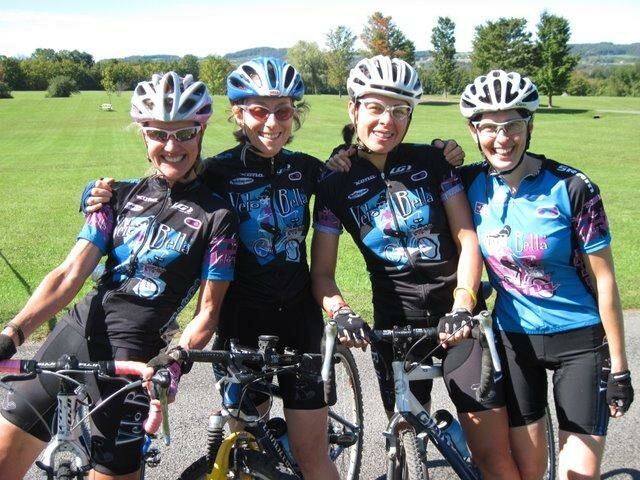 LiLynn Mad Dawg, Kap'n Kate, Kat-Grrl, Sue Slayer
For the first time in a long time, multiple Bellas turned up to hit the greens on an unseasonably warm Sunday morning in Clinton, NY.  Totally not appropriate 'cross weather, it was delightfully balmy and sunny.  This was the first 'cross race of the year for some, and the first 'cross race EVER for others.  (Initials are LiLynn D. Graves.)
The course was a fun mix of swoopy turns through shaded woods, open fields complete with pagoda, a sandpit of death, and a nasty steep and rooty run straight up to heaven.  Enough to keep everyone content with one "special" favorite somewhere.
For the record, I think LiLynn let me beat her…not sure why, but she's that kind of teammate, tho.
L.L.Dawg in the pit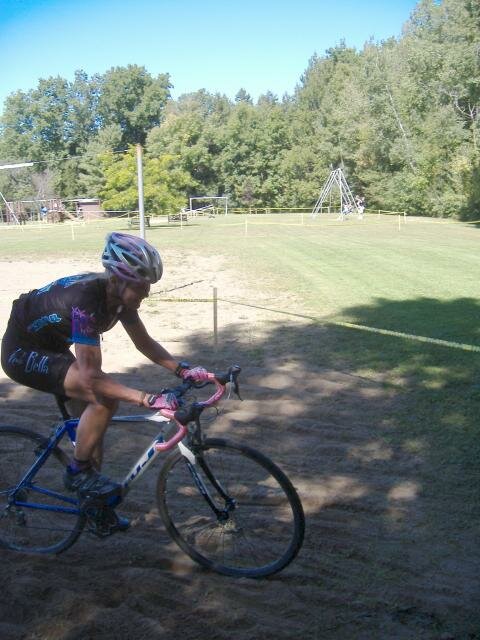 And Sue slays the competition RIGHT HERE.  Looking mighty calm by the volleyball net.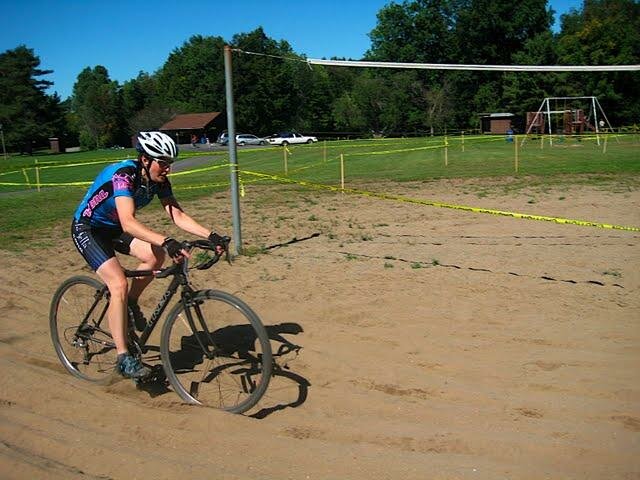 Kate finds amusement in an odd moment on the back stretch.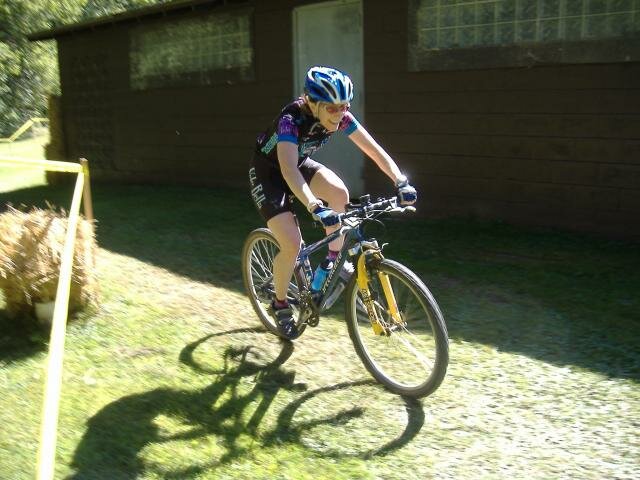 Our NY Cross Queen, Katina.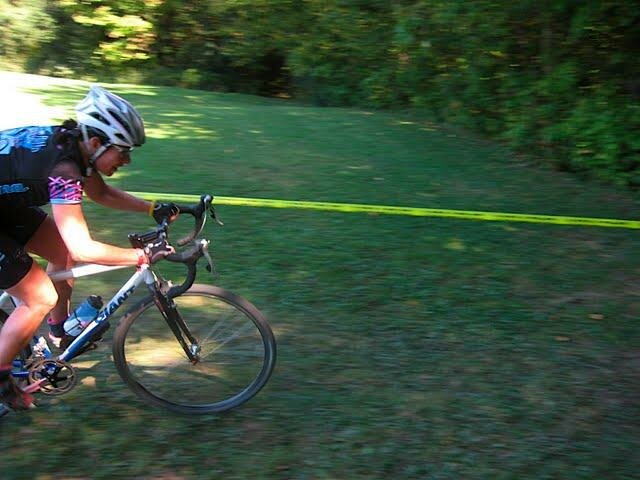 Newlywed (the day before!) Bella Christina Chambers rode the women 4 race earlier in the day and stayed to cheer on the open women Bellas.  In her haste to get to her wedding, she forgot to pack her Velo Bella togs. Priorities, woman, please!!
We were not first, but we weren't last either:
Open women 1/2/3/4:
2nd Katina Sayers-Walker
8th Kate Stewart
9th LiLynn Graves
11th Sue Atwood
Women 4s:
1st Christina formerly known as Chambers, now Perkins