Beth Hamon
PIR Short-track XC # 2,
6th Place, Womens' Singlespeed
http://obra.org/events/15509/results#race_248695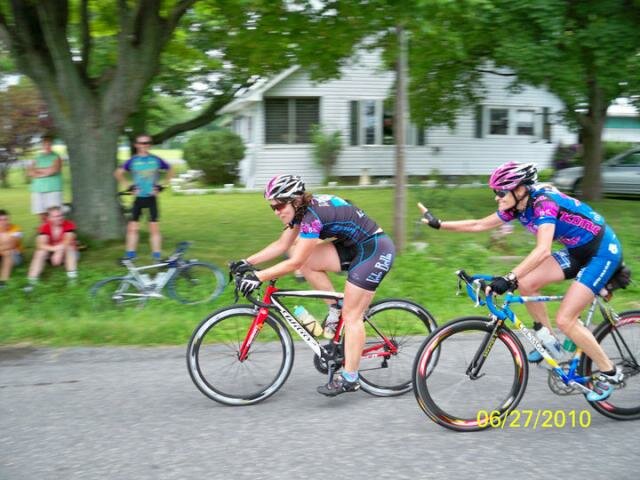 NY Bellas Kim Behrman and Linda Tersegno duke it out for the finish line!
Hot, humid and hilly.  Those are my three main adjectives to describe this year's Owasco Flyer, a beloved citizens' race in Auburn, New York.  Of course, it's hilly every year, but some years those climbs are more painful than others…and obviously heat and humidity contribute to the perceived elevation of the last "Three Bears", the finishing hills, which annoyingly are really FOUR climbs, not three.  The worst is, that while you know you've got those four last grinds to get up to the finish line, you forget that there are about 87 other hills to climb BEFORE them! (Ok, maybe not 87, maybe really 12…10? ok, how about 8 pain in the *ss climbs?)
This year, there were somewhere around 250 racers, which made for a CRAZY "controlled start" with people jockeying for position before even a mile had passed.  (The course is 36 miles.)  Survival includes suffering the usual terrifying shouts of "braking! Braking!! Braking!!!!", the SMELL of braking and the knowledge that lots of people in this massive pack possessed neither skills nor the understanding of how squirrely riding can have a dangerously domino effect.  Nonetheless, all participating Bellas made it unscathed – we were treated to shrieks of enthusiasm from the lead car, carrying none other than our distinctly vocal LiLynn, who was sitting in on account of her injuries from an awful crash in last week's citizens' race, the Giro de Otisco.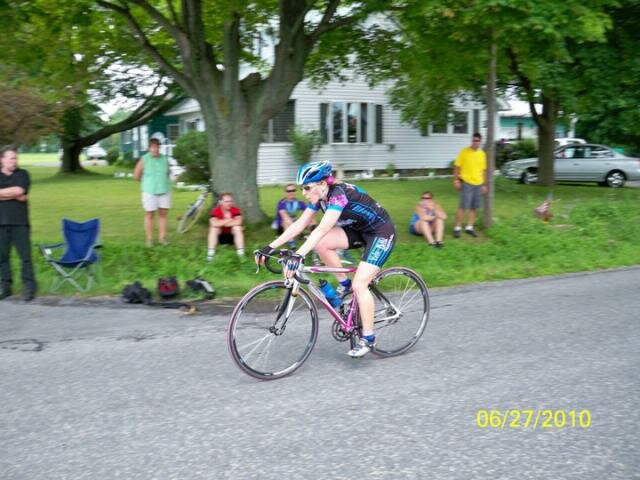 Kate whistling a little ditty as she finishes.
Everybody has a different story of the outcome – mine was of being dropped on the first hill, but working with a splendid crew to miraculously catch back up to the "pack" at about mile 12 – the pack still being in the range of 100 people!  Then on yet another climb, an unexplained pile up (I looked up and saw bodies somersaulting into the ditch – and a dog shooting out of the pack, but no one else seems to have seen the pooch..) broke up the pack again, and from then on it was, for me, various small groups of fellow suffering non-hill climbers.  Thumbs up from a corner marshall that I was "3rd woman!" which turned out to be off by two, rats!  Oh, well, I'll take it.
Excellent to see Linda and Kim mounting the last hill side by side, then a sudden burst as they tried to out sprint one another for the final stretch.  You can see from the photo proof above who got it, sorry Linda!  Meanwhile, Sue Kahler devoted her race to assisting newer racers by hanging back and being encouraging.  I had chatted in the bathroom with a woman who said it was her first race ever and that she'd "never even ridden more than 24 miles before" – Sue had her work cut out for her.  This was also the first race for NEW NY Bella, Kelly Bulkely – who has ridden her bike something like 483 days in a row, and who raced, as far as I can tell, with PLATFORM PEDALS and NO clips?!? (But WITH, mind you, a 4 tiered black mini-skirt over her bike shorts.  Gotta flaunt the flair, baby, flair.  And she's working on getting a jersey…at least her handlebars are pink.)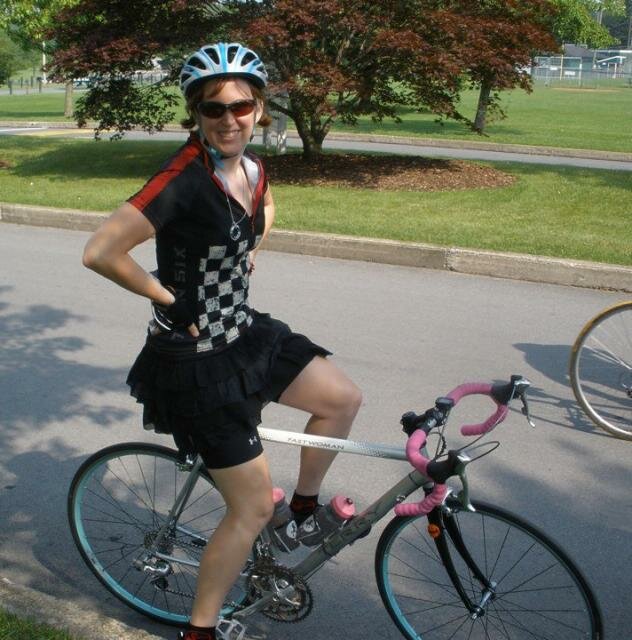 All in all, we had a decent showing (thanks to LiLynn's berating email urging everyone to race because we were "lame" this year.  It worked!) and the NY Bellas are BACK!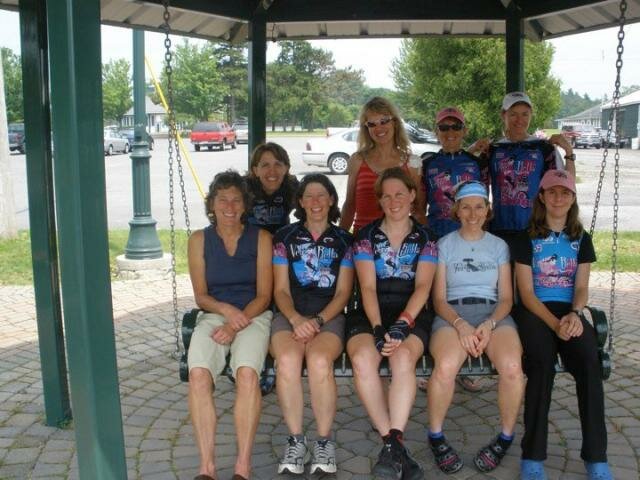 Bellas in Repose:
Front: Honorary Bella Ruth (2nd woman overall), Sue A, Kelly, Kate, Ellie
Back: Kim, LiLynn, Sue K, Linda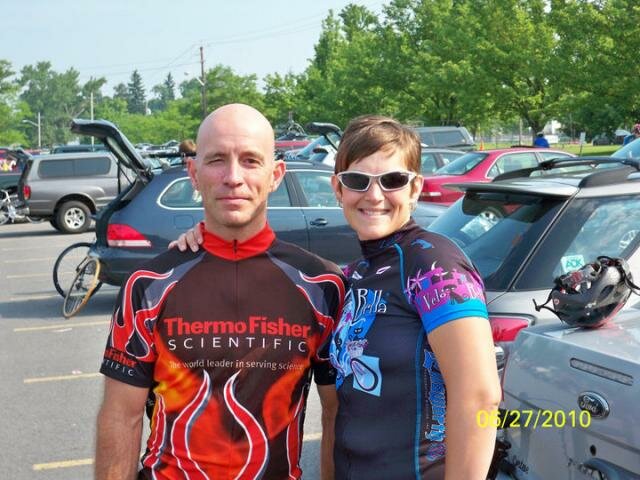 Kristin (and her brother-in-law, Mr. Clean) who missed our group pic.
Results:
Overall 3rd place woman, former NY Bella, Gaetane Perreault
Women 19-29:
Women 30-39
4th Kim Behrman
7th Kelly Bulkelly
Women 40-49:
1st Kate Stewart
5th Sue Atwood
Women 50-59:
2nd Linda Tersegno
5th Sue Kahler
Tandem:
7th Ellie and Ernie Bayles
San Diego International Triathlon, San Diego, CA
43/56 Tamar Price, Women 25-29
4/82 Stacy Schlocker, Women 30-34
8/82 Stacy Dietrich, Women 30-34
32/57 Amara Silva, Women 35-59
13/39 Christine Silcox, Women 40-44
18/39 Chris Derochers, Women 40-44
30/39 Gina Thomas, Women 40-44
13/33 Lynn Scozzari, Women 45-49
1/1 Jackie Bickford, Clyds 40+
Ironman Coeur d'Alene, Coeur d'Alene ID
7/118 Amy Larson, Women 40-44
Breath of Life Triathlon, Ventura, CA
1/26 DeeAnn Smith, Women 40-44
2/3 Judy Richwine, Women 65-69
XTERRA Tahoe City, Tahoe City CA
1/3 Sabine Dukes W40-44 (2/23 WOverall)
CRITERIUM
27th, Brenna Lopez-Otero, Women 1/2
Monica Nelson
Summer Duathalon #1
Rancho Seco Park, Herald, CA
TBFracing.com
1st Place Woman 
5th place overall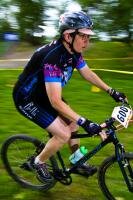 PIR SHORT-TRACK XC # 1
http://obra.org/events/15508/results
(click on "Singlespeed Women to be taken directly to my race)
Beth Hamon – 2nd place, Womens' Singlespeed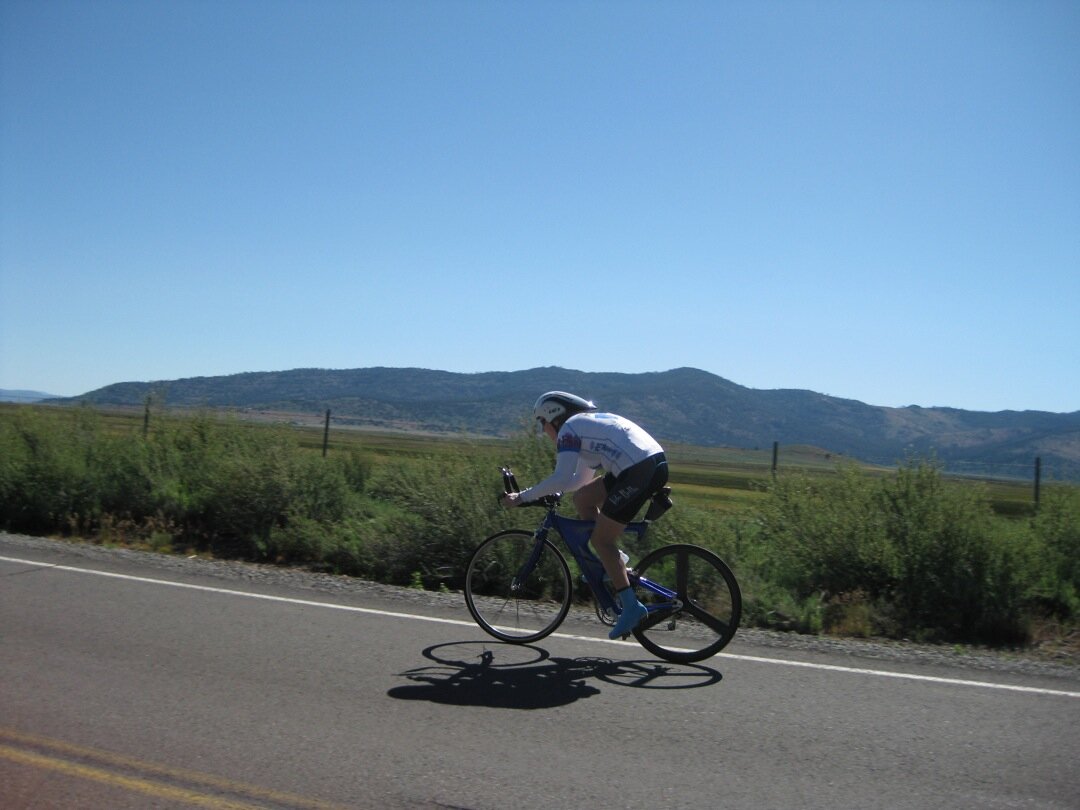 I definitely felt ready for Sattley, the NorCal/Nevada district championship race, this year. I wasn't sure I was going to be ready, as I came back from Germany so sick just about a month ago. But, as I ground into my final tune-up workout on Thursday, I was definitely ready. My intervals were strong and smooth, and my perception of the effort was comfortable.
Early Saturday, we got up and did my pre-race ride – mostly easy with a few speed efforts thrown in. Then, we packed up Kermit the Toaster and headed east. We made a small diversion in Ripon for my cousin's wedding at my aunt and uncle's house. It was about 95 degrees out at noon, and a challenge not to over-bake in the sun. The ceremony was short and sweet. We drank lots of water, carbo loaded on the cake, wished them well, and headed on for Truckee. This year, we stayed at the Hampton Inn and Suites, which was quite nice, and breakfast started at 6….perfect! We dined at a brewing company for dinner, which was good. I went for the 8 oz beer, as I didn't want to overdo it before my race. Rick compensated for my lack of beer with 2 pints of a Belgian style ale.
Sunday, we rolled out of bed at 5:30 after a marginal night's sleep. There had been some drunken revelers in the hallway around 2 am. Ugh! But, I felt relatively good. I had a shower and headed down to tank up on the breakfast. I also took a yogurt and banana for a 2nd breakfast, as my race was after 11 am.
I got a full, 1 hour warmup in and felt good. The weather was warm, but not too warm, and the winds were light. Also, I'd heard the expansion cracks in the highway had been re-paved, so that was cause for celebration.
I got a good start, and the first half of the race was pretty fast, with a light, quartering tailwind. There were still some expansion cracks in the middle of the course, but nothing like last year. I turned around about a minute slower than I wanted, but well ahead of last year's pace. The second half of the race was purely mental, as I tried to block out some chafing on my saddle. I probably lost some focus with my constant re-adjustment. But, I definitely was putting it all out there, with copious snool developing in the last 1/4 of the race.
In the end, I rolled through in 3rd place, about 2:27 better than last year. I was happy with my result, and met my goals for the race. My next TT will be Benicia, and I will be making the debut of my new TT rig – the Ellsworth Coefficient and also a skinsuit for the first time in 2 years. Look out! I'll be tearing it up out there.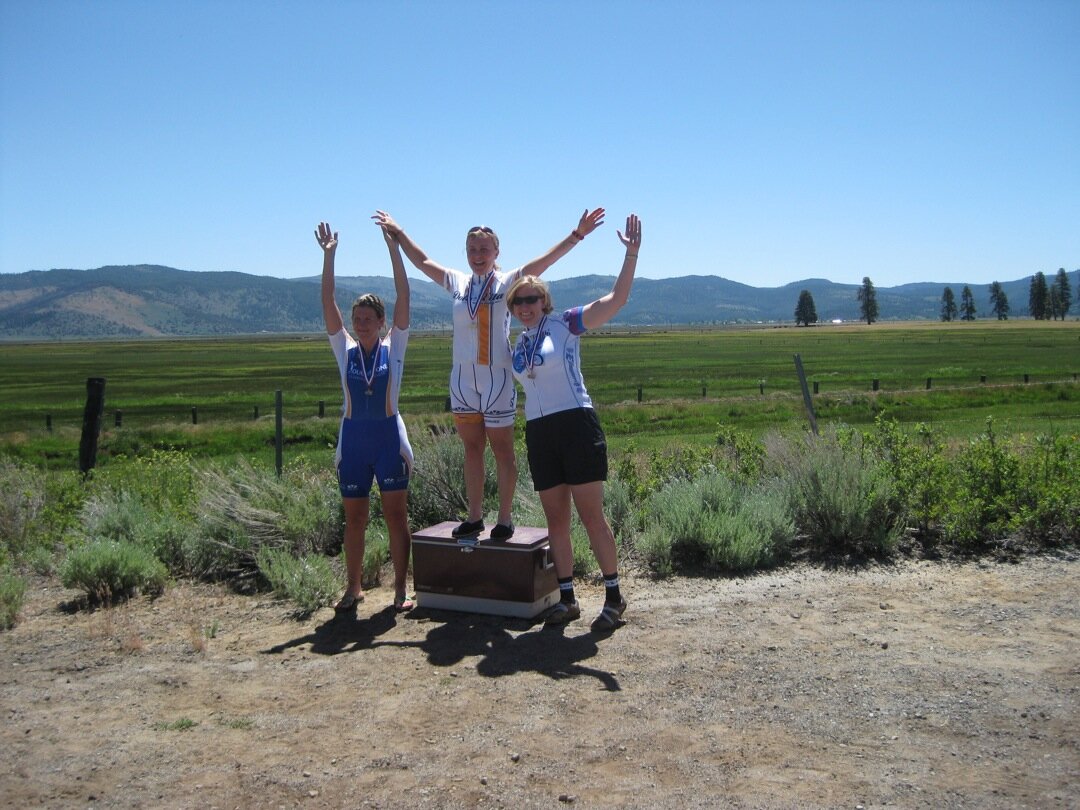 —Sarah Clatterbuck
California