2nd, Soni Andreini Poulsen and Jeff Poulsen, Tandem Mixed 90+
3rd, Sarah Clatterbuck, Women 35-39
3rd, Liz Benishin, Women 50-54
4th, Camille Deluca-Flaherty, Women 50-54
2nd, Marsha Kirschbaum, Women 55-59
June 12, 2010 Indian Lake, New York
Let's see…
It was pouring buckets and a balmy 52 degrees as we headed to Indian Lake to
drop off the pick-up car on this point to point race. I had many colorful
comments for my lovely husband, who thought this race would be a "great
training ride" to prepare us for our upcoming trip to Moab UT. So… I fell
for it.
It was hard to decide what to wear as the rain let-up as we picked up our
packet and chip in Inlet. As we lined up for the race I abort the rain coat
(yes, I am that much of a sissy) and opted for a vest.
The race started off up the paved road in town and turned onto another paved
road for a while – a mile or two. Then, here we go – Dirt! Lovely dirt. Wait
– it this uphill? Ok, so a little at the start, get it out of the way. As it
turns out, it climbs pretty much for the first 20 miles – when it wasn't
climbing, it was sand. Sand, not the fun stuff at the beach, but wet sand
that wanted to suck you in and hold you back – sure, the flat part even had
to be hard.
At about mile 20 (just before it started to descend) I had a bit of a hissy
fit. I was bonking and hotter than heck – wishing for some of that rain I
dreaded earlier. So as I watched this chick pass me, I pulled over and had a
little quality time to myself.
Near 8 miles left, the road turned to pavement and stayed that way until the
finish. Which, for me was somewhat lackluster, as I rolled in, thankful to
finish at last.
So, insight? Not really, hard race, good time, I hear its pretty there –
can't really testify to that – lots of dirt road – there is a nice Mexican
restaurant in town for post-race grub.
Editor's note:  Kim finished 4th of 26 in her category, Beginner Master Women!
Ithaca, New York, June 3rd, was the site of Flair Capital, at least for a few hours.  The NY Bellas, primarily Ithaca Bellas pulled out all the stops to show folks how it's done.  For the Finger Lake Cycling Club's entry into the the often bizarre Ithaca Festival Parade, several notorious Bellas set the bar high in terms of costuming and frizzle-frazzle.  We managed to get some extra miles in by circling our section of the parade like vultures, though this was not exactly a real intense training ride…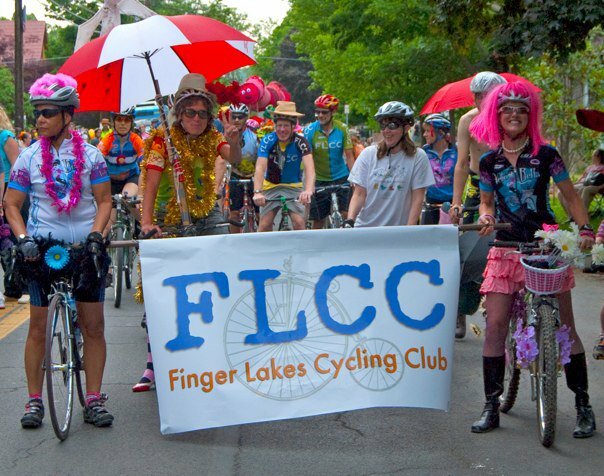 FLCC ready to roll!

Pre-race strategizing. Laura K and Carol B.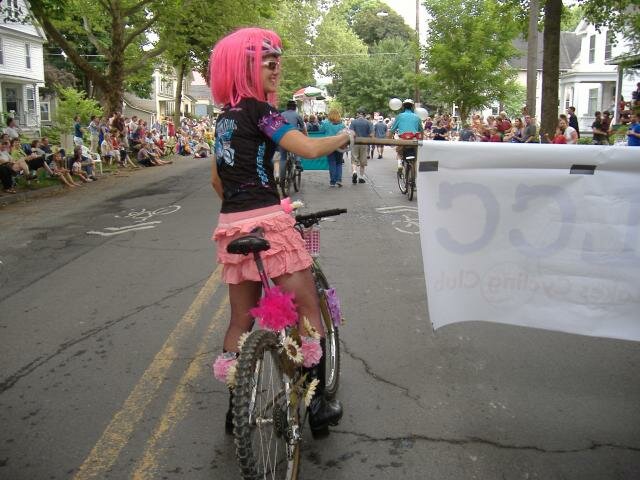 LiLynn's a tough biker chick.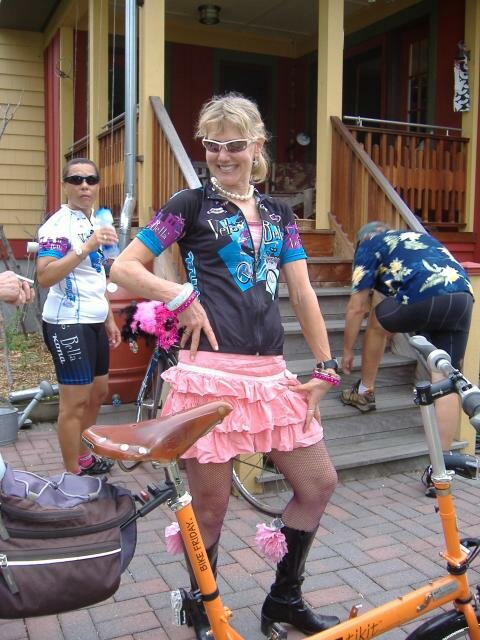 LL Dawg (always in pearls) and Cindy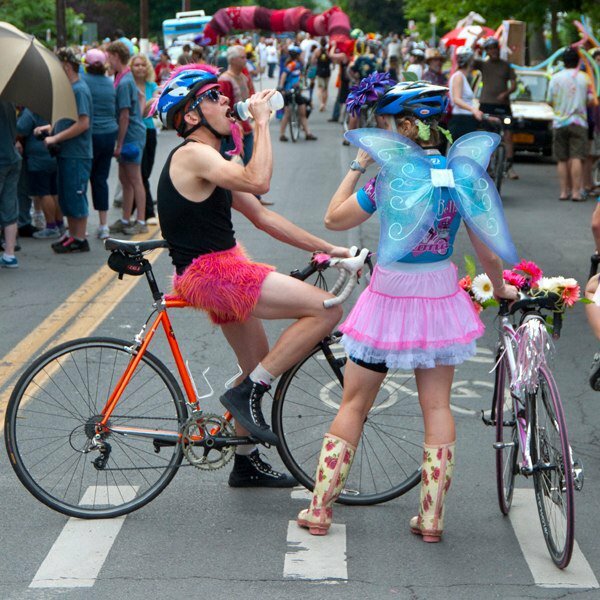 Garden Fairy and beau Velo Fella Brian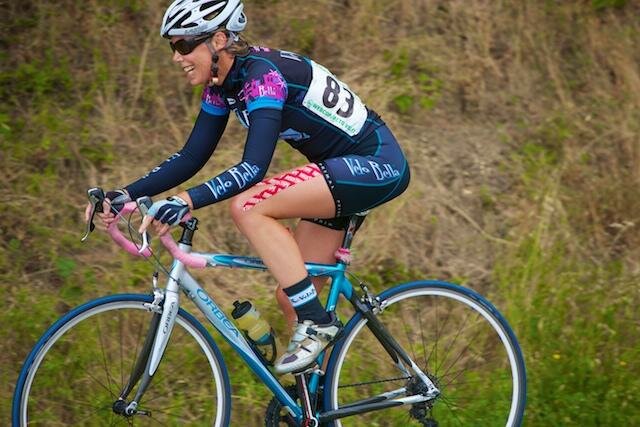 9th, Ann Fitzsimmons, Women 3/4
2nd, Monica Neilson, Women 35+
Katie Kelly, Women 35+
(photo courtesy Chas Dye)
Jen Tilley and I showed up for the next National race of the season- a Colorado shootout between the locals and the WorldCuppers. After having the perfect downhill road start, the selection was made on the short hill up sandy doubletrack. I just couldn't stay with the first group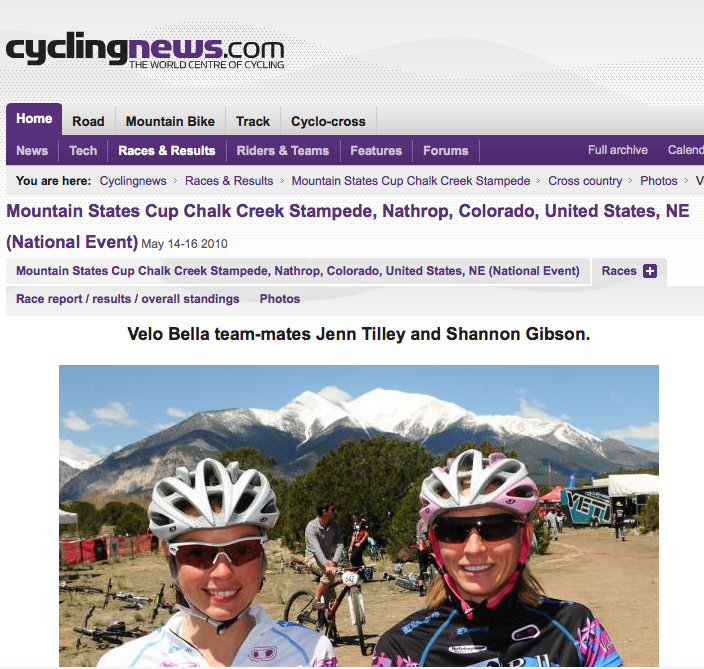 of Georgia Gould (who lapped many of the pro men), Kelli Emmett, Katie Compton, Heather Irmiger and Jenny Smith. I sat up, let a bunch of women by and just settled into my own pace.
The course was rolling and singletracky, perfect for my new Ellsworth 29er Enlightenment carbon hardtail, with Stan's NoTubes 1300g wheels, Maxxis Aspen tires, Magura Mag brakes, and Crank Brothers 4ti pedals- 21.2 pounds all built up with SRAM X.O. Even though I lost my Heed bottle and was taking only the neutral water, I felt steady the whole race and picked ladies off one by one. I need to work on my purple zone, however, because after taking almost a year off racing I am missing some high end. Still, considering the caliber of the ladies' field, I'm OK with my 11th place finish.
I just have some more fitness to work on. I love that racing gives motivation and goals to spice up my time on the bike. Next up- Iron Horse, or maybe the pro XC cup at Lance's Ranch. Decisions decisions!
—Shannon Gibson
Durango, Colorado
Misery loves company. That is the actual race name of the race, a reference to the challenging dirt roads, deep sand, and climbs that make up this inaugural 14 mile mtb event. Also, but surely not what the promoters had in mind, I managed to create even more misery (but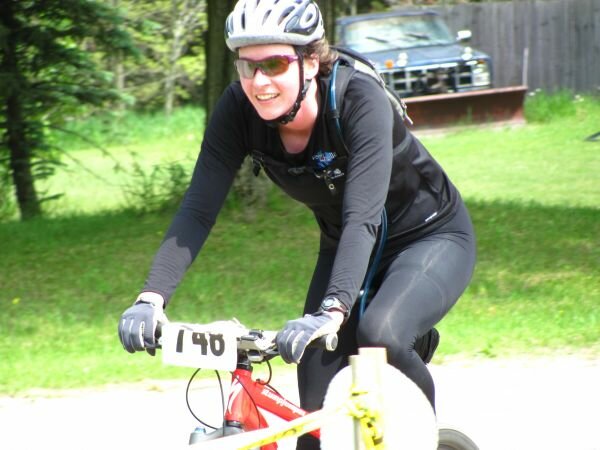 without company, thankfully) by racing a la batwoman (tights and long sleeves) on an 85oF day. ("why" is a long story involving an unfortunate encounter with poison ivy & the resulting complications which meant I absolutely had to stay out of the sun) Very sad that Shari didn't have time to get her batman mask from the car before my start time….THAT would have been flair worth remembering!
So, while not a great day for fashion statements (on or off the bike), it was a gorgeous day for a ride. I'm grateful for running into Kisscross promoter & Misery Loves Comapny volunteer Rick Plite at Yankee Springs mountain bike trail in the morning, because he reminded us of this new event and encouraged us to zip over and give it a try after finishing up at Yankee.
The race was the first of a 2 event series put on as a membership drive for the West Michigan Mountain Bike Association (the generous volunteers who build and maintain the great trails in west michigan … if you use the trails, for riding or hiking or xc skiing, please become a member or send a cash donation or come out to a trailwork day!).
Highlights:
• Great concept: Fun, FREE race to members, start from and finish at a local pub/pizza place.
• Great people
• Very challenging (but not miserable) course, made Barry-Roubaix look like a piece of cake … chocolate cake … with pink frosting & whipped cream
• Time trial start format made it easy (and unintimidating) for beginners through elite riders to participate side by side

Monica Tory, Velo Bella, 1st women 35+. Check out the full results!
Come out and check out the next FREE event in August !
PM me for details or watch the MMBA blog and facebook sites)
—Monica Tory
Kalamazoo, Michigan
I went to Bakersfield to race the Kern County Stage Race with Andi Mackie, whom I first met in 2002 when we both were experiencing it for the first time. I think this year was the 7th Kern for us.
Stage 1- Bena Time Trial
Friday morning started off with a 10 mi TT. The temps were in the 80's on Friday, 2009 was 95+. After check in, number pinning, getting trainers set up, watches set to the "official" clock (which actually, was non-existent), warm-ups started.
I discovered my bike wanted to stay in my big chain ring, never found out why for sure. Ah, not a big deal for a TT but this one has a bit of a climb on the return. My ever-positive teammate Liz tells me "You know, Monica I've never gone into my small chain ring on that climb." Ooo-kay…I can do this.
The Pinkie (Kalyra Women's Team) rider who started behind me is a bit of a TT specialist so my goal was to keep her off my tail. At the bottom of the climb, she was a bit closer than I'd hoped so I did all I could to get over that thing without losing too much time. I wished I'd had that small chain ring several times but I got over the hump and when I crossed the line with my mouth dry and lips stuck to my gums, I knew I'd given it a good effort.
Later, Liz tells me " I gotta tell ya, Monica, I thought of you as I shifted down to my small chain ring on that climb." Cammy took the TT by more than 40 seconds. I sat in 4th but only 10 seconds out of 2nd. For the record, Liz won 35+ and I think would've been 3rd in Cat 1/2 Women…not bad for a fellow AARP card holder!
Stage 2- Woody Basin Circuit Race – Saturday morning
Saturday we started with Cammy in 1st, me in 4th, and Andi and Linda not too far behind us. This race consists of 5 rolling laps with a time bonus on each lap and at the finish, which is at the top of a 200m roller with a decent pitch. Our goal as a team was to get the win for me and to gain as many of the bonuses as we could so as to keep 2nd and 3rd place from soaking them up.
We tried various combinations of lead-outs and sprint starting points on each lap, trying to win the time bonuses and thwart our opponents. Each time we got some time bonuses, and got smarter, until we nailed the ultimate combo on the final lap. I had been waiting too long to sprint, so I decided for the final uphill drag that I would go earlier…and it worked. I had a lot of help, of course…thanks to the Bellas for the awesome leadouts.
Stage 3- Havilah Hill Climb – Saturday afternoon
GC had Cammy in 1st, I was tied for 2nd, 10 sec back and 3rd place 16 seconds back. Andi was sitting in 6th and Linda 10th (I think). The Havilah Hill Climb consists of a couple mile run up over several rollers to loosen the legs, then you turn off the road, cross over a cattle guard (my favorite!) and immediately start climbing. Bob moved the start area this year for better parking, level ground and more space, but this added 2 miles to the lead in to the climb. According to Bob's data, the main climb is 2900 ft in 7 mi with an average grade of 8-10% with some 12% pitches.
It was business as usual to the base of the climb, then Kim Wik, who I was tied with, and I set the pace. We quickly became a group of four – Cammy, Jill Gass, (Kalyra – Pinkies), Kim and me. Within the next few corners Kim & I were alone. I was setting a decent pace but she was matching me stroke for stroke. After a bit I looked over at her and saw that she looked hot and taxed, so I decided to up my cadence a bit to see if she could hang, but she was right there. Dang it, I started thinking, I gotta make sure I don't blow this, because if this thing turns into a sprint at the end I need to have something left.
About a third of the way up the climb I got into a bigger gear and put on another seated acceleration. I gained a little gap so I got out of my saddle to try to increase this. Around the next corner there was a nasty pitch again so I sat back down and settled into a spin. The terrain was steep here, with a number of turns which kept me out of sight. It's always mentally draining when you can't see the person you're chasing. At a clearing I looked back to see where Kim was, and felt confident I had a comfortable lead. Not knowing her fitness I tried to maintain a high pace but stay within myself so I didn't blow. When I saw the 1 mile marker I knew I had it.
The hill climb is on a narrow, twisty one-lane road, and I'm not even sure cars actually travel up it anymore. Everyone waits on top for all the riders to come up before we start the descent. Personally, I hate descending it…there's lots of debris on the road, gravel, dirt, rocks, it's steep, and on top of that you're cold, hungry and tired of being on your bike. This year I descended with Suenago and Julie Nevitt, of SJBC. Sue and I were stoked with the speed and confidence we went down that baby this year. Maybe we were just hungry enough to let ourselves go – who knows!
Saturday at Kern is an incredibly long day. You leave the hotel about 6:30, and drive a good hour out of town for the start of Stage 2. You warm up, suffer, hang out, then drive another half hour for Stage 3. More hanging out, tons of suffering, then the drive all the way back. We hit that little Mexican place in Bodfish for some well deserved burritos, tacos and beers. Relaxed and with full bellies, we headed back to town, arriving at our hotel at 7:30 ready for showers and rest.
Stage 4- Iron Mountain Road Race – Sunday
After three stages, I was leading on GC, Kim Wik 2nd @ 1:28, Jill Gass 3rd @ 2:16, Cammy 4th, Andi 6th, Linda 9th or 10th. The team plan was to keep the GC, win the stage, and move Andi and Linda up.
Everyone is tired at the start of this stage, and it's hilly fifty mile road race. The start and finish were in different places this year, with the finish was at the top of a 1.5km fairly steep climb. Everyone secretly hopes the stage starts out slowly and doesn't get too heated until lap 2. Ha!
Kim came out right away to make something happen, and she got on the front and drove the pace enough that people got shuffled off. Soon we came around a big sweeping left hand turn and there was a car in the middle of the road with the door open. Yikes! We all hit our breaks and discovered it was the support vehicle for the Cat 4 women, and two of them were on the ground. Ugh, hate seeing that.
On the back side of the course there is a long working descent filled with some rolling climbs. As we were headed down the descent Linda caught back on…YAY! She put out a pretty big effort to fight to get back on, so I went to the front and asked if we could ease the pace, just a touch, to let her recover. Ha! But it was worth a try, at least.
The second lap things began to heat up further, with Kim still driving the pace. I stayed in the back, protected – I had no reason to work. My legs felt good and I was enjoying the position I was in – five girls and three of them Bellas, Cammy, Andi and me. The pace was picking up a bit on each of the climbs, and finally Andi told me she didn't think she'd be able to hang on much longer. We had a good gap from any other riders and we were nearing the end, so Andi's 5th place seemed secure.
There's climb followed by a fun twisting descent, a run out and then the 1.5-2km climb to the finish. As we neared the crest of the climb I picked up the pace and went for it, figuring what the hell, I had good legs and if I could get away I'd have a lead going into the climb…and if they caught me they'd have blown a match and the race starts over. With a 1:28 cushion I felt comfortable that unless a mishap occurred I wasn't going to lose that much time before the line…plus I could lead down the descent.
I got a gap, with Kim and Jill in full chase. They caught me before we started the climb to the finish. As we all shifted down I kept the pace high, and just past the 1km sign I went for it again, jumping out of the saddle pushing the pace. I kept looking back wondering if they were going to catch me. Finally at the 200m sign I knew it was mine. Behind me Kim lead Jill up the climb only to get jumped by Jill at the line. Final GC was me, Kim 2nd @2:04 and Jill 3rd. Cammy was 4th, Andi 5th and Linda 9th
We headed back to the parking area, changed clothes, ate and hung out for the awards ceremony. For those of you that haven't experienced Kern County, Bob Leibold makes all the awards, and they all tell a story. We have photos I can share. The Bellas took Masters 35+ with Liz 1st and Sue 2nd. We also took 45+. We had quite the collection of hardware.
My wins couldn't have happened without the sacrifice and hard work of others, from Linda making me coffee every morning, to the lead outs she and Andi provided…it's all about the group connection. If you haven't experienced this race, I highly recommend it. It's rewarding, challenging, fun and ever so satisfying. Think about it, where else at our ages can we race a stage race like the pros? Playing out strategy, taking on roles and thinking about the final GC, not just the event of the moment? It's a special time indeed…and that's not to mention all the goofy, silly girl stuff.
—Monica Nielson
Brentwood, California
Turn off the Giro! The Heck with the TOC…
This is what you REALLY want to hear about.
The Flair-a- licious bellas headed to the balmy breezes of Bakersfield (not the usual heat measured in Kelvin degrees). Numerous emails flew back and forth deciding who should race in which Master's category. We ended up with Sue Lo and I in the 35+ and Monica, Cammy, Andi Mackie, and Linda Locke in 45+.
As soon as we registered the entire Pinky team registered. I think they waited to see what we were racing before they signed up. Feh. They posted on their Pinky website the Pink Hurricane was coming to town. (soon to be downgraded to a tropical depression).
Bena ITT
What can I say about the TT? Well, it wasn't hot or terribly windy, though it seemed to be headwind all the way. I started out the 35+, with a big gap between me and the 4's so no help there. I was testing out my new speed suit so hoping for some added fastness. In my category was the pinky girl who smoked me at Madera so I had to really pull off a good TT.
Mike Hard, the official told me at the line I did the race more times than he officiated so I could read the rules myself. Which I did.
Rode hard, kept concentration, turned around the cone, rode back, crossed the line. and, well, yeah, I won by 35 seconds.
Monica was having trouble with her front derailleur and couldn't go from small to big, and there is a pretty giant size hill, which you can stand and stomp or go small chainring and stay aero. I told her, no biggie in the biggie, but as I was riding up in my small chainring, I was thinking she would likely kill me for the advice.
Cammy had a great ride in her group for the win.
Stage 2 walker basin circuit race.
If you don't like sprinting this stage sucks. Bonus points every lap, and with my group of 5 and going head to head against a sprinter, I had to do some semblance of a sprint each lap, but remembering I had a big old climb waiting for me that afternoon. Our meager peleton was 2 pinkies (Avalon former national team trackie from the 80's and Janet G nice girl gone pink) and Julie from SJBC, another top trackie.
So each lap Avalon won each sprint, and of course the finish. Of note she was yammering to Janet, go harder, lead me out blablabla, and I'm thinking she could outsprint all of us even if we had a motorcycle leading us out! Let Janet save her legs for the hillclimb.
Havila Hillclimb
We hung out for a while then moved HQ to Havila for the hillclimb. Plan was Sue and I would ride together and get rid of everyone else. Popped Avalon on the 4 mile gradual rolling climb to the toe of the climb, rounded the corner and soon it was just Sue and I. I overcooked myself and was struggling, and offered Sue to go on, and leave me to the buzzards. She paced me and eventually I recovered and rode a good tempo. We rode together, and the glory was hers at the top.
I'm still hallucinating at the top and see Sue riding around, but what happened to her hair? Did she tuck it up under her helmet…No, its Monica!!! Holy crap she was just behind us, and kicked ass in her race.
Oh, yeah, she can tell you about her circuit race but she won that too.
The hill climb moved me back into first, Sue second. We gained 2:30 over the next climb finisher (Janet).
Woody RR
After getting back about 8:30 I was cleaning up my bike, and noted a nick and an aneurism in my rear race tire. crap. Had to ride my training wheel, which isn't too heavy, but I love the lightness of the race wheels. Oh well, I had about 4 minutes to blow to keep my lead over Janet. The road course is full of bullheads making for a flatfest.
Anyway, short warmup, bunch of rollers till the big downhill. Which I think is a blast, and love to fly down it…in my moment of funnness, there is a cat 4 girl on the ground, support vehicle in the road, so we needed to go over the center line around a blind corner. Sue went to the right around the vehicle, through the dirt, and at that point I decided it wasn't as much fun as I thought. All riders up and rolling, though marginally terrified. Avalon caught back on at the feed zone, rode with us on the descent, but was gone after the long climb.
Merrily we rode along, this time no descending insanity, chatted on the hillclimb, tempo'd along the way, Sue told me to go for the win, at 1 K I punched it, Janet couldn't respond, Julie had fallen off on the main climb, Sue was pretty close behind, saw the finish tape pass under my wheel.
And just as I was stuffing my lungs back in my thorax, who comes by…Monica! By a country mile she grabbed first. Holy sh*t!
It was a bella trophy and GC sweep!
Will let them fill in their tales of glory! All I know is they rode smart and savvy.
We had a lovely and successful gang. No bitchin', nothing but support and respect and bellavelolove among our teammies (I have been on some nasty ass teams and can tell you the bellas rock).
Side note….next year Masters Nationals will be in Bend. Masters squad will be on fire! I'm working on coordinating the masters team, so let me know if you want to have some fun!
—Liz Benishin
Northern Cali
19th, Sarah Clatterbuck, Women 3/4
8th, Kathleen Bortolussi, Linda Elgart, Sherri Lehman, & Phyllis Olrich, Team TT (open)