Colorado Cross Love!
By Monica Tory
Kalamazoo, Michigan
The story …. "why not?"
A mere 1 day before our departure (from Kalamazoo, Michigan) for a one week "bike camp" in Nederland, Colorado, my husband and I learned that we would be arriving in Boulder right about the time that the kickoff race for the 2008 Boulder 'Cross Series was getting started. And anyone who loves 'cross knows what that means …. a scramble to figure out how to cram our 'cross bikes into / onto our car, in addition to the road bikes and mtbs that were already going to make the trip. After a few tries, helped by generous friends willing to loan various roof racks and accessories, it was obvious we weren't going to be able to bring 6 bikes with us. But FIVE bikes, that's a whole different story ! Since Jonathan's 'cross bike is smaller, and our races were at different times, we decided that sharing his bike would be a good compromise.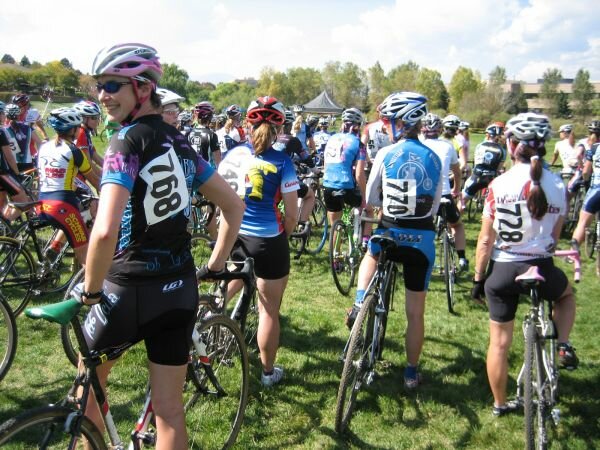 The race course …
… was almost made just for me! What does that mean? Not too technical, mixed grass and pavement. Why do I say almost made just for me? Because the skills section combination was tougher than any I'd seen. Each skill/barrier portion was pretty straight forward: #1 = a double barrier on a gentle incline, re-mount and 180-turn at the top of the hill and descend parallel to the barriers you just ran ; #2 = ride or run through a beach volleyball court, re-mount during a sharp right turn; #3 = a double barrier on a slightly steeper incline, re-mount on the way up or at the top of the hill. So what's so complicated about that? All 3 of those elements were placed back to back, and lap times were a quick 5-6 minutes over the course of the 45ish minute race. That's a whole lot more running and re-mounting than I've encountered at once, and it was both humbling (as I wheezed through the run sections…I really hope I can blame a tiny bit of the wheezing ton the altitude) and inspiring (as I now see some obvious weaknesses = new challenges that I can look forward to working on!)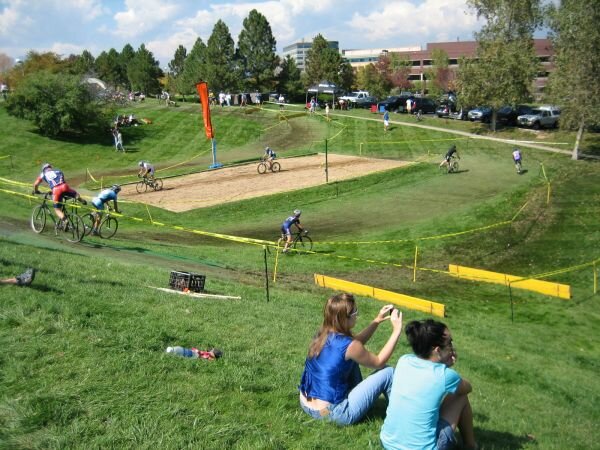 Bellas at the race … please help me NAME the mystery Bella ?
It was wonderful to meet some Colorado Bellas (avec flair, naturally) at the race! Nancy (usually racing, but cheering us on this time around) & Melani (doing her FIRST ever 'cross race!) & "Sister of Shannon" (I'm sorry ! I was a tad nervous when I met you & as a result I don't remember your name …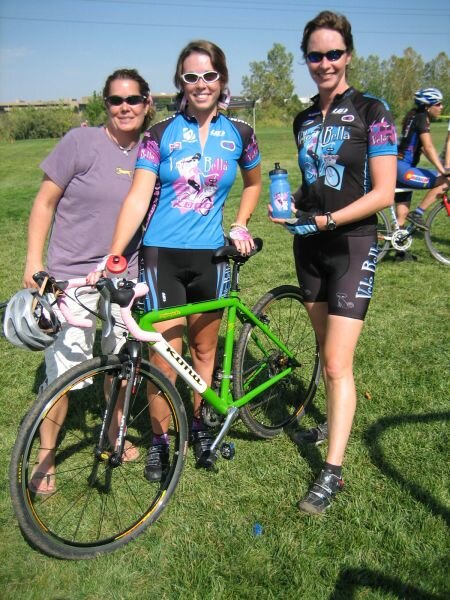 The race …
Was unlike any other cycling race I've done, simply because of the sheer number of women participating! It was wonderful, not only to line up with so many female racers, but to hear everyone talking about how fast women's participation is growing & then someone led a "cheer" to celebrate the big field and how far women's racing has come. To put things in perspective, at my "home" race series (http://www.kisscross.com), more and more women are racing, but on the co-ed start lines, there might be 3 to 6 women and 40 to 50 men in the intermediate classification. So, anyway, as I'm trying to say here, racing with other women was awesome. The starts were fast & the two groups (women's open and women's 35+) quickly intermingled. I liked the fast course & worked hard through the "on bike" parts to try to minimize the time damage from the combination of my not-so-strong running & my non-existent flying remounts (I WILL learn to do those! I think I can … I think I can …)
Clicky for Full Results!
Melani didn't finish due to injury, but will be back to try again! By the time I post this write-up, I bet she's raced over and over again !
Mystery Bella ???? Rode super strong & really made me work at the finish, but I couldn't catch you!
Monica Tory - 12th, women's 35+….and in the process happily learned that once the starting whistle goes off, all of the "why nots" really don't matter anymore. It was a great experience, and (for me) a great race & placing despite my many apprehensions before hand - racing a strange bike, trying desperately to remember the brakes are "normal" (not reversed as mine are), wondering about the effects of altitude & far, far too many hours crammed in a car. No matter what possicleobstacles I construct, CYCLOCROSS IS STILL, HANDS DOWN, THE MOST FUN YOU CAN HAVE ON A BIKE!
See you at another race soon !
Editor's Note: The Mystery Bella is new Bella, Diana Gibson. Welcome Diana!
---
This fabulous post was written by one of our awesome bella volunteers ~ To change this standard text, you have to enter some information about your self in the Dashboard -> Users -> Your Profile box.


---