Cross Crusade, Race #1, Portland
By Beth Hamon
Portland, Oregon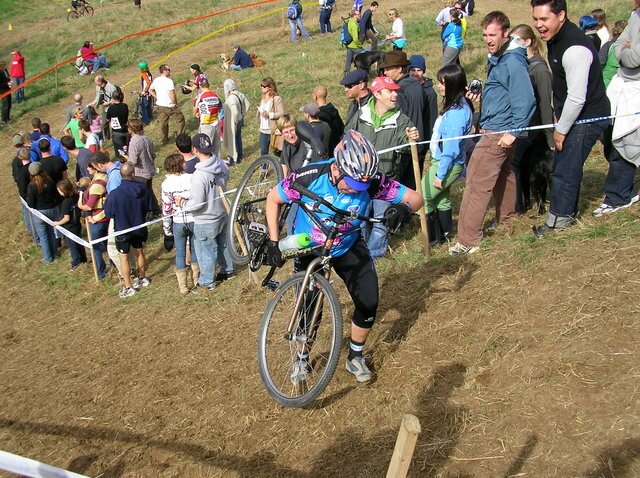 Mood: Ecstatic
I had a nice calm morning to gather everything up, make a few last-minute wardrobe adjustments based on the weather report and enjoy a simple breakfast of oatmeal, yogurt, juice and coffee before my sister Sari came and picked me and Liz up at 11:30 in her truck.
Once at Alpenrose, Sari and Liz situated themselves in bleachers seats inside the velodrome. I alternated between checking out various parts of the course on foot and chatting with Liz, Sari and pal Lynne for the first twenty minutes or so. Liz and I checked out a little of the Singlespeed race and I led Liz around to the end of the velodrome and showed her where the sick run-up was that I had tried out at the last cross clinic. Liz's eyes grew big and she gasped, "You have to run up THAT?"
"Well," I replied, "I plan to walk. But yes." We stuck around and watched as the Singlespeed class (almost entirely men) made their way around the course to the run-up, and we cheered our friend Joel Metz mightily as he clambered his way up the more than 45-degree hill of clodded, hard-dried mud. Then I excused myself to go do some easy spinning as a warmup. At the conclusion of the Singlespeed race the course was opened for a very brief practice lap, so I rode the part I hadn't seen at the clinics and called it good. I didn't want to totally blow up before my race. While out on my warmups, I ran into — gasp! — another Bella. Kari (Carrie?) and I greeted each other and chatted briefly before wishing each other a good race and heading off to complete our respective warmups.
Twenty minutes later, I was near the back of a huge field of all the combined womens' classes (A's, B's, Masters 35's and 45's, and Beginners). We chatted amiably among ourselves while we waited to begin. I was happy to see my co-worker Hazel line up next to me on a bike she'd finished building up earlier that morning (!!). She said this was her first cross race and she wasn't seriously planning on finishing. Then, we were off.
Although it had rained overnight, the course was mostly dry by the time of the race, with only a few damp patches of something that had once been mud. This made the course fast — and bumpy. In short, much of it was similar to the feel of the course at short-track. The primary difference was that the 'cross course was less technical and success depended more on just going hard, rather than on any special bike-handling skill. Reminding myself to stay within my own race, I tried hard to keep a steady (albeit slow) rhythm throughout the event. My goal was to finish, period. If I was able to complete three full laps, that would be bonus. If I could only complete two, well, fine.
The sick runup was about three-quarters of the way through the lap. And it was very, very hard. I treated it like a sort of rock wall and just looked for foot-holds on the way up each time. And yes, I walked. There was no way I was running up that hill or I would simply blow up. To my surprise and delight, some of my cycling friends (Joel, plus assorted folks from Team Cthulu, Team Beer, and a couple of kids from PSU Cycling — go Vikings!) and even a co-worker of mine were at the top of the runup. When I pulled in, dismounted and appeared at the bottom they all screamed my name and shouted all kinds of encouragement, which I heard like bits of words phasing in and out, like an odd sort of petit mal seizure, between the loud clangs of dozens of cowbells. The noise was deafening, a little terrifying at first and then sort of thrilling; and I am convinced it helped me get up the hill. I made my way through the course laid out inside the velodrome, and was so happy to hear Liz, Sari and Lynne yelling for me as I dismounted and leapt over the barriers and completed my first lap.
As I began my second lap, I shouted out to a spectator, "Time?" — he looked at his watch and yelled back, "Two-twenty-five!" That told me I could definitely do a second lap, and MIGHT be able to complete a third lap if an official didn't pull me first. All I needed to do was to keep going.
The second lap was a little harder physically, but I found better lines and was able to avoid getting hung up behind too many geared riders because the field had spread out more. Down in the turnaround at the base of the parking lot I skidded a tiny bit in some damp mud but otherwise managed to hang on. More shouts of encouragement from other members of Team Beer who had assembled in the grassy field near the pit area.
The runup was insane, and much harder the second time. This time, Liz was standing at the top of the runup and cheered me on. I didn't see her among the dozens and dozens of spectators but I definitely heard her!
And just like that I was back in the velodrome finishing a second lap. The counter at the line indicated that there was one lap to go, so I went for it. Impossibly hard! I lost momentum getting stuck behind a junior who struggled to find a working gear (note to self: race Singlespeed class next year) and had to walk a little distance up a small, off-camber incline. As I re-mounted my bike, a photographer saw my tired look and suggested with a smile, "hey, you're near the pit, maybe they can do a body swap for ya." I laughed in spite of myself as I passed the neat rows of stacked wheels in the pit.
I found my momentum again, enough to get me around the parking lot and back to the –UGH! — runup. This time it felt impossible, and every step up was a struggle. But people were screaming and cheering me on and ringing cowbells in my ears, and somehow I made it to the top, and back into the velodrome for final pass.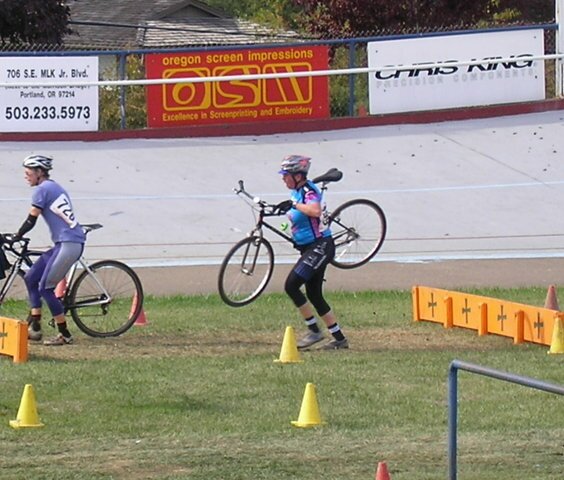 A sloppy pair of barrier hops in the velodrome, and suddenly I was using my very last bit of energy to push across the line. I had ridden the entire time, and as a bonus I had completed three laps. I was insane with delight, and exhausted by the effort. This was the sickest thing by far that I have ever done on a bicycle. And the scary part is, I want to do it again. Carrie and I met up again at the finish and congratulated each other. She said the course had been challenging and that she was feeling pretty done. I hope there will be an opportunity for me to meet other Bellas at future Cross Crusade races and actually have a little more time to talk. Today I was on a tight deadline because my sister (my ride) had to get back as soon as my race was done, so I had to leave.
Results? They'll be posted later online at the OBRA Web site. I assume I finished at the very back of the pack, and I do not care in the least. I rode the full time, I got in three full laps on a challenging course in a discipline I'd never raced before; and I am very, VERY happy.
By Beth Hamon
Portland Oregon
Mood: Glad it's over – phew!
I arrived at 4:30 to do an easy-paced pre-ride. The moto track portion had been laid out insanely; Organizers decided to throw the kitchen sink into the course design for the closing night of the series and it showed: crazy transitions at odd angles, with a lateral drop-down off a grassy strip between two parts of the track onto the next section of moto track, and across that onto some gravel and back onto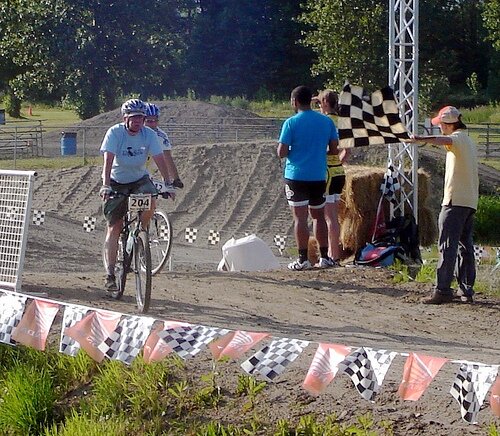 the moto track. The single-track sections through the trees were equally intense: several spots where the course zigzagged wildly back and forth so as to force riders to thread the needle between two closely-space trees.
To my shock and amazement, once I got the hang of it most of these posed no problem. During the pre-ride there was one particularly SICK tree-crossing where, as you passed between the two trees, you also had to negotiate a very deep, badger-sized hole; the only way to avoid getting your front wheel stuck in the hole and doing an endo was to find a narrow line around either side of the hole — while not hitting either tree. VERY hard! And guess what? I DID it. Let me tell you that there is nothing to boost your confidence like nailing hard, technical stuff on your bike. The single-track portion of the course was actually LOTS of fun.
Most Surreal Moment Of The Night: minutes before I had to go line up for my race, a couple of professional salsa dancers from Caracas, Venezuela put on an amazing dance exhibition in the center lot. Riders milled around for a little while to watch them perform; several rode right past them, either oblivious, or staring, incredulous. I giggled as I watched a muscular Cat 1 rider roll by, stare for a moment at the dancers, and mouth the words, "what the f**k?!"
Finally it was time to race. The Cat 3 Womens' field was quite large tonight — no surprise as it was easily ten degrees cooler than last week, when most fields were much smaller than usual — and very friendly and chatty. The start lap was long and tough, with the surface of the moto track mostly large chunks of sun-hardened dirt that made traction difficult and bike-handling worse. I somehow managed to stay upright as we took the first corner, and to my surprise and joy I was NOT the last one into the turn! (I got passed by everyone by the time we'd left the moto track, but whatever.) I made it through the grassy drop-down — terrifying, but somehow I stayed upright, even though my rear had a frightening fish-taily feeling as I dropped.
The only real bummer on the first lap was when I began riding the long rhythm section of rollers in the center of the moto track; I topped the first roller too fast, caught a little air and crashed when my front wheel landed first. I did a neat little part-splat, part-shoulder-roll; immediately got up to drag my bike out of the way of whomever was behind me; got on, and kept riding. I would feel the scrapes on my arm and leg later. For the time being the adrenaline was doing its job and keeping me mostly numb to the pain.
Even though I'd geared down for tonight's race, putting on a larger cog at work, I still could not work up the momentum I needed to top most of the steepest berms on the moto track without getting off and running or walking up. I wasn't worried about walking up, as I'd set a goal for myself of finishing three laps by any means possible; even crawling was a viable option. Still, the moto section took a toll on me. As we entered the single-track part of the course I was able to breathe a little bit. I could see Liz and Itai standing near the baby-whoops, waiting for me to come around. I noticed with an odd disappointment that someone had filled in the badger-hole (for safety, presumably), and now it was just a little dip in the track. My lungs burned from the heat and dust and exertion; on a short straightaway here and there I managed to sip some water on the fly but it was never enough to really help. I made it through the baby-whoops, heard Liz and Itai both yell my name, and perked up; someone was here rooting for ME and boy did that feel nice. I blew through the singletrack section, getting hung up once as I tried to thread between two trees and again when I had to do a run-up to the back bleachers behind the moto track. I panted my way back onto the moto course for another lap.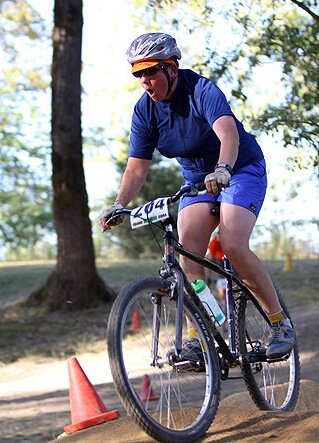 I made it through the moto section a second time — the drop-down onto the grass was still JUST as scary, and the crunchy, chunky terrain just as hard to negotiate — and gasped my way back into the singletrack again. The second time I left the singletrack, I powered up the path to the back bleachers, not wanting to do another run-up and this time having no geared bike in front of me to kill my momentum. YESSS!
By the time I left the singletrack section I could hear the bell ringing the final lap for the leaders. I huffed and puffed my way onto the center rhythm section (where I'd crashed the first time), and remembered to watch my speed this time. But as I topped the first berm, my left calf seized up — CRAMP! OUCH! — and I nearly fell off my bike again from the pain. A course marshal down on the ground asked if I was okay. I yelled back, "yeah, it's just a cramp." He yelled back at me to stretch it and ride it out if I could. I got on my bike, tentatively stretched the calf, winced in pain and resumed riding. I made it through the rhythm section, hit the banked turn and gritted my teeth as the pain returned.
Coming out of the banked turn I could see them waving the checkered flag at the finish. I could also see the Singlespeed/Cat 2 field anxious for the last Cat 3 riders to finish so they could start. I looked ahead of me to one more set of rollers and another couple of hard banked turns before I'd have to top the final berm and roll to the finish. I was most of the way through a third lap. And then, as I headed into the last set of rollers, my calf screamed. And I screamed. Out loud. People stared as I nearly fell over from the pain. And that's when I knew I could not ride anymore. I pulled off after the second roller and hobbled off the course. I haven't seen results yet but I'm sure I won't get credit for a third lap. I MAY even get DNF'd. No matter. I rode nearly all of it and I'm happy that I pushed myself.
UPDATE: Checking results, I found out I'd been given credit for three laps. Not sure how they did the math but I am STOKED! Yippee!
After the cold chicken dinner, a ton of water and some beer, the crazy team relay and the raffle and the podium ceremonies, when I finally got home at 10:45 pm, she told me how proud of me she was. "You're a rock star," she told me over and over. "You did something really amazing and you looked so strong out there!" Liz was proud of me for trying for a third lap. I have to admit that I'm a little proud of me, too.
This morning I am a little stiff and sore where I fell. The scrapes are not so bad, except the two biggest ones on my forearm and elbow. I'm not too sad about crashing; it was my first crash in four races and the law of averages dictated that sooner or later I'd have to have the experience. What I'm proud of is that I got back up quickly and kept going. That felt good.
I am nervous about cyclocross. Mostly nervous about learning to mount and dismount on the fly. Extending the pins in my pedals and switching to my touring shoes seemed okay; I had a stiffer show but with still plenty of grip, and I didn't slip off my pedals once. plus, the extra traction on the soles helped me do the run-ups without feeling like I was going to slide back down the berms. But there are free clinics on Wednesday nights at Alpenrose and I hope to make at least three of them before 'cross season starts in October.
I am really, really glad I gave this a go! I'd like to come back and do it next year, and hopefully do more of the races in the series if possible.
By Beth Hamon
Portland, Oregon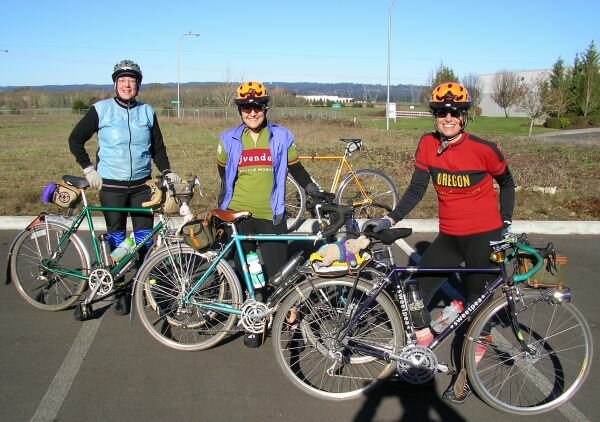 Beth and friends in Brevet gear, ready to ride
Inspired by the recent accomplishments of my friends Lynne and Cecil (who completed their R-12 in December — they rode a 200km brevet every month for 12 months in a row!), and wanting to enjoy a ride with them without killing myself, I suggested we put together a "shorter" route of 25 to 30 miles. I further suggested that since I'd shown Lynne and Cecil my Smith & Bybee Lakes loop already, that Lynne put together a West side route for us. I called it an Inspiration Ride, to honor my friends for their achievement and to inspire all of us to get out and enjoy riding more in the coming year. Lynne obliged with a beautiful countryside loop beginning and ending in Hillsboro.
It took about 90 minutes to get to Hillsboro from my house, including riding to MAX. We set out from Longbottoms Coffee, a favorite starting point for many Washington County bike riders, and within five miles had found our first (and it turned out, most significant) climb of the morning. Jackson Quarry Road was quiet and still, with many white patches of frost still on the road at 9:45 in the morning. It was a good workout, and the beginning of my being able to find my groove for the ride. Going down the other side of the hill was another story; I don't care for rapid descents and this was pretty fast, but with some nice turns that broke things up a little.
By the time we'd ridden through the Jackson Quarry area, I'd warmed up quite a bit in my winter tights, two thin wool shirts and a heavy wool sweater, and a wind shell. I traded my heavy winter "lobster" gloves for ragg wool ones and shed the shell, which I didn't need again the rest of the ride. My shoes had nylon booties over them and I had toe-clip covers too, so my toes never got uncomfortably cold.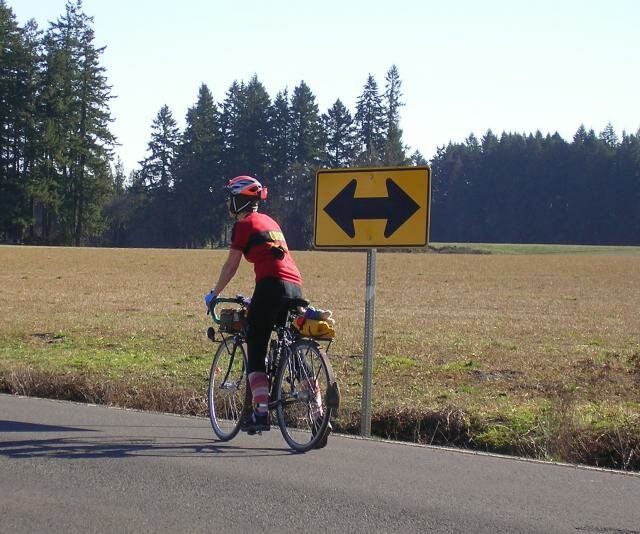 Near North Plains, we encountered a group from Portland Velo, the other club that Cecil and Lynne hang out with. Almost entirely men, the group rode lighter bikes with narrower tires than ours; they looked like sleek stallions gearing up for the big breakaway. They passed us with care and a few friendly hellos. They turned one way and we turned the other at the "T" in the road after our Jackson Quarry climb. At length, one of their number caught up with us; he'd started the ride with Portland Velo but decided to hang with us awhile, preferring our gentler pace on his fixed-gear bike. Dan was charming and an easygoing companion and it was nice to meet him and talk about bikes with him as we rode.
On Mountaindale Road we began leapfrogging with another, larger group of riders, most of them wearing vivid kelly green and yellow team kits from Bike-n-Hike. There were quite a few younger riders in this group, some looking as young as pre-teens. They passed us in a large wave; a couple of rides at the rear of the pack seemed almost afraid to pass me and I waved them on with a smile. They disappeared almost out of sight. My knee was starting to bother me a little and I slowed to give myself a break, knowing that I'd catch up with Cecil and Lynne at the top of the next gentle climb. A few miles down the road, I was surprised to see the Bike-n-Hike group stopped, their numbers scattered so far out into the road that I was forced to cross the yellow center line to get around the group. As I passed, I slowed and called out that they should move over onto the shoulder more to be safe. They ignored me. As I rode on, Cecil circled back to complain to me about it. We both agreed it was stupid, and that the youngsters in the group were being taught a bad lesson. "Stuff like that is why Washington County can't stand bicyclists!" Cecil exclaimed. A couple of miles later, rounding another bend in the road, we were overtaken by the team one last time, with their follow van cutting a very wide path around the three of us and crossing the center line of the road, though there was plenty of shoulder for riders and therefore no need for the van to cross the yellow line. I hoped they wouldn't have an accident. At the intersection of Mountaindale and Dairy Creek (where I would normally turn onto Dairy Creek if this were the Snoozeville route), the Bike-n-Hike team turned right and we continued on Mountaindale. That was the last I saw of them.
Stretches of Mountaindale were absolutely bright and beautiful, with manure-covered fields glinting in the hard winter sunshine and the green hills in the distance losing their frost as the sun landed on them.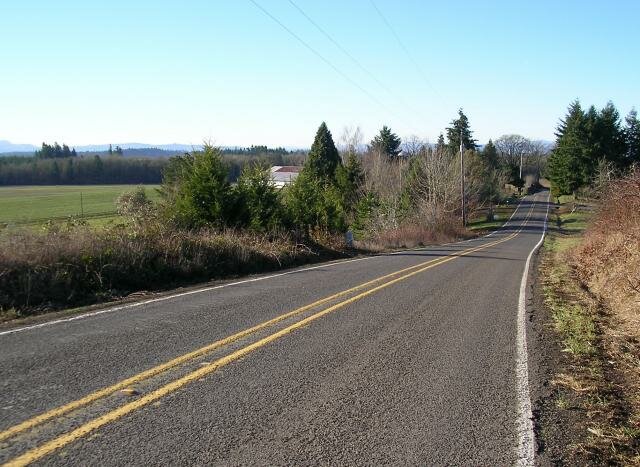 At length we crossed Sunset Highway and approached the tiny town of Roy. Church services were just getting out and Lynne mentioned that the church had a public restroom. We stopped to use it, refill our water bottles and adjust our clothing; by now the sun had warmed things up a lot. Cecil checked her thermometer (I think she had one in her phone or something) and announced that it was a balmy 50F. Arm warmers and middle layers came off, though I was comfrotable enough in my wool sweater that I just left everything alone. We were about 7 or 8 miles from the end of our ride and I saw no need to readjust much myself.
After leaving Roy we also left the bucolic countryside behind, riding through what quickly became a suburban subdivision and then over onto Evergreen parkway. By now both of my knees were hurting quite a lot, though I didn't complain out loud. And my stomach began to feel queer. When we turned onto Evergreen we found ourselves riding into a light but steady headwind, and between that and the way I was feeling I could not keep up at Cecil and Lynne at all. I watched them shrink in the distance and decided not to worry too much about it; I knew where I was, had a cue sheet and knew that we were only about four miles away from the coffee shop. Then, I felt a wave of nausea overtake me, and I knew I had to stop and pull of the road for a minute. Last night's raclette — did I mention we'd had friends over for a little raclette and fondue party? — caught up with me, and while it wasn't terribly dramatic, it wasn't exactly pretty either. I felt better right away, resumed pedaling and I found myself catching up with Cecil and Lynne, who had slowed when they didn't see me behind them anymore. They patiently chatted while I collected myself, and then we set out at a much gentler pace for the last mile and a half to the coffee shop. (One of the things I enjoy about doing these more social rides with Lynne and Cecil is that, while they can totally kick my butt, they never make me feel bad about it. If we're out for a social ride they are happy to ride with me, rather than race ahead as they would have to for a timed event. I greatly enjoy riding with them when there's nothing at stake!)
There, we found Dan, who had regrouped with some of his Portland Velo buddies and was enjoying lunch. We did the same, though after feeling sick I opted for a simple bowl of oatmeal and some fruit. I felt much better after eating, though my knees hurt the whole way to the light rail and all the way home from Killingsworth Station. Still, it was a good ride with friends and I hope we'll do it again soon.
Total, actual route: 32.96 miles.
Total including travel to and from ride: 41.57 miles.
By Sara Johnson
Beaverton, Oregon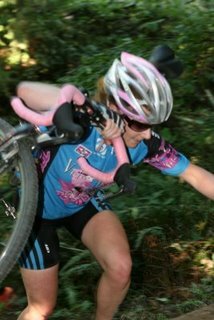 Well, I just raced my first cross crusade race…and I raced it as an A! Talk about crazy! Soo many people not just racing, but spectating too. The line up was crazy! 30 women in the A's alone. I'm not even sure how many total women were racing. Luckily, the A's get to go up to the front of the line. Since it was my first race, I hung back and started in the second line. It was a horrible start, every hole I saw would close up right as I started to take it. So, I was about 20 back in the beginning.
The race course was pretty fast and open in the beginning. Then they had us go up some huge mound of clay that had turned to concrete after the rain the night before. That was interesting to say the least! Coming down off the mound there were basically three tracks, and you picked one and were committed until you hit the bottom. Midway down, some girl went a*& over tea kettle right in front of me. Thankfully she was ok, and I missed running over her by a couple inches.
So now I'm in like 19th place??? Well, I just kept a good pace, tucked in behind some girl that looked like she knew what she was doing and just started passing people one by one. I ended up in 5th or 6th with 1.5 laps to go. Then I did what I NEVER do and I crashed! Damn! I actually went down twice in the same 180 degree sucky gravel corner, but the first time I got my foot out and basically just tapped the ground and bounced back into my pedal and started riding again. The next time around, not so lucky. I didn't get my foot out and I went down….hard. Ouch, I left a bit of thigh, butt and elbow skin on that course. Didn't rip my pretty shorts tho…yay for that!
Well, the crash also rammed my derailer into my spokes and twisted my shifter/brake levers so that my brakes were stuck on. While I was yanking the derailer out of my spokes, and twisting the levers back to semi straight, 5 girls passed me. Damn again. I tried to catch them the whole rest of the race, but my bike was basically a single speed and I was stuck in the drops the whole time because the bars twisted. I couldn't pass them, but I also didn't let anyone else get by me. I ended up 11th out of 30. Which, for my first major cross race, I think is pretty good.
Next weekend there is another one up in Washington. Got my bike all fixed up, got my new sweet 1600gram triple spoked wheel set from FSA and I'm ready to go. Making a whirlwind trip to Spokane friday night after work, visit babies and eek a quick ride in saturday and then drive to the race sight in Western Washington (a mere 6 hr drive) Sunday morning and race again. If nothing else I'll be nice and rested from 6 hours of forced sitting.
Ouch.
More: continued here
By Erika Krumpleman
Hayden, Idaho
The Northwest "Indie Series" took me to the quaint, beautiful, (although somewhat cheezy) Bavarian town of Leavenworth, Washington. I was a bit nervous about how my body would work after crashing in the previous Wednesday night race and turning my right side into one large hematoma. With almost 5,000 feet of climbing, my legs would need to be there!
After the 4 hour drive to the race course, I had a good warm-up and was ready to go when I hear that the start was delayed by 30 minutes because one of the sport racers had crashed and needed to be carried off the course on a stretcher. So—do I keep warming up, or stand around and talk? Hmm—stand around and talk wins. After 30 minutes and halfheartedly warming up a 2nd time, I hear the start has been delayed another 30 minutes because the racer is badly injured. After climbing 1600 feet each lap, the descent was fast and buff with an occasional hump (water bar) added in that sends many a rider on his or her head. By now I'm starting to think conservative descending might be in order. . Also—my mental focus is pretty much gone. We finally line up to start, I dash into the bushes for one last pee, and then we are off. I took off hard and led up the climb. One woman passed me at the top of the climb, but I quickly passed her on the downhill and did not see another woman from the open class for the rest of the race—pretty uneventful! I kept expecting Kristy Berg, a former pro downhiller to catch me on the descent, but surprisingly she never did.
Luckily my bruised and swollen right leg still worked! The best part about it was the pay out–$250.00!! This may sound pathetic, but I've never won that much before! In most races, the men's payout is about 5 times the women's, but in this race it was almost equal—yay for progress! It might actually pay for a few tanks of gas….
Thanks to Stan's for making an incredibly light and strong set of purple nippled wheels! Less weight on the bike equals faster climbing!
It was also great to see teammate Kari Studley out there. She rode very strong considering the lack of fuel!
Thanks for reading!
By Kari Studley
Bothell, Washington
Highlights of the race:
– Getting to ride my bike in the sun! it's been POURING rain the last 10 days in Seattle. Yuck.
– Amazing views. I had to refrain from singing "The Hills Are Alive" from the Sound of Music as I enjoyed the panorama of mountains view.
– The sweet smell of Lupin and you ride through trails blanketed by the beautiful purple fragrant flower on either side.
– Sunshine! Sunshine! Sunshine!
– I won my first cowbell trophy! I'm a sucker for racing for t-shirts & cowbells, guess it's a cross thing.
– Fun race atmosphere. Beer garden & bands and community turnout = fun!
– Perfect Kari-course (4 miles of Kari-grade climbing up, 4 mile single track downhill. Repeat 3 times.) I had a GREAT second lap!
– Erika Krumpelman WON her race in the open women category. Whoo hoo Erika!
The not-so-highlights:
– I won by default as the only other racer in my expert 19-34 age division had to leave emergently as her father crashed severely (rumored initially unconscious) and had to be carried out by stretcher by mountain rescue in his race prior to ours. I was very distracted the first lap thinking about her and her dad and hoping the very best for the whole family. (Please help me in sending good healing & well-being Bella vibes to them). So it was me in my <34 category against the 6 women expert 35+ category racers. – Because the my race kept getting delayed by half hour increments (my race at noon became 12:30 to 1:00 and my race actually started at 1:15) for the rescue effort I kept having just enough time to not do anything productive for my race. I just want to clarify that his life/well-being is SOOO much more important than my silly race and I have no problem with being delayed (or canceled) for such reasons, but I've never had a situational delay like that or that long before my race. So I didn't eat/fuel up enough to make up for that hour since I kept thinking I'd be racing in 20-30 minutes and didn't want to suffer that consequence of indigestion. – Hence my perfectly timed out food & warm up prep lasted me to what would have been a perfectly timed race finish according to the original plan. Or the end of lap two (of 3) for the revised plan. I had just solidified first out of all the expert women when just after the feedzone my hamstrings cramped really really badly to an almost paralyzing point (also a new experience while racing). And then just as I was able to get back into a normal cadence I completely food bonked (with 3 miles left of the climb and 7 miles total for the race). It's really not pretty when I food bonk and I've never been that hungry before on the bike, much less, racing. – So I tried to at least enjoy the scenery and not think about eating the plants and watch the lead 35+ expert woman pass me and take first overall for the expert women field (a matter of personal pride since I beat her by 8 minutes the last time we raced. But, kudos to her, as this was her hometown course and she definitely ate time into me on the downhill part). 24 hours later I still am hungry (I don't think I ate enough the day before either, so I've learned my lesson). But very glad I at least got to go spend a day riding my bike in the sun, lupin flowers and spectacular views. We're back to rain and clouds in Seattle. And a big plug for my Zeal Mistro sunglasses: not only are they the PERFECT tint for sunny & shady trails (a balance I've never been able to find before with previous sunglasses), they fit perfectly around my helmet, AND (most importantly!) I didn't get a sun-headache that a Seattle-ite like me is often prone to when I go suddenly from no sun to tons of sun in a day. Photo stolen from the collection of Sabine Dukes, because it looked pretty.
by Shannon
So this past weekend my husband, Noah, and I headed to Portland, Oregon for a weekend of riding, racing and, well, family time. It was a beautiful weekend until the evening before the race in which it started pouring. It poured most of the night and most of the next day. We drove from Portland where my sister lives down to Falls City for the Firecracker MTB race. The race is held at a free ride park, that should tell you how the course is going to look. It was raining when we got there but I decided I needed to pre ride. So I went out and got some pre race mud. The course climbs on a fire road for some time before it turns left and heads up a muddy slippery pitch, in which at the top you get to climb over tree which is about waist high, unless you can ride the off camber slippery ladders that go up and down each side. You then hit the fire road again for about 1/2 mile until you make a right turn up a totally unridable climb. This was the longest hike a bike I have ever seen in a XC race and once again quite slippery. Once to the top more ladders to get over some more downed trees and then another fire road up. Once at the top it is fun downhill for about a mile, turns to fire road for a little then it turns left and goes straight down the hillside, crazy dhing. From there the DH is fun for a little a few more ladders one with a drop at the end then a fire road decent which makes a 180 and goes straight up a slipppery mudd climb back to the start finish. It sounds like a lot but it was all compacted in to all but 4.5 miles. Now to the race. I felt pretty good. The course is totally my husbands style so I felt a little strange with him on the sidelines watching Noah. I started pretty good, no one would go so I took lead and a couple of girls went with me. I let them by and hung on the rear wheel for awhile. We climbed up and up and when we finally got to the downhill one of the girls was downhilling like my husband, insanely fast. I was dropped. I was having problems with my glasses so I had to take them off. This turned out to be interesting because when we hit the fire road decent I was going so fast that it was like I was being attacked my a million little mud nazi's. It was crazy, I couldn't see anything, If I opened my eyes I would get splatted with mud and then my contacts would move all over. I decided then that I needed to put my glasses on before the Fire road next time, even if I couldn't see out of them. I lost a lot of time the first laps trying to figure out the vision issue and just getting used to riding in the mud. I actually got caught by another girl, which pissed me off so I stepped up my downhilling the third and fourth lap. The awsome thing was that as muddy as it was my shifting stayed perfect and my brakes worked awsome the entire time like there wasn't any mud at all. Got to love Easton and SRAM. My husband put on a Nobby Nik and a Skinny Jimmy so my climbing traction was awsome even though it was slick as snot, I could ride better than I could walk. So I kind of settled in the Second and third lap. I haven't raced much there year and I think it was showing. I was unsure of how my body would do (especially my knee) so I settled in and I shouldn't have. The last lap I decided I needed to go. So I cranked the climb. Just as hard as I could go 185 plus Heart rate the entire time, and pushed the downhill, testing my limits. I made some awsome time on the girls in front of me and put 3 minutes on the girl I passed at the begining of the lap. Now if I could just figure out how to get my mind and body to push that hard the entire way. It was a good race, I got 3rd to some amazing riders so I am happy. I was so caked in mud, about 1/4 inch on my bum and I couldn't even unzip my jearsey because there was too much mud in the zipper. My face was unrecognizable. The best part about it was I got to race my mountain bike and race on some awsome trails improving my skills. After the road race last weekend I have realized my true passion lies with the nobby tires. I just LOVE mountain biking.
So for those wondering how my knee is doing, here is a little update. My friend is a rep for a certain bike company (name not to be disclosed) he gave me their newest pair of MTB Shoes to try. I switched over 2 weeks ago and have been riding them soley. They are very very stiff and seem to keep me more in alignment. Between that, Physical Therapy, icing twice a day, and motrin, my knee seems to be doing a little better. Maybe I am mental but it seems better. I still have pain when racing but it is tolerable for now. I am hoping this is a trend and I will be back to myself in the next month. I am just so happy to be racing at all right now, that placings don't matter. They will come when they come. Welll Noah and I are off to support my husband this weekend for his first every solo 24 hour race. Should be fun!!! I will enjoy his pain I think after doing it solo last year. He He He.
Until next time…
Happy Trails.