2010 Owasco Flyer!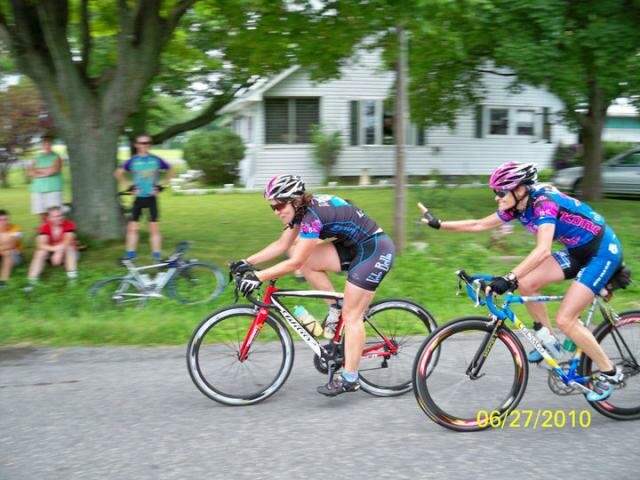 NY Bellas Kim Behrman and Linda Tersegno duke it out for the finish line!
Hot, humid and hilly. Those are my three main adjectives to describe this year's Owasco Flyer, a beloved citizens' race in Auburn, New York. Of course, it's hilly every year, but some years those climbs are more painful than others…and obviously heat and humidity contribute to the perceived elevation of the last "Three Bears", the finishing hills, which annoyingly are really FOUR climbs, not three. The worst is, that while you know you've got those four last grinds to get up to the finish line, you forget that there are about 87 other hills to climb BEFORE them! (Ok, maybe not 87, maybe really 12…10? ok, how about 8 pain in the *ss climbs?)
This year, there were somewhere around 250 racers, which made for a CRAZY "controlled start" with people jockeying for position before even a mile had passed. (The course is 36 miles.) Survival includes suffering the usual terrifying shouts of "braking! Braking!! Braking!!!!", the SMELL of braking and the knowledge that lots of people in this massive pack possessed neither skills nor the understanding of how squirrely riding can have a dangerously domino effect. Nonetheless, all participating Bellas made it unscathed – we were treated to shrieks of enthusiasm from the lead car, carrying none other than our distinctly vocal LiLynn, who was sitting in on account of her injuries from an awful crash in last week's citizens' race, the Giro de Otisco.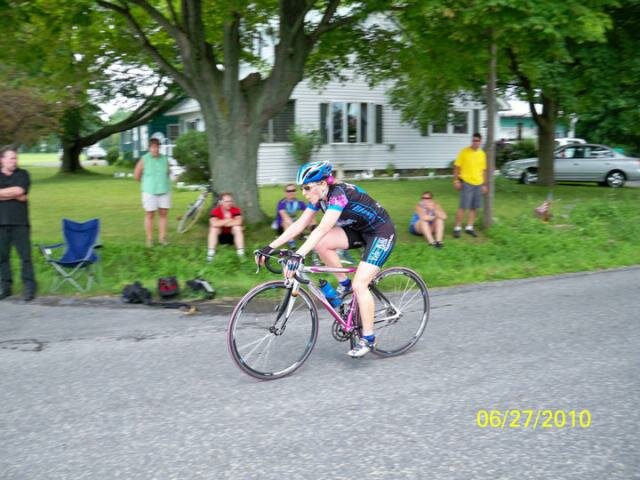 Kate whistling a little ditty as she finishes.
Everybody has a different story of the outcome – mine was of being dropped on the first hill, but working with a splendid crew to miraculously catch back up to the "pack" at about mile 12 – the pack still being in the range of 100 people! Then on yet another climb, an unexplained pile up (I looked up and saw bodies somersaulting into the ditch – and a dog shooting out of the pack, but no one else seems to have seen the pooch..) broke up the pack again, and from then on it was, for me, various small groups of fellow suffering non-hill climbers. Thumbs up from a corner marshall that I was "3rd woman!" which turned out to be off by two, rats! Oh, well, I'll take it.
Excellent to see Linda and Kim mounting the last hill side by side, then a sudden burst as they tried to out sprint one another for the final stretch. You can see from the photo proof above who got it, sorry Linda! Meanwhile, Sue Kahler devoted her race to assisting newer racers by hanging back and being encouraging. I had chatted in the bathroom with a woman who said it was her first race ever and that she'd "never even ridden more than 24 miles before" – Sue had her work cut out for her. This was also the first race for NEW NY Bella, Kelly Bulkely – who has ridden her bike something like 483 days in a row, and who raced, as far as I can tell, with PLATFORM PEDALS and NO clips?!? (But WITH, mind you, a 4 tiered black mini-skirt over her bike shorts. Gotta flaunt the flair, baby, flair. And she's working on getting a jersey…at least her handlebars are pink.)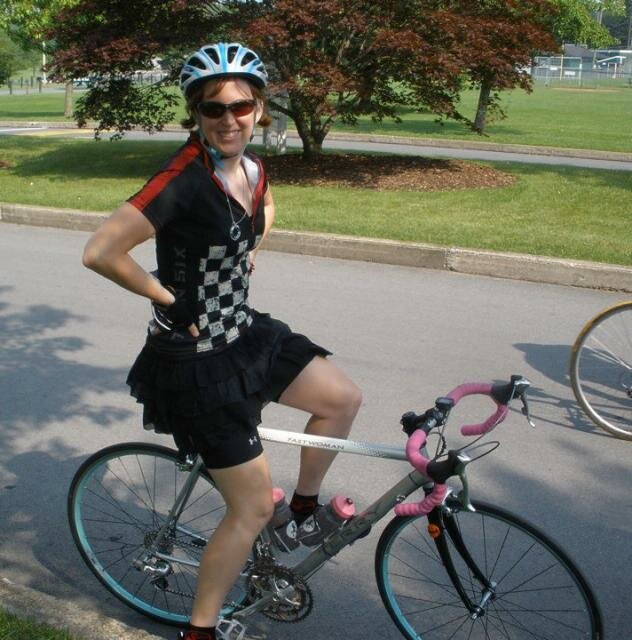 All in all, we had a decent showing (thanks to LiLynn's berating email urging everyone to race because we were "lame" this year. It worked!) and the NY Bellas are BACK!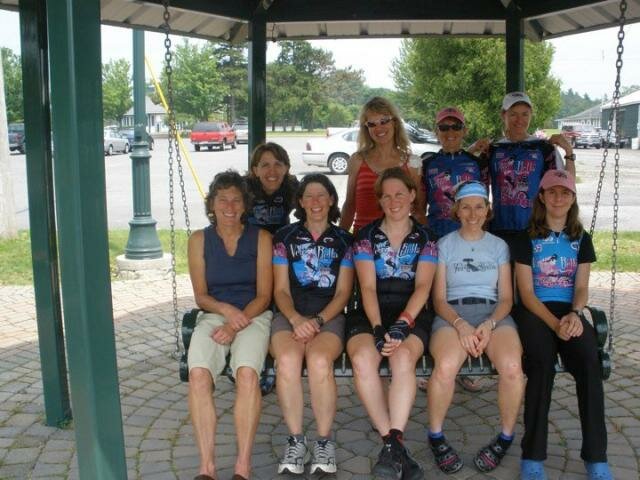 Bellas in Repose:
Front: Honorary Bella Ruth (2nd woman overall), Sue A, Kelly, Kate, Ellie
Back: Kim, LiLynn, Sue K, Linda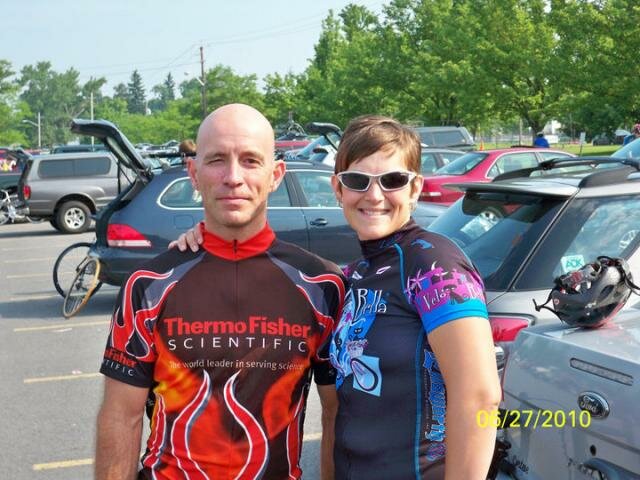 Kristin (and her brother-in-law, Mr. Clean) who missed our group pic.
Results:
Overall 3rd place woman, former NY Bella, Gaetane Perreault
Women 19-29:
Women 30-39
4th Kim Behrman
7th Kelly Bulkelly
Women 40-49:
1st Kate Stewart
5th Sue Atwood
Women 50-59:
2nd Linda Tersegno
5th Sue Kahler
Tandem:
7th Ellie and Ernie Bayles
---
This fabulous post was written by one of our awesome bella volunteers ~ To change this standard text, you have to enter some information about your self in the Dashboard -> Users -> Your Profile box.
---