Nearly two dozen Velo Bellas attended the 3rd Annual San Diego Velo Bella camp at FunctionSmart in Sorrento Valley and deemed it — FANTASTIC!
Athletes from San Diego and North County rotated through three clinics- simulated outdoor riding on the CompuTrainer with Gino Cinco, Core Strength with Chris Hebeler, and Flexibility led by Jenny Skorcz-Gadbois from Serenity in Sport.
Jenny's class combined the fundamentals of yoga and pilates to loosen up tight muscles and ready participants for the morning's activities. A cyclist herself, Jenny knew exactly what Bellas needed to be strong, yet flexible for the bike.
With TRX straps hanging from the rafters, Chris's core class had Bellas jumping, squatting, swinging, pulling, and pushing.
Gino proved that riding on a trainer doesn't have to be boring. In fact, when you and your bike are hooked into his CompuTrainer system with several of your teammates it can be downright fun (and sweaty)!
During a brief snack and recovery break, Becki McClintock explained lactate threshold testing and how it can improve your running and cycling performance. She'll be conducting testing sessions by appointment at UCPT.
Julie Lestyan brushed up Bellas' basic bike maintenance and minor repair skills to ready the bikes for the road.
Bellas were also asked to bring food and personal hygiene items to donate to the Women's Resource Center in Oceanside. We were able to fill two boxes with items to help the women and children at this facility!
Thank you to Gino Cinco and FunctionSmart for hosting the San Diego Bellas for the third year in a row. Thank you to PowerBar for supplying lots of great products that kept Bellas moving throughout the workout as well these sponsors who so generously donated items for the Goody Bags!
Hoo Ha Ride Glide, PowerBar, Aquaphor, Zealios Sunscreen, Celestial Seasonings Tea, The Kiwi Tree, Moment Cycle Sport, B&L Bikes, and Road Runner Sports.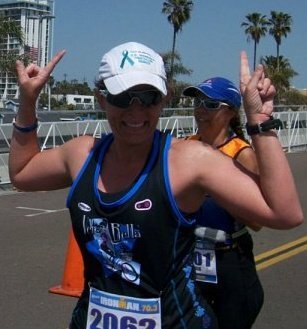 I participated in the inaugural Ironman St. George on May 1st. I registered for this race almost a year ago, and had been nervous about it ever since. It is a VERY, VERY hilly course, and I am not a climber by nature. I trained like crazy, and on May 1st I knew that I was ready to race.
The swim was fantastic. I was still on the shore, making my way to the water, when the cannon went off. It ended up being a blessing. I was able to find open water quickly, and didn't get the crap beat out of me! I felt strong. All the work I' had been doing on my stroke with Mickey Murad over the past few months paid off. I had my best swim ever, and made it out of the water with a PR and feeling great.
The changing tent was packed with shivering women. The water was cold, and it had taken it's toll. There were no volunteers able to help me (there are usually plenty), so I had to get changed on my own. Harder than it sounds with numb and frozen hands, but I did it. I ran through the bike lot, grabbed Big O, and hopped on.
I love being on my bike, and I had a blast once I started riding. My legs felt great. I had to keep reminding myself to slow down- that it was going to be a long day and if I was patient now it would pay off later. The course was beautiful, and the volunteers and spectators were everywhere cheering. I made it through the first loop feeling FANTASTIC. I had done the math in my head, and knew that even if I slowed down on the second loop, I would make the bike cut off with over a half an hour to spare. I KNEW that all the hill work I'd done over the past 4 months was really paying off. Coming down the long decent at almost 50mph, I was elated!
At the bottom of the hills everyone had to slow down for a sharp right hand turn. The corner was absolutely packed with spectators. I feathered my brakes to make the turn. Then- BAM! My rear tire blew.
No problem. I had plenty of time, and I can change tires pretty dang fast. So I did. No problem.
Roch Frey, who is a friend as well as the race director, just happened to be standing on the corner. As I was getting back on the bike, he cheered me on. Everything was fine.
I had barely clipped in when- BAM! It blew again.
Roch ran over and said I probably had a pinch flat. I didn't think that was the case, but since I had tried to change it really fast it was possible. He went through the tire, and couldn't find anything. We looked at the tube- big hole. We looked at the other tube- big hole in the same spot. We looked through the tire again. Still couldn't find the problem. Roch started bending and moving the tire around and found it. The tread and the side of the tire had separated about an inch. The tire was unridable.
Roch called tech support to get a new tire. She wasn't too far away, but he said we could try to boot it to get me past the checkpoint. I didn't have a boot, so he pulled a $20 out of his wallet to use. He had his assistant run back to the truck to get a pump. When he got back, Roch pumped the tire up to 70 psi. There really was no way this tire was going to hold.
He called tech again. She was only about a mile away. He told me to hang on.
The spectators were great. There were a ton of folks watching all of this happen, and they were all rooting for me. One woman offered me her chair while I waited. Several others offered me food. Everyone was so, so nice. I looked at my clock and saw it was getting late. I asked someone if I could use their phone to call my husband, Rob. She kindly let me, and I was able to let him know I was fine, and not to worry.
A few minutes later, Roch ran back over. He told me tech support was having to stop to help other people, so I needed to get across the timing mat or I wouldn't make the cut off. He made sure I understood the tire was not going to hold- that I just needed to get across the mat. He said to go slowly, and he would send tech support to find me.
The crowd cheered as I took off. I was trying really, really hard not to cry. At this point, I realized that I was in serious trouble. I started doing the math in my head. It didn't look good. The next cut off point was at the top of the course. I was going to have to average 15 mph up some serious inclines to make it happen.
I rolled on slowly, being careful not to go over any big bumps. After a while tech support pulled up on her scooter. She was great. She told me I had a "guardian angel" and that Roch had been calling her repeatedly to come help me. She looked at the tire and agreed that it was unridable. She got another tire out of her supplies and changed it. She wished me luck as I started riding again.
I was mad. I pushed as hard as I could. I was out of my saddle on every climb. I did my very best, but it wasn't enough. I couldn't make the cut off.
I've never had to pull out of a race before, and I have to say it sucks. It sucks to have your chip taken away. It sucks to have to hand your bike to someone. It really, really sucks to have to be driven past other riders who are still on the course. It just straight up sucks.
I can say with almost complete certainty that I was going to finish. I was ready. My legs felt great. My nutrition was going perfectly. If I hadn't lost so much time, I would have easily made the cut offs. I would have finished.
The good news is that I didn't crash. I didn't bonk. I feel fine. I'm just really, really disappointed.
I have so many amazing friends who have been calling, texting, emailing, and posting on my Facebook page words of encouragement. I am a very lucky girl. Thank you all so, so much.
I'm doing Ironman Arizona again this November. AND I'm doing St. George again next May. It's not over.
— Whitney Despain
San Diego, California
It was Saturday, February 27th, exactly four weeks prior to race day. I did my routine core workout that morning and then headed to Masters swim. Something was seriously not right. As the swim workout went on, I started feeling more and more pain in my ribs on the left side. By the end of the workout, I got out of the pool moving in slow motion and hunched over in significant pain. This was clearly not a "good" kind of sore.
I went to see my awesome physical therapist Gino that Monday. He advised me to see a D.O. and have x-rays taken. It could be a dislocated rib. Wednesday's appointment with the D.O. revealed no dislocated rib but instead strained intercostals likely caused by too much rotation with one of my core exercises. The swim workout afterwards likely tipped those muscles over the edge.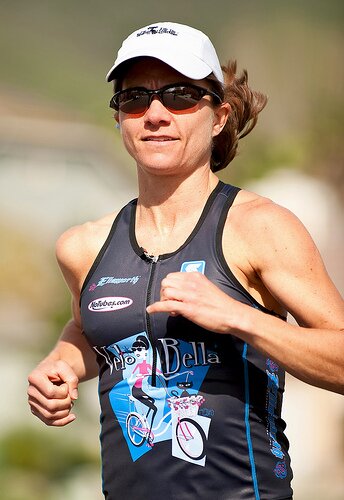 My first question: will I be able to race on March 27th? The doc said time would tell. These muscles are not easy to heal, as they are stretched every time your lungs expand (which explained why it was painful when I took a deep breath…..so much for speed work of any kind!). He advised me to stay out of the pool initially, as swimming would stretch and aggravate those muscles. Biking and running should be okay, but he cautioned me to not train intensely and get my heart rate up too high, as this would also aggravate the muscles if I was breathing too hard.
I was seriously bummed. My husband Andy was, and continues to be, a saint. I was not fun to be around with such limitations so close to a race. I kept up with physical therapy twice a week and acupuncture 1-2 times a week. The healing was very slow. It was two weeks before I was back in the pool for easy, aerobic swims. Biking and running felt like they were trailing off, as I was not able to train at the pace I knew I was capable of given the limited range of motion and limited lung expansion.
It was a week before the race, and I made the decision with the support of my physical therapist, acupuncturist, bike mechanic (who is a fantastic athlete himself), and Coach Whitney to go ahead and participate, knowing that if I felt any pain during the race, I needed to pull way back. After all, Oceanside was not an "A" race for me. It was merely preparation for the "A" race on June 27th: Ironman Coeur d'Alene – my first full Ironman.
Race day: It's 12:15 a.m. – 2 ½ hours before the alarm was going to go off, and there was no way I was going to fall back asleep. Race nerves! Unlike other mornings, I felt no pain or tenderness in my rib area when getting up. Adrenaline is a powerful thing! My husband Andy and I (and my mom who was there to cheer us on – what a trooper!) left the house at 3:45 a.m. as planned and arrived up in Oceanside in plenty of time to rack our bikes and set up our transition area.
It was great to see SO many Bellas so early in the day! Yvette ran up to me with her bright and magnetic smile to give me a hug. She was one of many Bellas who was there to volunteer. Before we lined up in our waves, I saw Bellas Audrey, Jackie, Jodi, Sandra, Shannon, Teri, TracyAnn, and Whitney. We all exchanged hugs and good luck wishes. There is a huge feeling of camaraderie and comfort when surrounded by your Bella sisters.
6:30 a.m.: Time to line up for our wave start. DeeAnn, TracyAnn, and I were all standing near each other in the queue. Again, comfort in being around Bellas as the start time gets closer and closer!
7:17 a.m.: Our wave starts! This year I aged up to the 40-44 age group since I will turn the big 4-0 in December. To my surprise and delight, the 59-degree water did not feel as cold as it had in our practice swims the two weekends prior. Thank you, adrenaline!
The 1.2 mile swim itself was thankfully uneventful for me. A few kicks and shoves, but nothing that took me out, so to speak. My goal was to swim steady and strong. I'm not so sure about the strong part, but it was steady. I was constantly checking in to see if I had any discomfort in the rib area, and I was grateful there was none. My promised my coach and my family that I would listen to my body and respond accordingly.
Out of the water, and time for the long run in T1 (transition 1 – swim to bike) to the bike racks. There was a great volunteer who was kind enough to strip my wetsuit off of me which was an unexpected and welcome surprise! I had a heck of a time getting my helmet buckled. I think I wasted at least 30 seconds there. I just could not get my act together and even took off my helmet to check the strap and put it back on. So frustrating when the seconds are ticking away! Finally, the helmet was buckled and I was on my way on the 56-mile bike course.
The first part of the course is relatively flat, so a lot of folks tend to push the pace a bit too hard and then suffer around mile 35 when the first of three BIG climbs come into the picture. I felt pretty darn good and rode accordingly. I was riding with the same people for much of the first part of the bike course. They would pass me, then I would pass them, and so it went, back and forth. I don't try to keep track of where I am in relation to others in my age group. My focus is to race my own race, especially today when I had no idea what I would be capable of given the injury and disjointed training I had had for the previous four weeks.
As the ride went on, I noticed I was not fatiguing and was feeling better than I anticipated. Still no pain in my ribs, and no limitations with my breathing. The last eight or so miles of the course offered up a nice tail wind which was a welcome surprise after experiencing some strong head and cross winds prior to that. I came into T2 (transition 2 – bike to run) feeling strong and had a great T2 thanks to Bella DeeAnn who has taught me how to dismount my bike with my shoes left in the pedals. Good stuff!
Time for the run. The run is typically my best of the three legs, but my running had suffered with the rib injury, so I didn't know what to expect. My goal was to find a pace that I could sustain for the duration of the 13.1 mile run to give me an even-split….or better yet, pick it up a bit towards the end for a negative split.
The run course was PACKED with folks cheering on the participants. What a boost to hear "Go Bella!" and "Go Amy!" so often along the way. I'm not so good about acknowledging all the cheering in the moment, but believe me, I hear it and it is powerful! Not only were there Bellas cheering on Bellas, there were Bellas' families cheering on Bellas. While Lynn was out there racing, her husband Anthony and son Dakota were there to cheer us on, and Anthony took some great Bella photos. Raja in true Bella spirit was also out there on the run course with her camera and shouting out to her Bella sisters.
It was getting hotter and hotter as the run went on. I heard it reached a high of 78 degrees that day – unusually warm for the end of March in Oceanside. The first lap of the run I had Train's song "Soul Sister" running through my head over and over, and that kept me going. The song reminds me of a dear friend and my soul sister Christine. As a heartfelt aside: Christine has an incredible daughter Tehya who was born with the most severe form of spina bifida and has overcome incredible odds with a heart of gold and an iron will to live her life to the fullest. It is in Tehya's honor that Andy and I swim/bike/run. (You can read more about Tehya and her non-profit organization at www.tehyathon.com.) Christine, Tony (Christine's husband and Tehya's dad), Tehya, and Tehya's best friend Kajsa were all there that day cheering us on.
The run reached a point for me where "Soul Sister" somehow was replaced by counting. For some reason, I just started counting from one to one hundred and then started over. I did this for probably about the last 5 miles of the run. I was checking my Garmin every now and then, noticing that I was continuing to hold my pace. I was not sure at any point where I was in terms of my placing. Every participant has their age marked on their left calf, so if you wanted to keep track of your placement, you could. Not long after I made the final turnaround with about 3 miles to go, my friend Julie who was approaching the turnaround yelled to me, "You're going to Kona!" I was shocked to hear her say this. I told myself that Julie could be right, but for all I knew there could be someone ahead of me, and/or there could be someone right on my tail about to pass me. I kept myself focused and calm by working on keeping my pace (which was getting harder and harder, as I was getting tired by this point).
When I crossed the finish line, I was ever so slightly dizzy, so Bella Becky was right there to escort me to the medical tent so I could elevate my legs and stretch a bit. It was such a treat to have a Bella be the first one to greet me at the finish line! By the way, I have no shame about going to the medical tent. I was glad to know that my blood pressure was 110/60, pulse was 90, temperature was 98 degrees. Perfect! I felt significantly better than I had compared to the previous half-Iron distance races I had done.
I then went to wait in line for a massage. Wow – was that a treat! There were two masseuses per table. One worked on the upper body, one worked on the lower body. After 20 minutes of that luxury, I went over to the food tent where Bella Amara was volunteering outside, dancing and congratulating the participants, and welcoming them to the food tent. Again, such a treat to see a Bella everywhere you turn!
I worked my way to the back of this tent where results were posted. Once I could see my name, I had to ask someone to translate for me what the results meant. I could not believe what I was seeing. I placed first in my age group! My friend Julie then saw me and gave me a huge hug and congratulations. Her athleticism and sportsmanship is truly amazing and inspiring. She is going to rock the Ironman course on May 1 in St. George, as is Whitney!
At this point, I was so excited I could not stand still. I just started RUNNING. I had to get back to my transition area to find out where my mom in the was amidst the crowds and let her know! I was shocked that I was in a full-on run at this point. When I arrived at the transition area, I was thrilled to see Bellas BJ, Karen, and LaDawn who were all transition area volunteers. They were there to hear my great news. I'm so grateful for the excitement they shared with me.
By placing first in my age group (to my complete surprise), I earned a coveted spot to compete in the Ironman World Championships in Kona this October 9th. Travel plans are underway….
All the Bellas who participated that day had a phenomenal day. For some, it was their first triathlon at this distance. For others, it was their first time on this particular course. Some of us were back again to see how we would fare this year against all of the unknowns that present themselves on race day – weather, your own body and mind, other participants, etc. The Bellas not only represented, they rocked! Congrats to all the Bella Oceanside 70.3 2010 finishers: Audrey, Chris D., DeeAnn, Jackie, Jodi, Lynn S., Sandra, Shannon, Teri, TracyAnn, and Whitney.
A special thanks again to all the Bellas who volunteered: Amara, Anna, Becky, BJ, Carol, Heather, Karen, LaDawn, Yvette, and any others who I know I heard but may not have seen. Finally, I want to give a VERY special thanks to Whitney who has not only been a phenomenal coach for me, she also exemplifies what it means to be a Bella and leads the San Diego group with passion, enthusiasm, and tireless dedication.
I've said it before, and I'll continue to say it: I'm truly honored and proud to be part of such an inspiring, supportive, upbeat, and enthusiastic group of women. Bellas really do ROCK!!!
—Amy Larson
San Diego, California
By Raja Lahti-McMahon
San Diego, California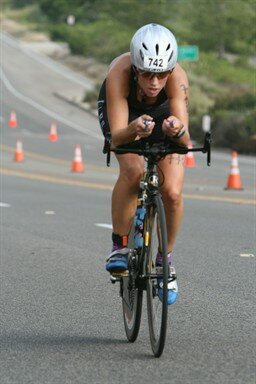 It's been a tough year for me. After all, it is already the end of July and I feel like all I've done this year is work… cough. My physician, a sports med doc, a pulmonologist, now an allergist, and perhaps an ENT later… all I know is that my lungs are healthy and my sinuses are less than ideal. Why? who knows, check's in the mail.
So when I got clearance from the doc to work out again mid July, I felt like someone had released me from shackles. Like my dog Vela, when you take her off the leash… she goes crazy. Spins and whirls, wiggles and gyrates. It's pretty cool to imagine yourself so flexible your butt can touch your head. I imagine I would break if I tried, so I'll live vicariously through our not-so-little bounding joy of canine companion.
With 10 solid days of workouts, 3 swims, 3 trips to Gino (ART physical therapy) to work on a strained right hammy, Dave & I packed up for a fast & furious weekend. Friday started with an early 2 hr ride before work and ended with dinner with 25 of my Velo Bella teammates and host Alex Burgress. Lessons on what it means to be a Bella, and how the cross girls really do flair! Y'all are nuts! Good thing us tri girls are… errr… sane.
Saturday morning just dreamy. Sleek and slippery, that new Ellsworth CoEfficient stared at me and I couldn't help the drool. Sandra restrained herself, the thoughts of perhaps the first person to lick the bike would be able to claim it as their own. Then hunger struck and Tony cooked up a fabulous BBQ. To think all this time I've been riding Highland Valley… my precious CoEfficient has been sooo close.
DeeAnn, Amy, Vicky & myself take off for Newport Beach to check in for the Pacific Coast Triathlon, host of the USA Triathlon Sprint National Championships. This was the Hail-Mary pass to qualify for Worlds. I convinced Dave to go for a little swim, play in the surf a little since I hadn't yet been able to due to sinus infections. We walked down the steep bank and thought it best to check in with the lifeguard first. Surf had been labeled "hazardous" for the last couple of days and just around the corner at The Wedge, a body surfer was killed under the crushing surf.
"Nobody's getting in the water today, surf is too dangerous here" said the lifeguard. Ok, no swimmy for me. Tomorrow? We'd have to wait to find out in the morning. If we do swim with this surf…. I think I'm going to pull out the water wings. Dave & I take off and drive to a friend's for the night.
Later that night, reports were flying of 25′ surf at the wedge earlier in the day.
Sunday morning arrived waaaay to early. I do have to remind myself at 4:30AM that I paid money to do this.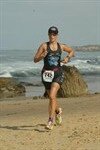 I rack my bike and realize I've forgotten my chip in the car. Oh goodness, everyday racing is a learning experience! I just back on the bike and wiz off back to the car for both my chip & swim cap. Ugg. Lucky for me, the girls in my wave were nice enough to save the rack spot for me. Then.. the bullhorn. Swim is cancelled, and we will instead run down the length of the beach, up the steep bluff walkway and to T1. Although I had not yet done a duathlon before, I was quite delighted not to have to challenge mother nature and her washing-machine wrath of 10′ surf.
Off we go, running through the sand. I was smart enough to bring 2 pairs of running shoes (race flats & a dry pair for after) and chose to wear my training shoes for the short sand run and leave my race flats sand-free for the post bike 3 mile run.
Before you knew it, we were off on the bike. My mounts & dismounts blow. Gotta work on those.
The course was a short 13 mile rolling 2 lap course. I tried to hit the hills hard to make up for a soon-to-be sorry run. I just didn't really think about the lack of high-intensity training, and at the top of every hill I would adorne myself with a little extra "flair". Yeah, it was going to be one of those days. Not much was going to stay down. I clocked at 35 n'change bike for the 2nd fastest in my age group. The run was brutal. I'm not sure there's a race where the run isn't brutal. Just the nature of the beast. Lesley's Scottish voice chased me the entire run, "come on Rrrraa'ya!"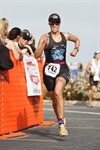 Out, around and down to the sand… again. I hate sand, but geeze it looks good in the backdrop of a photo. Just when you're done running in the sand, you have to haul your poor lactic legs up the bluff. I probably could have walked up faster… but alas, I wouldn't have been able to pick up running again if I did. I felt like I was dragging a bowling ball and just throwing myself up the hill. I finish unchallenged and promptly drown myself in water.
I catch Marisa, Amy, Neily and DeeAnn finishing. They all looked better that I felt. My poor husband has now been finished for quite some time, has already changed and looks like he just jumped out of the shower. Not to mention he's starving. God knows, keep the man fed!
Amy & I walk over to the results – My results were posted, 5th in the division. Top 12 qualifiy for Worlds! I'm stunned. I wasn't supposed to qualify that easily. Turns out, we all qualified!
I will accept the invite to ITU Age Group Sprint World Championships in Australia Sept 13th. If I never qualify again, I would regret turning down the opportunity. So as retarted as it is to spend a rediculous amount of money to fly for 24 hrs to the other side of the world for a race that will maybe last an hour that you have no business racing (for lack of any quality training), it it an opportunity that may be once-in-a-lifetime. Hi-ho, hi-ho, it's off to Australia I go!
In the twisted words of Hollywood, Triathlon is "like a box of chocolates, you never know what you're going to get."
Special thanks to those around me who have kept my head above water at times I felt like I was drowning: Coach Peter Clode, Confindant Neily Mathias, Lesley "The Inspirer" Paterson, Sports Med Doc John Martinez, Gino "The Thumb" Cinco, and of course, my hubby Dave, who was pretty sure I was going to drop dead from a chronic cough.
By Raja Lahti-McMahon
San Diego, California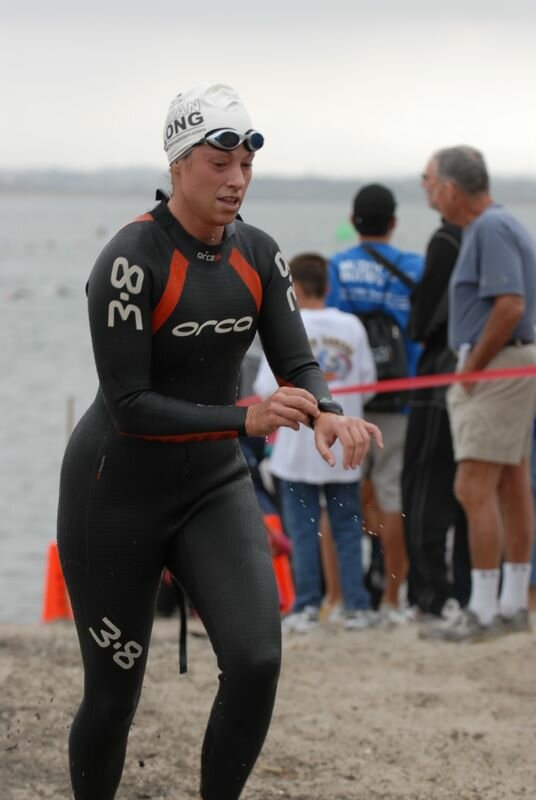 So it's now nearly the end of April and my indeed season eyes-wide opener was back in March. The Superseal Olympic Distance triathlon is run in conjunction with the Superfrog Long Course triathlon. My husband had signed up for the long course – so a few of us thought we'd have fun with the early season race and do a relay. Not exactly a training race.. but one to just bring out some strengths and have fun. After all.. there was also prize money to be had…
So, Stacy Dietrich signed us up – Velo Bellas & Fella. Nick "The Dolphin" Abramson would swim the double loop beach entry/run swim course. His stellar 53 min Ironman Canada swim says it all. He has gills. I would do the bike. A 56 mile time trial of pure bella bellisma. The skin was going on, the aero helmet & the disk coming out to play. Of course Stacy did tell me I had to bike a sub 2:20 or she wasn't going to do the run…. 'cause of course she would have to run a sub 1:45 half marathon… in deep sand.
Then… she found out she was prego. As ridiculously excited as I am that one of my best buds is having offspring… it now left a whole in our plan. So.. 2 weeks before the showdown I signed up for the full olympic distance Superseal.
My swim had been behind par due to an annoying shoulder injury, so I would only hope for the best I could do for the day. My biking has been feeling good. After the great Velo Bella cycling camp in January up in San Luis Obispo I felt like I could push it harder & longer than I had before. My run is coming along. I'm not a fabulous runner, so learning to suffer has been, well.. painful!
Last year's race was cold, windy with ridiculous swells. This year, it was calm and overcast. I'd been told it was a fun race so I just figured I'd enjoy the adventure. Race reports are nice.. but the best part of the reports are the crazy thoughts that go through one's mind when wondering why they paid money to feel like a bag of poo.
So, I survived the swim. Not horrible. "Could have been worse" I thought. Of course, friend Neily Mathias racing for GoMichellie.com (also wife of coach Peter Clode), finished the swim over 6 minutes in front of me. I've love to tell ya I was swimming backwards with my hands tied behind my back – but reality strikes… I'm no fish. No gills. In fact, when I take my goggles off, it ooks like I've been hit by a train. Positively the nastiest site for a Bella to behold. I've included a visual for posterity. Now.. Where's my bike??!?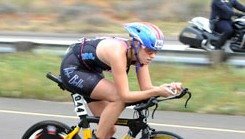 I had a good ride, but I must say, I liked my bike clock & my watch split better…. not sure where the 2 minutes went.. but both clocks posted a 1:07 n'change bike split. My official split 1:09:12. Needless to say, any sub 1:10 split at this time of year is a decent split. In any case, it felt pretty solid, so no real complaints.
I hadn't done much in the way of brick training this year. For non-tri-geeks, that's a workout where you bike, run, bike, run until your legs are mush. If aliens had landed during a brick workout.. I can only imagine they'd go home because clearly we're a self torturing species. But when you hit sand on the run.. you're wishing you did more bricks. I opted instead to go off-road and run on top of the ice plant. Not something I've tried before… and not sure I'd recommend it either…
I've got just over a half mile to go, and I get run down. Shannon Harris pulls up along side of me and she's looking good. Good rhythm & pace and she's outpacing me big time. "Please tell me you're in a different age group" I said in whatever voice I had left. "33". "Oh shit". It went something like that.
I must say, Shannon gets the best sportsmanship award. She voluntarily carried me to the finish. She kept up her pace and I just tried to speed up to hang with her. "Let's work together" she said. That kind of sportsmanship – For a split second I wanted her to beat me. She deserved it.
Then I realized I was in fact racing.. and if she was going to out run me, she'd have to do it to the line. A little tactics came into action. If I could draft off her run, in the chute maybe I could out sprint her to the finish. I wasn't going to out run her. Not today at least. We rounded the nearly 180 degree turn with about 200 meters to go neck and neck. As the lane bottle-necked, I inadvertently bumped into the flying elbow of a man reaching for the finish as well. She went to his right, me to his left, nearly tripping over a land cone. And let's just say 3's a crowd. I hit it and hoped I had enough in the tank to fuel it to the end. I put 2 seconds on her. Once we crossed the finish line we congratulated each other on a good race. We finished 1st & 2nd. She just oozes Bella vibes.
So just as there are rock stars like Shannon Harris, there are also rotten bastards. After crossing the finish line another 10 seconds or so back, this man who I inadvertently bumped elbows while entering the chute, rams into me as I'm standing there drinking some needed water. "Dude, the race is over" I said. A lady walked up to me with her child and asked, "did he just do that on purpose?!?" Yes maam, he did.
I think the entire point of this race report is about sportsmanship. It's ok to be competitive, to challenge each other. Nobody is out here to "get you". It's your own race. As refreshing as it was to race with someone like Shannon, it was also as upsetting to know that there are jerks out there that feel they are more deserving than others by instigating physical contact. Not nice. He goes on the Bella poo list.
Race to the best you can do that day. I had a decent race, but it wasn't spectacular. I'm not a pro. I have a job that consumes more time than I'd like to admit. I have a husband and friends. I got a bit lucky all the really fast girls were not in my age group. Sometimes it's a bit of talent. Sometimes a bit of tactics. Sometimes a bit of luck. It is however all about who shows up on that day to race. Yourself included. Race to have fun, to accomplish something, to improve yourself. Otherwise, don't race. Nobody likes the attitude. After all.. you paid money to be here.. so you'd better get your monies worth of enjoyment.
In the meantime, train hard and race to have fun!
Happy Riding!
By Monica Neilson
Brentwood, California
Granite Bay Duathalon
April 18, Granite Beach at Folsom Lake
4 mi run, 13 mi bike, 4 mi run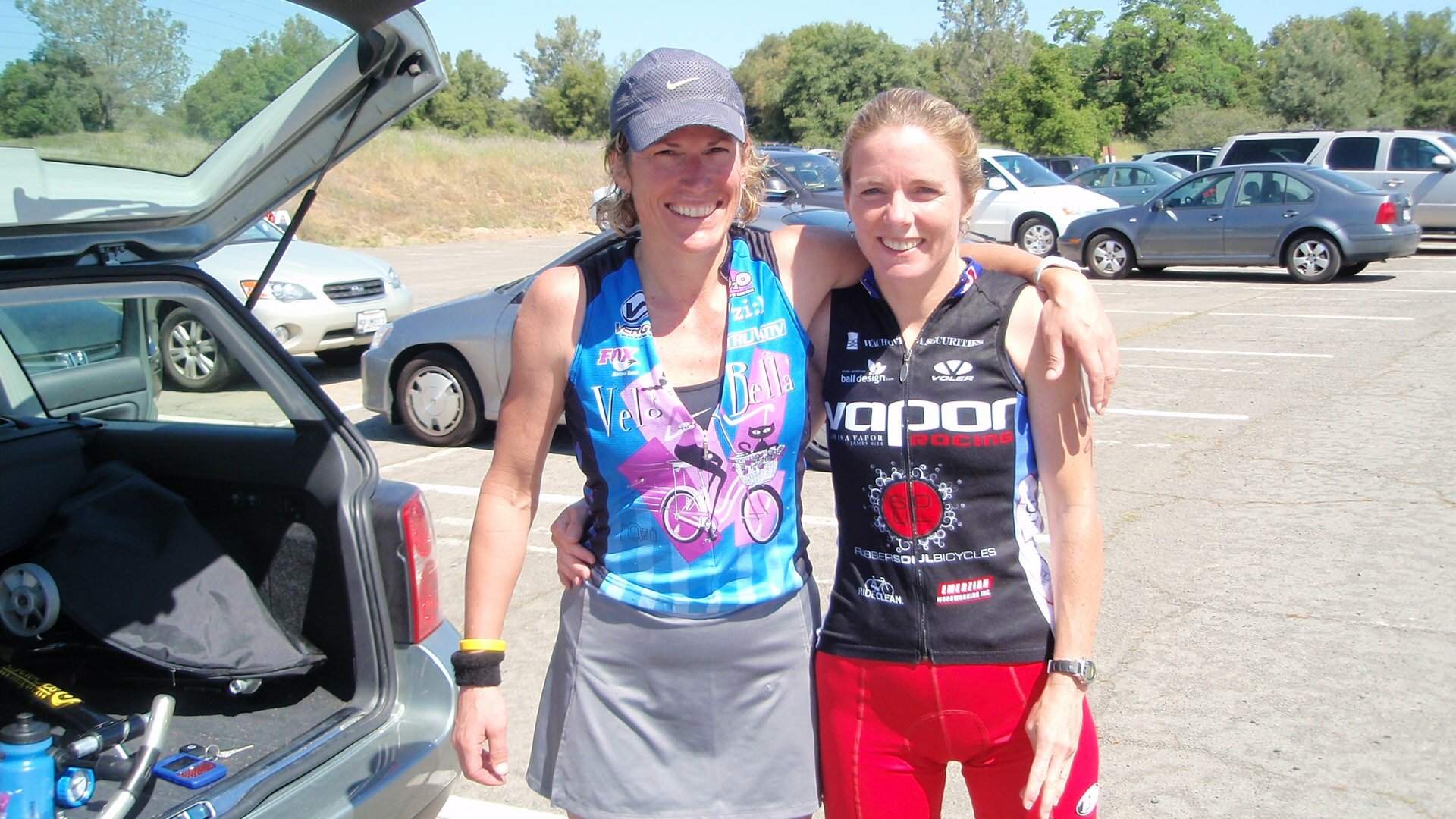 Monica and ex-Bella Felicia Gomez pose pre-race.
This was the second Du for me. I went with my good friend, Felicia Gomez, aka Felcia Greer, an ex Bella who went on to race 5 yrs as a pro. Felicia retired from bike racing last year after several successful years of top NRC finishes, racing in Europe and attending Worlds. What many people may not know is that Felicia was a runner for twenty years prior to her cycling career. She's also attended Worlds in Duathalons, and running is her love.
This was the second du for me. I like the format, its challenging and its something new. For this particular event, the runs were all single track, trail running – something I had no, zero, zip experience at. I've done some trail running but we're talking fire lane roads, not single track with tree roots, rocks to jump over etc. Besides this mile 2-3 were almost all uphill!
Felicia advised me to try and do all three segments at tempo, you can't over do one segment or you'll be toast for the others. I did the first 4 miles just trying to stay within myself and keep some of the other women in my sights. Felicia was long gone, I think after mile 1 I couldn't spot her anymore.
The bike was a twisty, turning rolling hill route – tough to get a rhythm going but fun little course. I knew the bike portion is my strength so I put my head down and started picking people off. Soon the only chick in front of me was Felicia. I came into the transition area as female number two. I wasn't sure I had enough lead on the other chick to hold her off on the run but, I'd soon see.
When you make that transition from the bike to running again your legs feel like lead. You have to mentally remind yourself to keep going, it'll work its way out. I was cruising along, couldn't see anyone in front or behind me when just past mile marker #1 I hear this breathing coming up behind me.. There she was chick #2, she says "wow nice bike ride" my comment, " yea, now if I could only run." And off she went. I watched her long, slender legs merge into the woods to never be seen again.
I settled into working my way to the finish, taking a comfortable 3rd place overall for women. I finished 2nd in age group (40-49) and 25th overall. The cool thing was out of the 80 contestants only 13 of them were faster on the bike portion! Felicia set a new course record for women (they've been doing this event for 11 yrs) by over 3 minutes.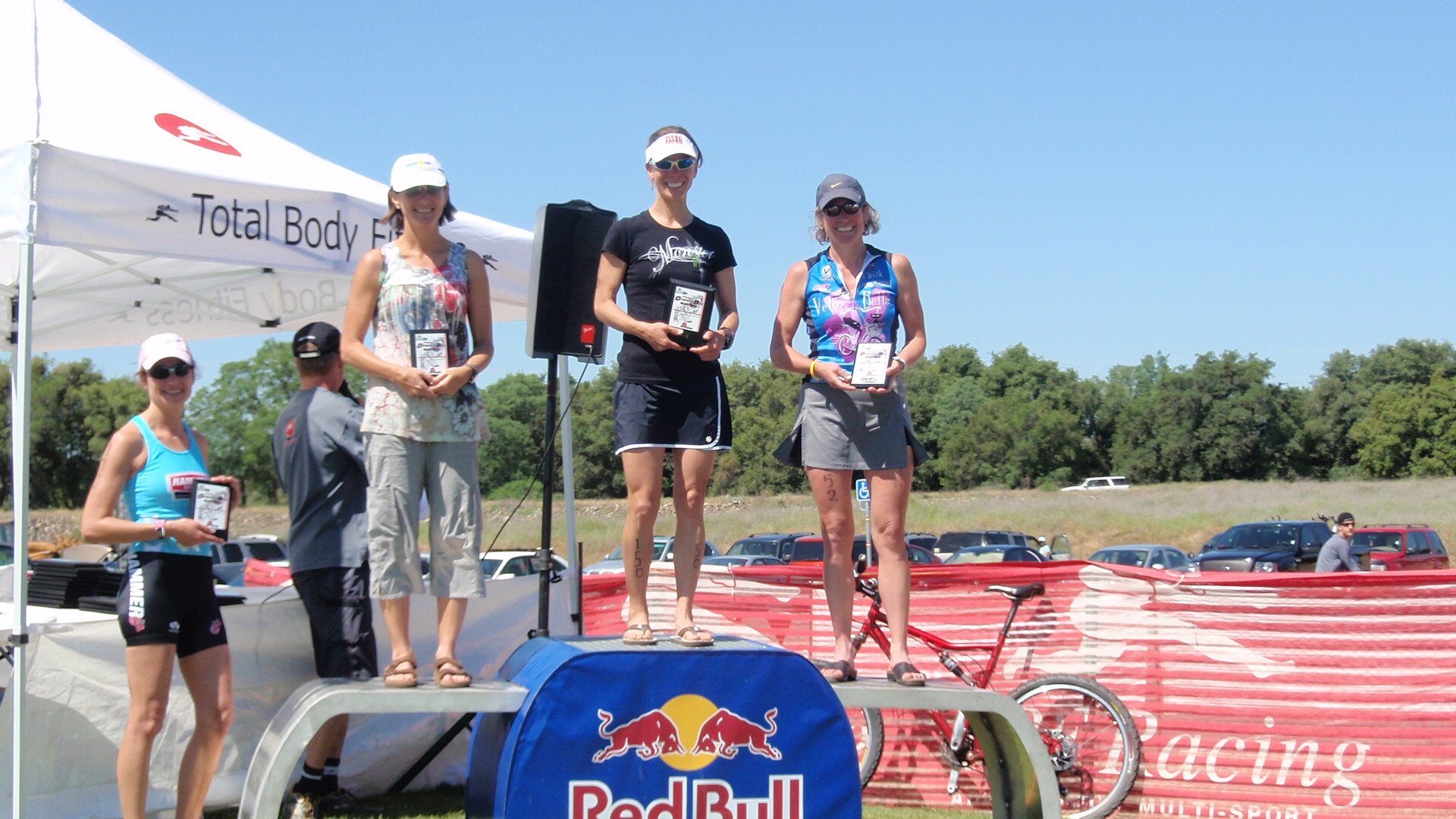 Monica enjoys some podium time!
All in all, really fun time and if you've ever thought about trying a Du…I say do it!!
By Raja Lahti
San Diego, California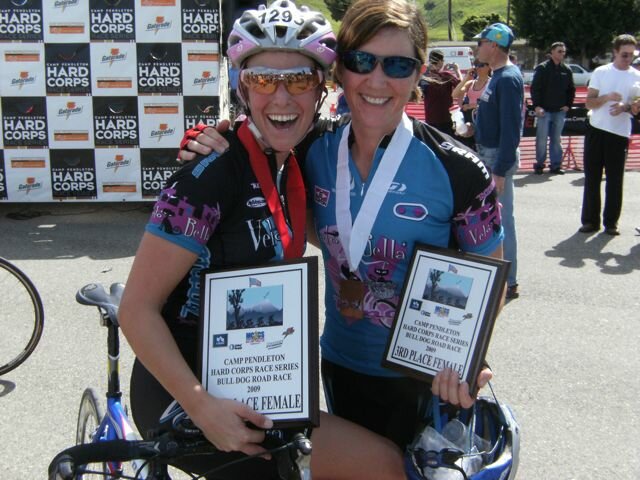 Our "little" local group of Velo Bellas has been growing in the last 2 years, and today, we rocked the house! And sooo close to a podium sweep…..
The Bulldog Road race is run by our local Camp Pendleton Marine base. I can't tell you how much I enjoy the Marine's running events. Shit gets done. Fast. Races are organized, on time, on schedule and the music is always on overdrive to get you pumped. Kudos to the race organizers. The best part though, are the Marines. The cheer section is AMAZING. Split down the middle, half will cheer you and get you energized. The other half… well, remember in the movies when the Marine is yelling at the top of his lungs, eyes like daggers, face as red as a tomato, veins bulging, and along with the projectile spittle, the vocal cords manage, "that all you GOT??!???" Yup, that'll get ya movin'.
The women's race had a whopping 96 riders to finish. Wow…. great turnout. Most racers hadn't ever done a road race before. And then there are the handful of crazy riders who know what pain they're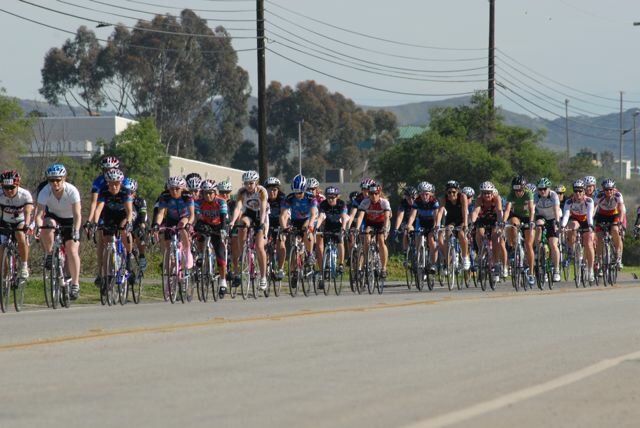 about to endure. We were the last group to go off which means we're sifting through the men in front of us that aren't hanging. My husband also raced his first road race today with team Moment Cycle Sport. They had a group of 5-6 riders and managed to get the men's overall win! Go Moment!
I'm not an experienced road racer. I've done 5 road races in the last 3 years, nada mucho. That is however, an average of 4.5 races more than most of the field. To all the Bellas around me I advised them to stay near the front to avoid any crashes, but not to pull. If someone wanted to pull 100 ladies down the street, sweet. I just believed it didn't have to be us. It isn't a race to get out there, it would be a race to get home.
So in a nice big group we stayed. No attacks. No madness. Yet. Then I attacked. We had about 800 meters to a downhill, then a sharp left turn, then "The Hill". There's only 1 major climb on the course, it's half way through, and guaranteed the top riders would make a move here. For the last 2 years I've climbing ok, but never even saw the lead group break away because I was already behind. This time I was going to be the leader up the hill and if someone was going to attack, they'd have to pass me. And I'd see them. Half way up Jen (Yake) Neuschwander & I were riding side by side in the front. Then comes Christine Silcox. This was now a Bellaton! 3 Bellas leading at the front up the climb. The followers were just marking us, so I yelled for a little help up front. Two other girls came up around us to take the lead. The thought was to get someone else to work a little when it flatten out so we weren't out in front the entire time. It was a good thought, but then the 2 of them took off (We'll call them Colnago girl & Girl 2) and just simply dropped all of us. Jen & I worked together to catch the 2 of them up front along the top & downhill, but they were hammering.
Once down the hill Jen & I had collected 3 more. We were now a group of 5, we could catch them. We organized, 30 second pulls. Annamarie (unattached) would simply rip our legs off when she hit the gas. She's now been recruited to Bellanation. Jen, Christine, Annamarie, myself and Tiny girl (don't know her name) worked and worked but just couldn't catch these 2 girls. Impossible. They've got to crack. They've been TTing for 10 miles! Finally on the final stretch we start to close in on them. Rapidly. But would we have enough real estate to make it in time?
I've screwed up the finish enough times to know better than let up even for a second. It's a complex left-right-left to the finish. Jen took the last pull before the first left. Just as she looked as she was going to pull off, I said to her "don't stop now! They're right there, we deserve this!" So she kept hammering. If she had slowed, she would have lost all power through the turns and there isn't enough straight chute to get real estate back. I launched around the right corner and took the risk and hit it as hard as I could. I passed Girl 2 entering the chute. I was closing on Colnago girl, but she hung on for the win. You go girl. Nice ride.
As I crossed the finish line – it occurred to me. I just placed 2nd overall! Not age group. Not top ten. PODIUM! Weeeeeeeeeeeeeeeee! Looking back, the overall win would have been nice-but the teamwork we showed ROCKED and I couldn't ask for more. Even better was Christine placed 3rd overall & Jen 4th. Those two are a testament to hard time spent on the bike makes for massive improvements. We all did something today than we couldn't have done 2 years ago. Dave caught the final turn to the chute when I passed Girl 2 on his crackberry.
Thank you to ALL the Velo Bellas – you ladies ROCK! Not to mention the hardware… Ooh là la!!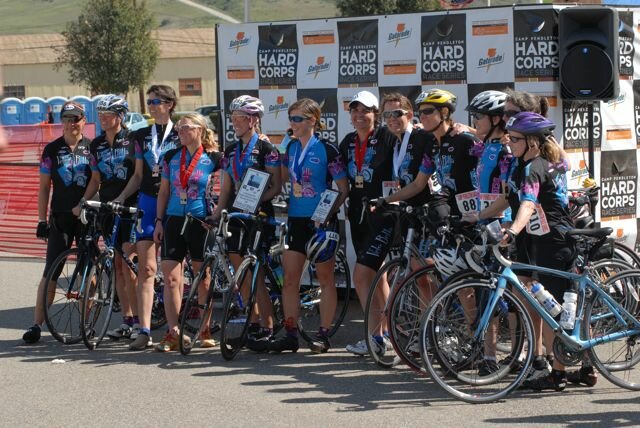 Bella Results!
Raja Lahti (2nd Overall, 1st Age Group)
Christine Silcox (3rd Overall, 1st Age Group)
Jenn Neuschwander (4th Overall, 2nd Age Group)
Beth Callhan (3rd Age Group)
Erin Horan Gonzales
Sandra Fairchild
Madelyn Horton (3rd Age Group)
Vicki Jones
Lynn Scozzari
Sherry Mesman
Cindy O'Grady (1st Age Group)
Jackie Bickford (2nd Athena)
Whitney DeSpain (3rd Athena)
By Raja Lahti-McMahon
San Diego, California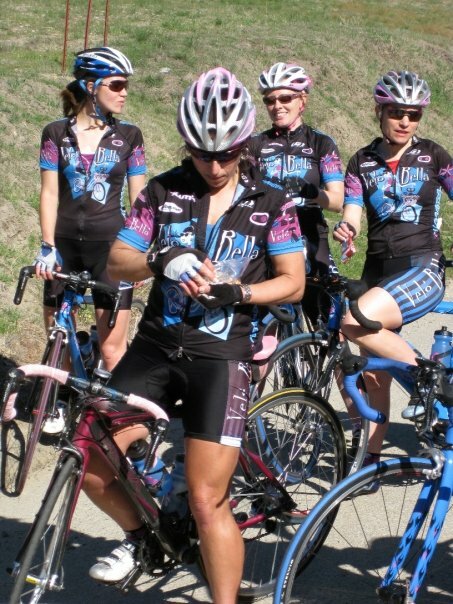 Wow! I had an amazing weekend with 30 of my fellow Velo Bellas, hotties on bikes, up in San Luis Obispo. We had Bellas from all over California, even one from North Carolina! Some had just started riding in the last 6 months, others were seasoned racer chicks.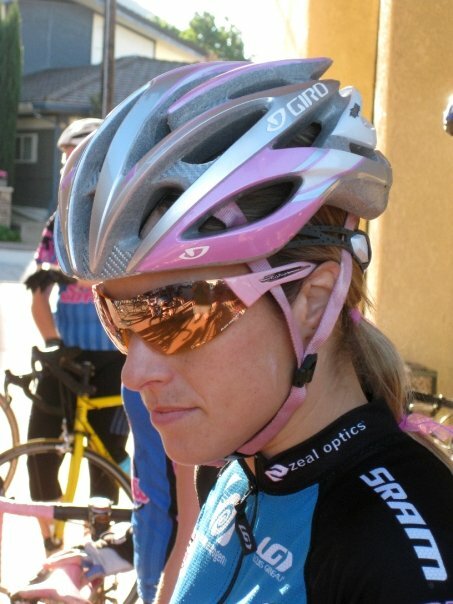 Then there were the boyz… A local racing group provided escorts, sweeps, tire changers extraordinaire and last but not least.. some mighty fine calves for all viewing needs. (Yup, he's the one wearing the Velo Bella bibs!) When suffering, a good pair of calves will do.
We even had paparazzi!
Daily rides ranged from 25 miles to 75 miles of amazing farm roads and a skills clinic run by Michael Hernandez … a former San Diego triathlete now wicked cyclist in the Bay Area. Or AKA Sabine's Boy Toy… Ooh là là!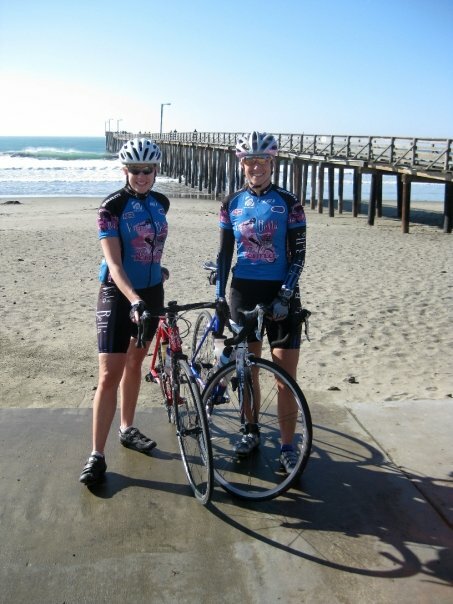 Our own Ryan Hostetter (Girl Ryan) provided most excellent organizing, routes and most importantly, INSPIRATION! And Sue.. well, she just likes spanking boys. I think they call her SueNami! Marian… Virgin Blood is Vegan Safe… Cathy from NC, the track guru turned mommy…if you ever thought you didn't want kids, have a little chat with Cathy. And the rest of the Bellaistic crew, what fun!
Laura and Sabine (pronounced like Sabina)…Mama Bellas! They are the perfect personification of Velo Bella – pink hair, endless humor, killer smiles, giggles and energy & motivation that never ends.
If you've ever wanted motivation to do more, be more…. Welcome to Velo Bella.
So next year… you don't want to miss it! Who's in?
I can't even tell you how proud I am to be a Velo Bella!
Happy Riding!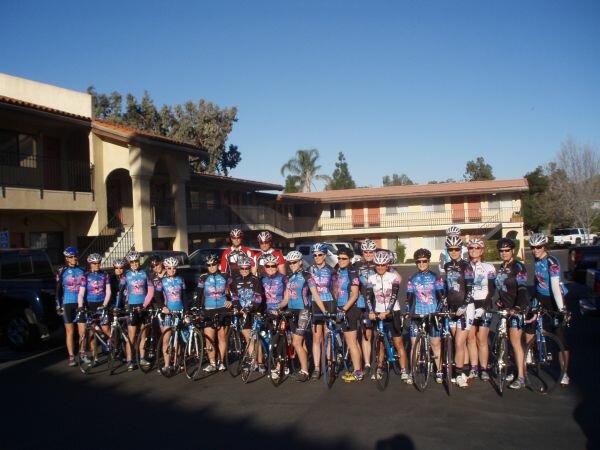 By Hannah Echvahl
San Diego, California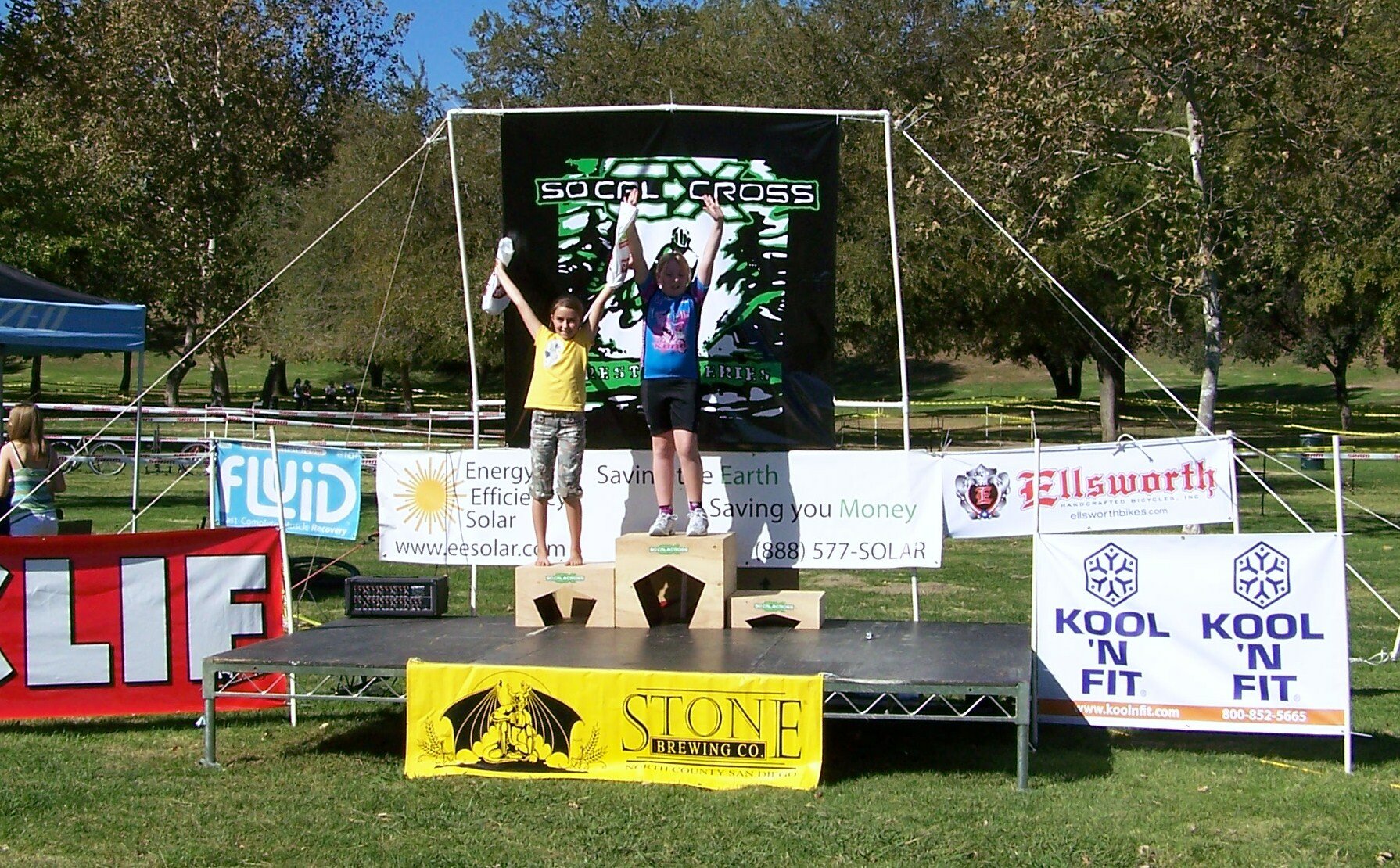 Hannah on the Podium, SoCal Dam Cross Race, Hanson Dam, California
My Sixth Race
Before:
First, I kind of walked around the course. My dad was telling me what I should do at each place on the course. We came up to a hill like the one from my first real race. "Am I able to brake down this hill?" I asked him nervously. "Maybe," he replied. We walked down the hill. We came up to a hill where we ran our bikes up because it was steep. Then there was another downhill kind of like in the first race. I saw people peddling down, so I didn't mind that one. We went to the car to get the bike. "We should test those hills," said my dad, "I don't want you coming up to them and being nervous." We went to both of them and I pushed myself down.
During:
We were staging up. I saw someone new to cyclocross and asked her if she was racing. She said, 'yeah', and I told her good luck. Soon we started. Each hill was somewhat nerve-racking , but I was comfortable with it and rode down every hill. What saved me time was not getting off my bike most of the time. When I came to the hills, I coolly went down them. I finished a lap and they told me I was done so I got off. About 7 minutes later, I found the other girl and cheered her on to the finish line.
After:
I talked to the other girl, and we had a good time. Her name is Madeline, and I talked to her a lot to get to know her. After a while, it was time for the podium. I got first place! On my way back to the car I met two Bellas! Carrie and Shannon were from Seattle and Texas. I've been racing the SoCal Cross series since the beginning of this season, but this is the first time I've seen other Bellas at my race. It was great! My dad took a picture and they told me I needed to catch up on my race reports. We left after that and I went to my grandparents. We got Subway and I got a footlong with chips and ate the entire thing! I played with my grandparents pets then I left for home. I never expected such a big day. I really love cyclocross, and I really like being a Velo Bella.
By Whitney DeSpain
San Diego, California
On Sunday, October 19th, several Bellas met for a photo at 6:45a.m. This was right after the transition area closed, and just a few moments before the first of our group would be hitting the water. There were a few tears, but lots of hugs and reassurances. The race we'd been anticipating for 8 weeks was about to begin.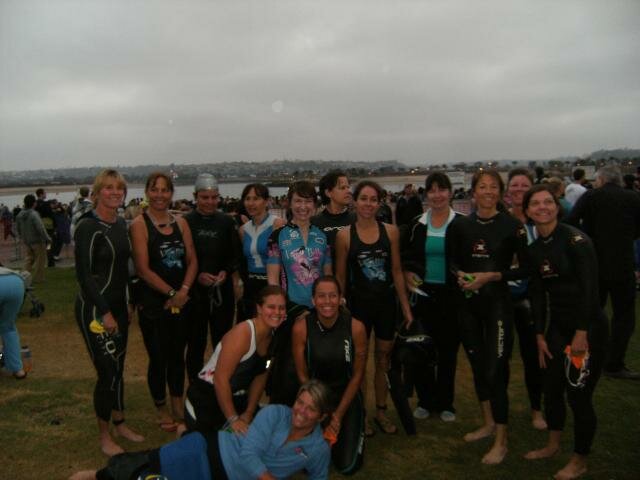 Bellas, all dressed up and ready to go!
In August, a group of us had met at a nearby Panera's to talk about the race. This was going to be many of our teammates' first go at a triathlon, so we wanted to make sure everyone felt supported. Over the next two months, the "veterans" and the "newbies" trained together, attending swim clinics, brick workouts, a transition clinic, and several open water swims. We had swam, biked and run our hearts out. Now it was time to race.
Wave after wave of Bellas went into the water. When they came out, they were greeted with their own cheering section- Christine, Lynn, Sandi, LaDawn, Chris, Jacky. Whitney and three of our friends from Team LUNA Chix, Chris, Darlene and Randa, were there with "Bellas Rock" signs, a megaphone and a duck quaker (it's a LaDawn thing- don't ask). Everyone looked SOOOOO good coming out of the water. We knew it was going to be a great race.
The cheering squad positioned themselves around the course so we could make sure no one ever felt alone. There were also signs stuck in the sand and taped to poles on the run with every single girl's name.
San Diego Bella Vicki Jones running hard
One by one, we watched the Bellas come off the bike and begin the run. The first Bella to head down the finish line, Amy Larson, had a huge smile on her face. I screamed, "Kick it in!" as she headed down the final stretch, and boy did she ever! She passed several gals in the last 500 meters, and went on to take 2nd in her age group. At her first triathlon. It was turning into a great day.
Jackie came down the line next. This race was supporting the fight against Ovarian Cancer, and Jackie was racing in honor of her sister- a survivor. In classic Jackie style, she danced and leapt her way down the chute, and ended up with yet ANOTHER fabulous finish photo. And she managed to take 10 minutes off her time from last year!
Amy Larson and Karen Casey smile in satisfaction after finishing their first EVER triathlon
After that, every time we looked up there was someone we knew. Erin, Yvette, Laurie T., Jennie, Britt, Karen, Marlene, Deb, Deanna and Lori R. all joined Amy in completing their first triathlon. Heather, Lori S., Terri, Marilyn, Shannon, BJ, Cindy, Dawn and Vicki all returned and had GREAT performances. And Sherry and her 11-year-old daughter Kai proved that being a Bella runs in the family!
Post-Race Fun at the Party Car
After everyone had crossed the finish line, we all met at the party car. It was easy to find- big white tent, bubble machine, balloons, and LOTS of activity. There everyone was given a champagne glass filled with sparkling cider to toast to her success! It truly was a BELLATASTIC day!!!
We have to thank B&L bikes for all their support throughout this process. San Diego women couldn't ask for a better bike store. Will Scandalis, swim coach extraordinaire taught the ladies how to swim smart in the race- thank you! Also, thank you to Team LUNA Chix for providing us with so many great products at the start and finish of our program.
The Happy Bella Family!