Jen Tilley and I showed up for the next National race of the season- a Colorado shootout between the locals and the WorldCuppers. After having the perfect downhill road start, the selection was made on the short hill up sandy doubletrack. I just couldn't stay with the first group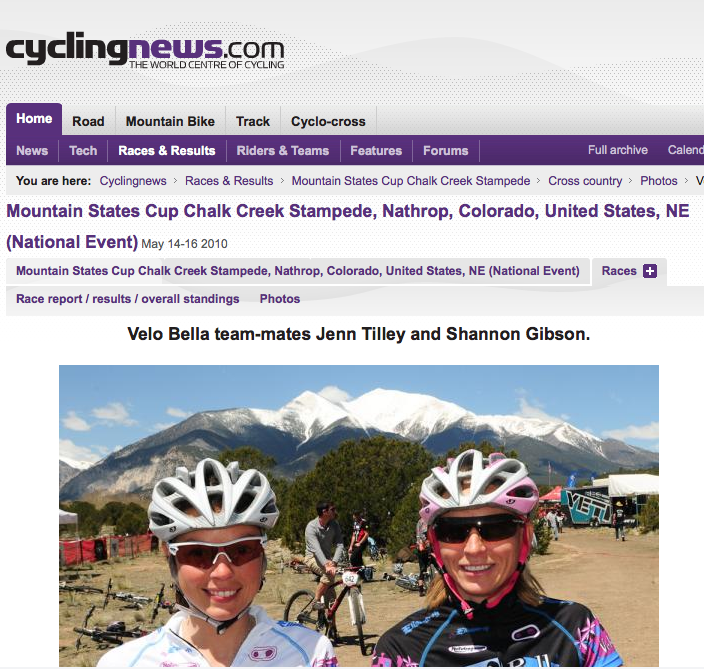 of Georgia Gould (who lapped many of the pro men), Kelli Emmett, Katie Compton, Heather Irmiger and Jenny Smith. I sat up, let a bunch of women by and just settled into my own pace.
The course was rolling and singletracky, perfect for my new Ellsworth 29er Enlightenment carbon hardtail, with Stan's NoTubes 1300g wheels, Maxxis Aspen tires, Magura Mag brakes, and Crank Brothers 4ti pedals- 21.2 pounds all built up with SRAM X.O. Even though I lost my Heed bottle and was taking only the neutral water, I felt steady the whole race and picked ladies off one by one. I need to work on my purple zone, however, because after taking almost a year off racing I am missing some high end. Still, considering the caliber of the ladies' field, I'm OK with my 11th place finish.
I just have some more fitness to work on. I love that racing gives motivation and goals to spice up my time on the bike. Next up- Iron Horse, or maybe the pro XC cup at Lance's Ranch. Decisions decisions!
—Shannon Gibson
Durango, Colorado
By Marian Jamison
Reno, Nevada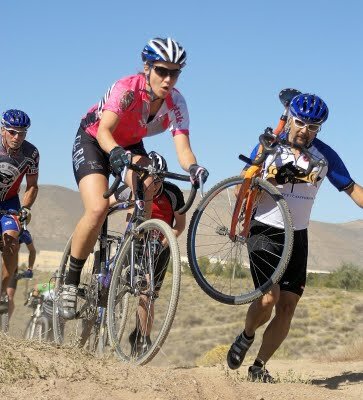 I like this picture. This section of the Sagebrush course was a run up last year because there were barriers at the bottom. This year there were no barriers, so it was waaay fun to ride it. But you see all those big strong guys running up it? And you see me, still on my bike? And you see the look that one dude is giving me? Classic. Actually, I think he told me, "nice work" when I passed him right there.
Whew, where to begin?!
I have 4 'cross races under my belt thus far and haven't written a single report. Slacker. My lack of report-writing motivation probably comes from having some less than stellar results, but I ended this last weekend on a good note so I'm ready to rationalize and philosophize away those lousy races.
First! I raced the Folsom Cyclebration CX race at Negro Bar waaaay back on the 12th of Sept. I was actually having a pretty stellar race until, with one lap to go, I had some really ill-timed breathing issue (that I've never experienced before) and pretty much just limped the whole last lap. Effectively dropping from 2nd to 4th (AKA DFL). So, while I was happy with my legs and my fitness, it didn't really pan out for me.
Next up! Cross Vegas! AKA "Why, oh why, did I sign up for this stupid !*#@ing race?!" Basically, I went down to Vegas to work at Interbike for my long-time employer, Sinclair Imports. While I've worked here for 4 years, this was my first trip with the company to work the event. And work I did! On my feet about 12+ hrs a day for 5 days. Sooo, 3 days into that was the race, and boy oh boy did I suffer. Actually, I only suffered for about two laps, then the dispair and the intense desire to QUIT led me to just back it off and have fun. And have fun I did! On the run-up people kept saying, "You're not going hard enough if you're smiling!!!" But it's better to be slow and have fun then to be slightly less slow and be hating life. My goal for that race is one that I'm going to carry with me to the USGP in Portland and also Nationals – finish in the 20's – 20th-29th. I utterly failed at Cross Vegas, finishing 34th, but I know that is an attainable goal for me, and I'm going to pursue the next two months of racing with that as the focus.
Finally, after a long week in Vegas, I got home late on Friday night. Saturday morning? Local CX race – 1st of the Sagebrush Series, of which I am the 2x reigning Women's A champion (to be fair, I think there were a couple of races in which I was the only women's A, but it sounds cool anyway, dontcha think?). My legs hurt in a wrong way after my Vegas trip, but I had a good start and was built a substantial lead in the first couple laps over the 2nd place girl. And then. Let's just say, I got lots of flats. And I happened to get these flats about as far from the pits as one can get. Loooong run. Two of them, actually. DNF in the Women's A's race (because by the time I got back to the pits and changed my tube because my extra wheels were still on the way back from Vegas there was only a lap left). Then I jumped in with the men's A's, repeated my flat-on-the-far-side-of-the-course-gosh-this-is-a-long-run routine, and was DFL. But at least I was able to borrow someone's wheel and get rolling again before the bell lap. Oh yeah, did I mention it was like, 100 degrees outside? It was.
After this race I went home, slept for about an hour (I'm STILL recovering from my total sleep deprivation in Vegas) then loaded up the car to drive to California for the first of the Sacramento CX races on Sunday. When I started my warm-up all I could think about was how totally lousy I felt. Just tired, mostly, and sore legs from all the damn running the day before. Ready . . . go! I got the hole shot, which always makes me happy. Then led for most of the first lap. Passed by two girls, let them go. Rode around for the rest of the race with two others. Did my share of the work, until about 1 1/2 laps to go, then I shamelessly sucked wheel. With about 1/4 lap to go I could see the girl in the front was hurting, so I put in a big attack and held it to the line for 3rd. Hooray for a podium after a series of crappy races! And won my race entry back.
Equipment shout-outs! The new Ellsworth is SICK! And pictured above. And the interim pink Ellsworth jersey is highly visible. Also, after my series of flat tires riding my Hutchinsons on Saturday, I threw on some Challenge Griffo XS semi-slick clinchers for the race on Sunday and they were rockin' on that course, and I had nooooo flats whatsoever. Hmm . . what else? I think that's it . . . for now.
By Erika Krumpleman
Hayden Idaho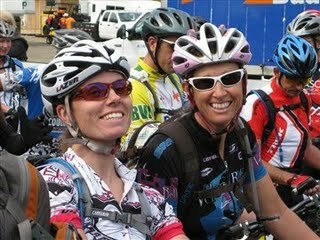 Seven days of racing can create quite a long race report no matter how brief I attempted to be. Soooo–grab a cup of coffee and a snack and settle in…
My friend Shannon called me last October to suggest racing together in TransRockies– a 7 day Mountain bike Stage race in Canada. At that time, Shannon's 2nd baby was only one month old, so I think it was incentive for her to get into shape fast—crazy girl! I thought it sounded like a fun challenge. So we signed up Team Velo Bella/Vanderkitten. Well, Shannon definitely got in shape fast, I trained really hard, we were definitely challenged, and had plenty of fun along the way!
We had three goals:
1. Finish all seven stages—Many racers don't finish due to injury or other issues.
2. No major crashes or mechanicals
3. Podium. Top three sounded like a pipe dream to me, but we put it on our list anyway.
Stats: 7 days- 337 miles–47000 feet of climbing –44 hours
Stage 1 Panorama to K2 Ranch 28.2 miles, 7436 feet of climbing— 4hrs 5min
The energy and enthusiasm at the start was contagious! I was very excited to finally start this race after so many months of long/hard training. After a (not really) neutral spin around the Panorama village, the course went straight up the ski hill. I have never climbed for so long in my granny gear–2 hours or so. We were climbing very well in first place for the open women. Even when we thought we were at the top, we still had a 50 meter hike a bike. We were now on the ridge line surrounded by beautiful views that we really didn't have time to look at. As we started to head down a steep "trail" through an avalanche chute, we got off to walk our bikes and the 2nd place women (Team Nipika from Canada) passed us. Right after they went by, we heard a course volunteer warning riders of tire punctures due to the sharp rocks. Right then one of the Nipika girls flatted. We made a mad dash past them hiking our bikes down the face, crossed a creek about 5 times, and finally to the rideable section. I knew that if we could stay ahead of the other team, we could start out stage two in the leader's jerseys, so we hammered the fire roads to the finish and managed to win by 8 minutes. We were pretty excited. Pink Jerseys, very cool and appropriate for the Velo Bella/Vanderkitten team. Shannon's family was waiting for us with camp set up at this beautiful ranch. It was very cool to get on the podium that night and put on the leader's jerseys.
Stage 2 K2 to Nipika 45 miles, 9299 feet of climbing —7 hrs 40min
Stage 2 started out on fire road, and the start was fast and fun. Well, the roadie in me thinks it's fun…Shannon doesn't really agree 😉 We managed to climb really well that day for the first climb, which never seemed to end. I don't know how long we climbed before we turned onto a jeep trail that was so steep we were off our bikes shortly for just one of the many hikes we would be taking with our bikes that week. All riders around us were off our bikes for probably 30+ min until we got to an avalanche slide where we looked straight up to see the familiar orange course flagging. We would often think, "Really? Are they serious?" The orange flagging meant that, yes, they really intended us to heft our bikes up that wall. Up, up, up—craziness. Shannon stopped to catch her breath at one point and looked behind to see Team Nipika at the base of the avalanche area. Two minutes later they were passing us. They hiked like mountain goats. I think they have more practice in the hike-a-bike department since Canada seems to have a lot of that.
The descent on the backside was very technical. Neither Shannon nor I wanted to crash out of the race on day two, so we rode conservatively and got off our bikes when it got too sketchy. The trail was pretty fun once it became rideable. There were plenty of stream crossings and lots of mud and roots to be had on this Stage. We hammered the next climb but never saw Team Nipika again, bummer. We lost our pink jerseys that day, but knew that we had ridden our best. We arrived in Nipika happy to have this tough stage behind us. Oh ya—This is where Team Nipika is from—they helped build the trails here—big advantage!!
Stage 3 Nipika to Nipika time trial. 27.28 miles 3703 feet of climbing– 4hrs 51min of pure mud.
We were relieved to get a 2 PM start time this day instead of the 8 AM normal start time. Shannon's husband took a break from watching the kids to go out and ride the course. He finished in under 3 hours and thought it was great–rooty, a little technical, few hike a bikes….fun. Well, the fact that it had been pouring since Kris took off at 8 am changed the course from fun to a complete disaster. We were really hoping to be out on the bike for a "short" 4 hours this day. Not so much. The first 3rd of the course was the hardest. We were faced with what Shannon called jungle walls. We were literally climbing (hands, feet, bike, what ever you could use to get up) up a mud wall. It was crazy. Once we got through about 12 of those it was pretty good trail for about 5 miles technical and rooty, but fun.
By the time we finished this stage, we started getting our mud skills back. We had not seen mud on our home trails for many months. Amazingly, we were always relieved to see double track or fire roads—they meant we got a little break. The last part of the course was along an exposed trail overlooking a steep ravine with a fast flowing glacier river several hundred feet below—beautiful if you had the nerve to look over the edge. Shannon didn't like this section much—I heard a few new words come from behind me this day. Once again, we were relieved to get back to camp—the only place we would spend more than one night. Team Nipika put more time on us this day on their home trails. We went to sleep that night listening to the pouring rain. It was starting to look like it was going to be a messy week.
Stage 4 Nipika to Whiteswan 66.4miles 6712 feet of climbing —6hours 58min
This was the longest stage of the Transrockies, but Shannon and I found a way to make it longer. We started in the rain again on some slippery single track in Nipika and then headed out on a fire road for some time. We were hammering along having a great day. The TR course is marked with ribbons tied on a tree every so often. Orange meant keep going along same trail/road. If you see orange and blue on right–take right turn, pink and blue on left–take left turn. Well there was blue ribbon on the left at a corner for some reason (last years' course?) We followed some other riders up the wrong road. We put our heads down, shifted into our granny gears and settled in for a long climb. After about 10 minutes, we looked up and the men in front of us were stopped. One was calling to us in a strong UK accent and we thought he was asking, "Do you see the river?" Well, yes, we had looked down in the valley below us, and yes, we could see the river, but this was not really the time for sight seeing. We just answered, "Yes—we see it!" Well, it turns out he was asking if we had seen a ribbon. Damn accents. Well, no—we had not seen a ribbon in a long time, but had been too busy climbing to notice. We managed to waste 15 to 20 minutes in our little detour—bummer! Shannon and I had a great ride this day once we figured out which way to go. We hammered the climb and flew down the decent, freezing our rear ends off and coating ourselves in layers of mud. Ironically, we finished 20 mins behind the leaders for a 2nd place finish in beautiful Whiteswan.
Stage 5 Whiteswan to Elkford 54.3 miles 7393 feet of climbing–6hours 35min
We woke up to another wet, cold, rainy day. My suitcase was filled with shorts and tanktops. Thankfully, I did bring armwarmers, a vest, and a jacket, but I could have used booties and winter gloves. This day was another day of climbing and Shannon and I were hammering the climbs. We passed team Nipika and never looked back.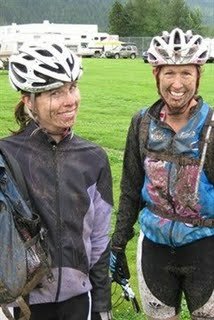 The climbs were fun and a good chance to visit with people from all over the world. It was crazy how we were racing with over 200 other people, but usually ended up riding around the same few teams. It rained off and on throughout the ride, but for some reason we didn't mind it as much—maybe because we were leading??? We got to what we thought was the top of the climb only to learn we would spend the next 30 min on and off our bikes hiking/riding. Nothing really surprised us at this point.
Once to the top we were to descend the famous TR decent known as the Rock Garden. The race organizer described the rocks as "baby heads." I know what these look like—we have them in Spokane—and I have no problem riding baby head sections. Well—their baby heads are completely different from our baby heads. It turns out the course contained a 1/4 mile on a steep road covered with loose boulder-like rocks. There was NO line through these rocks. At one point, I decided to try to mount my bike and ride a section only to fall over and get some new bruises on my left side. Shannon chose to run down the entire Garden and she got to the bottom a couple minutes ahead of me—much smarter move! We were sure after our cautious riding in the rock garden would mean that Team Nipika would be on our heels, so we rode like crazy to get to Elkford first. We got our second stage win. Yippie! We received a warm welcome in this friendly, supportive, town. In fact, some of the local residents volunteered to wash muddy clothing for racers, but I missed that memo… We rolled in and rode straight to the bike wash, cleaned the bikes, then cleaned ourselves. We were pretty impressed that our bikes were not giving us any trouble after racing in the mud for 3 days.
Stage 6 Elkford to Crowsnest Pass 62.6 miles 8092 feet of climbing— 8 hours 23 min
The mud was definitely slowing everyone down. Navigating the lake-like puddles everywhere and slogging through the deep mud made 62 miles seem even longer. Poor Shannon was battling what was a huge blister on day two, but was now more like a hole in her heel. Besides that, the weather was our biggest opponent this day. It started absolutely pouring rain—the kind of rain that you would seek shelter from under a tree if you were just out for a training ride. The kind of rain that would probably cause organizers to cancel a race if it wasn't the TransRockies. It was about 45 degrees and the snow line was just above us. Some people even said they saw snow on the side of the road. We got to check point 1 and I was completely out of it. A volunteer offered to lube my chain and asked me to move the pedals while he put the lube on. I was so out of it that I picked up my rear wheel and pedaled the bike forward!! Dazed and confused!!
We grabbed a couple of things and headed to the climb, praying that it would bring us warmth. It did warm us up a bit, but not enough to take off the jackets. We climbed what seemed like forever, until we finally descended on some fire road and logging roads. Roads where we should have been going over 20 mph, we were only going 10 due to energy sucking mud. We knew that we still had three steep peaks to ascend and descend at the end of the day and they were tough!! More hike-a-bikes and steep walls to ascend and descend. We actually rode more than the steep climbs than we should have due to Shannon's heel, but we passed many other racers doing it. Even with our good climbing, we rolled into Crowsnest Pass in 2nd place behind Team Nipika and glad to have this day behind us.
Thank you to the town for having hot cocoa at the finish. Nothing has ever tasted so good!! Thankfully, showers, massages and dinner were inside their hockey rink building. (You know you are in Canada when even towns with a population of 600 has their own hockey rink.) At dinner, a local resident was punching our pass at the door and I asked her if they happened to be offering laundry service like in Elkford. Well, it turned out that this very sweet woman was hosting some Norwegian racers and she lived 3 houses away. Not only did she happily take our muddy clothes home,wash them, dry them, and bring them back before 9:00 that night, she would not take any money for it. All she wanted was a hug—that I was happy to give!!
Stage 7 Crowsnest Pass to Fernie 46.4 miles 4241 feet of climbing– 5 hours 45 min
The final stage—day seven of hearing "Highway to Hell" by AC/DC. People were cheering and my adrenaline kicked in. I was so excited to have made it this far and to be almost done. I took off and got swept up in the fast moving stream of racers on the rooty technical single track. It was too fast to really be able to see behind me, but I was hoping Shannon was there. When we hit the first big hike-a-bike, I stopped at the top and looked behind me—no Shannon. Uh oh. Fortunately, pretty soon Shannon came up the hike-a-bike, but her heel was causing almost unbearable pain. We gathered up our courage and hit the next road section together. This stage took us through everything mud, rivers, more mountains, and we got to finish on some pretty sweet single track. On this stage, we experienced our only mechanical—Shannon's cleat started to come out so she had to stop and fix that. This took some time because I had to get the mud out of the screws. Due to impassable mud puddles , our bikes were once again covered with a few layers of mud. We finished the single track and hit the pavement in Fernie for the finish.
I felt the lump start to form in my throat as I realized that we had made it. I told myself I would not cry—that would be wimpy!! Shannon and I still joked about how we might get choked up and cry at the end. Well our emotional release went a little differently than expected. We got to the road and Shannon's rear shock was squeaking like old bed springs—you know what I mean. My bike was making the most horrible Huffy grinding sound. We had these beautiful bikes 7 days ago that now sounded like junkers and we felt as though we were limping into the finish. After being in the saddle for 5 hours and 45 minutes on the final day, we went through the finish laughing through our tears. Shannon went to get her heel taped and I just stood with my bike in a daze for about 15 minutes until Shannon's husband came to get us and show us where our hotel was.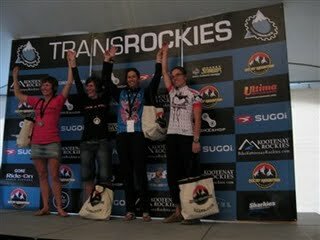 Amazingly—we accomplished all our goals. We finished, we had no major crashes or mechanicals, we won two stages and finished in 2nd place. Shannon—a pharmacist, wife, and most importantly—mother of a 4 year old and 11 month old. Me—a teacher, wife, and mother of a 16 year old and a 20 year old!
Thank you to Ellsworth for a beautiful bike that made it through 7 tough stages without any problems. I was told over and over that my bike was the most beautiful bike there !J Thanks to Stan's for building incredibly light and tough wheels. Due to their tubeless system, I had no flats during the seven days over very rugged terrain. Thanks to Shannon's husband, Kris, for helping clean our bikes and keeping them running strong. Most importantly, thanks to Shannon for being my incredible partner in the best, most challenging race of my life!
Now I'm trying to talk my husband into doing TransRockies with me next year AFTER he does BC race a month earlier. I'll let you know how that goes…
By Allie Burch
Patterson, New York
This weekend was like your very favorite sandwich stacked high between two pieces of moldy bread.
Destination: Windham, NY
Purpose: Regain some ground on the season by landing a top 5 spot in the National downhill event
Thursday night my friend Shawnee and I drove the short distance to our rented condo near Windham resort where the other six occupants would arrive at various times throughout the night and early morning.
Friday morning started with a leisurely breakfast, a logging in to do a bit of work, and then heading over to the venue to register and for our scheduled afternoon practice. Omen number one: No other pros were there registering or waiting in line for Cat 1 practice to end. DAMN! The schedule had been changed to an every-catagory-for-themselves all-day conglomeration. I now had exactly one hour in which to get my bearings started on the course.
This wasn't that big of a deal. I had seen the new features at the end of the course, a wooden drop and two large doubles, and as I watched the guys roll the first double, coast, pedal then sail effortlessly over the last set, I figured I'd probably just roll them at first and check them out like I normally do. After all, they were nothing to be scared of.
I knew the course pretty well already. The first section was from last year's national course, and the middle to bottom were from the Gravity East event earlier in the year, minus the foot of mud that covered it then.
On my first run down I swooped and pumped the fun stuff then stopped and hiked section by section to re-run it smoother and faster. The course was phenomenal. Every part of it was fun, well maintained and manageable, however at race speed is when it started getting tricky and demanding respect. I rolled down the wooden ramp as I always do on a first inspection run, hit the last berm towards the two finish doubles then rolled the first set easily. It was at this point that my head went straight up my ass.
I don't know what made me do it. In ten years of racing, I have never hit something without scrutinizing it first. Well, there's a first time for everything. I figured I'd coast, then take some hard pedals to the last set of doubles. To say that I was surprised when I got to the larger-than-anticipated lip and further-than-anticipated gap is an understatement. To my horror I was going much too slow to clear it, much too fast to slam on the brakes, but juuust the right speed to pack my front end into the front of the transition. KA-LUNK…KAPOI.I.I.I.NG!!!! I'da pulled it off, too…if it weren't for the fact my visor hooked a brake cable and basically attached my head to the handlebars. (Feel free to laugh; I cannot imagine how ridiculous this looked)
I remember thinking, "Whoa! I'm gonna pull it off! Oh no…SHIT! My head's stuck!" At that point I tried to jerk my head up, which wrenched the front wheel sideways and bucked me straight over onto my right side noggin first.
I remember hearing birds tweet and seeing stars circling as I picked myself up, dragged to the grass, dropped everything I was carrying and stumbled immediately to first-aid. (At this point I'd like to say thanks to Joanna, Sue, Lauren and anyone else who might have come in to check on me while I was having a nice little chat about head trauma with Ron the medic. They sent me on my way. Obviously, that was the end of my practice for the day, so I walked the course later instead. I'm really not sure how beneficial that was since I was suffering from a bit of random memory loss that night.
Saturday through qualifying Sunday was a delightful mix of friends, swimming, BBQing and having a great time riding the racecourse. I took one practice run on Sunday and was ready to go.
My qualifying run went pretty well up until the lone muddy section. I hit every line I wanted to and paid attention to where I could hold more speed and where I needed to brake in my race run. I was having a good ol' time laughing and whooping it up along with those on the side of the course, then I heard Sue cheering and ringing her cowbell. Maybe I just tried to come in to fast, but for whatever reason I tapped the brakes and my tires slipped right out from under me. The cheering stopped. I looked up, saw Sue, couldn't help but laugh as I quickly picked my bike up and got going again, "Hey! I never practiced falling here!" I rolled both sets of doubles this time and crossed the line in 4th behind Joanna Petterson, Darian Harvey and Dawn Bourque. Respectable, but I could definitely shave some time off my race run.
Five – hours – later. We waited and waited and waited. Finally our scheduled 3PM start arrived. This was it. I felt good. I was going to redeem myself from nearly a summer's worth of result-bummery. I had a good start out of the gate, down the chutes and across the grass. I dove into the first rocky section. CLANK! *rattle*rattle*rattle* The rattling turned to grinding, the grinding turned to only being able to ratchet the pedals to get just a little bit of power from the chain. Pretty soon there was nothing but the momentum I had and could gain from pumping anything I could. I hit the wooden drop and pumped through the last berm. My eyes were set on the first double and suddenly I was skidding in the grass and slid out. My rear wheel had totally locked up. What else is there to do but pick up the pieces and run like hell to the finish?
So, I finished. And to quote one of the all time best movies ever, "And when they pulled his body from the twisted, burning wreck, it looked like… THIS!!!!"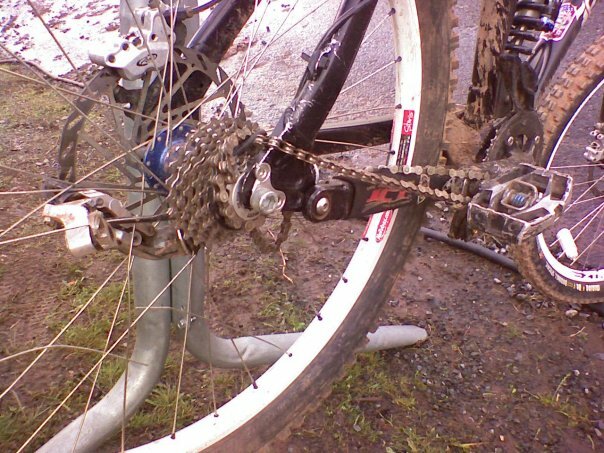 Damage toll: 1 mangled chainguide, 10 severed spokes, 1 bent rear cassette, 1 possible damaged hub, 1 twisted chain, 1 rear derailleur severed in half and one shifter cable with housing wrapped into the drivetrain. Mmm..special.
My qualifying time would have put me on the podium, so I can't really be all that upset. I'm still up there. The Dare rode like a champ and was insanely efficient. Time to rebuild and get back on the horse. There's still a lot of riding left this year!
By Erika Krumpelman
Hayden, Idaho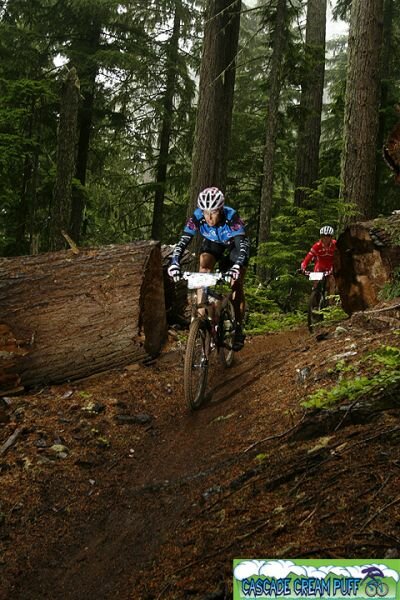 A 100 mile race on a mountain bike with 18,000 feet of climbing sounds like a great idea in April. I had never even ridden 100 miles on my mountain bike, never mind raced it, but July is ages away, right??? A friend of ours has been telling us for a year how much fun this race is, so my husband and I signed up and we started doing long training rides as often as possible.
The week of the race finally arrived. The nerves began three days early. I kept questioning myself: Was I ready? Did I do enough long rides? Can I get my nutrition right? Will I have a mechanical problem? Will I make the time cut or will I get pulled from the race? As we drove the 9 hours to Oakridge, Oregon, our friend who did the race last year talked incessantly about the course—every detail, how difficult it was, how much it hurt, how last year he swore he would never do it again, blah blah blah!! The trips to the bathroom increased.
Race day finally arrived. The alarm clock went off at 3:30 AM. Breakfast was at 4:00 and start time was 5:00 AM—Uggg. Isn't eating at 4:00 AM actually harmful for one's health? They had to delay the start until a bit of light dawned.
Once we started rolling, the nerves went away and I had a great time! I have never raced in such a fun, positive atmosphere! Because the race is so long, I was able to ride with a few men on the long climbs, visiting and learning about their lives. If another racer came up behind me on a descent and I asked if he wanted by, he would casually reply, "Sure, whenever there is time, no hurry." The race was very well supported, marked, and organized. Arrows were a clear indication of coming "attractions".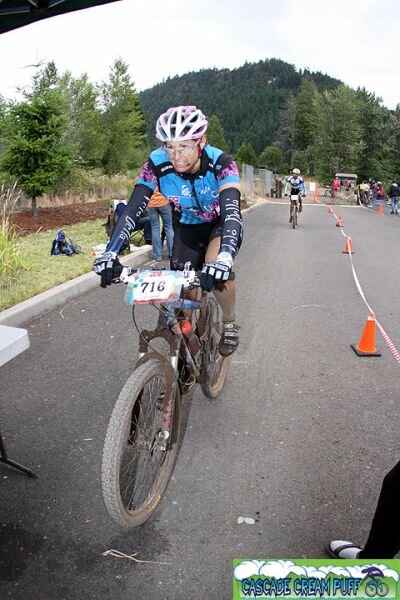 One arrow=Be on your toes. Two arrows= You could get injured. Three arrows=you could die!! I remembered to drink, ate whatever sounded good at the aid stations, and just kept pedaling. The only drawback—non-stop rain! I don't do a lot of racing in the mud, so I was probably overly cautious on the descents, but crashing out of the race didn't sound like fun.
When I stopped at an aid station about 11 hours into the race, our friend found me and tried to get me to come sit with him by the fire. Apparently I looked like death that needed to be warmed over, but I was afraid if I stopped, I would never get back on my bike. I kept going and in the end, I finished in 13 hours, but still smiling! Surprisingly, the thought of quitting never crossed my mind.
I was happy to find out that I was third in my age group and 5th overall. Considering the competition, I was thrilled! A record number of women started–32–but only about half finished before the time cut. The prize—a clock! Thank you to Stan's for their light, tough, wheels that made climbing easier and prevented flats, Zeal for their cute pink glasses that kept the mud out of my eyes, and Oregon Velo for the pics.
By Connie Misket
Sandy, Utah
Angel Fire is definitely one of my very favorite courses… of course, at the same time it's also one of the most terrifying courses we ride too.
Practice Makes Perfect
I arrived at Angel Fire on Friday afternoon – too late for practice, but we immediately got the word that the pro course was the same as the DH course last year and that, miracle of miracles… the Super D course was indeed all downhill – AND gnarly technical. Woohoo!
We headed up bright and early Saturday morning for Super D practice and the course was indeed as described. I am in love with that course. There are a few really technical moves that presented a challenge just riding it and I knew they would be serious choke points during the race. My biggest fear was the start – you never know what they're going to do. But you also can't prepare for it, so I just kept practicing lines on the trail and looking for good passing areas and we had a great time.
The Super D practice was a great warmup for DH practice. Last year I felt like making it through the rock garden without crashing was something of a miracle. This year I was better prepared… I hoped. And it turned out I really was! On Saturday, I didn't crash once on the DH course. I stopped a few times and hiked back up to hit things, but rode as clean as I could ever have hoped. I was feeling great… though I was still worried that my arms get so pumped up by the end of the course that I can barely hold on. But the first day's practice was pretty much perfect.
Super D Day
Of course… that evening it started to rain. We woke up Sunday morning to beautiful sunshine and had DH practice bright and early. Kimber and I headed up to the course, stoked to see the sun because that mile long rock garden is terrifying when it's wet. Of course…. I just underestimated how much it had rained the night before. I got about 200′ into the rock garden, tapped the brakes and started sliding. I thought I'd just slide out, but my front tire washed into a hole and then I flipped over the bars. Ouch. I could feel a huge hematoma growing on my left quad.
Ugh… I sat there for a minute and started again… same thing.
I tried to stay off the brakes, but it's so slippery and steep, I'd hit something, drop the front tire and over the bars I went again, this time landing on my head. Kimber sat there with me for a few minutes and then I decided since I was feeling dizzy, I'd just walk down and get off the course so I could go ice my leg, which I had hit again, in a different spot.
Ugh. I spent the rest of the day sitting on the sofa with ice, waiting for the Super D race that evening.
We got to the Super D start and I was feeling stiff and nervous. I've had 5 knee surgeries and I don't run. Like never. Of course, I could immediately see we were doing a running start. Bleh. With some silliness where you had to put an elbow on the tape and one knee on the ground and then get up and run to your bike which was at the start line. After a few minutes scowling about the start… I decided I had better start visualizing myself running uphill fast, picking up my bike, etc. Apparently that helped, because when they started us, I was surprised to find myself somewhere around mid-pack as I grabbed my bike and headed downhill. I was also surprised to find that I couldn't reach either my front shifter OR my front brake, which had somehow gotten twisted backwards.
Uh-oh.
I had forgotten what it's like to not have a front brake and skidded like a madwoman around the first few corners. I kept trying to bump it back into place, but that wasn't possible as we were bouncing down a rock garden. I passed a few people on this initial descent, and then we got to the toughest move on the course. It's a gnarly right hand turn over some boulders onto more rocky singletrack. The girl in front of me pulled wide and slowed almost to a stop and I cut in to go for it, but then realized I couldn't slow down and crashed right over it. I jumped back up as fast as I could, trying tou get my brake lever back in a usable place and we took off again. I finally got that working again and then noticed that my handlebars were crooked by about 30 degrees… and there was nothing I could do about that without stopping so I decided to ignore it and keep going.
I passed a few more women and as I got to the swoopy steep switchbacks saw Michelle halfway down them. I rode them as fast as I could and popped out on the fire road right on her rear wheel and started pedalling like crazy to catch her. She can definitely out pedal me, but I pushed as hard as I could (thankfully I've been road biking a lot lately to get in better shape), pumped every jump and just tried my best to not get dropped so that I could try to get by her in the corners ahead. But she held the best rideable line through the next several corners and I couldn't get by.
We dropped into the last swoopy section through the trees and as we aired back on to the road towards the finish, I was pulling along side of her in the air. I landed to the inside and tried to hold the inside of the corner, but accidentally buzzed her rear tire and almost crashed. I recovered, but had lost a good amount of ground in the process. I hit the next two flat corners as best I could and right at the final corner (a nasty off camber 120 degree turn to the uphill finish), Michelle slid wide, put a foot down and I passed her on the inside in a slight drift and sprinted as fast as I could to the finish – sure at any second I'd see her catching me.
But I made it and ended up finishing 2nd! Which is my best finish to date in a Pro/Open Super D at an MSC or National race. Woohoo!
Fast and Smooth Downhill
I was feeling relieved at this point and excited for Monday's DH race. Monday morning, Kimber, Addie and I headed up to practice and started by just doing a warmup on the Super D course. I decided not to push it and call that my entire warmup and just went onto the DH course for qualifying (since we all qualify, and I was stiff, sore and my head was throbbing from landing on it the day before).
Qualifying was pretty uninspiring. I was worried about the main rock garden, but cleaned it easily… and then proceeded to crash in a spot I hadn't had issues with before. Just a silly slow speed thing where you end up stuck upside down and it takes forever to get untangled. And then I crashed again, slamming my hip into a rock… I got back up and could hear Addie coming up behind me and just pulled over to let her go… and Jen was only about 50′ behind her. I let them both go and then followed them down the 2nd half of the course to the finish.
Pretty unimpressive, but I was glad to be in one piece. I sat down at the finish and started seeing flashing lights as my migraine got worse… at which point I stumbled back to the house we were renting and took some ibuprofen and iced my head and neck for a few hours. Luckily, the migraine went away and I started feeling normal again.
Of course, at that point it started raining again! We figured we'd head up and do a run on the Super D course to warm up but we got to the lift and it was closed due to lightning. There was talk of cancelling the race if it kept up, and they had started running shuttles to get people to the top. Luckily, right as we were about to get on a shuttle, we got word the lift had opened again. And even luckier – despite the hail and rain, it didn't rain enough to get the rock garden wet. Phew!
I sat at the start visualizing the course and thinking about staying relaxed and looking ahead, and told myself that where for qualifying I was just going slow and safe, this was fast and smooth, fast and smooth….
I started off and things were feeling really good. As I got to the entrance of the rock garden, I told myself (out loud) that "this is my favorite part!!" Heh – I'm getting good at lying to myself! But it worked and I went into the rock garden with a huge smile on my face. It was beautiful – I just rode nice and clean…. all the way to the point where you think you're done with it but have to go up and over a big rock… and there is a photographer sitting right there. I slammed my left pedal into the side of the rock and got stuck. Ugh! I stood up on the rock and lifted my bike up and over it to un-jam the pedal, and jumped down to get on my bike – with the photographer flashing in my face the whole time. Thanks…
But I got back going again and rode the rest of the course clean. I still need to get off the dang brakes on the high speed fire road stuff, but I'm always so terrified that I can't hang on to the bike any more that I brake more, which makes my hands more tired, which makes me more scared, and I brake more…. Ugh.
But I rode clean through the bottom and pulled through the finish line to hear the announcer saying that I had just easily taken over the hot seat. Woohoo! There were plenty more women to come down the course, but I held on for 7th place. Big improvement from last year, as I shaved 40 some seconds off my time and moved from 15th place last year to 7th this year. Plus, I know what I have to work on and how to keep moving on up for next year…

Anyway – we had a fantastic time. It was great to be able to ride with Kimber all weekend and I'm really excited to feel like the training that I've been doing has been paying off!
By Erika Krumpleman
Hayden, Idaho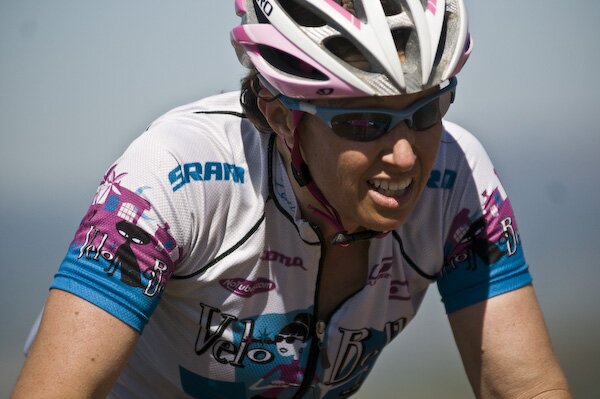 Erika racing hard in the early Summer heat.
My goal for the Sea Otter race was just to show significant improvement from last year by doing the above things – and while my overall result probably doesn't look that impressive, (I finished 22nd of 26 with a 2:48) I'm pretty happy with it looking at the big picture. Last year I was 31st with a 3:03. That's a big improvement on a short course and I feel like I improved in all three areas, so I'm pretty happy with that!
My hubby and I flew down again for Sea Otter, excited for the opportunity to thaw out after an especially long and cold winter here in the Northwest. Little did I know that not only would I thaw out, I would melt into one big pathetic whimpering puddle.
I knew it was an ominous sign when it was announced that the pro women would be reduced to one lap. Part of me was bummed–I prefer an endurance race–but I was relieved we would be out in the baking sun for less time. My husband looked as though he had been broiled after racing in the Cat 1 mens race that morning. I lined up feeling more than a little nervous. Due to our unusually high snowfall, I had only been on my mountain bike five times so far this year.
Because we were only doing one lap, the women in the front must have decided that meant we should just red line it the whole time because the pace was hard and fast from the start. About five minutes into the race, I saw one of the top racers off her bike and puking. "Hmmm…well..at least that's not me…yet" was my thought. So I spent the rest of the race simply surviving the heat.
This was one of my first rides of the year without booties, leg warmers, winter gloves, beanies…you get the picture. And now I'm supposed to race in 95 degrees???? When I tried to push too hard, my body rebelled in a number of ways, so I rode as hard as I could, pushed the liquids, and finished the race in 39th place. I was just thankful to not be one of the racers taken away by ambulance. Also–it was my daughter's 20th birthday!! How many of the women in the pro field could say that?? Anyway, I tried not to get too down on myself for the less than stellar result.
Sea Otter is a great time no matter what the weather or the results. Congrats to all our podium finishers and thank you to Sabine, Laura, Susie, and all the other ladies for being in the Bella tent complete with snacks and mojitos!!
Photo copyright Lyne Lamoureux, Podium Insight, North American cycling news. Used with permission.
By Connie Misket
Park City, Utah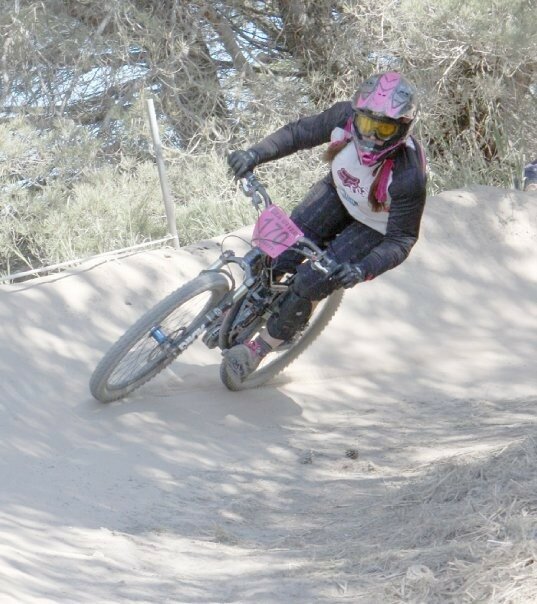 Connie railin' the berm
My #1 thing for the season is to really take control of the mental side of racing. I tend to get really nervous and not race as well as I ride when I'm in the zone/relaxed/etc, and let the jitters get the best of me. And in a sub-3:00 race – you don't have time to recover from that! I've done some coaching with Gene Hamilton in the past couple of years and have been reading a few books on this topic and that seems to be helping. I've been working on visualization/imaging and creating mental triggers to get me into the best mindset before a race so I'm able to get into the zone on command. Sea Otter always makes me pretty nervous since it's definitely the biggest and toughest field I race against all season, but I was able to focus well and did a fairly good job with this (not perfect yet, but a big improvement compared to what's normal for me). I still think I have a lot of room for improvement in getting myself really amped up to sprint hard through pedally sections, but it's a great feeling to be moving in the right direction with this.
For the skills training portion – I started out this season in February by heading down to Bootleg Canyon in Nevada with one of my teammates and 8 other women to do a women's DH camp with Gene. This really helped me start things off right. A lot of it is review (which is always good and probably the best way to get back out on my bike for the season), but I definitely learned some new things as well, and Gene gave us a lot of drills and homework to work on to improve. I love working on cornering in particular and he added in a few components I hadn't thought of before. And Gene's drills on looking ahead worked wonders for making things easier in rock gardens…. Of course, since there aren't any rocks at Sea Otter, I guess I didn't need that part, but I put it to use in that rutted up descent and tried to apply as many of the cornering concepts as possible during the first day or so of practice.
We also discussed race prep in the camp and I decided to try and focus on the little details and technique issues during my early practice runs, but once it got close to race time I worked on just turning my brain off and letting my body do what it knows how to do. Your reaction times aren't very good if you're overthinking things, so I made it a point to do several practice runs as well that were top to bottom, with as little "thinking" as possible. Of course this wasn't 100% during the race – I saw the four whoops right before the finish line and my brain got in the way and threw off my timing, but overall, things went well. I also need to continue working on jumping – I'm at the point now where I need to brake to hit my easier line over the log drop and I think I probably have plenty of speed to just hit the main line… so that's on the goal list for next year.
I was pretty happy with my fitness level coming out of winter. In Salt Lake City we just don't have many opportunities for winter riding. So this winter I took up speed skating, which was fun (and a killer leg workout) and I skied, and hit the gym. And then as soon as the weather started getting nice (but our trails are still under snow) I went and bought a road bike and started riding that. I was hoping to lose a few more pounds before the season started, but I think the scale also reflects that I gained more leg muscle this winter… which I'm not complaining about. I still need to work on sprinting harder during races (though that's getting my mental triggers dialed as much as anything), but I did a LOT of top to bottom runs at Sea Otter (including runs where I pedaled hard all the way through) and was feeling good. I know it's a short course, but I was happy with that.
My goal for the Sea Otter race was just to show significant improvement from last year by doing the above things – and while my overall result probably doesn't look that impressive, (I finished 22nd of 26 with a 2:48) I'm pretty happy with it looking at the big picture. Last year I was 31st with a 3:03. That's a big improvement on a short course and I feel like I improved in all three areas, so I'm pretty happy with that!
By Jen Tilley
Boulder, Colorado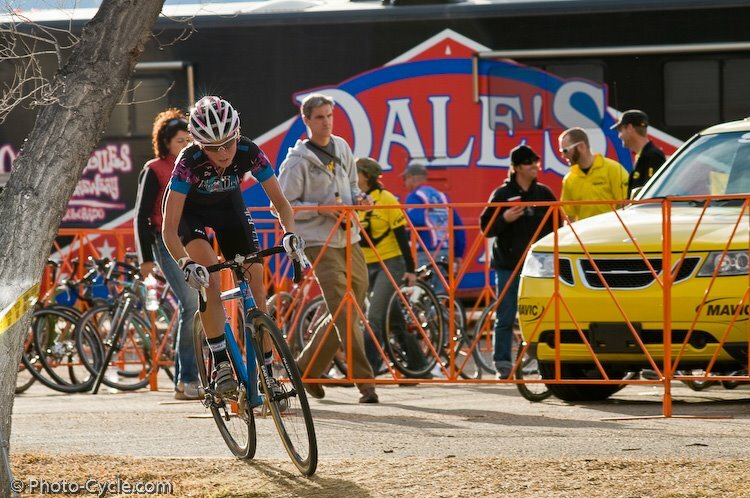 Jen Tilley, Colorado State Championships, Dec. 7th 2008.
The weather was sunny and warm, being a balmy 68 degrees for the last cross race of the season. All season this year the weather has been amazing, definitely not typical cross conditions…
It turned out to be a great race with a good turnout for the women. I ended up 4th with a sprint to the line. With it being one of my better races of the season, it was a great way to end the year. Now its time to relax, spend some time on the snowboard and eat some good food!
By Amy Dombroski
Burlington, Vermont
Woke up to an overcast day with some frost on the windshield, but no white stuff on the ground. We packed the car up for day 2 of psychocross – this time out to Morrison at Bear Creek Lake Park. Dry roads until about 15 miles outside of Boulder, then I had the first bad weather test for my new little dunebuggy.
I suited up…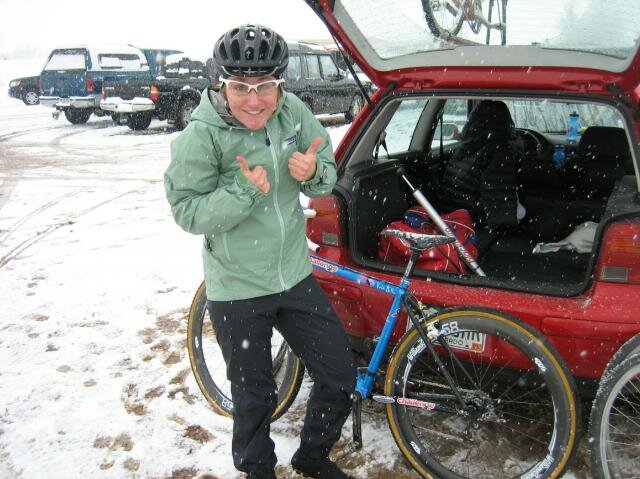 …and hopped on the course, and quickly fell off my steed, multiple times. It was like ice skating in Sorrel boots. I gave the course my middle finger and hunkered in the car, not wanting to race.
But who wouldn't want their bike to look like this?!
It was pretty purdy. And who knows what Portland and Kansas will deliver for conditions?
The secret to having fun was low tire pressure, and staying all loosy-goosy like a noodle. It was definitely a good core workout!
And good to practice my skills – my running skills, bike handling skills, numb-chuck skills, and pitting skills.
Chellie was out cheering her lungs off and snapping these kicking pictures. Thanks!