Mud and Mountains at Transrockies
By Erika Krumpleman
Hayden Idaho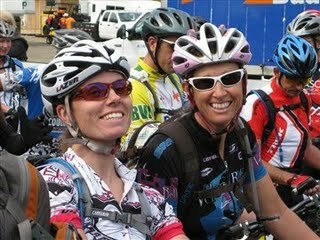 Seven days of racing can create quite a long race report no matter how brief I attempted to be. Soooo–grab a cup of coffee and a snack and settle in…
My friend Shannon called me last October to suggest racing together in TransRockies– a 7 day Mountain bike Stage race in Canada. At that time, Shannon's 2nd baby was only one month old, so I think it was incentive for her to get into shape fast—crazy girl! I thought it sounded like a fun challenge. So we signed up Team Velo Bella/Vanderkitten. Well, Shannon definitely got in shape fast, I trained really hard, we were definitely challenged, and had plenty of fun along the way!
We had three goals:
1. Finish all seven stages—Many racers don't finish due to injury or other issues.
2. No major crashes or mechanicals
3. Podium. Top three sounded like a pipe dream to me, but we put it on our list anyway.
Stats: 7 days- 337 miles–47000 feet of climbing –44 hours
Stage 1 Panorama to K2 Ranch 28.2 miles, 7436 feet of climbing— 4hrs 5min
The energy and enthusiasm at the start was contagious! I was very excited to finally start this race after so many months of long/hard training. After a (not really) neutral spin around the Panorama village, the course went straight up the ski hill. I have never climbed for so long in my granny gear–2 hours or so. We were climbing very well in first place for the open women. Even when we thought we were at the top, we still had a 50 meter hike a bike. We were now on the ridge line surrounded by beautiful views that we really didn't have time to look at. As we started to head down a steep "trail" through an avalanche chute, we got off to walk our bikes and the 2nd place women (Team Nipika from Canada) passed us. Right after they went by, we heard a course volunteer warning riders of tire punctures due to the sharp rocks. Right then one of the Nipika girls flatted. We made a mad dash past them hiking our bikes down the face, crossed a creek about 5 times, and finally to the rideable section. I knew that if we could stay ahead of the other team, we could start out stage two in the leader's jerseys, so we hammered the fire roads to the finish and managed to win by 8 minutes. We were pretty excited. Pink Jerseys, very cool and appropriate for the Velo Bella/Vanderkitten team. Shannon's family was waiting for us with camp set up at this beautiful ranch. It was very cool to get on the podium that night and put on the leader's jerseys.
Stage 2 K2 to Nipika 45 miles, 9299 feet of climbing —7 hrs 40min
Stage 2 started out on fire road, and the start was fast and fun. Well, the roadie in me thinks it's fun…Shannon doesn't really agree 😉 We managed to climb really well that day for the first climb, which never seemed to end. I don't know how long we climbed before we turned onto a jeep trail that was so steep we were off our bikes shortly for just one of the many hikes we would be taking with our bikes that week. All riders around us were off our bikes for probably 30+ min until we got to an avalanche slide where we looked straight up to see the familiar orange course flagging. We would often think, "Really? Are they serious?" The orange flagging meant that, yes, they really intended us to heft our bikes up that wall. Up, up, up—craziness. Shannon stopped to catch her breath at one point and looked behind to see Team Nipika at the base of the avalanche area. Two minutes later they were passing us. They hiked like mountain goats. I think they have more practice in the hike-a-bike department since Canada seems to have a lot of that.
The descent on the backside was very technical. Neither Shannon nor I wanted to crash out of the race on day two, so we rode conservatively and got off our bikes when it got too sketchy. The trail was pretty fun once it became rideable. There were plenty of stream crossings and lots of mud and roots to be had on this Stage. We hammered the next climb but never saw Team Nipika again, bummer. We lost our pink jerseys that day, but knew that we had ridden our best. We arrived in Nipika happy to have this tough stage behind us. Oh ya—This is where Team Nipika is from—they helped build the trails here—big advantage!!
Stage 3 Nipika to Nipika time trial. 27.28 miles 3703 feet of climbing– 4hrs 51min of pure mud.
We were relieved to get a 2 PM start time this day instead of the 8 AM normal start time. Shannon's husband took a break from watching the kids to go out and ride the course. He finished in under 3 hours and thought it was great–rooty, a little technical, few hike a bikes….fun. Well, the fact that it had been pouring since Kris took off at 8 am changed the course from fun to a complete disaster. We were really hoping to be out on the bike for a "short" 4 hours this day. Not so much. The first 3rd of the course was the hardest. We were faced with what Shannon called jungle walls. We were literally climbing (hands, feet, bike, what ever you could use to get up) up a mud wall. It was crazy. Once we got through about 12 of those it was pretty good trail for about 5 miles technical and rooty, but fun.
By the time we finished this stage, we started getting our mud skills back. We had not seen mud on our home trails for many months. Amazingly, we were always relieved to see double track or fire roads—they meant we got a little break. The last part of the course was along an exposed trail overlooking a steep ravine with a fast flowing glacier river several hundred feet below—beautiful if you had the nerve to look over the edge. Shannon didn't like this section much—I heard a few new words come from behind me this day. Once again, we were relieved to get back to camp—the only place we would spend more than one night. Team Nipika put more time on us this day on their home trails. We went to sleep that night listening to the pouring rain. It was starting to look like it was going to be a messy week.
Stage 4 Nipika to Whiteswan 66.4miles 6712 feet of climbing —6hours 58min
This was the longest stage of the Transrockies, but Shannon and I found a way to make it longer. We started in the rain again on some slippery single track in Nipika and then headed out on a fire road for some time. We were hammering along having a great day. The TR course is marked with ribbons tied on a tree every so often. Orange meant keep going along same trail/road. If you see orange and blue on right–take right turn, pink and blue on left–take left turn. Well there was blue ribbon on the left at a corner for some reason (last years' course?) We followed some other riders up the wrong road. We put our heads down, shifted into our granny gears and settled in for a long climb. After about 10 minutes, we looked up and the men in front of us were stopped. One was calling to us in a strong UK accent and we thought he was asking, "Do you see the river?" Well, yes, we had looked down in the valley below us, and yes, we could see the river, but this was not really the time for sight seeing. We just answered, "Yes—we see it!" Well, it turns out he was asking if we had seen a ribbon. Damn accents. Well, no—we had not seen a ribbon in a long time, but had been too busy climbing to notice. We managed to waste 15 to 20 minutes in our little detour—bummer! Shannon and I had a great ride this day once we figured out which way to go. We hammered the climb and flew down the decent, freezing our rear ends off and coating ourselves in layers of mud. Ironically, we finished 20 mins behind the leaders for a 2nd place finish in beautiful Whiteswan.
Stage 5 Whiteswan to Elkford 54.3 miles 7393 feet of climbing–6hours 35min
We woke up to another wet, cold, rainy day. My suitcase was filled with shorts and tanktops. Thankfully, I did bring armwarmers, a vest, and a jacket, but I could have used booties and winter gloves. This day was another day of climbing and Shannon and I were hammering the climbs. We passed team Nipika and never looked back.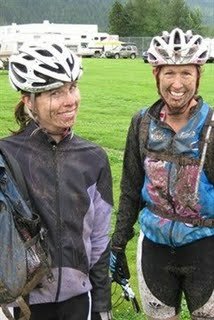 The climbs were fun and a good chance to visit with people from all over the world. It was crazy how we were racing with over 200 other people, but usually ended up riding around the same few teams. It rained off and on throughout the ride, but for some reason we didn't mind it as much—maybe because we were leading??? We got to what we thought was the top of the climb only to learn we would spend the next 30 min on and off our bikes hiking/riding. Nothing really surprised us at this point.
Once to the top we were to descend the famous TR decent known as the Rock Garden. The race organizer described the rocks as "baby heads." I know what these look like—we have them in Spokane—and I have no problem riding baby head sections. Well—their baby heads are completely different from our baby heads. It turns out the course contained a 1/4 mile on a steep road covered with loose boulder-like rocks. There was NO line through these rocks. At one point, I decided to try to mount my bike and ride a section only to fall over and get some new bruises on my left side. Shannon chose to run down the entire Garden and she got to the bottom a couple minutes ahead of me—much smarter move! We were sure after our cautious riding in the rock garden would mean that Team Nipika would be on our heels, so we rode like crazy to get to Elkford first. We got our second stage win. Yippie! We received a warm welcome in this friendly, supportive, town. In fact, some of the local residents volunteered to wash muddy clothing for racers, but I missed that memo… We rolled in and rode straight to the bike wash, cleaned the bikes, then cleaned ourselves. We were pretty impressed that our bikes were not giving us any trouble after racing in the mud for 3 days.
Stage 6 Elkford to Crowsnest Pass 62.6 miles 8092 feet of climbing— 8 hours 23 min
The mud was definitely slowing everyone down. Navigating the lake-like puddles everywhere and slogging through the deep mud made 62 miles seem even longer. Poor Shannon was battling what was a huge blister on day two, but was now more like a hole in her heel. Besides that, the weather was our biggest opponent this day. It started absolutely pouring rain—the kind of rain that you would seek shelter from under a tree if you were just out for a training ride. The kind of rain that would probably cause organizers to cancel a race if it wasn't the TransRockies. It was about 45 degrees and the snow line was just above us. Some people even said they saw snow on the side of the road. We got to check point 1 and I was completely out of it. A volunteer offered to lube my chain and asked me to move the pedals while he put the lube on. I was so out of it that I picked up my rear wheel and pedaled the bike forward!! Dazed and confused!!
We grabbed a couple of things and headed to the climb, praying that it would bring us warmth. It did warm us up a bit, but not enough to take off the jackets. We climbed what seemed like forever, until we finally descended on some fire road and logging roads. Roads where we should have been going over 20 mph, we were only going 10 due to energy sucking mud. We knew that we still had three steep peaks to ascend and descend at the end of the day and they were tough!! More hike-a-bikes and steep walls to ascend and descend. We actually rode more than the steep climbs than we should have due to Shannon's heel, but we passed many other racers doing it. Even with our good climbing, we rolled into Crowsnest Pass in 2nd place behind Team Nipika and glad to have this day behind us.
Thank you to the town for having hot cocoa at the finish. Nothing has ever tasted so good!! Thankfully, showers, massages and dinner were inside their hockey rink building. (You know you are in Canada when even towns with a population of 600 has their own hockey rink.) At dinner, a local resident was punching our pass at the door and I asked her if they happened to be offering laundry service like in Elkford. Well, it turned out that this very sweet woman was hosting some Norwegian racers and she lived 3 houses away. Not only did she happily take our muddy clothes home,wash them, dry them, and bring them back before 9:00 that night, she would not take any money for it. All she wanted was a hug—that I was happy to give!!
Stage 7 Crowsnest Pass to Fernie 46.4 miles 4241 feet of climbing– 5 hours 45 min
The final stage—day seven of hearing "Highway to Hell" by AC/DC. People were cheering and my adrenaline kicked in. I was so excited to have made it this far and to be almost done. I took off and got swept up in the fast moving stream of racers on the rooty technical single track. It was too fast to really be able to see behind me, but I was hoping Shannon was there. When we hit the first big hike-a-bike, I stopped at the top and looked behind me—no Shannon. Uh oh. Fortunately, pretty soon Shannon came up the hike-a-bike, but her heel was causing almost unbearable pain. We gathered up our courage and hit the next road section together. This stage took us through everything mud, rivers, more mountains, and we got to finish on some pretty sweet single track. On this stage, we experienced our only mechanical—Shannon's cleat started to come out so she had to stop and fix that. This took some time because I had to get the mud out of the screws. Due to impassable mud puddles , our bikes were once again covered with a few layers of mud. We finished the single track and hit the pavement in Fernie for the finish.
I felt the lump start to form in my throat as I realized that we had made it. I told myself I would not cry—that would be wimpy!! Shannon and I still joked about how we might get choked up and cry at the end. Well our emotional release went a little differently than expected. We got to the road and Shannon's rear shock was squeaking like old bed springs—you know what I mean. My bike was making the most horrible Huffy grinding sound. We had these beautiful bikes 7 days ago that now sounded like junkers and we felt as though we were limping into the finish. After being in the saddle for 5 hours and 45 minutes on the final day, we went through the finish laughing through our tears. Shannon went to get her heel taped and I just stood with my bike in a daze for about 15 minutes until Shannon's husband came to get us and show us where our hotel was.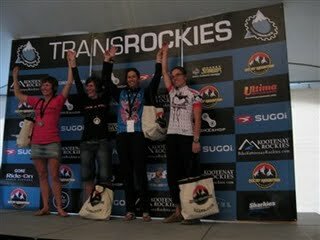 Amazingly—we accomplished all our goals. We finished, we had no major crashes or mechanicals, we won two stages and finished in 2nd place. Shannon—a pharmacist, wife, and most importantly—mother of a 4 year old and 11 month old. Me—a teacher, wife, and mother of a 16 year old and a 20 year old!
Thank you to Ellsworth for a beautiful bike that made it through 7 tough stages without any problems. I was told over and over that my bike was the most beautiful bike there !J Thanks to Stan's for building incredibly light and tough wheels. Due to their tubeless system, I had no flats during the seven days over very rugged terrain. Thanks to Shannon's husband, Kris, for helping clean our bikes and keeping them running strong. Most importantly, thanks to Shannon for being my incredible partner in the best, most challenging race of my life!
Now I'm trying to talk my husband into doing TransRockies with me next year AFTER he does BC race a month earlier. I'll let you know how that goes…
---
This fabulous post was written by one of our awesome bella volunteers ~ To change this standard text, you have to enter some information about your self in the Dashboard -> Users -> Your Profile box.
---