Jen Tilley and I showed up for the next National race of the season- a Colorado shootout between the locals and the WorldCuppers. After having the perfect downhill road start, the selection was made on the short hill up sandy doubletrack. I just couldn't stay with the first group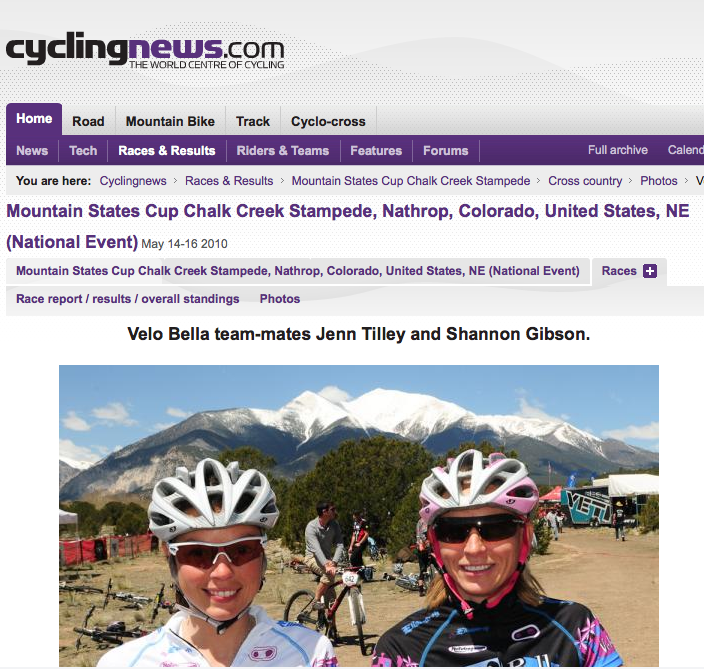 of Georgia Gould (who lapped many of the pro men), Kelli Emmett, Katie Compton, Heather Irmiger and Jenny Smith. I sat up, let a bunch of women by and just settled into my own pace.
The course was rolling and singletracky, perfect for my new Ellsworth 29er Enlightenment carbon hardtail, with Stan's NoTubes 1300g wheels, Maxxis Aspen tires, Magura Mag brakes, and Crank Brothers 4ti pedals- 21.2 pounds all built up with SRAM X.O. Even though I lost my Heed bottle and was taking only the neutral water, I felt steady the whole race and picked ladies off one by one. I need to work on my purple zone, however, because after taking almost a year off racing I am missing some high end. Still, considering the caliber of the ladies' field, I'm OK with my 11th place finish.
I just have some more fitness to work on. I love that racing gives motivation and goals to spice up my time on the bike. Next up- Iron Horse, or maybe the pro XC cup at Lance's Ranch. Decisions decisions!
—Shannon Gibson
Durango, Colorado
By Erika Krumpleman
Hayden Idaho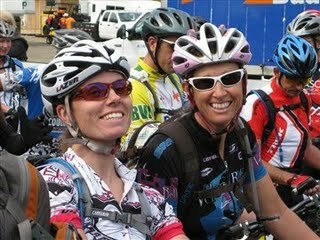 Seven days of racing can create quite a long race report no matter how brief I attempted to be. Soooo–grab a cup of coffee and a snack and settle in…
My friend Shannon called me last October to suggest racing together in TransRockies– a 7 day Mountain bike Stage race in Canada. At that time, Shannon's 2nd baby was only one month old, so I think it was incentive for her to get into shape fast—crazy girl! I thought it sounded like a fun challenge. So we signed up Team Velo Bella/Vanderkitten. Well, Shannon definitely got in shape fast, I trained really hard, we were definitely challenged, and had plenty of fun along the way!
We had three goals:
1. Finish all seven stages—Many racers don't finish due to injury or other issues.
2. No major crashes or mechanicals
3. Podium. Top three sounded like a pipe dream to me, but we put it on our list anyway.
Stats: 7 days- 337 miles–47000 feet of climbing –44 hours
Stage 1 Panorama to K2 Ranch 28.2 miles, 7436 feet of climbing— 4hrs 5min
The energy and enthusiasm at the start was contagious! I was very excited to finally start this race after so many months of long/hard training. After a (not really) neutral spin around the Panorama village, the course went straight up the ski hill. I have never climbed for so long in my granny gear–2 hours or so. We were climbing very well in first place for the open women. Even when we thought we were at the top, we still had a 50 meter hike a bike. We were now on the ridge line surrounded by beautiful views that we really didn't have time to look at. As we started to head down a steep "trail" through an avalanche chute, we got off to walk our bikes and the 2nd place women (Team Nipika from Canada) passed us. Right after they went by, we heard a course volunteer warning riders of tire punctures due to the sharp rocks. Right then one of the Nipika girls flatted. We made a mad dash past them hiking our bikes down the face, crossed a creek about 5 times, and finally to the rideable section. I knew that if we could stay ahead of the other team, we could start out stage two in the leader's jerseys, so we hammered the fire roads to the finish and managed to win by 8 minutes. We were pretty excited. Pink Jerseys, very cool and appropriate for the Velo Bella/Vanderkitten team. Shannon's family was waiting for us with camp set up at this beautiful ranch. It was very cool to get on the podium that night and put on the leader's jerseys.
Stage 2 K2 to Nipika 45 miles, 9299 feet of climbing —7 hrs 40min
Stage 2 started out on fire road, and the start was fast and fun. Well, the roadie in me thinks it's fun…Shannon doesn't really agree 😉 We managed to climb really well that day for the first climb, which never seemed to end. I don't know how long we climbed before we turned onto a jeep trail that was so steep we were off our bikes shortly for just one of the many hikes we would be taking with our bikes that week. All riders around us were off our bikes for probably 30+ min until we got to an avalanche slide where we looked straight up to see the familiar orange course flagging. We would often think, "Really? Are they serious?" The orange flagging meant that, yes, they really intended us to heft our bikes up that wall. Up, up, up—craziness. Shannon stopped to catch her breath at one point and looked behind to see Team Nipika at the base of the avalanche area. Two minutes later they were passing us. They hiked like mountain goats. I think they have more practice in the hike-a-bike department since Canada seems to have a lot of that.
The descent on the backside was very technical. Neither Shannon nor I wanted to crash out of the race on day two, so we rode conservatively and got off our bikes when it got too sketchy. The trail was pretty fun once it became rideable. There were plenty of stream crossings and lots of mud and roots to be had on this Stage. We hammered the next climb but never saw Team Nipika again, bummer. We lost our pink jerseys that day, but knew that we had ridden our best. We arrived in Nipika happy to have this tough stage behind us. Oh ya—This is where Team Nipika is from—they helped build the trails here—big advantage!!
Stage 3 Nipika to Nipika time trial. 27.28 miles 3703 feet of climbing– 4hrs 51min of pure mud.
We were relieved to get a 2 PM start time this day instead of the 8 AM normal start time. Shannon's husband took a break from watching the kids to go out and ride the course. He finished in under 3 hours and thought it was great–rooty, a little technical, few hike a bikes….fun. Well, the fact that it had been pouring since Kris took off at 8 am changed the course from fun to a complete disaster. We were really hoping to be out on the bike for a "short" 4 hours this day. Not so much. The first 3rd of the course was the hardest. We were faced with what Shannon called jungle walls. We were literally climbing (hands, feet, bike, what ever you could use to get up) up a mud wall. It was crazy. Once we got through about 12 of those it was pretty good trail for about 5 miles technical and rooty, but fun.
By the time we finished this stage, we started getting our mud skills back. We had not seen mud on our home trails for many months. Amazingly, we were always relieved to see double track or fire roads—they meant we got a little break. The last part of the course was along an exposed trail overlooking a steep ravine with a fast flowing glacier river several hundred feet below—beautiful if you had the nerve to look over the edge. Shannon didn't like this section much—I heard a few new words come from behind me this day. Once again, we were relieved to get back to camp—the only place we would spend more than one night. Team Nipika put more time on us this day on their home trails. We went to sleep that night listening to the pouring rain. It was starting to look like it was going to be a messy week.
Stage 4 Nipika to Whiteswan 66.4miles 6712 feet of climbing —6hours 58min
This was the longest stage of the Transrockies, but Shannon and I found a way to make it longer. We started in the rain again on some slippery single track in Nipika and then headed out on a fire road for some time. We were hammering along having a great day. The TR course is marked with ribbons tied on a tree every so often. Orange meant keep going along same trail/road. If you see orange and blue on right–take right turn, pink and blue on left–take left turn. Well there was blue ribbon on the left at a corner for some reason (last years' course?) We followed some other riders up the wrong road. We put our heads down, shifted into our granny gears and settled in for a long climb. After about 10 minutes, we looked up and the men in front of us were stopped. One was calling to us in a strong UK accent and we thought he was asking, "Do you see the river?" Well, yes, we had looked down in the valley below us, and yes, we could see the river, but this was not really the time for sight seeing. We just answered, "Yes—we see it!" Well, it turns out he was asking if we had seen a ribbon. Damn accents. Well, no—we had not seen a ribbon in a long time, but had been too busy climbing to notice. We managed to waste 15 to 20 minutes in our little detour—bummer! Shannon and I had a great ride this day once we figured out which way to go. We hammered the climb and flew down the decent, freezing our rear ends off and coating ourselves in layers of mud. Ironically, we finished 20 mins behind the leaders for a 2nd place finish in beautiful Whiteswan.
Stage 5 Whiteswan to Elkford 54.3 miles 7393 feet of climbing–6hours 35min
We woke up to another wet, cold, rainy day. My suitcase was filled with shorts and tanktops. Thankfully, I did bring armwarmers, a vest, and a jacket, but I could have used booties and winter gloves. This day was another day of climbing and Shannon and I were hammering the climbs. We passed team Nipika and never looked back.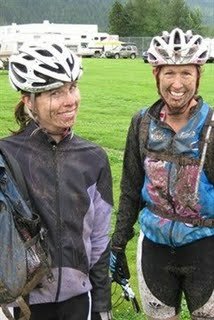 The climbs were fun and a good chance to visit with people from all over the world. It was crazy how we were racing with over 200 other people, but usually ended up riding around the same few teams. It rained off and on throughout the ride, but for some reason we didn't mind it as much—maybe because we were leading??? We got to what we thought was the top of the climb only to learn we would spend the next 30 min on and off our bikes hiking/riding. Nothing really surprised us at this point.
Once to the top we were to descend the famous TR decent known as the Rock Garden. The race organizer described the rocks as "baby heads." I know what these look like—we have them in Spokane—and I have no problem riding baby head sections. Well—their baby heads are completely different from our baby heads. It turns out the course contained a 1/4 mile on a steep road covered with loose boulder-like rocks. There was NO line through these rocks. At one point, I decided to try to mount my bike and ride a section only to fall over and get some new bruises on my left side. Shannon chose to run down the entire Garden and she got to the bottom a couple minutes ahead of me—much smarter move! We were sure after our cautious riding in the rock garden would mean that Team Nipika would be on our heels, so we rode like crazy to get to Elkford first. We got our second stage win. Yippie! We received a warm welcome in this friendly, supportive, town. In fact, some of the local residents volunteered to wash muddy clothing for racers, but I missed that memo… We rolled in and rode straight to the bike wash, cleaned the bikes, then cleaned ourselves. We were pretty impressed that our bikes were not giving us any trouble after racing in the mud for 3 days.
Stage 6 Elkford to Crowsnest Pass 62.6 miles 8092 feet of climbing— 8 hours 23 min
The mud was definitely slowing everyone down. Navigating the lake-like puddles everywhere and slogging through the deep mud made 62 miles seem even longer. Poor Shannon was battling what was a huge blister on day two, but was now more like a hole in her heel. Besides that, the weather was our biggest opponent this day. It started absolutely pouring rain—the kind of rain that you would seek shelter from under a tree if you were just out for a training ride. The kind of rain that would probably cause organizers to cancel a race if it wasn't the TransRockies. It was about 45 degrees and the snow line was just above us. Some people even said they saw snow on the side of the road. We got to check point 1 and I was completely out of it. A volunteer offered to lube my chain and asked me to move the pedals while he put the lube on. I was so out of it that I picked up my rear wheel and pedaled the bike forward!! Dazed and confused!!
We grabbed a couple of things and headed to the climb, praying that it would bring us warmth. It did warm us up a bit, but not enough to take off the jackets. We climbed what seemed like forever, until we finally descended on some fire road and logging roads. Roads where we should have been going over 20 mph, we were only going 10 due to energy sucking mud. We knew that we still had three steep peaks to ascend and descend at the end of the day and they were tough!! More hike-a-bikes and steep walls to ascend and descend. We actually rode more than the steep climbs than we should have due to Shannon's heel, but we passed many other racers doing it. Even with our good climbing, we rolled into Crowsnest Pass in 2nd place behind Team Nipika and glad to have this day behind us.
Thank you to the town for having hot cocoa at the finish. Nothing has ever tasted so good!! Thankfully, showers, massages and dinner were inside their hockey rink building. (You know you are in Canada when even towns with a population of 600 has their own hockey rink.) At dinner, a local resident was punching our pass at the door and I asked her if they happened to be offering laundry service like in Elkford. Well, it turned out that this very sweet woman was hosting some Norwegian racers and she lived 3 houses away. Not only did she happily take our muddy clothes home,wash them, dry them, and bring them back before 9:00 that night, she would not take any money for it. All she wanted was a hug—that I was happy to give!!
Stage 7 Crowsnest Pass to Fernie 46.4 miles 4241 feet of climbing– 5 hours 45 min
The final stage—day seven of hearing "Highway to Hell" by AC/DC. People were cheering and my adrenaline kicked in. I was so excited to have made it this far and to be almost done. I took off and got swept up in the fast moving stream of racers on the rooty technical single track. It was too fast to really be able to see behind me, but I was hoping Shannon was there. When we hit the first big hike-a-bike, I stopped at the top and looked behind me—no Shannon. Uh oh. Fortunately, pretty soon Shannon came up the hike-a-bike, but her heel was causing almost unbearable pain. We gathered up our courage and hit the next road section together. This stage took us through everything mud, rivers, more mountains, and we got to finish on some pretty sweet single track. On this stage, we experienced our only mechanical—Shannon's cleat started to come out so she had to stop and fix that. This took some time because I had to get the mud out of the screws. Due to impassable mud puddles , our bikes were once again covered with a few layers of mud. We finished the single track and hit the pavement in Fernie for the finish.
I felt the lump start to form in my throat as I realized that we had made it. I told myself I would not cry—that would be wimpy!! Shannon and I still joked about how we might get choked up and cry at the end. Well our emotional release went a little differently than expected. We got to the road and Shannon's rear shock was squeaking like old bed springs—you know what I mean. My bike was making the most horrible Huffy grinding sound. We had these beautiful bikes 7 days ago that now sounded like junkers and we felt as though we were limping into the finish. After being in the saddle for 5 hours and 45 minutes on the final day, we went through the finish laughing through our tears. Shannon went to get her heel taped and I just stood with my bike in a daze for about 15 minutes until Shannon's husband came to get us and show us where our hotel was.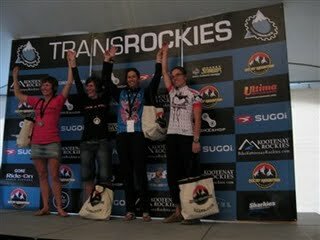 Amazingly—we accomplished all our goals. We finished, we had no major crashes or mechanicals, we won two stages and finished in 2nd place. Shannon—a pharmacist, wife, and most importantly—mother of a 4 year old and 11 month old. Me—a teacher, wife, and mother of a 16 year old and a 20 year old!
Thank you to Ellsworth for a beautiful bike that made it through 7 tough stages without any problems. I was told over and over that my bike was the most beautiful bike there !J Thanks to Stan's for building incredibly light and tough wheels. Due to their tubeless system, I had no flats during the seven days over very rugged terrain. Thanks to Shannon's husband, Kris, for helping clean our bikes and keeping them running strong. Most importantly, thanks to Shannon for being my incredible partner in the best, most challenging race of my life!
Now I'm trying to talk my husband into doing TransRockies with me next year AFTER he does BC race a month earlier. I'll let you know how that goes…
By Erika Krumpelman
Hayden, Idaho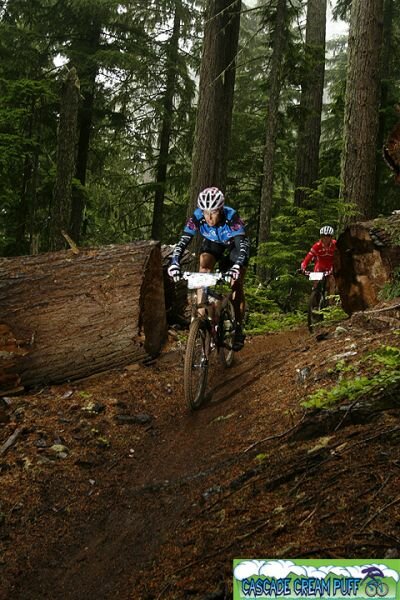 A 100 mile race on a mountain bike with 18,000 feet of climbing sounds like a great idea in April. I had never even ridden 100 miles on my mountain bike, never mind raced it, but July is ages away, right??? A friend of ours has been telling us for a year how much fun this race is, so my husband and I signed up and we started doing long training rides as often as possible.
The week of the race finally arrived. The nerves began three days early. I kept questioning myself: Was I ready? Did I do enough long rides? Can I get my nutrition right? Will I have a mechanical problem? Will I make the time cut or will I get pulled from the race? As we drove the 9 hours to Oakridge, Oregon, our friend who did the race last year talked incessantly about the course—every detail, how difficult it was, how much it hurt, how last year he swore he would never do it again, blah blah blah!! The trips to the bathroom increased.
Race day finally arrived. The alarm clock went off at 3:30 AM. Breakfast was at 4:00 and start time was 5:00 AM—Uggg. Isn't eating at 4:00 AM actually harmful for one's health? They had to delay the start until a bit of light dawned.
Once we started rolling, the nerves went away and I had a great time! I have never raced in such a fun, positive atmosphere! Because the race is so long, I was able to ride with a few men on the long climbs, visiting and learning about their lives. If another racer came up behind me on a descent and I asked if he wanted by, he would casually reply, "Sure, whenever there is time, no hurry." The race was very well supported, marked, and organized. Arrows were a clear indication of coming "attractions".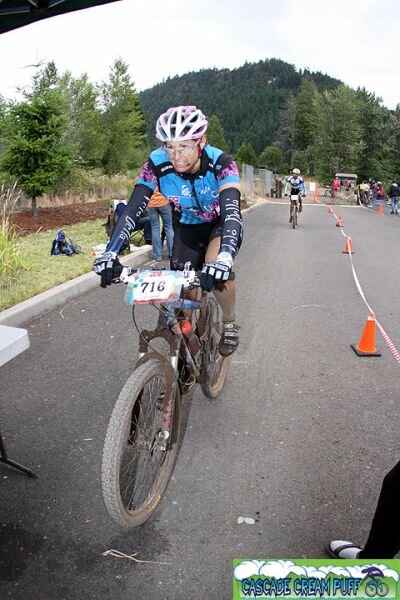 One arrow=Be on your toes. Two arrows= You could get injured. Three arrows=you could die!! I remembered to drink, ate whatever sounded good at the aid stations, and just kept pedaling. The only drawback—non-stop rain! I don't do a lot of racing in the mud, so I was probably overly cautious on the descents, but crashing out of the race didn't sound like fun.
When I stopped at an aid station about 11 hours into the race, our friend found me and tried to get me to come sit with him by the fire. Apparently I looked like death that needed to be warmed over, but I was afraid if I stopped, I would never get back on my bike. I kept going and in the end, I finished in 13 hours, but still smiling! Surprisingly, the thought of quitting never crossed my mind.
I was happy to find out that I was third in my age group and 5th overall. Considering the competition, I was thrilled! A record number of women started–32–but only about half finished before the time cut. The prize—a clock! Thank you to Stan's for their light, tough, wheels that made climbing easier and prevented flats, Zeal for their cute pink glasses that kept the mud out of my eyes, and Oregon Velo for the pics.
By Erika Krumpleman
Hayden, Idaho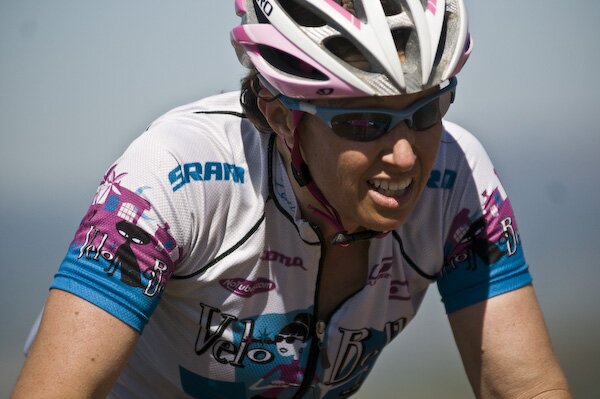 Erika racing hard in the early Summer heat.
My goal for the Sea Otter race was just to show significant improvement from last year by doing the above things – and while my overall result probably doesn't look that impressive, (I finished 22nd of 26 with a 2:48) I'm pretty happy with it looking at the big picture. Last year I was 31st with a 3:03. That's a big improvement on a short course and I feel like I improved in all three areas, so I'm pretty happy with that!
My hubby and I flew down again for Sea Otter, excited for the opportunity to thaw out after an especially long and cold winter here in the Northwest. Little did I know that not only would I thaw out, I would melt into one big pathetic whimpering puddle.
I knew it was an ominous sign when it was announced that the pro women would be reduced to one lap. Part of me was bummed–I prefer an endurance race–but I was relieved we would be out in the baking sun for less time. My husband looked as though he had been broiled after racing in the Cat 1 mens race that morning. I lined up feeling more than a little nervous. Due to our unusually high snowfall, I had only been on my mountain bike five times so far this year.
Because we were only doing one lap, the women in the front must have decided that meant we should just red line it the whole time because the pace was hard and fast from the start. About five minutes into the race, I saw one of the top racers off her bike and puking. "Hmmm…well..at least that's not me…yet" was my thought. So I spent the rest of the race simply surviving the heat.
This was one of my first rides of the year without booties, leg warmers, winter gloves, beanies…you get the picture. And now I'm supposed to race in 95 degrees???? When I tried to push too hard, my body rebelled in a number of ways, so I rode as hard as I could, pushed the liquids, and finished the race in 39th place. I was just thankful to not be one of the racers taken away by ambulance. Also–it was my daughter's 20th birthday!! How many of the women in the pro field could say that?? Anyway, I tried not to get too down on myself for the less than stellar result.
Sea Otter is a great time no matter what the weather or the results. Congrats to all our podium finishers and thank you to Sabine, Laura, Susie, and all the other ladies for being in the Bella tent complete with snacks and mojitos!!
Photo copyright Lyne Lamoureux, Podium Insight, North American cycling news. Used with permission.
By Shannon Edson
Berkeley, California
Well, Mount Snow, VT is a very long way from California.
On Wednesday morning, I embarked on what seemed like an epic adventure: I have a horrible sense of direction and I am a very nervous flyer. Luckily, the first flight into Denver and the second into LaGuardia were relatively painless. After six hours in the air, I was glad to be on solid ground and pointed in the direction of Allie's house in Patterson, NY. (Allie was nice enough to put me up for the night).
Amazingly, I made it to her house without too getting lost; although, I do have one complaint about maps.google.com. It would behoove the driver to know that he or she is going to cross a bridge. This is kind of important information. Maps.google.com, just add a line that says, "Hey, you are going to drive over a bridge." As an English teacher, I have an interpretive mind, but for things like directions, I am pretty literal.
But, I digress. After a night at Allie's, the downhillers and I packed up to drive to Vermont. Inexplicably, Connie and I lost Allie and Kimber in the space of about thirty seconds and managed to drive an extra hour to the same location. We were in good spirits though and decided that it was a good thing we were with each other and not with our husbands. Unfortunately, by the time we arrived, we had missed Super D practice and Allie and Kimber were out walking the course, so we decided to get a bite to eat. And so began the love affair with the Vermonter – the official sandwich of the US National Championships. The sandwich is comprised of two slices of French toast, ham, cheddar cheese, apple, and maple dipping syrup. Now, I ask you: How could this be bad?
Anyway, after the sandwich, I was ready for a nap, but I needed to pre-ride. The course was easily my favorite cross-country course of the season. The climb was steep; the descent was rooty and rocky. It hadn't rained for a few days, so it was in great shape and my Maxxis Crossmarks felt great. I rode the tricky sections a couple of times to figure out my lines. Overall, I felt pretty confident on the course, but my body was pretty tired from the long travel days, so I decided against doing a second lap.
The next day, I met up with Jen, and we rode the climb to the first singletrack. My legs felt snappy, and my bike, thanks to Morgan Styer, our mechanic, looked and felt brand new. Later, we went to watch Alicia Styer, an up and coming Velo Bella and Morgan's daughter, race. I'm so impressed with her. As an eleven year old, she has a long and successful career of racing before her.
Oh, somewhere between my spin with Jen and Alicia's race, I had another Vermonter.
Later that night, we had dinner at the condo and talked about the course and our goals. Since I had traveled so far, I really wanted to have a good race. I tried to tell myself that I should focus on having fun and not the result. However, this is easy to say, but hard to believe. I knew that I had done all the right things to have a good result, but I didn't know how I would respond to the travel, the humidity, the national field, etc. I spent a fitful night of sleep only to be awakened by the sound of thunder and rain outside. This did not help to calm my nerves, but only increased my anxiety. The course was going to be totally different now that it was wet.
After a few hours of staring at the ceiling, Jen and I headed down to the venue. Morgan quickly changed out my front Crossmark for a Maxxis Advantage, and I started my warm-up. This turned out to be the perfect choice for the conditions. I had decided not to wear my heart rate monitor. Although I've worn it all season, I sometimes talk myself out of going harder if I see a number that seems too high.
At 10:45, I was on the line. I knew I had my work cut out of me. Looking at field, I was glad that I didn't have my HR monitor on because I knew my heart was racing just standing there. The official went through the instructions, and we were off. Up the first climb, I passed a couple of women and then encountered some traffic on the first singletrack section. Women were off their bikes, and thus, so was I. Finally, it loosened up on the long fire road and I started passing. When we ducked back into the woods, I made a few mistakes, and a couple racers squeezed around me. On the descent though, I started picking them off.
Through the feed zone, I told myself that I just needed to make fewer mistakes each lap, and I would gain time. The second lap was better than the first, but I still needed to concentrate on being smooth. Into the final lap, I felt good and I was able to push it up the steep climbs. My Kona Kula Lisa really is a mountain goat. I cleaned the sections I had missed in the woods on the uphill and rode the descent more smoothly. It only took me three laps to figure out that loop. Before the course opened up out of the woods, I came within five seconds of Theresa Richardson. On the flats into the finish, I gave everything I had to catch her, but I didn't have the juice. She ended up nine seconds in front.
Overall, I'm totally psyched. I ended up 25th of 36. This is my best finish in a pro field. As Johanna and I later discussed, it felt like we had people to race. It was the first race of the season where I didn't feel like I was hanging onto the bottom rung.
Unfortunately, the next day did not go as well. Instead of hanging onto the bottom rung, I slipped off. I got pulled after six minutes in short track. I guess this means that I left it all out on the XC course. I didn't feel too bad about it since I consoled myself with another Vermonter before I left.
The Velo Bellas had a fantastic showing at Nationals, and I am proud to be part of such a talented, positive, and supportive team. A big thank you goes to Alex and Morgan for fearless leadership and impeccable mechanic skills.


By Alex Fabros
San Luis Obispo, California
Well, let me just start by saying that I'm no Jeannie Longo. I was barely hanging in there for this epic cross country, and I'm four years younger.
Anyway, my drive from San Luis Obispo to the CA Gold Country town of Downieville got progressively smokier, with a really thick pall hanging over the Sierras. That was on Friday, the day prior to the XC. I had a super-fun pre-ride down First Divide trail and cleaned everything, even this one rock step-up that I regularly screw up. My tire choice was perfect and I felt like I had good legs.
On Saturday, the air quality was surprisingly much improved from Friday. It was still uncomfortably hot, and I can't even say that it was typical Sierra dry heat 'cause it wasn't, but it was manageable. The number of racers was huge this year – too huge, really, for how the race is started. There were 800 racers divided into Pro/Expert, Sport, and Beginner, starting in 5 min waves. The trail really can't handle this surge, and it can turn into ridiculous and unsafe passes, especially on the descents.
Back to the start, though. Bellas Heidi and Julie were racing Expert and started at the same time I did. Too bad we hadn't hired a photographer, as I think we looked pretty good motoring up the initial fire road climb. We stuck together for a while, then I made some headway around some riders, and still the road continued, up, up, up, for 8 miles and 3000+ feet. A bit of a descent, then – guess what – more climbing. Finally it ended, and a new trail, Sunrise, got its debut in the Classic. Sunrise is fun and twisty, but I certainly didn't make up much time on it. Personally, I think it'd be much more fun to ride rather than race it. After that, the real descending and fun began. I was pretty happy, passing racers and not getting passed myself. I thought I was rockin' it, but others were REALLY rockin' it, specifically Heidi and Julie. I'm not sure how far in front of Julie I was on the climb, but I'd been around 10 min ahead of Heidi. As I stopped to tighten my front skewer for the second time (mental note – just replace the damn thing!), just before the final descent on Third Divide trail (about 20-25 min left in the race), Heidi politely inquired if I was all right there on the side of the trail. Dang, she must've bombed the baby heads to make up 10 min!! We descended together for a mile or so, kind of tweaked that these Sport guys wouldn't let us by on the singletrack, and then Heidi did something about it. I closed my eyes as she made a couple of risky passes that would've had serious repercussions for her had the passes failed, but they didn't and she broke free of the traffic jam. I was just not aggro enough to try that, which maybe isn't the best race attitude, but I'm very injury-averse.
So, I ended up plodding in with a time of 3:04, which got me fourth place, just on the podium (for some reason, the organizers awarded top-four). Julie was right behind me, so she made some time on the descent, as well. I'm not sure why Shannon E couldn't race, but there were at least three Bellas representin' (and I saw several former Bellas, as well). And this year, I didn't have to dash off to get back to work or whatever, so I could finally stick around for the festivities like the river jump (Heidi and Abby Hipley were the only women competitors), the pixie cross, and the Saddle Tramps. Definitely a fun time!
By Johanna Kraus ~
Massanutten Hoo Ha
Virginia Stage Championship Final, Massanutten Mountain
I'm in the middle of the field season for my job, which means 14 hour days in 90-100 degree heat. I love my job, but a week of this left me feeling a little unprepared for an assault on Massanutten Mountain in the Virginia State Championship series finale, the Hoo Ha. There was a reasonable turn out for the Women's Pro/Expert category, including some good competition.
The race started up a steepish fire road then ducked into the woods. I was third going into the woods, but the second place rider faded quickly in the face of the muddy, rocky, elbow-fest (they started us at the back of all categories of expert men). The rest of the race I spent chasing the leader, Teresa Richardson of Sobe-Cannondale. Somewhat unfortunately for me the course this year excluded at least half of a super rocky ridge, which is usually where I excel against the competition (who often don't have access to this kind of AWESOME riding).
Anyway, I caught the leader after the second time on the half ridge we did ride, we rode together – swapping places every so often. She got away from me on an open fire road climb, and when I tried to make my final rock garden move I lost my chain. I tried to finish strong, and ended up 22 seconds down.
I learned some valuable lessons though – like sometimes you have to go even if it's not in a section that most favors your skills. In the end though it was an exciting and awesome race that challenged me – to me that's the best part of racing. The new Kona rode great on climbs and descents – although I am still getting used to the more laid back geometry which calls for different body position in corners than my old bike. I had my nice pink Giro lid on too – so I was styling. I broke the first one on its inaugural ride at Sea Otter, so I was stoked to get a second chance.
I think my finish here clinched my win of the VA State Championship series, but I still have to find the official results on this.
By Shannon Edson
I can think of better ways to prepare for a big race than a move across the country, but sometimes, you have to sacrifice perfect pre-race conditions for convenience. Thus, after a few days of packing up the house in Fort Collins, Tim and I set out on our cross country move to Berkeley. Our first stop was Park City for the Deer Valley NMBS.
First of all, we love Park City, so it wasn't too much of a bummer for Tim or me that we were to spend three days in the Disneyland for adults. The mountain biking is great, and the downtown is lined with beautiful homes and restaurants set against a lush, green backdrop. It was the ideal first stop on our trek.
After seven hours in the car, we arrived in Park City on Thursday afternoon. We checked into the Courchevel, which is a condo right at the base of the venue, and I headed out for two laps on the course. The conditions were perfect. The loop was comprised of a smooth, tight and twisty descent sandwiched between two gradual climbs. With only two rocks and lots of turns on the descent, it wasn't really my type of course, but it was fun and the purple and yellow wildflowers lining the hillside were beautiful. The pre-ride went well. I did one easy lap and one race pace lap, and my legs and lungs felt good. Having raced at Angel Fire, I wasn't really worried about the altitude.
I did another easy lap on Friday with Tim and spent much of the day reading and resting. I have to keep my mind occupied or else I will work myself up with worry and nerves.
Saturday rolled around, and I felt pretty good. I had a successful warm-up, and the temps were supposed to be a little more forgiving than the days prior. At the line, I was pretty nervous since this was my first NMBS race as a pro. Although it was intimidating, I was racing against most of the women from the MSC circuit. My nerves subsided when we were given the signal to start.
Given that I was starting from the back row, I had a decent start. My legs felt strong up the first climb and I hit the singletrack in a good position. A few women squeezed around, but I caught back up on the long descent. On the second climb, I didn't feel as strong; I couldn't get it going again. I think I'm better on long, sustained climbs. The girls I had caught on the descent climbed away from me, so I tried to settle in and "limit my losses," as Tim says.
On the second lap, I caught Lindsey, and as soon as she was out of sight, I crashed on one of the switchbacks. It wasn't bad, but it took a few seconds to right myself, my bike, and my frame of mind. Into the final lap and covered with dust, I caught Joy and rode away from her on the climb out the feed zone. I could see one other woman ahead of me, and I tried to catch her, but she out descended me to finish 22 seconds ahead.
Despite the crash, I rode pretty consistent lap times and was not disappointed with my effort. I say "not disappointed" because I'm not satisfied with my race either. My cross-country coach in college said that she could count on one hand the number of "good races" she had had. I think this means races with which she was fully satisfied. I think I hold a similar number. Maybe it is the space between disappointment and satisfaction that keeps us racing and aiming to improve. I finished 28th overall, and I am now motivated towards moving up and closer to satisfaction.
Photos by Christopher See. Used with permission, all rights reserved. Clicky for more Photos from the Deer Valley XC. Mille Grazie!
By Erika Krumpleman
Hayden, Idaho
The Northwest "Indie Series" took me to the quaint, beautiful, (although somewhat cheezy) Bavarian town of Leavenworth, Washington. I was a bit nervous about how my body would work after crashing in the previous Wednesday night race and turning my right side into one large hematoma. With almost 5,000 feet of climbing, my legs would need to be there!
After the 4 hour drive to the race course, I had a good warm-up and was ready to go when I hear that the start was delayed by 30 minutes because one of the sport racers had crashed and needed to be carried off the course on a stretcher. So—do I keep warming up, or stand around and talk? Hmm—stand around and talk wins. After 30 minutes and halfheartedly warming up a 2nd time, I hear the start has been delayed another 30 minutes because the racer is badly injured. After climbing 1600 feet each lap, the descent was fast and buff with an occasional hump (water bar) added in that sends many a rider on his or her head. By now I'm starting to think conservative descending might be in order. . Also—my mental focus is pretty much gone. We finally line up to start, I dash into the bushes for one last pee, and then we are off. I took off hard and led up the climb. One woman passed me at the top of the climb, but I quickly passed her on the downhill and did not see another woman from the open class for the rest of the race—pretty uneventful! I kept expecting Kristy Berg, a former pro downhiller to catch me on the descent, but surprisingly she never did.
Luckily my bruised and swollen right leg still worked! The best part about it was the pay out–$250.00!! This may sound pathetic, but I've never won that much before! In most races, the men's payout is about 5 times the women's, but in this race it was almost equal—yay for progress! It might actually pay for a few tanks of gas….
Thanks to Stan's for making an incredibly light and strong set of purple nippled wheels! Less weight on the bike equals faster climbing!
It was also great to see teammate Kari Studley out there. She rode very strong considering the lack of fuel!
Thanks for reading!
By Shannon Edson
Fort Collins, Colorado
MSC Race #1, Fruita, Colorado
After the TT the day before, I was a little bummed out. I hadn't finished as well as I would have liked, and my descending was tentative. But, Sunday was a new day, and I had to focus on the task at hand – the XC. I had a good warm-up, and my legs felt surprisingly good. It made such a difference having teammates around. I rode around with Jen for a bit, and then it was time to head to the line. The pro field was pretty big for an MSC race, and all the fast girls were out to play.
I had pre-ridden the course the weekend before, and this helped my confidence. It was a great course! It snaked around the Western Rim Trail on the border between Colorado and Utah. The views were breathtaking, and the singletrack was very fast.
As I stood on the line, I envisioned the course and myself riding with perfect control. The race official went over the race reminders, and before I knew it, I was racing again. I had a good start; I am determined to make this a strength. After about five minutes, I had spiked my HR, and I just needed to settle in. I rode steady and about fifteen minutes in, we came to big drop.
When I pre-rode the course, it didn't look like the race would go this way, so I hadn't practiced it. I saw a girl ahead of me bomb down it, so I leaned back and rolled through. I made it to the Western Rim Trail and surprised myself with the my technical skills. I definitely had more control than the day before.
When I hit the turn, I saw a girl who had consistently finished ahead of me last season as an expert. I dug in and caught her. This boosted my confidence, and I set my sights up the sandy road. On the last push before the finish, I could see two more women. I gave all that I had and caught one before the finish. I ended up thirteen seconds away from the one further up the road.
I was pleased. At camp, Alex said, "A good goal to have as a first year pro is just to feel like you belong in the field." I felt that way today, and I hope to only build from here.