Cascade Creampuff: 100 Miles of Fun
By Erika Krumpelman
Hayden, Idaho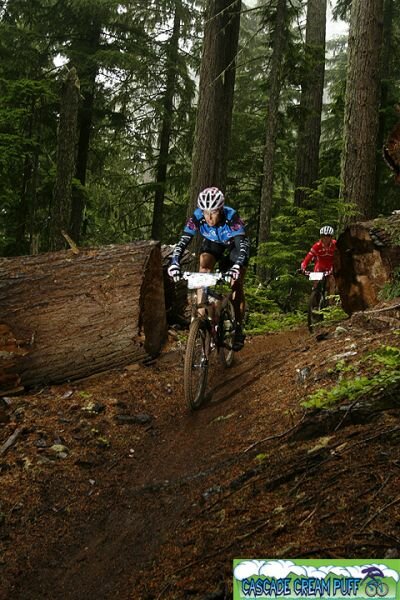 A 100 mile race on a mountain bike with 18,000 feet of climbing sounds like a great idea in April. I had never even ridden 100 miles on my mountain bike, never mind raced it, but July is ages away, right??? A friend of ours has been telling us for a year how much fun this race is, so my husband and I signed up and we started doing long training rides as often as possible.
The week of the race finally arrived. The nerves began three days early. I kept questioning myself: Was I ready? Did I do enough long rides? Can I get my nutrition right? Will I have a mechanical problem? Will I make the time cut or will I get pulled from the race? As we drove the 9 hours to Oakridge, Oregon, our friend who did the race last year talked incessantly about the course—every detail, how difficult it was, how much it hurt, how last year he swore he would never do it again, blah blah blah!! The trips to the bathroom increased.
Race day finally arrived. The alarm clock went off at 3:30 AM. Breakfast was at 4:00 and start time was 5:00 AM—Uggg. Isn't eating at 4:00 AM actually harmful for one's health? They had to delay the start until a bit of light dawned.
Once we started rolling, the nerves went away and I had a great time! I have never raced in such a fun, positive atmosphere! Because the race is so long, I was able to ride with a few men on the long climbs, visiting and learning about their lives. If another racer came up behind me on a descent and I asked if he wanted by, he would casually reply, "Sure, whenever there is time, no hurry." The race was very well supported, marked, and organized. Arrows were a clear indication of coming "attractions".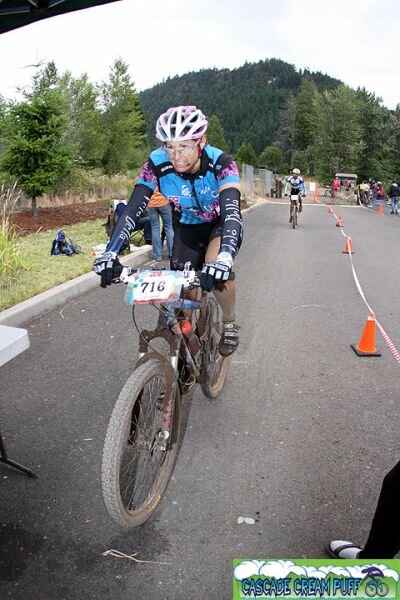 One arrow=Be on your toes. Two arrows= You could get injured. Three arrows=you could die!! I remembered to drink, ate whatever sounded good at the aid stations, and just kept pedaling. The only drawback—non-stop rain! I don't do a lot of racing in the mud, so I was probably overly cautious on the descents, but crashing out of the race didn't sound like fun.
When I stopped at an aid station about 11 hours into the race, our friend found me and tried to get me to come sit with him by the fire. Apparently I looked like death that needed to be warmed over, but I was afraid if I stopped, I would never get back on my bike. I kept going and in the end, I finished in 13 hours, but still smiling! Surprisingly, the thought of quitting never crossed my mind.
I was happy to find out that I was third in my age group and 5th overall. Considering the competition, I was thrilled! A record number of women started–32–but only about half finished before the time cut. The prize—a clock! Thank you to Stan's for their light, tough, wheels that made climbing easier and prevented flats, Zeal for their cute pink glasses that kept the mud out of my eyes, and Oregon Velo for the pics.
---
This fabulous post was written by one of our awesome bella volunteers ~ To change this standard text, you have to enter some information about your self in the Dashboard -> Users -> Your Profile box.
---