A.V.R.E Race for Sight 2011 in Windsor, NY
Blue skies, Hot Humid weather, 80's
B Field:
Kara Frostclapp: 1st Woman,
Cynthia Schnedeker: 2nd Woman
Open Tandem: Ellie Bayles: 3rd
Always a VB at Heart, Lilynn Graves: 4th Woman, A Field
The Owasco Flyer 2011 held on Sunday June 26th in Auburn, NY had a relatively large cohort of 6 NY Velo Bellas participating in the race and/or race committee. This is a well-run race, with a beautiful course, breathtaking views of the Owasco Lake and great post race prizes, raffles and food, including chocolate milk served by Dairy princesses wearing pink tiaras, no less! The weather was perfect for racing, in the low 60's, overcast with only a few sprinkles towards the end of the race. Thank you to Velo Bellas Kim Behrman and Linda Tersegno who were part of the Race committee.
Sue Kahler, 10th Female, 4th in 50-59 age group
Linda Tersegno, 12th Female, 5th in 50-59 age group
Kara Frostclapp ,14th Female, 2nd in 40-49 age group
Cynthia Schnedeker, 15th Female, 6th in 50-59 age group
Michelle Dellilo, DNF d/t broken pedal L
24 miles of rolling hills between Skaneateles and Otisco Lakes
NY Velo Bella's were AWESOME!
Ciao tutti!
CYL or Check Your Legs in New Lisbon, NY one week ago was a cloudy, dreary, cold and blustery start to the road racing season! The two lap 25 mile course featured a half mile climb with rolling hills. There were 7 women riders representing Corning, Mission in Motion and Velo Bella (me). Ex VB racer but will always be a bella at heart LiLynn won riding for her new Corning team.
I was able to stay with the leading group of 5 women until the first major hill and then proceeded to get dropped. TT'd it all the way home and felt like a kite blowin in the wind (at one point racing downhill at 10 mph!). It reminded me of a math word problem…if you are traveling at x mph against a 30 mph wind how long will it take you to travel a 25 mile course. Answer-too long!
Hopefully, the weather for upcoming races in May will be a tad warmer and not quite so windy!
Hope to see you out on the bike!
Cynthia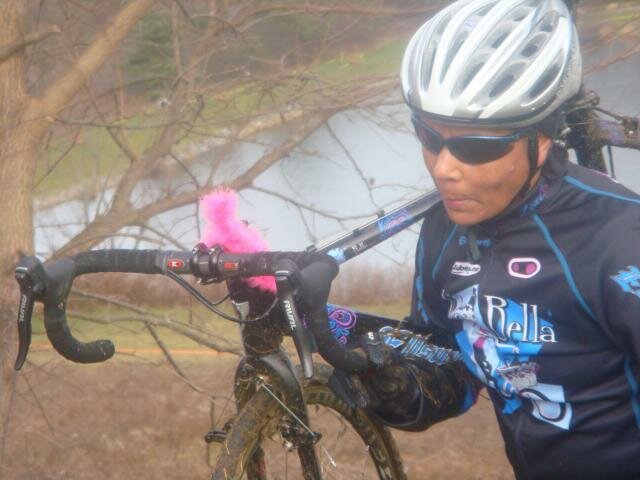 Angela and I finished the Cyclocross season with a race from hell! After completing two fun races in Greene, NY: Nov 7th Greene Cyclocross and the Dave Panella Memorial Cyclocross Race on Nov 14th, we headed to Power Cross in Baldwinsville on Nov 21st with much anticipation. We were both riding our new cyclocross bikes, Angela on her new Fuji comp and me on a Ellsworth Roots in VB colors! Thank you VB Emily Kurze!!
The contrast was stark both in weather and terrain.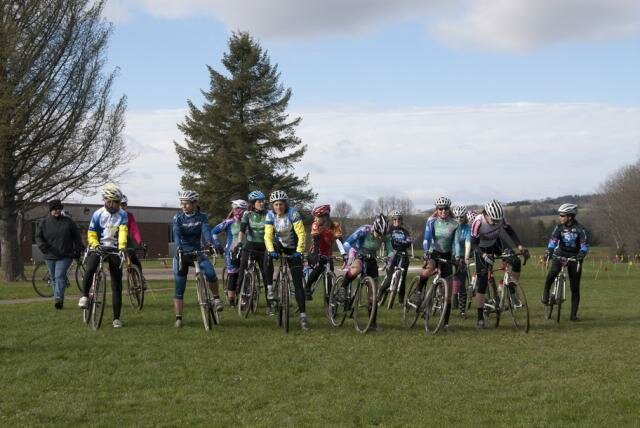 The weather at the Greene and Panella Cyclocross races was sunny, and a balmy 48-50 degrees!. The course designers perfected the Death Spirals with bikes seeming to head towards each other for a game of chicken. Unfortunately at the Dave Panella race a rider crossed over into Angela's path and collided into her. Angela with that VB spirit jumped back on her bike and was able to throw herself right back into the fray. To celebrate our participation, we were treated to a free bottle of Ommegang beer at the Panella race and crazy decorative mugs at the Greene Cyclocross.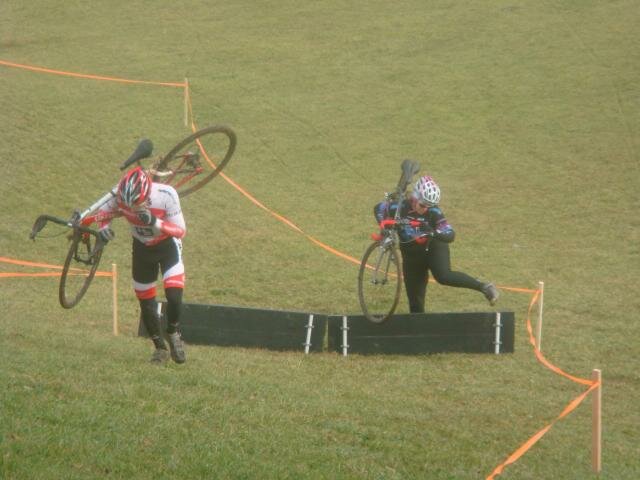 The Power Cross was another matter-cold, cloudy with a sadistic hill requiring a Herculean climbing effort including a barrier? placed smack in the middle of the hill, heading into the steepest part! Picture a hill most suitable for downhill skiing. My shoes kept popping off my heels with every step! There were two all too brief down hills to recover but both required intense concentration to avoid wiping out on the turns or rattled to death by the uneven terrain. Other than that the course was flat and soggy so no opportunity to coast through the turns. We were very happy we persevered and finished no worse for wear, loving our respective bikes and ready to end the season!!
VB Kathleen Rutishauser was there to cheer us on with cow bell and camera. Thanks to Kathleen for some great pictures!
Cynthia
PS Hope to see more VB's out there for the 2011 season!!
Power Cross, Baldwinsville
Cynthia Schnedeker , 8th, Women
Angela Ott, 6th, Open Women
Cynthia Schnedeker, 5th Master's Women
Angela Ott: 10th, Open Women
Cynthia Schnedeker, 4th Master's Women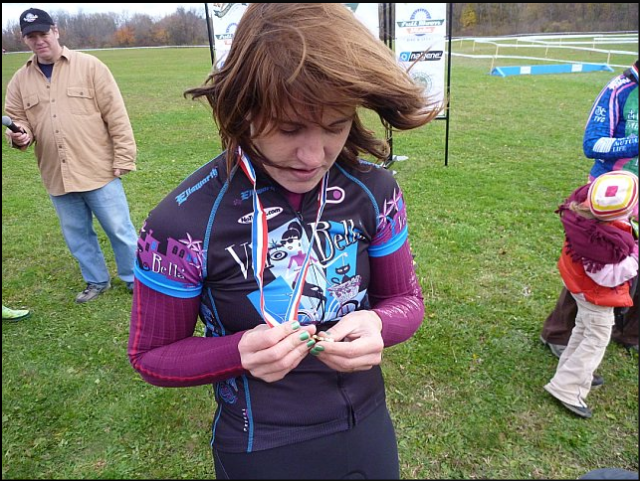 Kim looks at her hardware wistfully…
Parma, NY October 31st.
After an uneven season of two bouts of sicknesses, Kim Rory Behrman was the one NY Bella to muster the courage to race after a serious season change here in NY state. Despite having had a stomach bug the week before and lingering bad cold for several weeks before that, Kim pulled herself together to represent the blue, black and magenta! Her efforts were well worth it, as she WON the NYS Championship for Cat 4 Women! The suspicion is that Kim has discovered "her" sport and more greatness will be revealed!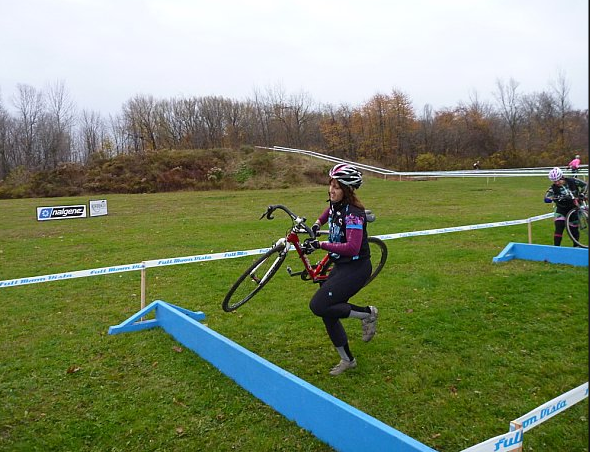 NY Bellas were sporting the winter whites for the Syracuse Grand Prix – though it was the PERFECT weather, and I'm not saying "real cross weather" is "perfect"…
Our own Sue Atwood was the Big Cheese Organizer and Promoter of this race. Her first ever in this position and she and her team of volunteers did a fantastic job of setting up, prizes, break down and scoring. She had some real help from the gods with the weather too.
The course is a ball buster – Not a moment of rest – soggy, muddy grass made for slow going on the back stretch, a sandy run/ride up, rollercoaster bumps and barriers as high as legally possible, which for shorties can be a real pain in the butt.
Angela rips it up!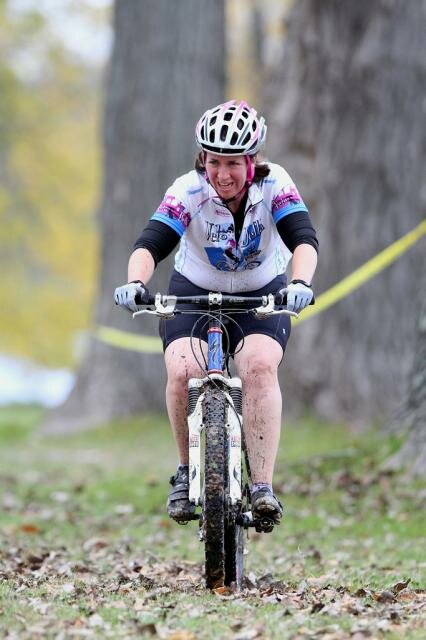 Cynthia shows intensity (and fluff on her headset.)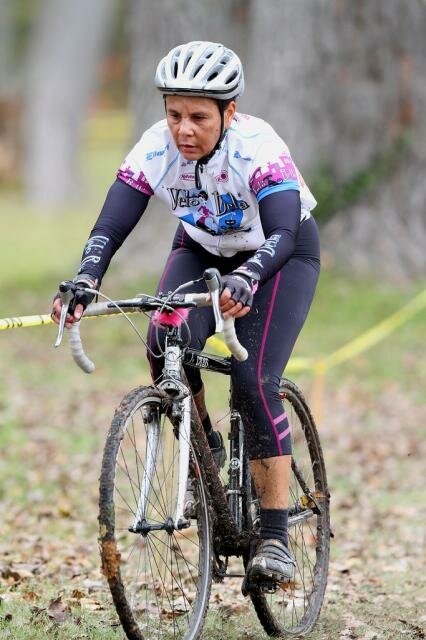 (Photos courtesy of James Pitarresi)
Results:
Open Women
Cynthia Schneideker 9th
Angela Ott 11th
Masters Women:
LiLynn Graves 1st
Kate Stewart 3rd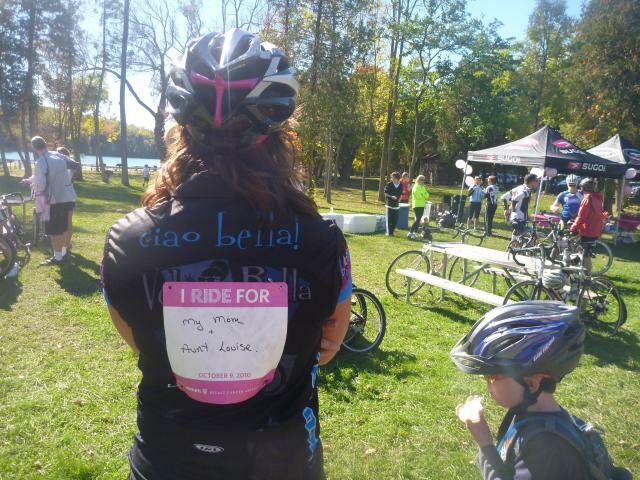 Kim and Erik (He rode 25 miles on a tag-a-long!)
Kim's report:
Saturday October 9th turned out the have beautiful weather for an awesome showing of riders to support Trek Bicycle's Ride for Hope, which went on nationwide. Syracuse Bike hosted the event and touted the largest attendance in the US! YEAH Syracuse!! Included in this great showing were 3 BelIlas – Kim, Jano and Kristen! Kristen was sporting a totally cute bike with pink accents – I'm quite sure just for the ride and Bellas!!
Sadly, most everyone's life has been touched by breast cancer, and if not certainly another form of cancer has barged its way into your friends and family somehow. So, it was fantanstic to see such a large group out in support of Breast Cancer Research.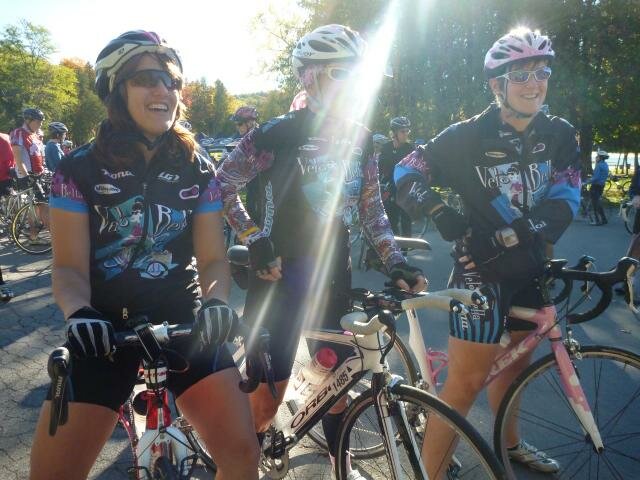 Kim, Jano in blinding sun and Kristen
Critz Farm, Cazenovia, NY
September 18, 2010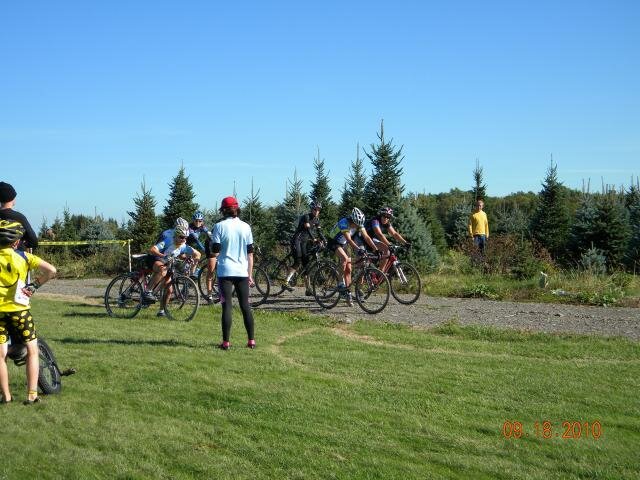 The start of the women's race at the Critz Farm, an "Agri-tourist" destination in Central New York….it's a Christmas tree farm, pumpkin patch, corn maze, blueberry farm, kids' playground, maple sugaring shack and they have the most amazing, hot, crispy, tiny doughnuts.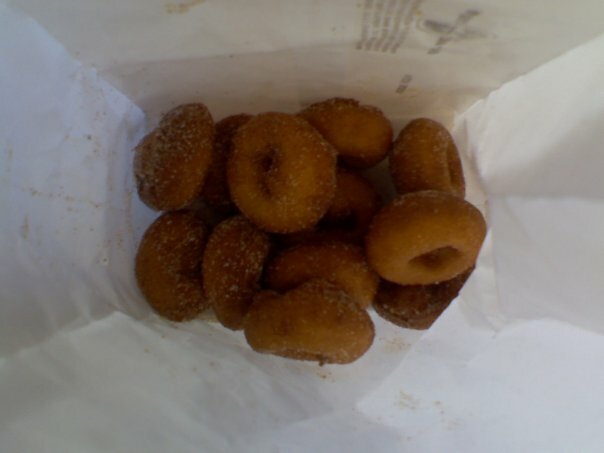 Here's the race report, from LiLynn who channeled Kim….
This is how the day started with most of the women's field grouped together looking at bloody wounds and scars and I said "Chicks dig scars." When you "cross" over, I guess the mind just gets all dirty too! They all thought I said, "Chicks, dicks, cigars…"
After about 5 minutes we got this topic cleared up and started discussing how too sabatoge Ruthless's bike so we might keep her in sight for at least the first 50 yards. We then realized the faster she went, the less laps we would have to do, so we put the air back in her tires to the perfect pressure to assure full speed ahead. We also tightened her derailier back to where it originally was so she could shift gears. Just kidding. We aren't that bad. But we did leave the rocks her in back pocket jersey. Ha.

This was my first race on a cross bike in a cross race with crossed over crazy chicks. So looking around made me very nervous. I'm a born again Mnt biker, I come from a strong line of Mountain bikers. My grand daddy crossed the Rocky Mountains on a makeshift bike that he carried a lot of the way and put these big tires on that he filled with rubber cement (the first tubeless). He was a little ahead of his time. I look at some of those old photos and he has that shoulder carry down pat.

Well he built me my first mnt bike when I was just a youngun and this cross course was like riding in my back yard. Here I didn't think I would do very good with these seasoned roadies and old crossies but go figure. We took off and I was on the farm with my grand daddy in my head saying "ride like a bull in heat hunny."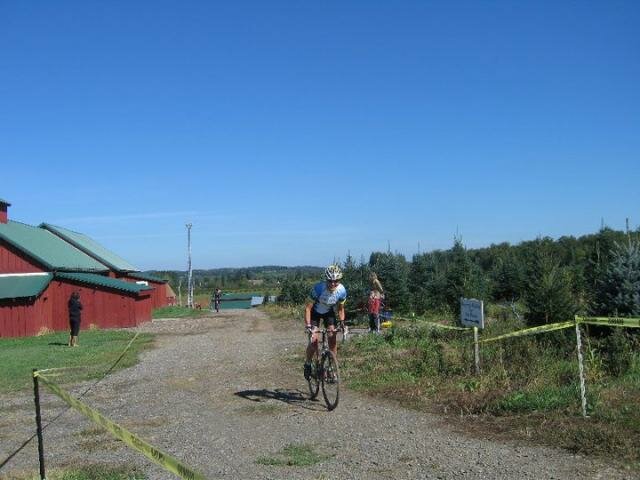 First I was chasing LiLynn the dog with Kate the Kat hot on my tail, and then LiLynn blew through a turn and got her baggy assed shorts stuck on the front of her saddle and couldn't remount. So I blew past her because I was after my heffer. She eventually got her shorts back on and on her saddle and was riding behind me. What she didn't know was I had my grand daddy in my head and was riding like a possessed crossed eyed bull in heat. This was my course and that rubber cement in my tires was working so perfectly that I didn't even slow down through the turns.

LiLynn just started cheering me on to go harder and faster and harder and faster. Made me wonder what she had on her mind. Turned out she just wanted me to close the gap to Ruthless, who had been in China for over a week and was totally sleep deprived and untrained and maybe, just maybe there was a glimmer of hope that we could… Oh crap, she road by a half lap ahead. Coming into the final stretch I came up on Cynthia finishing her 2nd cross race and going for 3rd masters!

Well I just road for my grand daddy and gave it all I had and found my inner cross wild bull in heat. No stopping me now. LiLynn asked me where the hell that came from and I just smiled. Thanks grand dad. Now where's that heffer?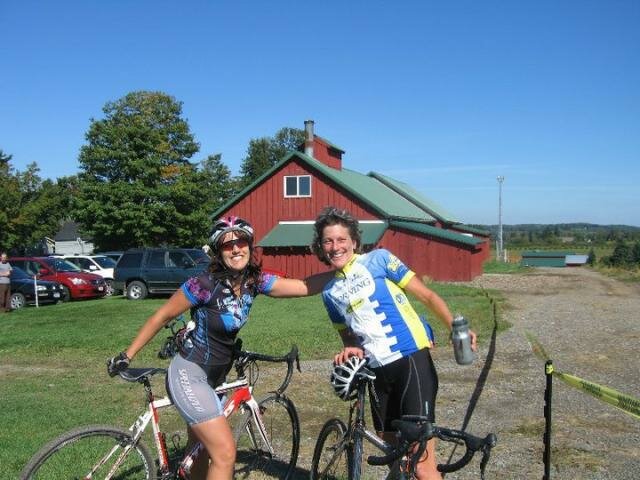 Results:
Open Women:
Kim Behrman 2nd
Master Women:
LiLynn Graves 1st
Kate Stewart 2nd
Cynthia Schneideker 3rd
The season has begun! First cross race this year was Sunday, September 12th – Kirkland Cross, put on by the Mohawk Valley Bicycling Club and it was CLASSIC CROSS conditions: rain, cold, super muddy. Some like it that way! (not me…) Anyway, we had a terrific NY Bella showing with 5 racing.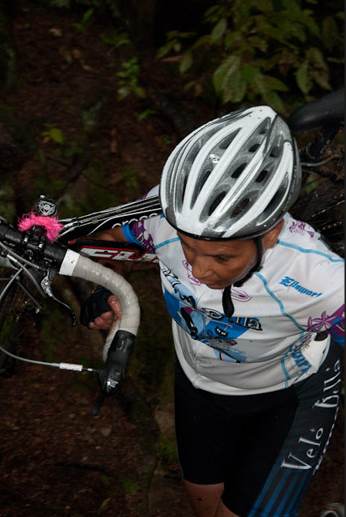 Cynthia mid-run-up.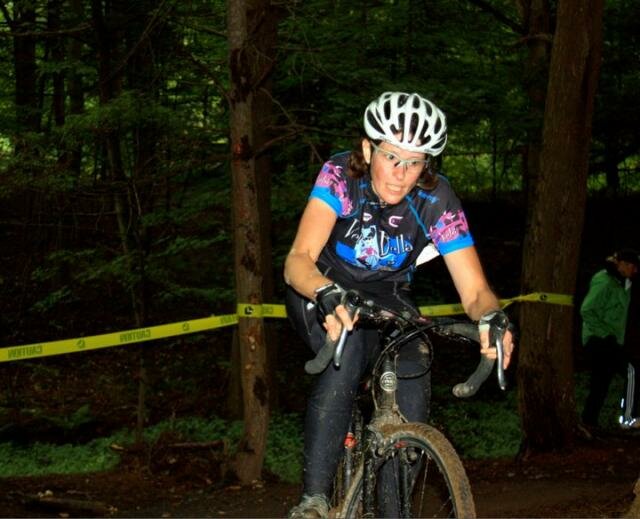 Sue slogging up the sandy climb….
The course is in a lovely setting with a generous variety of conditions: straight up run up followed by more climbing in sand (which makes for impossible reentry into pedals), slow grass, off-camber turns with the added element of greasy mud, narrow, bumpy, completely rutted, shear mud on the back stretch, and my favorite the Sand Pit From Hell.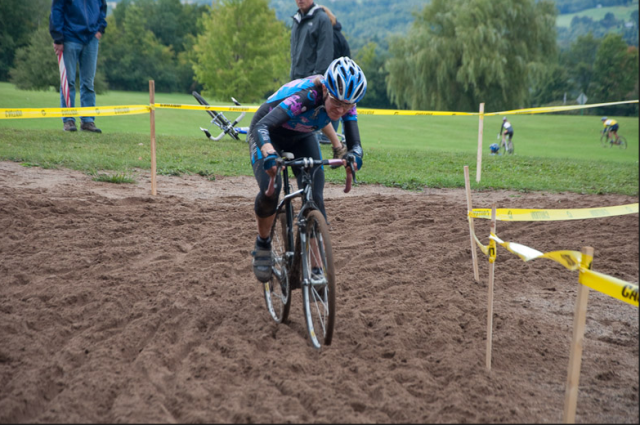 While some managed to stay upright for the entire race, I had lots of quality time with the mud. (Like 7 chances for a mud facial…) Others, like LiLynn, made it look easy: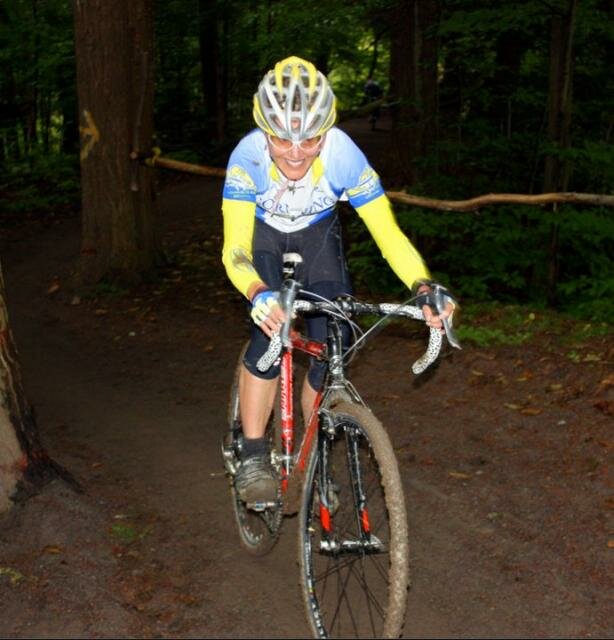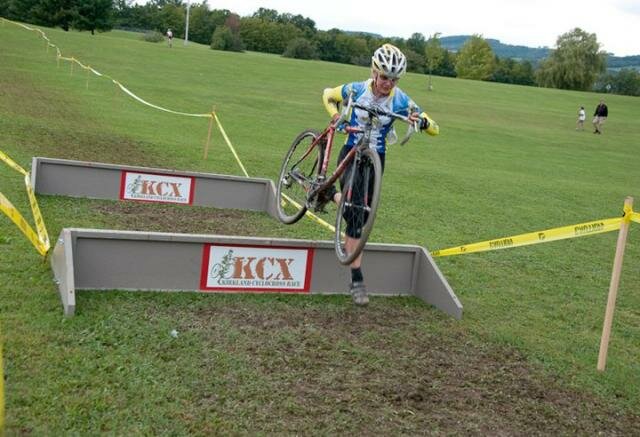 Fastest Bella on two wheels, LL.Dawg Graves shows her barrier bounding skilz.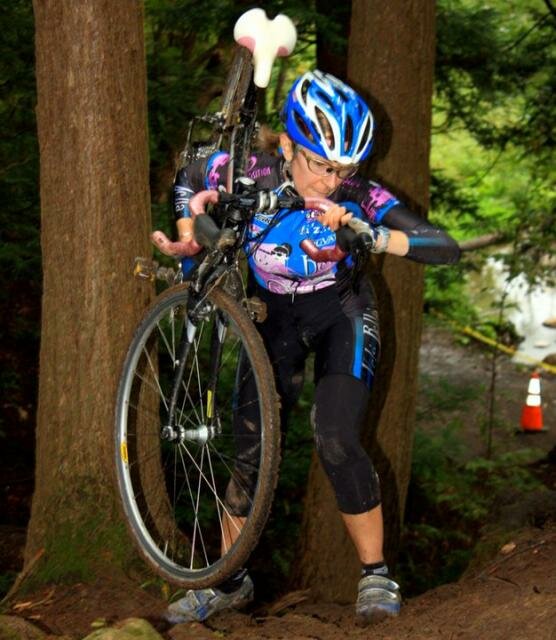 Kapitän Kate, da Kat, wins awards for bike/kit matchie-matching.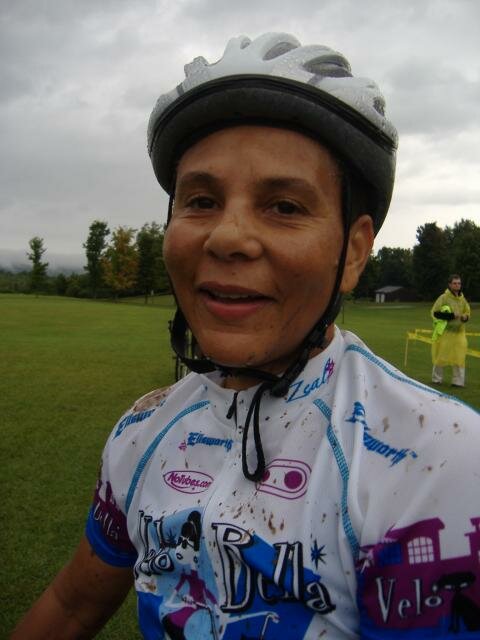 Cynthia looks oddly content. Good race, girlie!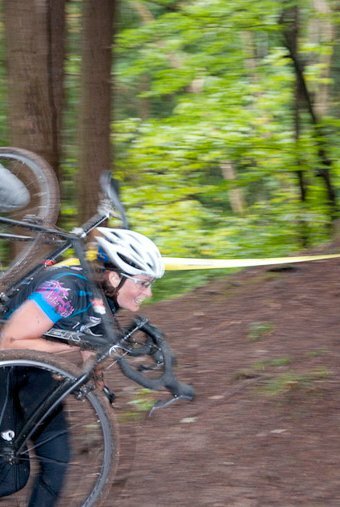 Sue on the run up, is obviously enjoying the climb. That's just not right..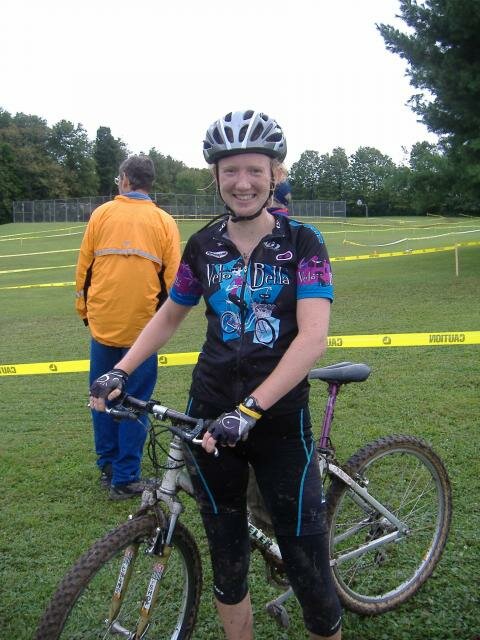 Newest New York Bella, Taliet – after her first ever cross race (she's known as a fierce athlete so, we can expect general awesomeness.)
Results:
Women 4:
Cynthia Schneideker 5th
Women 1-2-3-4
LiLynn Graves 7th
Kate Stewart 9th
Sue Atwood 11th
Taliet Gerretsen 12th