By Piper Ehlen
Winter Park, Colorado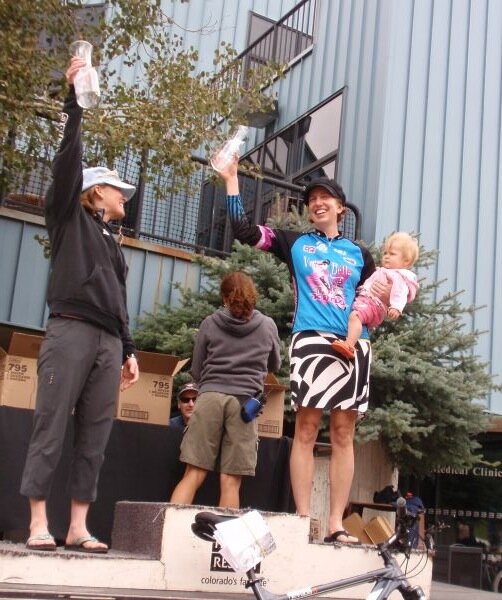 When I began training for this season in May (yes, living at 9,000 feet my bike season doesn't start until May, when the snow melts and the trails start to dry out!) it had been 7 months since I had given birth, and I didn't feel very ready for a competitive bike season. However, I am also a super competitive person and was on my bike as much as possible all summer training for the 5 mountain bike races in my town. That is, training as much as possible while also working full-time and raising a baby…
My results in the first 4 races were not superb:
Race 1, Hill Climb: 7th
Race 2, Cross Country Super Loop: 7th
Race 3, Point-to-Point: 9th
Race 4, Crankworx Colorado Cross Country: 5th
(All results are in Sport Women 30-39)
Not a stellar year so far, but I knew that the series finale race (the "King of the Rockies") would highlight my strengths, climbing and endurance, in this 26-mile, 4,000-foot-climb race. Going into the series finale race, I was in 3rd place for the overall series. While I didn't want to put too much pressure on myself for the race, I also knew that I needed to finish 3 spots ahead of Jill (names have been changed to protect the innocent…) to keep my 3rd place. And if I was really feeling on, I could move into 2nd place by finishing the series finale race 6 spots ahead of Mary.
So, with that, the pressure was on. Race morning, I was feeling good. A nice 45-minute warm-up and to the start line. As always, they started all Sport women at the same time, so we don't know who is in our age class. The first 3.5 miles of this race are on dirt road, then we move to pretty narrow single-track, which climbs and climbs and climbs for about 3.5 miles. I knew that I wanted to get to that singletrack ahead of most, so that I wouldn't be passing girls on the narrow singletrack. As I see the trailhead of the singletrack, I give a big push to pass some girls and start the singletrack in 3rd. Pretty quickly, 2 girls pass me, so now I'm in 5th. I decide that following these 2 girls helps me keep my pace, so I sit pretty tightly to their wheels. We reach the top of this first climb after about 45 minutes of racing, and I'm ready for the 4-mile descent. I'm the first to admit that fast, rocky descents are not my strong point, and are where I usually lose ground to competitors. This time, however, I was feeling fast and pretty quickly passed one of the girls in front of me. OK, now I'm in 4th. What is this, no one is passing me? Could I actually be getting better at downhills??!!
After Spruce Creek, we hit Flume, which has a slight decline. As I was afraid of, the 5th place girl passed me again on the descent, so now I'm back in 5th. I hope that I can make up time on one of the 2 climbs we have coming up. At the next hill I crank crank crank but cannot pass the girl in front of me. I push hard, thinking I will try again on the next hill, which is coming soon.
We start climbing D2 and pretty soon I pass the girl in front of me. 4th again, but can I hold onto it through the next descents? Then I see another girl ahead. I crank and get to her wheel. I start chatting with her (it's a long climb, might as well make friends!) to see if she's in my age class or not. She says she's 26 and asks me how old I am – as I'm passing her I say I'm 35 and she responds "no way!" Really? You think a 35-year-old couldn't pass you? I start to tell her I also had a baby 10 months ago but she's too far in my dust to hear me.
OK, now I think I'm in 3rd, but have no idea how far back any of my competitors are, and know that I am about to start a series of descents that could ruin my lead. So I'm still pushing pushing pushing and make it through the descents with no one passing me.
Finally, at mile 24, we head into the last bit of singletrack, a mellow climb until the finish. I'm going pretty strong and pass a few guys, but don't see any women and don't hear anyone behind me. With about a half-mile left, I feel the fatigue set in, and I feel myself slowing down. Come on, you can do it! I yell to myself. At last, I see the finish line. Crank crank crank and I'm done.
I'm psyched to have finished 3rd, my first podium of the season. And as I check the results, I see that Mary (who was in 2nd for the series standings) finished 11th – I do the math again and again but am pretty sure I just beat her out of 2nd place for the series!
I bring my daughter up to the podium for the awards and as the first place finisher comes out she's carrying a baby also! I feel we get extra loud cheers and the announcer says "these women are working twice as hard!" True! He also says he expects to see our next generation on the podium in another 15 years – me too! (And, although I was glad to see the winner also had a baby, I have to say she finished 9 minutes ahead of me and 8 minutes ahead of 2nd place – time to move up to Expert, sandbagger!)
Race 5, King of the Rockies: 3rd Sport Women 30-39, also 3rd Overall Sport Women.
Winter Park Mountain Bike Race Series 2009 Sport Women 30-39: 2nd place
By Connie Misket
So to give you some background, I've been considering myself something of a Super D specialist lately. My strengths are in cornering and going fast through flowy technical trails, and probably as a result of injury and age, my common sense has kicked in a bit and I'm hesitant to push myself on bigger drops and really gnarly stuff. As a result, I've been working harder and harder at developing better riding skills (and mental racing skills) so I can ride better, but stay safer at the same time. (Heh – we were shuttling in my car the other day and one of my friends laughed that I'm the only person they know who would keep Brian Lopes "Mountain Biking Skills" and Dr. Loehr's "Mental Toughness Training for Sports" in my car…)
I used to push myself to "just go for it" and jump off of things or try to ride lines I wasn't confident on, thinking it was more about conquering fear… and well, maybe it's just the wuss in me talking, but I'm feeling like it's turned out to be more about skill after all (and occasionally learning to just say "no"), seeing as how I rarely pick up new skills when I'm sitting on the sofa recuperating.
So occasionally that means I back out of a DH race that's on a course I just don't feel comfortable on. Good or bad, this year I've stayed safe (well minus several dozen scrapes and bruises), gotten faster, and been steadily improving with my race results. Luckily, I've never seen a Super D course that scared me (well… there are some climbs that scare me, but that's a whole different story!) – hence, I've been starting to think that's my strongest event.
The NCS Course (the Pro/Expert DH course that they use for National races) has always been a challenge for me. In some ways, I like it. I've cleaned Barney Rubble (the rock garden). And I even cleaned the nasty new section above Barney Rubble when we went out to practice before the race… of course I couldn't get Barney Rubble after it and put the two together. Ugh. I love Psycho Spin… even when it's scary and blown out – it's technical steep corners are exhilarating and fun. And at least there's a go-around for the Waterfall and Bedrock drop, which I have no intention of doing – they're just too risky and high consequence for my tastes. And I've landed the finish line drop in the past… but the last time was super sketchy. It's one of those things where I've managed to ride it in bits and pieces with varying success rates on each obstacle. But thinking about trying to actually race it about makes me sick. Watching friends get hurt on this course every year – ranging from season ending to career ending injuries doesn't help either. And so I decided to put all my focus on the Super D this year instead.
The Deer Valley Super D courses are always fun. Fast, flowy singletrack, moderately technical rocky sections, fun roots and berms… no matter what course they choose, I've loved all of them. This year was no exception. The top was the same as last year, but where it turned onto Deer Crest, this year it cut back across the mountain with a steep and nasty but thankfully short climb, and then merged onto a bit of the sport/beginner DH course, and then over to Tour de Homes for some fun bermed turns. Then it cut back to a fast fire road descent jumping back onto some singletrack at speed and then a flat (slightly uphill) sprint across the ski run towards the finish – which consisted of two tricky, off camber turns to the finish line.
I was feeling pretty confident on the course, but the competition was stiff. And then they added in a crazy cyclocross style start. You had to run 100 feet or so up a hill with your bike, and then jump on the bike after crossing a second line. Um… that doesn't sound too hard, but I'd never actually jumped on my bike while running before. And my bad knees (5 surgeries) don't even like running in the first place, let alone running and trying to jump on a moving bike… I tried a few practice attempts in the start area, but my start was still nothing short of comical. I think I might as well have just stopped and gotten on my bike instead of tripping and stutter stepping as I was getting on my bike and then missing the pedals before finally getting going. Oh well… I pedaled as hard as I could down the fire road and across the first flat. I came into the first two loose corners a little hot and slid around one and lost too much speed, but stayed on the bike.
Down through the rocks and across the fun flowy part under Barney Rubble, and I remembered to raise my seatpost (that Joplin sure comes in handy) and started to shift into an easier gear well before the climb. The part right before it was too rough to do anything but hang on… I tried to stay off the brakes and keep as much momentum as possible up the climb, but the loose gravel and steep grade had me at a slow chug before I knew it. And my bike, so nice on the rough descent gets a lot of bob when I get into that type of pedaling. UGH. But I crested the top of the climb, and pedaled it out heading down the fire road again. Dropped my seatpost and changed into a big gear and charged into the Devo singletrack. Yay.
I bobbled a bit on a rock but pumped through the rolling terrain and kept on going. Once I was in the turns I somehow got off track on a very loose gravel section and was just going too fast to adjust and ran right off the trail into the bushes. Noooo…. The bushes slowed me to a stop. I was only about 2 feet off trail, but lost all my momentum. Got back on and hit the bottom berms as fast as I could. Just barely managed to stay upright on the last flat fire road corner and bombed down to the flat pedal at the end and pushed it as hard as I could to the finish.
I had started 2nd and had no idea how my time would hold up. I ended up in 3rd place, behind Joanna Petterson and Amy Laird (who finished 1st and 4th in the DH, respectively, and are such incredible riders it's an honor to be on the podium with them at all) and was really happy with that result. I also headed to my local bike shop and picked up an air shock for my trail bike to try and help out with the bobbing issues when I'm climbing. And apparently I really need to work on the cyclocross style starts too. You never know what they're going to throw in there for Super D starting line antics!
Photos by Christopher See. Used with permission, all rights reserved. Clicky for more Photos from the Deer Valley National. Mille Grazie!
By Kimber Gabryszak
Park City, Utah
So there's no way I can come up with as colorful a writeup as that, Allie! But warning – mine will be wordy, sorry! It was just an amazing weekend and I'm full of things I want to share!
**************************************
Yep, Angel Fire DH was BRUTAL, and the women's field was whittled from 21 to 18 by the time we qualified. The first third of the course consisted of seemingly endless boulders, and adding in the rain on day one and the ice/snow/craziness on day two, seemed nearly impossible. But by race day most of us were cleaning them, and let's just say I feel that my riding has improved exponentially as a result of throwing myself down the course over and over. And it was actually fun! Once the snow melted, that is. A super good time, and can't wait until this time next year.
**************************************
I found myself really wishing for a camera on Saturday, in the early morning snow and ice. Addie had fallen in the slippery icyness of the upper rock garden, and was standing in the snow picking up her bike when I rolled up behind her. Wearing a bright red jersey and standing alone, she stood out brilliantly against the snow, and the collage of rocks, trees, and snow was just incredibly surreal…
************
The other surreal moment was cleaning the imfamous road-gap / step-down that ended my season so early last year. Run I, I rode past it and thought "no way! That is WAY smaller than I remember it!" Run II, I rode past and thought "I'm hitting that this weekend" and felt cold in the pit of my belly. Day II, Addie and Allie pep talked me (thanks!), then I watched Addie hit it, watched Allie hit it, and then held my breath and went for it…and hit my brakes in a panic just before takeoff but somehow landed it. Funny, but that almost crashing made day III's attempt even scarier…
Day III, I spent 20 minutes chatting (stalling) with the EMT stationed at the road step down, a hilarious older gentleman who told me "Kimber, you've got a choice to make here." Which I thought would be choose a) be safe or b) take a risk, like most EMTs might say. Nope, not Vladimir! "Kimber," he said, "you can choose, to hit this today, or you can choose, to die old and in bed."
WOW! He went on with such philosophies as "injuries keep you young – they keep you appreciating your life, keep your immune system working and healthy." Really? The EMT is TELLing me to hit this thing?
I hiked back to my bike. Stood it up. Straddled it. Watched a dozen more riders clean the drop with ease. Closed my eyes and envisioned the turn of the approach, envisioned the 2 or 3 pedal strokes to get my speed up, envisioned removing my fingers from the brake levers entirely. Opened my eyes and saw Vladimir looking at me. Fiddled some more with my bike. Watched more riders. Finally, when I saw the fabulous Melissa Buhl ride by so effortlessly, I knew it was time to quit stalling.
Deep breath, foot on pedal, other foot on pedal, coast into the turn, bank, pedal pedal pedal, pull fingers back, sudden weightlessness, then the amazingly soft rumble of the dirt back under the tires, so smooth! YES! The demon is dead.
**************************************
Like Allie said, Sunday was when things started getting crazy. The weekend of riding on such rough ground started to take a toll on our bikes, and little malfunctions started to emerge. Well, some malfunctions and some, um, breakage due to impacts with rocks. A hole poked in one frame, a deep gouge in another, scratched fork stanchions, bashed derailleur that lost some screws, chainguide shiftage and failure, etc.
(Plus, my bike hadn't been ridden before this weekend. I had the wrong size bottom bracket, and had to wait for a replacement before I could finish assembling the bike. The BB got here 4 days before the race, so I had no choice, but I'm sure some of the malfunctions were just the bugs working themselves out.)
In practice before qualifying, my chain had come loose from the chainguide, and it seemed that the guide itself was misaligned and derailling the chain off itself. I spent an hour after practice at the Chili Pepper shop jamming cassette spacers into the chainguide wheel (not made for each other, so that was interesting) to correct the problem. It wasn't enough, and just after the top rock garden the chain came off and hung around my pedal, and without tools it was in a position that I couldn't stop and fix. I took the go-round on the road gap since I feared not being able to pedal into it, but finished the qualifier in one piece. No worries – the actual race is a day away.
**************************************
On a side note, it was rather funny when Allie and I went to the Chili Pepper. There we were, wearing our Bella jerseys, with rhinestones decking out my bike and both with glitter/makeup on, asking for tools instead of for help. Yippee! I think they liked it. 😉
**************************************
Monday morning, I tightened the chainguide, then realized that my derailleur was missing the high limit screw, allowing the chain to jump off at that end of the system. I didn't have time to fix it since practice was only an hour long, so I went up for a run and kept the chain in a lower gear, which seemed to work. And then had 2 flat tires on the descent. Are you kidding me???
2 hours and $75 later (parts, not labor, tee hee), and with a modified limit screw repairing my derailleur, onto the lift we go; it's finally time to race. One more trip down this course.
I finally have a successful S-turn, clean the first few rock gardens and feel elated, pass the rider ahead of me (who had a bad crash slow her down, sigh), then promptly feel my pedals lurch to a stop. No!!! The limit screw is out, and the chain has slipped off the cassette and is wedged in place. But the wheels keep rolling…
One pedal up and one down, I keep coasting and pumping. Clearing a steep rock feature, a couple guys watching cheer, then trail off as I say "Thank you!" to them and promptly STOP and pull over to mess with my bike. I know the next section is nearly impossible to clear without pedalling, though the 20+ seconds it takes to put the chain back into a somewhat functional position feels like an eternity. Is it worth it?
Yes. It's worth it. I pedal through the remaining sections, and crowning moment is when I pedal into the drop without hesitating and clean it! Hurrah! I cross the finish line, and somehow still have a time a bit faster than my qualifying time, so I'm ok. My goal was to have a sub-9 minute time (sub-8 would have been better, but…), and with just the time wasted unjamming my chain I would have met the goal.
Still, I think that Angel Fire just really likes me, so it keeps giving me reasons to go back. This year it was to overcome the road drop, next year it's to have a malfunctionless run. Silly Angel Fire, I don't need a reason to come back!
**************************************
Lessons learned:
* pack a disposable camera for those must-have photos
* do whatever I can to make sure that the first weekend on the bike isn't a race!
* speed is your friend – both in the rock gardens and the road gap, it was easier and safer to go faster
* um, TMI…3 separate incidents of, ah, 3 of us, um, well, mmhm, you see, er, injuring sensitive areas makes us wonder if we can get sponsored by someone who makes female cups…but the lesson learned is just to bring those no matter what!
* EMTs named Vladimir are wise
**************************************
And the final comment is that 5 girls in a condo / at a race together = good times, good racing, good support, good conversation, good conglomeration of repair/healing knowledge, good karma, good vibes, good food, good encouragement, just overall good stuff! This weekend was one of the best biking weekends I've ever had, thanks ladies! You rock!
By Shannon Edson
Fort Collins, Colorado
MSC Race #1, Fruita, Colorado
After the TT the day before, I was a little bummed out. I hadn't finished as well as I would have liked, and my descending was tentative. But, Sunday was a new day, and I had to focus on the task at hand – the XC. I had a good warm-up, and my legs felt surprisingly good. It made such a difference having teammates around. I rode around with Jen for a bit, and then it was time to head to the line. The pro field was pretty big for an MSC race, and all the fast girls were out to play.
I had pre-ridden the course the weekend before, and this helped my confidence. It was a great course! It snaked around the Western Rim Trail on the border between Colorado and Utah. The views were breathtaking, and the singletrack was very fast.
As I stood on the line, I envisioned the course and myself riding with perfect control. The race official went over the race reminders, and before I knew it, I was racing again. I had a good start; I am determined to make this a strength. After about five minutes, I had spiked my HR, and I just needed to settle in. I rode steady and about fifteen minutes in, we came to big drop.
When I pre-rode the course, it didn't look like the race would go this way, so I hadn't practiced it. I saw a girl ahead of me bomb down it, so I leaned back and rolled through. I made it to the Western Rim Trail and surprised myself with the my technical skills. I definitely had more control than the day before.
When I hit the turn, I saw a girl who had consistently finished ahead of me last season as an expert. I dug in and caught her. This boosted my confidence, and I set my sights up the sandy road. On the last push before the finish, I could see two more women. I gave all that I had and caught one before the finish. I ended up thirteen seconds away from the one further up the road.
I was pleased. At camp, Alex said, "A good goal to have as a first year pro is just to feel like you belong in the field." I felt that way today, and I hope to only build from here.
By Tasha
Boulder, Colorado
Here's a race report that it took me a couple of days to put together in my head, because it needed to be totally, like, profound and stuff. I'm all about profanity. Profoundness. Right. Anyway…
Race #3 in the Boulder Cross Series was last Sunday (after a really SWEET Saturday of Veloswap insanity) at the Boulder Reservoir. So, people told me the course was sandy. I was like, oh whatever, there'll be some sandy sections. Easy!
NO. There was SAND.
$(%*@*#! SAND.
So I'm all like pre-riding and stuff, and I'm like, sweet straightaway, nice barriers (over a big plastic weird pier) and there are skydivers parachuting into the field next to the course, and I'm watching them and running into things. And then it's like, BEACH. SAND. AaaghghghghghhH!!!
It was cool. Finished my warmup and lined up. Started talking to my friend Chellie about halloween costumes. Whoops, the official just blew the whistle. What? Was that for us? Oh gee, looks like it's time to race.
Against all odds I made a nice start and got into the front group just fine. It was a happy sunny ridiculously warm day, temps in the seventies, no wind. I'd just gotten into a nice pace and we gapped the chase group, when on the second lap, I carried too much speed into a turn and slid out. I sort of sat there for a minute while the chase group flew past and a nice mechanic sort of guy picked up my bike and ensured that I was coherent. Then I remembered what I was doing (oh yeah, racing. right?) and hopped back on the bike. I could tell immediately that my butt had lost some skin, and also my knee, but LUCKILY no damage sustained to my sweet Kona or Louis Garneau skinsuit. Pride comes before and after a fall in bike racing.
So, I started chasing, and also trying to brush all the dirt off my butt so everyone could see the nice design on the skinsuit. That was pretty much the rest of the race, except I also nearly fell into the lake no less than three times. The course went right along this super deep wet sand at the edge of the water. By the time I'd worked my way back up through the chase group I was sort of really tired and my butt was sore. So I was entirely content with tenth place.
Really, a delightful day, particularly the sand run-up with its perplexing characteristic of seeming to pull you slower the harder you tried to run fast. Sort of like quicksand, except with spectators and bicycles.
Happy trails and cross courses,
Klunk
by Jackie Yamanaka

Mother Nature smiled on the Montana Bella's for our 2nd Annual Women's Tour. Rain threatened. The higher elevations had snow! We were asked constantly what about the weather? I said, "We're riding. Rain or shine. Women are tough."
Are they ever. In the end, some 190 women came with their bikes – road, mountain, comfort, tandem, 'cross – and rode either 15-, 22-, or 40-miles! I'm humbled and proud that so many women – all ages, sizes, and abilities – are brought together by a bicycle.
We learned our lessons from last year when we were overwhelmed with 164 riders. I expected maybe we'd have 50. I'm glad I was wrong. This year we had pre-event packet pick-up at a local bike shop, had road guards out at the worst intersections, and staggered our start times so more could be there for the kid's ride and the post-event door prize drawing.
We also invited a local group to come and sell bike helmets for a bargin. Montana VB also bought some helmets for kids and others. We're already giving them away.
I'm so proud of our growing number of Bella Fellas. They helped pump up tires, fix flats, hand out food and beverages, direct traffic, and shout encouragement to their wives, daughters, sisters, co-workers, and fellow (did I really write that?) human beings and cyclists. Of course it didn't hurt that I kept the "boys" happy with hamburgers and beers.
The best compliment had to be when one woman came up to the registration tables after riding and said, "We think you need to host this ride more than once a year." Uh…. unfortunately right now there's a small core of women who make this event happen. We can only hope that as word spreads like our infamous wildfires – The Montana Bellas are in da House! – we'll get more volunteers – Jackie Yamanaka.
by Erika
School's Out for Summer!!!
While my teammates were pre-riding in Park City, I was closing up my classroom as students left on the last day of school. This is a bittersweet day—but, admittedly, mostly sweet! Taking days off during the last week of school is a big no no, so I was not able to join everyone for the NORBA in Park City, but there were races the next two weekends in Winthrop, Washington. This is a beatiful town in the Methow Valley nestled in the North Cascades and the trails there are buff, fast, and super fun, so my husband and I arranged to stay the week!
The first weekend was a stage race. This was my new Kona Lisa Supreme's maiden race, and I was soooo excited to race it! There were 22 women in the 1/2/3s and some really fast gals from the Seattle/Portland area.
The TT was a hilly 10 miles. I don't think my bike was adjusted quite right because I could not find a comfortable and powerful position in the aero bars. I finished 9th—not that great, but I'll take it! Time trials are so painful!
The crit was in downtown Twisp—population 1,000. Rough roads—four left hand turns—headwind on the backside. After racing in the Walla Walla crit and DNFing, I was really nervous about doing another crit. After a few laps, I made it into a break of five—Suz Weldon and Lise Grace from Wines of Washington, Leah Stralka from Byrnes Invent, Allison Beall from Ti Cycles, and me. I knew these ladies were fast and I would have to work hard to hang on. The cool part was hearing my husband's whole team cheering for me each lap and the racer who must have been pulled from the crit yelling, "Go Vello Bella!" The two Wines of Washington ladies took turns attacking off the front while the rest of us covered their attacks. With two laps to go, Suz Weldon took off and got a gap we could not bridge. On the last lap, I was telling myself that 5th place with these ladies is pretty darn good and I would be happy with that, so I sat at the back of the line. On the backside, one our friends was standing on a corner yelling at me to get to the front before the next turn. So—without thinking—I just did it. I sprinted to the front of the line, took the inside around the turn, hammered up the hill without shifting, made the last turn, and sprinted for home. I kept expecting someone to pass me before the finish, but no one did!!!! I have never felt so proud of a second place finish. Here is the sprint:
The road race on Sunday was 71 miles, and I was so keyed up after the crit, I did not sleep too well. Leg cramps during the night didn't help much, either. I woke up on Sunday feeling like I had been hit by a truck. The race went pretty well until my bottle got dropped in the feed zone—bummer. After that, I just held on the best I could and tried to avoid cramping on every hill. I finished 8th in the road race for a 5th place in the GC.
I woke up Monday morning with very sore legs and a knee that didn't want to bend, so we had a couple days of easy riding to try to recover for the mountain bike race coming up on Saturday. As much as I love my new road bike, I could not wait to put it away and spend quality time with my mountain bike. Again—the riding here is phenomenal!!
We got in some great rides and rested plenty before the the Methow Cycle & Sport Mountain Challenge—an Indie Series race put on by Mark Peterson at Kona. I think there were six women in the pro/open class and it was a fast start! Kristy Berg and I went out hard and left behind the rest of the field. Kristy is a great technical rider and she got away from me in the steeper sections of the course. I came in second without any crashes or mechanicals which is always a bonus! Here is a pic of our "podium". (Awards were a little late, so the other ladies must have gone home.) The braver podium finishers stood on the picnic table. Knowing me, I would have fallen off…
Mark from Kona even gave a plug for Vanderkitten while I was up there!
Thanks for reading!