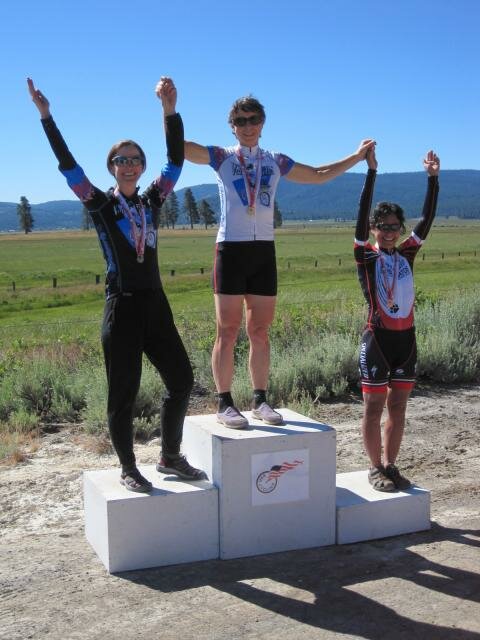 District TT 6/10/12
Masters Women 55-59
Sattley CA
Woke up to 30 degree temperature, wow, what a difference from last week!
I really wanted to do well in this race, and now that the pavement is smoothed out, it is a national record breaking course.
Unlike last week, it was hard to warm up (maybe the freeze ass temps had to do with that) felt like I was dying every hard warm up effort. There was really no perceptible wind (start time was 8 am) and I felt fast the first part of the outbound leg. Just before the turnaround, Cammy passed me (she started 30 seconds behind) and was looking super strong. I was only the slightest shade of green with envy, because she is after all my pal and teammate! Anyway having her to follow kept me on a better pace but I really struggled to keep my power up, just like last week, but I couldn't blame it on scorchin' heat. My stupid shoe cover unzipped sometime during the ride and likely cost me MINUTES!!!
I did squeak in a second place, a mere 7 seconds faster than 3rd.
Great results competing with the best time trialists in the district, if not the nation (3 of those gals were on the podium last year at nationals….and we beat them all.
My legs have post timetrial traumatic syndrome and feel like lead.
Respectfully Submitted,
Liz Benishin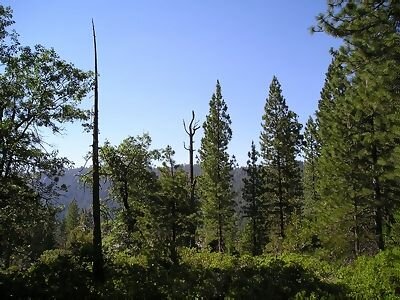 Here is Liz's report from mariposa:
Mariposa Stage Race
5/11-13
I really wanted to write up a fun report on this race—-how Sue, Cammy, Linda, Julie, Andrea and I geared up for this race, planning strategy, enlisting the help of Monica and Erika, how we had super duper teamwork and support.
I wanted to report how Sue paced me up the hillclimb stage, to help me pull back some time I lost in the TT, and how Monica lent me a pair of gloves that gave me magical sprinting power and I got enough time bonus to lead GC going into the last stage. I thought myself clever when I dubbed the neutral descent to the hillclimb start the Velo-Promo-naide.
But the joy that is the Women's stage race turned to sadness, as we bore witness to tragedy. Our Sisterhood of Bike Racers has sustained a loss, and we grieve our loss.
Liz
Many of the Norcal Bellas have already heard about how Suzanne Rivera, a cat 4 racer from Bakersfield, died from injuries she sustained during a crash in Stage 4 of this stage race. For those of you who want more information,
Here is a link to a news article about the accident.
Here is a link to Suzanne's obituary and there is a guestbook if you'd like to leave a condolence.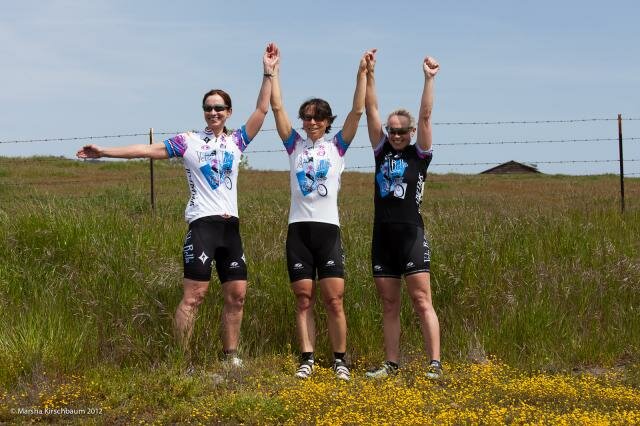 This is Cammy's report of the day:
The race is billed as "The Paris Roubaix of Northern California". The setting is a beautiful, practically unspoiled swatch of the eastern edge of California's Central Valley, where pastures rise to meet the rocky vanguard of the Sierra foothills. Always held the Saturday before Easter, the vistas are spectacular in their mosaic of poppies, lupines and other wildflowers woven into the brilliant green hillsides. Unlike "The Hell of the North" (source unknown), the "Heck of the West" (L. Benishin, ca 2000) is a 21-mile circuit versus point-to-point, rough, broken patchwork pavement (>75%) versus cobbles and it is not flat (1500 feet of elevation gain per lap). The race has historically drawn pros like Leipheimer and Jacque-Maynes.
Flying the Bella flag were Monica Neilson and Marsha Kirschbaum who committed their Saturday to supporting the three of us and crafting some gorgeous photography! Sue Martine, Liz Benishin and I lined up with Leslie Jensen (One Team, fearless descender, world champ stripes, extreme competitive spirit and a wicked sprint), Lauraleen Fenech (Los Gatos, no "Off" switch, relentless and capable of winning on a long solo effort) and newbie Cindy Mike (Penn Velo). A small field but worthy. Notably absent were the Wells Fargo girls – we miss them and wish them all speedy and full recoveries from the tough breaks their team has suffered this year.
Priorities: (1) Bella win (2) Bella podium sweep (3) All-Bella selection. Strategy: neutralize threats by wearing down / shutting down the competition before the final pitch and plunge to the finish.
I was amped – I love this race, I love the course, it was a beautiful day. Liz had turned in two podiums in back-to-back 20K TTs (MW and W1,2,3) two weeks prior, so I figured she was flying and a good bet for a long haul effort. Sue is a fast finisher and eager to "pop [the] Copper cherry". I was the wild card. We had agreed to stay together but I could not help myself and went off the line in a crescendo-ing tempo, giving Liz a great leadout to the first climb. She launched and left the 5 of us gasping. I covered the front as Lori tried to reel Liz in. At one point Lori must have wanted to bridge, but hesitated. The momentum gained by covering her move took me half way to Liz with air space behind. I thought about either trying to out-descend Leslie or suffer in a two-up break for 37 miles and went for the latter. Once together we steadily pulled away, up and over the remainder of the climb and out on to the rollers. Sue followed Leslie and Lori. At the far point of the course we had built up a one minute gap. Up and over the last pitch on to the twisty, fast, patchwork-surfaced (feels like the pavement was carpet-bombed) descent. Behind us Sue accelerated on the final pitch, Leslie chased and as expected flew past on the descent. Sue regrouped with Leslie; Lori apparently got stuck in the middle of the hard-charging pro field and was gapped off.
On the final lap's long climb, Liz and I were tiring but still maintaining a good tempo. Monica and Marsha on the feed hill, cheering, smiling, channeling energy! Near the top, out of nowhere, a fast-approaching whirrrrrr became audible – the instant I looked back, heart in mouth thinking it was Lori, Leslie et al, SUE shouted out "it's just me!" How she bridged a one minute gap in the space of that short (but painful) climb was absolutely phenomenal – she is certainly one to watch! Over the rollers, into the apex and back home the three of us worked together happily and fully committed – it was within our grasp to achieve all three race priorities. At the base of the final ~100m climb, we agreed that each of us would go when ready. Monica and Marsha cheered wildly on the finish line hill. I crossed the line first, then Liz and then Sue.
I was totally choked up watching my team-mates finish – we had nailed it! It is only fitting to conclude with another L. Benishin quote: "I love being a Bella"!
.
by Marsha Kirschbaum:
The West Coast got lucky this year with Masters Nationals being held in Bend, Oregon. We stuffed our Prius to the max with the TT Bike and Road Bike and all of the wheel choices that I owned and headed up to Bend where we shared a house with 2011 Bella National Champion Liz Beneshin and 2011 Bella Supporter National Champion Julie Kaplan. We got lucky as our house was within minutes from the courses. I entered the ITT and criterium.
No matter how much research one does for the courses, they have surprises for me when I actually see them. This year's TT course was very technical with a gradual climb out and descending return to a 90 right turn onto the technical part which everyone nicknamed The Lollipop due to its shape. The "stick" consisted of a few sweeping rollers through high desert terrain of sage brush type plants and a few pine trees. There was construction on this part of the course as the whole area looked to be a planned development surrounding a golf course, and contractors were laying pipe along side of the road. The "stick" went into a round about — Bend is full of these things — which started the "lollypop" circle. This became my first challenge, how to take this thing at speed as we headed into it going downhill. I practiced this about 10 times trying to get the right lines and getting the shift timing for the hill that started right after. The next challenge for me was the left hand turn in the middle of a down hill, which after the turn was made became a short steep uphill. After a few chacanes and another round-about, you were back to the stick and the return trip to the finish.
The morning of the ITT was cold. Lucky for me, as I don't do so well in the heat. Down the ramp I went and had to curb my excitement a little so I don't blow up on the climb for this first part of the course. I knew I had to save my energy for the LollyPop w/ its rollers. I hit the first turn around and now I can turn the gas on a little more for the downhill. I was flying along around 29 -31mph. Up comes the first 90 degree right turn. What the heck is that orange fencing? It seems that due to the construction, the organizers have divided one lane into two lanes for us, leaving the other lane for construction works and their vehicles. Ohhh this is going to be a tight turn. I'm around it and driving my legs inside the little orange chute made of fencing and cones. At last I am past that and feel a lot freer w/out those boundries. Now comes the round-about and I take it as fast as I dare, hands on the sides, in as straight a line as possible which exit takes me close enough to the curb but I'm okay. Up and over the hill and set up for the next left turn into the middle of the hill. I take it fast enough that I can let the momentum take me over the top of the hill without having to change gears. It's flat for a little while and then down I go still in the bars into the chacane. Oh Sh_t! Yes, they did pave over the dirt like they said they would, but the construction equipment is still there and it makes for a narrower road. I come out of the bars and tap my brakes just a little to make my turn. After that I know I can stay in the bars and pour on what power I do have as the road is wide and very slightly downhill to another left hander. I'm through the development gates, which are now open to us (on recon – we had to trip them with a car or duck under), over a slight rise and now the right hander back through the round-about, which I pedal through, to the "stick" part of the course and return. As I drop over the last down hill I see the one lane divided part of the course with a course marshall waving her flag and saying 'go to the right, go to the right" My brain cells are starting to die off or dehydrate and I'm thinking, which right? There looks like 2 rights or a right and a center. In my confusion, I slow slightly, finally figure it out and enter the "chute" again for the finish. My time is good enough to get me on the podium in 5th place! I am very pleased.
I entered the criterium the next day as — well — it was short compared to a road race, after the ITT, and when I entered the course only had 4 corners. When I got there, the course was still short, but the location changed and 4 corners were now 7. On the day of the crit, Bend had a freeze warning with an admonition to its residents to protect tender vegetables. Based on the good advice of my housemates, I warmed up in the house, driving to the course with just enough time for a couple of practice laps. The good news is that I stayed with the pack the whole way. My legs however weren't up to any sprinting and yelled at me when I tried. I did have a lot of fun though and finished 7th.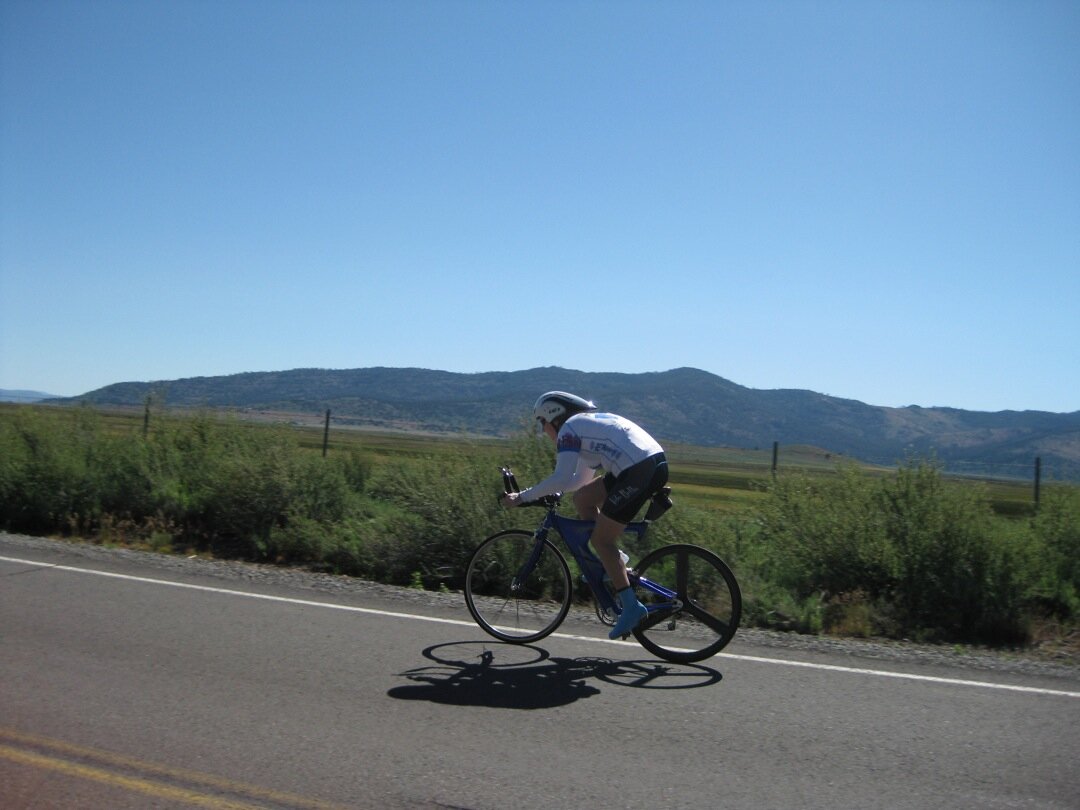 I definitely felt ready for Sattley, the NorCal/Nevada district championship race, this year. I wasn't sure I was going to be ready, as I came back from Germany so sick just about a month ago. But, as I ground into my final tune-up workout on Thursday, I was definitely ready. My intervals were strong and smooth, and my perception of the effort was comfortable.
Early Saturday, we got up and did my pre-race ride – mostly easy with a few speed efforts thrown in. Then, we packed up Kermit the Toaster and headed east. We made a small diversion in Ripon for my cousin's wedding at my aunt and uncle's house. It was about 95 degrees out at noon, and a challenge not to over-bake in the sun. The ceremony was short and sweet. We drank lots of water, carbo loaded on the cake, wished them well, and headed on for Truckee. This year, we stayed at the Hampton Inn and Suites, which was quite nice, and breakfast started at 6….perfect! We dined at a brewing company for dinner, which was good. I went for the 8 oz beer, as I didn't want to overdo it before my race. Rick compensated for my lack of beer with 2 pints of a Belgian style ale.
Sunday, we rolled out of bed at 5:30 after a marginal night's sleep. There had been some drunken revelers in the hallway around 2 am. Ugh! But, I felt relatively good. I had a shower and headed down to tank up on the breakfast. I also took a yogurt and banana for a 2nd breakfast, as my race was after 11 am.
I got a full, 1 hour warmup in and felt good. The weather was warm, but not too warm, and the winds were light. Also, I'd heard the expansion cracks in the highway had been re-paved, so that was cause for celebration.
I got a good start, and the first half of the race was pretty fast, with a light, quartering tailwind. There were still some expansion cracks in the middle of the course, but nothing like last year. I turned around about a minute slower than I wanted, but well ahead of last year's pace. The second half of the race was purely mental, as I tried to block out some chafing on my saddle. I probably lost some focus with my constant re-adjustment. But, I definitely was putting it all out there, with copious snool developing in the last 1/4 of the race.
In the end, I rolled through in 3rd place, about 2:27 better than last year. I was happy with my result, and met my goals for the race. My next TT will be Benicia, and I will be making the debut of my new TT rig – the Ellsworth Coefficient and also a skinsuit for the first time in 2 years. Look out! I'll be tearing it up out there.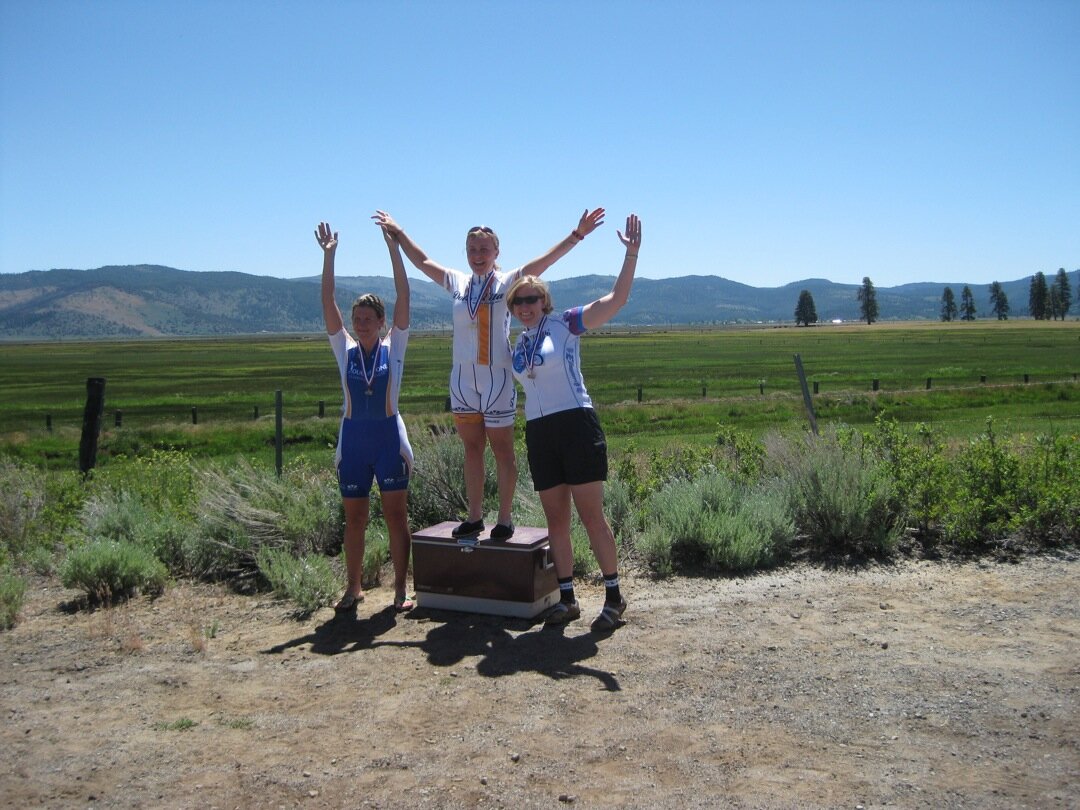 —Sarah Clatterbuck
California
I went to Bakersfield to race the Kern County Stage Race with Andi Mackie, whom I first met in 2002 when we both were experiencing it for the first time. I think this year was the 7th Kern for us.
Stage 1- Bena Time Trial
Friday morning started off with a 10 mi TT. The temps were in the 80's on Friday, 2009 was 95+. After check in, number pinning, getting trainers set up, watches set to the "official" clock (which actually, was non-existent), warm-ups started.
I discovered my bike wanted to stay in my big chain ring, never found out why for sure. Ah, not a big deal for a TT but this one has a bit of a climb on the return. My ever-positive teammate Liz tells me "You know, Monica I've never gone into my small chain ring on that climb." Ooo-kay…I can do this.
The Pinkie (Kalyra Women's Team) rider who started behind me is a bit of a TT specialist so my goal was to keep her off my tail. At the bottom of the climb, she was a bit closer than I'd hoped so I did all I could to get over that thing without losing too much time. I wished I'd had that small chain ring several times but I got over the hump and when I crossed the line with my mouth dry and lips stuck to my gums, I knew I'd given it a good effort.
Later, Liz tells me " I gotta tell ya, Monica, I thought of you as I shifted down to my small chain ring on that climb." Cammy took the TT by more than 40 seconds. I sat in 4th but only 10 seconds out of 2nd. For the record, Liz won 35+ and I think would've been 3rd in Cat 1/2 Women…not bad for a fellow AARP card holder!
Stage 2- Woody Basin Circuit Race – Saturday morning
Saturday we started with Cammy in 1st, me in 4th, and Andi and Linda not too far behind us. This race consists of 5 rolling laps with a time bonus on each lap and at the finish, which is at the top of a 200m roller with a decent pitch. Our goal as a team was to get the win for me and to gain as many of the bonuses as we could so as to keep 2nd and 3rd place from soaking them up.
We tried various combinations of lead-outs and sprint starting points on each lap, trying to win the time bonuses and thwart our opponents. Each time we got some time bonuses, and got smarter, until we nailed the ultimate combo on the final lap. I had been waiting too long to sprint, so I decided for the final uphill drag that I would go earlier…and it worked. I had a lot of help, of course…thanks to the Bellas for the awesome leadouts.
Stage 3- Havilah Hill Climb – Saturday afternoon
GC had Cammy in 1st, I was tied for 2nd, 10 sec back and 3rd place 16 seconds back. Andi was sitting in 6th and Linda 10th (I think). The Havilah Hill Climb consists of a couple mile run up over several rollers to loosen the legs, then you turn off the road, cross over a cattle guard (my favorite!) and immediately start climbing. Bob moved the start area this year for better parking, level ground and more space, but this added 2 miles to the lead in to the climb. According to Bob's data, the main climb is 2900 ft in 7 mi with an average grade of 8-10% with some 12% pitches.
It was business as usual to the base of the climb, then Kim Wik, who I was tied with, and I set the pace. We quickly became a group of four – Cammy, Jill Gass, (Kalyra – Pinkies), Kim and me. Within the next few corners Kim & I were alone. I was setting a decent pace but she was matching me stroke for stroke. After a bit I looked over at her and saw that she looked hot and taxed, so I decided to up my cadence a bit to see if she could hang, but she was right there. Dang it, I started thinking, I gotta make sure I don't blow this, because if this thing turns into a sprint at the end I need to have something left.
About a third of the way up the climb I got into a bigger gear and put on another seated acceleration. I gained a little gap so I got out of my saddle to try to increase this. Around the next corner there was a nasty pitch again so I sat back down and settled into a spin. The terrain was steep here, with a number of turns which kept me out of sight. It's always mentally draining when you can't see the person you're chasing. At a clearing I looked back to see where Kim was, and felt confident I had a comfortable lead. Not knowing her fitness I tried to maintain a high pace but stay within myself so I didn't blow. When I saw the 1 mile marker I knew I had it.
The hill climb is on a narrow, twisty one-lane road, and I'm not even sure cars actually travel up it anymore. Everyone waits on top for all the riders to come up before we start the descent. Personally, I hate descending it…there's lots of debris on the road, gravel, dirt, rocks, it's steep, and on top of that you're cold, hungry and tired of being on your bike. This year I descended with Suenago and Julie Nevitt, of SJBC. Sue and I were stoked with the speed and confidence we went down that baby this year. Maybe we were just hungry enough to let ourselves go – who knows!
Saturday at Kern is an incredibly long day. You leave the hotel about 6:30, and drive a good hour out of town for the start of Stage 2. You warm up, suffer, hang out, then drive another half hour for Stage 3. More hanging out, tons of suffering, then the drive all the way back. We hit that little Mexican place in Bodfish for some well deserved burritos, tacos and beers. Relaxed and with full bellies, we headed back to town, arriving at our hotel at 7:30 ready for showers and rest.
Stage 4- Iron Mountain Road Race – Sunday
After three stages, I was leading on GC, Kim Wik 2nd @ 1:28, Jill Gass 3rd @ 2:16, Cammy 4th, Andi 6th, Linda 9th or 10th. The team plan was to keep the GC, win the stage, and move Andi and Linda up.
Everyone is tired at the start of this stage, and it's hilly fifty mile road race. The start and finish were in different places this year, with the finish was at the top of a 1.5km fairly steep climb. Everyone secretly hopes the stage starts out slowly and doesn't get too heated until lap 2. Ha!
Kim came out right away to make something happen, and she got on the front and drove the pace enough that people got shuffled off. Soon we came around a big sweeping left hand turn and there was a car in the middle of the road with the door open. Yikes! We all hit our breaks and discovered it was the support vehicle for the Cat 4 women, and two of them were on the ground. Ugh, hate seeing that.
On the back side of the course there is a long working descent filled with some rolling climbs. As we were headed down the descent Linda caught back on…YAY! She put out a pretty big effort to fight to get back on, so I went to the front and asked if we could ease the pace, just a touch, to let her recover. Ha! But it was worth a try, at least.
The second lap things began to heat up further, with Kim still driving the pace. I stayed in the back, protected – I had no reason to work. My legs felt good and I was enjoying the position I was in – five girls and three of them Bellas, Cammy, Andi and me. The pace was picking up a bit on each of the climbs, and finally Andi told me she didn't think she'd be able to hang on much longer. We had a good gap from any other riders and we were nearing the end, so Andi's 5th place seemed secure.
There's climb followed by a fun twisting descent, a run out and then the 1.5-2km climb to the finish. As we neared the crest of the climb I picked up the pace and went for it, figuring what the hell, I had good legs and if I could get away I'd have a lead going into the climb…and if they caught me they'd have blown a match and the race starts over. With a 1:28 cushion I felt comfortable that unless a mishap occurred I wasn't going to lose that much time before the line…plus I could lead down the descent.
I got a gap, with Kim and Jill in full chase. They caught me before we started the climb to the finish. As we all shifted down I kept the pace high, and just past the 1km sign I went for it again, jumping out of the saddle pushing the pace. I kept looking back wondering if they were going to catch me. Finally at the 200m sign I knew it was mine. Behind me Kim lead Jill up the climb only to get jumped by Jill at the line. Final GC was me, Kim 2nd @2:04 and Jill 3rd. Cammy was 4th, Andi 5th and Linda 9th
We headed back to the parking area, changed clothes, ate and hung out for the awards ceremony. For those of you that haven't experienced Kern County, Bob Leibold makes all the awards, and they all tell a story. We have photos I can share. The Bellas took Masters 35+ with Liz 1st and Sue 2nd. We also took 45+. We had quite the collection of hardware.
My wins couldn't have happened without the sacrifice and hard work of others, from Linda making me coffee every morning, to the lead outs she and Andi provided…it's all about the group connection. If you haven't experienced this race, I highly recommend it. It's rewarding, challenging, fun and ever so satisfying. Think about it, where else at our ages can we race a stage race like the pros? Playing out strategy, taking on roles and thinking about the final GC, not just the event of the moment? It's a special time indeed…and that's not to mention all the goofy, silly girl stuff.
—Monica Nielson
Brentwood, California
Turn off the Giro! The Heck with the TOC…
This is what you REALLY want to hear about.
The Flair-a- licious bellas headed to the balmy breezes of Bakersfield (not the usual heat measured in Kelvin degrees). Numerous emails flew back and forth deciding who should race in which Master's category. We ended up with Sue Lo and I in the 35+ and Monica, Cammy, Andi Mackie, and Linda Locke in 45+.
As soon as we registered the entire Pinky team registered. I think they waited to see what we were racing before they signed up. Feh. They posted on their Pinky website the Pink Hurricane was coming to town. (soon to be downgraded to a tropical depression).
Bena ITT
What can I say about the TT? Well, it wasn't hot or terribly windy, though it seemed to be headwind all the way. I started out the 35+, with a big gap between me and the 4's so no help there. I was testing out my new speed suit so hoping for some added fastness. In my category was the pinky girl who smoked me at Madera so I had to really pull off a good TT.
Mike Hard, the official told me at the line I did the race more times than he officiated so I could read the rules myself. Which I did.
Rode hard, kept concentration, turned around the cone, rode back, crossed the line. and, well, yeah, I won by 35 seconds.
Monica was having trouble with her front derailleur and couldn't go from small to big, and there is a pretty giant size hill, which you can stand and stomp or go small chainring and stay aero. I told her, no biggie in the biggie, but as I was riding up in my small chainring, I was thinking she would likely kill me for the advice.
Cammy had a great ride in her group for the win.
Stage 2 walker basin circuit race.
If you don't like sprinting this stage sucks. Bonus points every lap, and with my group of 5 and going head to head against a sprinter, I had to do some semblance of a sprint each lap, but remembering I had a big old climb waiting for me that afternoon. Our meager peleton was 2 pinkies (Avalon former national team trackie from the 80's and Janet G nice girl gone pink) and Julie from SJBC, another top trackie.
So each lap Avalon won each sprint, and of course the finish. Of note she was yammering to Janet, go harder, lead me out blablabla, and I'm thinking she could outsprint all of us even if we had a motorcycle leading us out! Let Janet save her legs for the hillclimb.
Havila Hillclimb
We hung out for a while then moved HQ to Havila for the hillclimb. Plan was Sue and I would ride together and get rid of everyone else. Popped Avalon on the 4 mile gradual rolling climb to the toe of the climb, rounded the corner and soon it was just Sue and I. I overcooked myself and was struggling, and offered Sue to go on, and leave me to the buzzards. She paced me and eventually I recovered and rode a good tempo. We rode together, and the glory was hers at the top.
I'm still hallucinating at the top and see Sue riding around, but what happened to her hair? Did she tuck it up under her helmet…No, its Monica!!! Holy crap she was just behind us, and kicked ass in her race.
Oh, yeah, she can tell you about her circuit race but she won that too.
The hill climb moved me back into first, Sue second. We gained 2:30 over the next climb finisher (Janet).
Woody RR
After getting back about 8:30 I was cleaning up my bike, and noted a nick and an aneurism in my rear race tire. crap. Had to ride my training wheel, which isn't too heavy, but I love the lightness of the race wheels. Oh well, I had about 4 minutes to blow to keep my lead over Janet. The road course is full of bullheads making for a flatfest.
Anyway, short warmup, bunch of rollers till the big downhill. Which I think is a blast, and love to fly down it…in my moment of funnness, there is a cat 4 girl on the ground, support vehicle in the road, so we needed to go over the center line around a blind corner. Sue went to the right around the vehicle, through the dirt, and at that point I decided it wasn't as much fun as I thought. All riders up and rolling, though marginally terrified. Avalon caught back on at the feed zone, rode with us on the descent, but was gone after the long climb.
Merrily we rode along, this time no descending insanity, chatted on the hillclimb, tempo'd along the way, Sue told me to go for the win, at 1 K I punched it, Janet couldn't respond, Julie had fallen off on the main climb, Sue was pretty close behind, saw the finish tape pass under my wheel.
And just as I was stuffing my lungs back in my thorax, who comes by…Monica! By a country mile she grabbed first. Holy sh*t!
It was a bella trophy and GC sweep!
Will let them fill in their tales of glory! All I know is they rode smart and savvy.
We had a lovely and successful gang. No bitchin', nothing but support and respect and bellavelolove among our teammies (I have been on some nasty ass teams and can tell you the bellas rock).
Side note….next year Masters Nationals will be in Bend. Masters squad will be on fire! I'm working on coordinating the masters team, so let me know if you want to have some fun!
—Liz Benishin
Northern Cali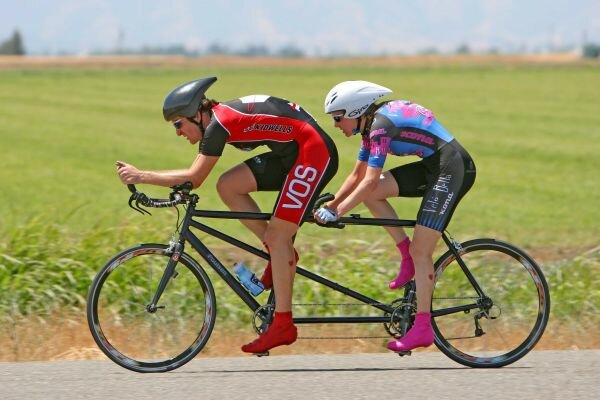 I haven't done a race report in a while so I decided it was time!
Jeff and I have been training a lot on our tandem again this year–no big surprise to many of you…..
I mean, we've got these stars-and-stripey skinsuits and if we don't do some races in them, the per race price is going to be ridiculous for those things! We missed the Berkeley Team TT because of the stupid Dinuba Crit and all those resultant fractures in Jeff's lumbar spine….and Dunlap dropped their tandem category.
So we've been doing training intervals and our local practice tt but it isn't the same as a real race. And the 10 mile Calaveras TT just isn't enough practice before the 40K Norcal District TT next month. So we packed up our bags and our dog and stuffed the car full and headed off to…….Southern California to their District TT. Six hours from our house…..
I won't spend too much time telling you how much we (didn't) like Lancaster and Lake Los Angeles. Blech. I hope I don't move into that district. Oh, but I sorta do want to move into that district. Conundrum time.
Well, our pre-ride was no fun. We got a flat on some gravel in the 3rd turn, ruined one of our race tires, and almost went down. We learned never to set our bike by a sprinkler. We ate dinner at 10pm at the Olive Garden in Palmdale and went to bed at midnight with a 5:00 wakeup. I'm not complaining–I know it was harder for the gals at Kern. Just stating the facts!
We had some good competition. Their district champs from last year who got 4th at Nats as well as the team that got 5th at Nats were there and we were sandwiched between them with only 30 second intervals. And when I compared the size of my legs to their champ's stoker's legs, I was wishing for some hills….
But this course is a nearly flat rectangle that you do 5 legs of (so you do the 1st leg twice) and the (supposed) cool thing about this course is that it can be kinda windy and the leg you do twice is the tailwind leg so you get way more tailwind than headwind so the times are fast for 23.5 miles…..
As usual, we looked pretty damn good with our color coordinated shoe covers that I made. No pictures though, sorry. I only saw one person with a camera and I think she was taking a picture of an giant red-ant hill.
And we started off…….into a HEADwind! It wasn't very windy, but it was backwards so we had 2 legs of headwind. That was cruel. We caught the team ahead of us at about mile 15 but we couldn't ever see the team behind us well and they were the faster team. Jeff thought he saw them at mile 15 about 20 sec behind us but how he could tell that is beyond me. He is amazing with that little mirror. Or he my have been hallucinating. So when we hit the last 6 mile headwind section we gave it all we had. Jeff knew they were on our tail. I didn't, but I assumed that we were going to lose by one second so that I went as hard as I could and couldn't say I should have gone just a little faster if they did win by one second! I'm pretty mental. Despite all of that, the race was just a bit long for us. There was a little teeny hump in the road at about mile 20 or 21 that I thought was going to stop us dead in our tracks.
I spit on Jeff during the race. I had to spit and didn't want to really turn my head as that is so un-aero and half my job is to be aero. So I just turned a smidge and aimed to the side but my spittle was pretty viscous at that point and it went straight into his butt. He said afterwards that he thought I barfed on him!
Being out of district, we weren't in contention for medals, but we were pretty stoked to win by 26 seconds. It'll make this week a little easier to take as I'm pretty sure I'm going to feel bad all week.
Oh, and the socal tt crowd is way too intense. They did not properly appreciate my rabbit ears……
See you at the next one!
— Soni Andreini Poulsen
NorCali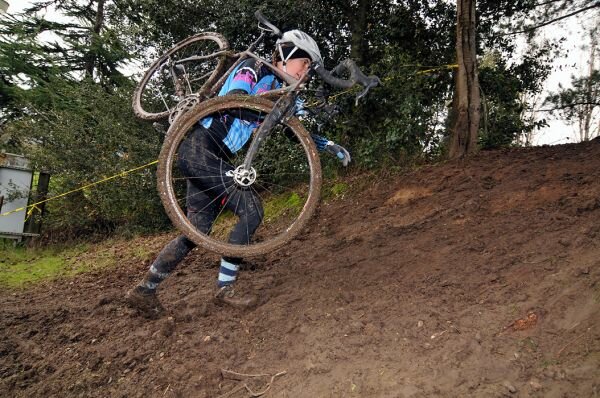 AND it was rad… and hard, and fun, and….
I will do it again next year. Hopefully better.
I rode in some surf city races, cccx and the one Peak Season. I accomplished my goals. One being to race, two to not come in last (That happened the Halloween Surf City Race), and the third to get one of those beers from Santa Cruz Ale Works.
I did drop out of one race, it was a low for me. I was so frustrated with how clumsy I could be with mounts and dismounts, the super technical stuff, and how slow I could be. But I came out of it with a new attitude. No more dropping out, and to just have fun!
Yesterday was my first muddy race, and boy was it muddy. I fell three or four times. I lost count. The last lap was all about staying on my bike and finishing. I was so glad I did because I got Santa Cruz County Cyclocross Champion for womens C's!!! I don't know what it means, but I got a great hat out of it!! Thanks Sheila Moon!
It was awesome to meet new women. Thank You Mary for your encouragement and guidance. Dionne, I hope to see you out at more races. And to the whole cyclocross crowd, you are rad!
Now to catch up on housework I have neglected for the last few months!
Rachel Wolff
Santa Cruz, California
By Beth Welliver
Somewhere in Louisianna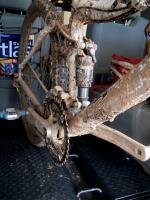 Finally. I'm writing a race report. Granted, I did do some road races this summer, but they were not blog worthy. That's because road racing is lame. This weekend I headed just down the road to Ruston, LA for the Piney Hills Classic. The race is actually part of the Texas Mountain Bike Racing Association's Fall Cup points series (weird, huh?), so the turn out is pretty good with lots of fast folks from Texas coming over to race. I raced on these trails for the duathlon I did back in June when I first got here, and have ridden them a few other times. It's an incredible 10-mi loop of mostly singletrack up and down ravines and through the woods. Plenty of technical with tree roots and stuff. The event follows a stage race format, with Cat 2's (that's me) doing a 3-mi time trial and the regular cross country race towards the stage results. There was also an optional short track cross-country race on Saturday morning, and the cyclocross fiend in me couldn't pass that up!
Weather geek interjection: I should mention that its monsoon season down here. I don't think we normally have monsoons here, but its an El Nino year (that's Spanish for "the Nino") so the rain just keeps coming. Rumor today was that in the last 41 days a rain gauge near the course has collected 26 inches of rain. I think they got somewhere between 3″ and 4″ in that area last week. Fortunately the weekend brought crisp, sunny autumn days, but there was plenty of mud out on the trails.
Short Track
Well, the starting field for this one was a bit sparse. There was me and one other girl. Wow, two of us. Since the short track didn't count towards the stage results for us, most girls chose to skip it. But I wanted do the the short track more than any of the other events to get me ready for cross…yes that's right, I haven't done a cross race yet this year. The race official asked if we wanted to shorten the race and I kindly said, no thank you, full length please. So off we went, I guess I got the hole shot, and cruised from there. It was obscenely muddy, but riding in soupy mud is strikingly similar to riding in Ft Ord sand. I sort of didn't know what to do once I had a good gap…keep hammering for the fitness, or conserve for the coming races? I kept hammering along with taking some lines I wouldn't normally take through some spots for the practice. Overall, it was fun, I got covered in mud, but stayed safe and upright the whole time. Felt great, with that nice lung burn at the end.
Time Trial
After I got the bike and myself cleaned up, lubed up (the bike, not me), and made a quick trip to the Subway in nearby Wal-Mart for lunch (Wal-Mart in southern town…that 15 minute experience is worthy of whole other blog), it was time for the time trial. I generally loathe roadie time trials, with the crazy wheels and crazy bars and crazy helmets. But a mountain bike time trial…heck yeah! Plus, given that I got dropped in all those CCCX pro/expert mountain bike races at Ft Ord, I'm fairly familiar with the solo mtb effort. The course was sa-weeeet…started at the top of this crazy steep hill–coming over the top of it was like cresting the top of the big hill on a roller coaster…super steep, straight down, and only a bit bumpy, so you could let go of the brakes, hang your butt off the back of the saddle and go…just make sure you don't launch yourself over the berm at the bottom! I felt amazing, but didn't know how long 3.5 miles would be, so I was conservatively hammering. The course had just a few gooey sections, but otherwise it was generally tacky and fast. We went off at 30-second intervals, and I caught the two girls ahead of me, so I was happy. The only bummer was that it was over so fast. I think I could have gone harder had I realized the course was so short. But, in the end, I posted the fastest time in my age group, so I held the lead after Stage 1.
Cross-Country
Despite how hard I'd ridden yesterday, I was still feeling pretty good during my warm-up this morning. I held close to a 1-minute lead in the GC (saying GC about a mtb race makes me giggle), but I didn't want anyone in my class to get a gap once we started. The xc was supposed to be 2 laps around the 10-mile loop, but due to all the rain, they had to chop off about 2 miles for parts of the trail that were unrideable. My great warm-up was really all for not…the officials had us all stage 10 minutes before the start. And by all, I mean every single age group of Cat 2 men, then they finally staged the women…but the first group of men still hadn't started. So I think we stood around in the upper-40 degree early morning shade for about 20 minutes before we finally got the gun.
The race started off fast and furious, with a couple of girls from the 20-29 age group getting a good gap on the rest of us. There was one girl right on my wheel thru the first section of woods, and it turned out it was one of the local Shreveport riders, so I was happy to let Kim go by…she was flying and looking great through the technical stuff. The ride was going well, rather uneventful, just muddy, until I clipped a handlebar on a little tree…I crashed. But, no harm done, just a little muddy, so up I got and on I went. Then, sometime in next few mud puddles or stream crossings, my rear cog/freewheel/derailleur/chain decided it didn't want to cooperate anymore. Every time I was grinding up a grunter of a climb, my chain would either slip the freewheel or I'd get chain suck that would lock up the cranks. I guess my cyclocross trail running training paid off, because I had to start running up a bunch of the hills. Then I crashed again in the weird place when my front wheel just slid right off the trail. Lesson learned: 30 psi is too much in the Schwalbe's in the mud.
Slowly my competition started catching back up, and as we neared the end of the first lap, I was exhausted, covered in mud, and Tammie, my main competition, was right on my wheel. Eeek! And with a whole lap remaining, I still had another hour to race. My technical skills would allow me to get a gap on her, but she would reel me back in on the climbs. The soupy mud from the previous day was now gooey, sticky, clay-like mud that sucked your wheels down and bogged you down…and with a finicky rear freewheel, it was quickly getting miserable. But I knew I needed the fitness so I just kept hammering. I slowly caught the other younger girls who had gotten away at the start when they had major mechanicals, so I was at the front of the women's Cat 2 race. It really was a race of attrition in those conditions. Finally, towards the end of the lap, I finally got enough of a gap to relax a bit and cruise in for the win. I think this was my first ever cross-country win.
Bummer of the day…Kim, the local girl who was crushing it ended up crashing pretty hard during the race. She broke her arm near her elbow and has to get it surgically repaired. Heal up fast Kim! I want to go ride with you!
The aftermath…this (photo above) is what the bike looked like when I got home today. She was clean at the start. I think I'll have to replace the chain, and possibly the rear cog. I also have mud stains on my legs that I can't get off. Stupid red mud. I have also official resigned from road racing. Its lame…this was so much more fun!