Canal Classic – New New York Bellas!
August 15, Little Falls, NY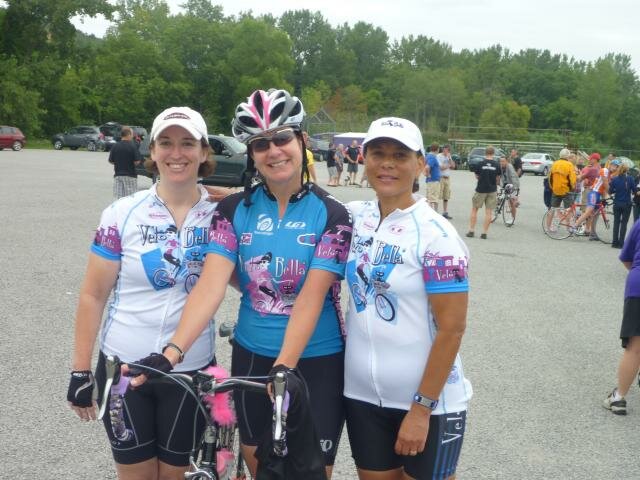 Rockin' the white version of the VB Jersey!
New NY Bella Kathleen Rutishauer, newest NY Bella Angela Ott and Cynthia Schnedeker completed the Canal Classic Sunday in Little Falls, NY. Kathleen just got her jersey about 2 weeks ago and had already recruited Angela in time for race day.
They had great weather, cool and cloudy. Fortunately, rain held off until AFTER the race. Despite an effort to stay together, the three got separated due to the climbs (the second climb is 4 miles long!) but Cynthia teamed up with a woman from the Catskills at the bottom of Bardow – the 4 mile climb- and they rode together to the end. She is interested in joining and forming a group of VB's in her area – our NY group is ever growing!!
Cynthia was clever enough to work out the NY Bella Flair and managed to bring some pink fluff for Kathleen and Angela-notice the pink fluff on Kathleen's bike- and both swore it helped. The view at the top of Bardow is priceless-you can see the tops of the Adirondack mountains!
For those of you who were unable to ride in this year's race-next year will be the 20th and possibly the last, so mark your calendars!!
Results to yet to be posted!
---
This fabulous post was written by one of our awesome bella volunteers ~ To change this standard text, you have to enter some information about your self in the Dashboard -> Users -> Your Profile box.
---