By Josie Stubenrauch
Columbus, Ohio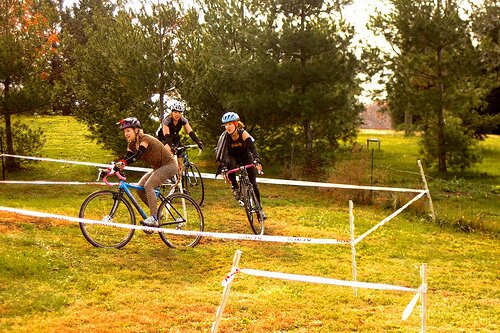 I did my first cross race this past Saturday, Halloween, and had a blast! I knew it'd be a good race to do as my first one, since costumes were encouraged and I knew that would relieve some of the pressure. The race was put on by our local cross group, Cap City Cross, who also doesn't take themselves too seriously. I did the women's C race with 5 other women, who were all very friendly and encouraging at the start line.
Conditions were cross-like: It had been raining the previous 12 hours, it was overcast and 50 degrees, and the course was a mix of mud and grass, all bumpy. I rode the course once, very slowly, before the race. My only goal was to not fall in the pond during the extremely muddy off-camber section that went around one length of the pond.
Our race was 30 minutes, which I didn't think would be too bad, since we're all used to longer rides, etc. WOW was I wrong! After 3 laps, I thought it would be time to finish, and I was not too excited when they waved me on for a 4th lap! The picture below was taken during lap 2, where I was with BatGirl and a goth chick….I tried to pass them both, but BatGirl passed me again. She cheered me on the rest of the way when we would pass somewhere in the maze of the course.
I ended up 4th out of 6th, which I didn't think was too bad, considering my only goal was to not go into the pond or fall off in a mud pit, neither of which I had to do! My handling skills improved 100% in those 30 minutes. I gained a ton of confidence when it came to corners and short, steep muddy uphills! My tail stayed on the first 2 laps, but it was recovered by a bystander. I am very excited to do my next race!
By Nicole Messinger
Oklahoma City, Oklahoma

I decided that my first race of the 2008 season would be Chandler Park Cyclocross in Tulsa, Oklahoma. I know October might seem a tad late to start off the season, but work with me on this one.
After about a 2 hour drive I arrived at the venue, unpacked all the necessities, met a few people, and set off to pre-ride the course. During my pre-ride I found a few rough spots that I vowed not to run over during the race, little did I know this course would be full of rough spots. Another thing that caught my attention about this course was the length, this monster seemed to go on forever!
The starting line was packed, there were 3 of us, and I settled in at the back… way back. The first few laps weren't too bad, except on the first lap when I exclaimed, "Oh crap, which way do I go?" There were a few points where the course could have been more clearly marked, especially as the 45 minutes went on. Another thing that became more bothersome as the race went on were the rough patches in the grass. You couldn't see them, but you sure felt them.
A feature of this course that I really enjoyed was the run-up as it gave me an opportunity to demonstrate my new found skill of shouldering the bike (thanks Ken and crew). Ok, I enjoyed it for the first 15-20 minutes, and toward the end I don't know if I'd have survived without shouldering the bike through this area.
Chandler Park really was a nice race on a nice course. Everyone seemed to really enjoy it. I know that I'll be back for more soon enough.
by Reagan
Papillion Twilight Criterium
July 14, 2007
Papillion, Nebraska
Reagan Osborne
Iowa Bella
More Photos Here
First off, it's pronounced "PUH – PIL – YUN", not "PAH – PI – YON" like most of the world pronounces the French word for butterfly. Weird, I know, but we are in Nebraska. Too much corn in our diets? You decide.
Pre-Race
Got to the venue about 2 hours beforehand. My husband's Cat 5 race started at 4pm, mine started at 4:50pm. It was HOT HOT HOT. About 94+ degrees and the typical midwest humidity. The only thing that made the trainer warmup bearable was the breeze coming from the north. Oh yes, that will come back to bite me, won't it?
Standing in line at the registration tent, we heard someone say, "Hey, there's a Velo Bella here!" Turns out, he's a Webcor rider (Ben) from California who is staying with family in Nebraska right now. Nice to be noticed. I feel like a rock star!
The warm up laps went well. Half the course was uphill, with the back side being a fast descent into a fast corner and finally a tight corner. I took the first warm up laps slow to gauge the lines I needed to make the turns. The last turn was the diciest. You had to swing wide over a soft seam in the road, then back to the curb to make it without whanging the telephone pole. The leader from the masters race had already tested the hay bale in front of the pole. Definitely do-able.
Race-Time!
This was a 40 minute Women's Open race. Separate awards for the different Cats, but we all raced together. The start was uphill and I was in a bad gear. Duh! Didn't think to check that!
The women quickly split into several groups. Then those groups splintered even more by the 3rd and 4th laps. The fast group of women seemed to hang out and work together. I soon realized, that the Cat 4 gals I was racing with weren't going for that.
I was able to hold my own on the descent taking the corners tight and fast. I wanted to lose as little momentum as possible going into the hill. I lapped a few gals, got lapped a few times. I was just waiting to get pulled, about 10 minutes in I was in pain and wishing to get pulled. However, there weren't that many women, so they let us all finish.
I got in my groove about 20 minutes in. My husband said I got "that stubborn look" on my face again. That meant that, barring catastrophic body or bike failure, I was finishing this race. I would gain a ton of ground on the downhill, but lose it on the uphill.
Results
2nd Place in Cat 4! Okay there were only 4 of us, but I was pretty jazzed. Plus I won the unofficial award for "Best Bar Tape"
When I came in my husband was talking about how impressed one of the Corner Marshalls was with my cornering and handling. Tight, fast, perfect lines. Sweet!
On the way back to the car, a different corner marshall (from the dicey corner), stopped me and complimented me on my cornering.
I feel my first crit went well. I realize I have a long way to go, but it was an encouraging start.
BTW: Catherine Walberg (2006 National Masters Cross Champion) was the winner of the Pro women class. Even after testing out the hay bale on the first lap, she went on to win – just like the Masters race. Maybe that's the secret, the hay bale bounces you up hill faster?!
by Reagan
Hy-Vee Age Group Triathlon
ITU World Cup
http://www.hy-veetriathlon.com
Des Moines, IA
June 17, 2007
PRE-RACE
This was the first year that Des Moines has hosted an event of this size, so I came expecting the worst. After doing the Denver Danskin a couple of years ago, I have become pretty aware of how organized a large event has to be. And if it isn't, how bad it can be (ie. Denver Danskin).
I was pleasantly surprised by how cute downtown Des Moines is. The Gray's Lake area where the swim and transition area were is a beautiful, shaded lake. The transition was nicely organized with assigned places. We had to check in our bikes the night before. I didn't really like the idea of my baby spending the night outside without me, but I sucked it up and dropped it off.
4 am. The wake up call in the hotel rings. I haven't raced in a couple of seasons, so I forgot how early 4 am is.
4:30 am – TRAFFIC! As usual, a big long line to get into the parking. I had timed the drive the day before and added time for traffic, but I didn't add enough. I had to ditch the car and walk in. I was lucky enough to have a driver that could park the car.
5:30 am – Arrive at the transition. Rush to put everything in place, get my timing chip, and get in the water before the swim warmup closed.
RACE TIME!!
SWIM
After racing exclusively in Colorado, I had a hard time believing that the water temp was really 80 degrees! My plan was to take it easy. I really needed to stay at about 85% effort for the swim and bike to complete the run. I tend to get over anxious with the mass start and start out too fast.
The start, as usual, was all hands and feet. But everyone settled into place by the first bouy. I was able to sight good lines without interrupting my stroke for most of the swim. I stayed within my planned perceived effort and felt fresh coming out of the swim. For once I was thinking the whole way "This feels great!"
Did I mention how fabulous it is to come out of the water onto carpet and not have to run through sand? Sweeeeet!
BIKE
Trans 1 went smooth. I only wish I could run better in bike cleats. I still haven't worked out the "cleats already attached to the pedals" thing yet.
The bike course was pretty fast and relatively flat. Only one major hill. Very little wind (especially for Iowa). The first 3 miles were pretty congested with racers. That pesky no draft rule is difficult to follow when you're packed in like sardines.
Top Ten Insights on the Bike
10. Zipp Disc wheels sound sweet as they are *passing* you.
9. I stayed in my planned perceived effort and still had a good mph average.
8. My front wheel is just slightly out of true.
7. Passing men feels good and makes them mad.
6. There is a really cool looking vintage clothing store in downtown Des Moines.
5. This is not the Tour, so why is there a guy in the devil suit?
4. This is awesome! I love racing!!
3. That fun downhill on the way out? Oh yeah, not so fun on the way back.
2. Ladies crossing the street in front of racers think that if they bury their heads and don't look at you, you aren't there. Luckily there was room to swerve.
1. I love racing!
RUN
Ick! My least favorite part. I just wanted to get through it. Since most of it is a blur, I will keep it short. Very few hills (except the big on at the finish line), mostly cloudy skies, well stocked aid stations. All I can say is that I ran the whole thing (only the 2nd 10K I've ever run). Near the end, my goals kept getting shorter. "Just make it to the turn in a mile, just make it to the next block, just make it to the stop sign, just put one foot in front of the other"
CONCLUSIONS:
Des Moines put on a great show, even for the age groupers! I'll definitely do this one again if it comes back.
VB Tri Kit rocks! I LOVE POCKETS!! Even if they slow down the swim a bit.
I ended with a PR by 30 minutes! sweeeeetttt. . .
I have more pics on my blog at http://www.twobarnfarm.com

News from Ivy in Maine:
The weekend started out with Susan and I traveling from Maine to a friends house in Southwestern Mass, they have offered to help me out with a place to stay if I am doing any races in that are relatively close by. It was so nice when we got there too, as my friends Jean & Doug had dinner all prepared for us. They know I love pasta, so Jean had made a wonderful sauce and some yummy cheesy breads to knosh along with that.
We had a wonderful evening conversing and gossiping, lol!
The next day we drove up to Sterling for the Race.
When we arrived in Sterling, it was a nice warm day temps in the low seventies, and all though I felt a bit cool at first I was able to done my gorgeous Bella skinsuit for the race. I've gotten so many positive comments about how kewl our team kit looks :o).
Our race was to go off at a 11:25 so I had plenty of time to warm up and make my usual multiple visits to the bathroom, and give anything not to be so nervous before Road races…they seem to work on my nerves more than Crits & time trials do.
Our race went off right on time. We had a neutral 15mph – 2 mile escort by the local police. When we climbed the hill to the start finish area we started to pick up the pace. The hill sent shivers through my body as I knew the next time we climbed this thing someone would be attacking, I was right on that mark, and there was going to be three laps of this thing for us Cat 4's.
The first lap we started to sort things out and I finally got myself placed towards the front to get away from this woman that was making my crazy with her squirrelly riding. We started the descent at the top of the course and group wanted to coast down the hill, but I wanted to start making this a race, so I got on front and inspired the group to start hammering over the rollers so we could string things out and make the yellow line rule more livable.
Other than that, the first lap was uneventful till we made the last turn for the climb for lap '2' where one of the women from International bike made an animalistic attack that shattered the field and made me the, non-climber, sink in my shoes, so it was time to hold on and limit my losses.
I lost about 150 yards to the two women that were in the front, but I started to gather up a string of riders and we worked….with some wonderful help from Amy Moralez from 'Team Wooly Mammouth' & Amy Wong of 'Harvard University' to reel in the breakaway that had escaped. I also used my speed & descending skills to shake off anymore passengers that might be with us and we settled into a group of 12 riders.
I was getting angry at some of the women because they were coasting down hills (racing negatively) where we needed to be pedaling down hill chasing after the two escapees, so I motivated them to do so as we sped over the rollers making our way to the bottom of the course. And when we got to the highway, the lowest portion of this RR, we set up for the right turn where I came hammering around at full bore, and about a half mile later with some help from Amy M, Amy W, and Bonnie Fletcher, I made the final surge to catch the last survivor of the breakaway – we had reeled them in :o).
Then I knew it was time for me to take it easy and ride conservatively. So we reached the last turn and it was time to climb the hill for the 'third lap'. We made our ascent of the hill pretty fast again and so I made this planned, yes planned, holding back on the hill for myself as I knew I could bring them back once we got going again. I gave them 50 yards distance, and I took it easy. It was easier for me to give them the distance than burning myself out trying to stay with the front runners on the climb.
I got my wattage cottage in gear and with the SRAM neutral support car blowing its horn behind me, I caught the group and we made the descent once more. This time the group worked a bit more with one another which made me happier and we rolled down the hill and over the rolly parts of the course once more and down to the highway where we rolled along at a decent tempo and everybody started to sort themselves out as best they could for the finish.

We made the last turn with Amy Moralez leading going around the bend, then the climbers in the group started doing their damage, I went as fast as I could up the hill trying to match them as we dropped two riders off the group, but I started to slip back and it wound up being me and my old teammate from last year, Tracy Clemons, fighting to stay in the top ten. I came across the line in tenth place, but, for me, it was the best thing that could happen because I had held on and represented myself well in a Road Race which is not something I did very well last year – most times I got dropped totally. So I was very happy and it showed this 46 year old lady that her hard work over the winter had paid off….and it's early in the season so things should only get better :o).
Brookside Cyclocross Cup, Indianapolis, IN
by Lindsay
Sunday I finally got my first win on a bike. Okay, so the field was comprised of me and a lady I raced against all MTB season and never beat. It was a little bit of a homecoming for me as this was pretty much the same field as my very first MTB race about 6 months ago when she put five minutes on me.
Sunday was different, though. The start was a little confusing because I thought the B women and juniors were starting together one minute after the C men. So when the juniors took off, so did I. It turned out that I wasn't supposed to go, but the whole thing was so awkward they just let us go ahead and race. I had slowed by down in the confusion and the other lady got ahead of me, but that was okay, because she would always go out hard at the beginning of MTB races and then I would make up time on her later on. I figured just sit on her wheel for a little while and see what happened, but just seconds after hitting the grass I already felt we were going a little slow. We were just coming into a technical section so I couldn't comfortably pass, but I got around her at the first barrier. That last about 30 seconds until a washed out on a sharp turn slightly thereafter. Me and my bike were fine, just a little dirty, so I jumped back up and got back on her wheel. My husband was nearby and I got a little worried because she yelled something at him and I thought, "Oh my gosh, she can still talk," when there was no way I could have at the time. Then we hit a steep downhill, stair run-up and then a section of pavement where she started hammering and I lost contact because a junior rider and his dad got between us and I had a hard time getting through. I caught up and passed her at the next barrier, which was followed by a long downhill, and a paved uphill that began the second lap. When I came through the lap and started my steady climb, I expected her to hammer by again, but it never happened. I just kept riding steady and never looked back for the next 3/4 of a lap until I came to the top of a hill and saw she was just starting down the one before (about 60-90 seconds back). At that point I was pretty confident in my lead and proceeded to hold my pace for another two laps to take home my first win.
So I only beat one person, at least it was someone I'd never beaten before and got some cool swag for it (Hind windbreaker, Fox hat, and some other assorted goodies). The best part is the huge boost in confidence the motivation to get my butt on the trainer after work so that I can maintain my "undefeated" streak.