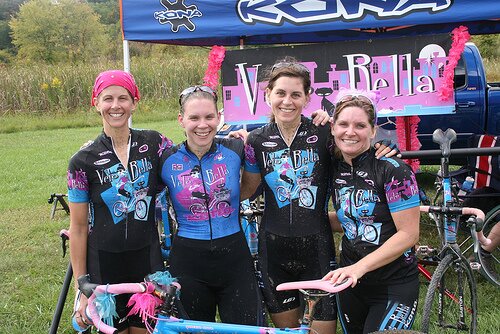 Sunday was the second CX race weekend in the Mid-Atlantic, but the first race where Velo Bella was out in force!
With the exception of the mercury level, the weather was ripe for a cross race; it had rained steadily for the past 3 days, was overcast, a bit of a breeze, and the leaves were falling all around.
The Styer family was there with the support tent and mechanical help. Morgan and Alicia raced, with Alicia getting to do a race with our superstar, Dee Dee "Grasshopper" Winfield. Dee Dee took the Men's 3/4 to task, and gave them a run for their money, and certainly could have won had it not been her "warm-up" race! Alicia was the sole female racer in the U18 field, and held her own and learned a few things along the way!
Fellow Bella's Marisa and Nicole arrived mid-morning from DC and found the Lilyponds alive with excitement. The men's race was in full force, the "back 9" section of the course had the beer garden tapped, and we saw alot of muddy bikes!
Both the W123 and the W34 were to race together (2 min separation), so we headed out on the course for a warm-up lap. Nicole had a very eventful warm-up lap, running over a live snake and then burying herself in the mud pit! It was a gross, smelly, peanut-butter-consistency mud. UGH. For the actual race, most chose to run through the mud, but Bella Marisa impressed the elite women when she rode through the muck and beat the elite chick running….yea Bella!
We had a great showing of women, It was a pretty big field, about 12 elite, and 20 in the 3/4. As the two women fields lined up, the skies opened up and it started to pour. The juniors behind us started to cheer, but the women murmured that the course was already wet enough!
The course was long, and they expected us to race 4 to 5 laps. After the first lap, most of us were definitely hoping for only 4 laps!
Dee Dee lapped everyone on the second-to-last lap, and the rest of the podium field went by the 3/4 gals about 1/4 way from the finish.
In the end, the Bella's had a great showing:
W1/2/3
1st Place: Dee Dee Winfield
4th Place: Melanie Swartz
W3/4
6th Place: Nicole Shue
13th Place: Marisa Peacock
U19
1st Place: Alicia Styer
M4 (Go Velo Fella!)
43rd Place: Morgan Styer
Race Results
Velo News Article
By Johanna Kraus ~
Massanutten Hoo Ha
Virginia Stage Championship Final, Massanutten Mountain
I'm in the middle of the field season for my job, which means 14 hour days in 90-100 degree heat. I love my job, but a week of this left me feeling a little unprepared for an assault on Massanutten Mountain in the Virginia State Championship series finale, the Hoo Ha. There was a reasonable turn out for the Women's Pro/Expert category, including some good competition.
The race started up a steepish fire road then ducked into the woods. I was third going into the woods, but the second place rider faded quickly in the face of the muddy, rocky, elbow-fest (they started us at the back of all categories of expert men). The rest of the race I spent chasing the leader, Teresa Richardson of Sobe-Cannondale. Somewhat unfortunately for me the course this year excluded at least half of a super rocky ridge, which is usually where I excel against the competition (who often don't have access to this kind of AWESOME riding).
Anyway, I caught the leader after the second time on the half ridge we did ride, we rode together – swapping places every so often. She got away from me on an open fire road climb, and when I tried to make my final rock garden move I lost my chain. I tried to finish strong, and ended up 22 seconds down.
I learned some valuable lessons though – like sometimes you have to go even if it's not in a section that most favors your skills. In the end though it was an exciting and awesome race that challenged me – to me that's the best part of racing. The new Kona rode great on climbs and descents – although I am still getting used to the more laid back geometry which calls for different body position in corners than my old bike. I had my nice pink Giro lid on too – so I was styling. I broke the first one on its inaugural ride at Sea Otter, so I was stoked to get a second chance.
I think my finish here clinched my win of the VA State Championship series, but I still have to find the official results on this.
By Melody Chase
Plymouth, New Hampshire
17th Annual West Hill Shop Cyclocross Race
Putney Vermont

A beautiful Vermont Fall day was the perfect backdrop for the annual cross race put on by The West Hill Shop in Putney, VT. This venue is Vermont cross racing at its finest!
The course started right off on cross country ski trails with a fast barrier section then put us into the woods following mountain bike paths. My mountain bike skills came back; to put me in the top three right off the start. Coming out of the woods you had three steep birch tree run-ups that prepped your legs for the BMX course around the corner. Pumping the rollers you could get up speed for a fast decent to the "corn field velo-drome" dodging the dried corn stalks added to the challenge!
My zippy new Easton wheals and challenger tires responded great on the manure packed course and technical woods sections. Once you made it out of the corn field you hit pavement to finish on a very steep run-up that had a trough so deep that the little people had to take a less direct rout to the top.
Lap one and two I was leading out of the technical sections until I bobbled on a remount and was passed. Another rider bridged up to me, working together we tried to catch the leader. Final run-up I managed to hook my tire on a tree that spun my bike around hitting me in the head….now I have a nice shiner to show for my efforts.
I ended up finishing third, with a decent gap on the rest of the field. Awards where given in style huddled around a wood stove sipping hot apple cider. Good day!

(or: Why pain is temporary, but Jenn's stupidity is permanent)
Stories like these always start months and months before the event. I'm going to save you pain of all that and just summarize it all as: Run. run, complain, run, dog bite, healing, run, run, painful run, fast run, overconfidence, taper, pack, drive, sleep, meet parents, fight with parents, no sleep, get ready!
Sunday morning Cindy (my training buddy) and I were up and ready to go. After months of training we were ready, or not. Only one way to find out.
The nice thing about running is that there really only a few things you need to keep track of: pants, bra, shoes. That's it. Everything else is fluff. Oh poop – I needed to find my fluff. I took my shower, got into my gear, put on my fluff and started eating my bagel. I didn't even have to wear a helmet for this!
At 7:45 Cindy and I were taken to the start by our chauffeur Jim (Cindy's husband). Bill and Cindy's two daughters were left in charge of my parents. I hear they had a lovely breakfast. Meanwhile Cindy and I were making our way to the start in the chilly morning air.
The line for the portajohns was as long as always, but it was moving fast. After all the important preparations took place we found a spot in the sun to hang out and stretch until it was time to line up. We got to watch all of the other people doing their pre-race thing. Mostly we just chatted about this and that. And then we lined up. That's when I started to realize "crap I have to run 26.2 miles to get back to here."
America the Beautiful was played (Falmouth is the home of the writer) and the cannon blew. The group slowly started shuffling forward, then walked, then jogged then I crossed the line and wheeeeee.
The drumming feet on the pavement. People chatting about their goals for the run. Dodging and weaving through the crowd. We made our way out of town. I was feeling pretty good. A decent pace, but nothing really fast. At the first mile mark I was at 8:30. The perfect pace, but a little ahead of my 4:00 goal so I slowed up just a bit and kept on trucking. I've been running around 8 minute miles for most of my runs and busted out a 1:30 12-miler a couple weeks ago, but wanted to run conservatively since I didn't know the course and really just wanted to finish.
I started to warm up around mile 5 just as I was coming over the first bridge. I saw my dad standing on the side of the road, he didn't see me, I started shouting "dad, over here" and half the crowd turned to look at me. I saw my mom a bit beyond him and Bill at the top of the bridge with the camera. I tried to smile – it came out poorly. And on we ran.

I turned the corner heading north for the long stretch up to North Falmouth and concentrated on keeping pace. I figured I'd be to the 10 mile mark in no time and would start to pick up the pace then if I was feeling good. it felt great. The temperature was perfect and the scenery was gorgeous. The plan was to take a swig of my gel and grab a water as I reached each of the water stops (each 2.5 miles). Every 5 mile starting with the 10 mile mark I would take an Advil to keep any swelling down and take the edge off the pain. I got to the 10 mile mark spang on 1:30 – exactly on my 4 hour target. It felt great! I popped my pill and settled in for the next 5 miles.
About 1.5 miles outside the 10 mile water stop I was heading up a hill and something popped in my knee. I felt an awful pinching pain and couldn't put any weight on my leg. I was hopping along on my left leg trying to figure out what happened. That didn't help, so I instead tried to put weight on the leg, That worked, but I couldn't run. I walked up the hill as fast as I coule (damn slow). It started feeling better, so I tried running again. Nope. For the next few minutes I was walk, run, hopping. All of the Advils in my pocket went down the hatch. I thought about quitting for about 2 seconds and changed my mind. I figured I should go as fast as I could, no matter how slow that might be, at least until Cindy caught me. Some fellow asked if I was OK as he ran by. Of course I am, just a little setback. He nodded and moved on.
This crap continued for the next 8 miles. That first mile was bad. After that the joint go warned up again and I figured out what stride would work for me. I would speed walk up the hills if it started twinging and limp down the hills. I was OK on the flats. There weren't much of those. People were passing me, but I'm pretty used to that ;-). I was mad. I was mad that I wasn't working hard enough to sweat. I was mad that I wasn't breathing hard. But I pressed on. After a mile or two I mentally shrugged and figured, same shit different day and started to enjoy myself again. Sometime around the 19 mile mark people stopped passing me with regularity. I had found the group that was running at my current pace. I started chatting with a woman who I was jockeying with for a bit. It helped take my mind off the pain.


Just before the 20 mile mark I saw a break in the trees that opened out to a gorgeous view of the ocean. I was getting close to the end. Just a short training run to the finish and a nice shower. People started talking about food as they passed me. The group was starting to get antsy for the finish not realizing the worst is just around the corner. I came into the 21 mile feed zone and saw Cindy's girls and husband. They had been pressed into service as water buffaloes. Glenn, the youngest, looked up the road and started shouting "Hey, look, it's Jenn". I came into that zone to the cheers of "Go Jenn" "Hey Jenn" "Lookin' good Jenn". It was great. I slowed to grab my drink and Rae asked "How's it feel". "Pretty bad Rae, I blew out my knee, but I'm almost done., so no worries". "Push hard Jenn" :-).
I had started to feel better and could run up and down hills at this point, so I was starting to push the pace. And by that I mean not going any slower. At 22.5 miles I was going up lighthouse hill, the last in the course. I powered up it to the cheers of the photographers. I started passing people. They were flagging and I had all sorts of energy left from the silliness in the middle of the race. I came around the top of that hill and the view of the ocean opened up ahead of me. I picked it up a little more and used the downhill.
Mile 24 is where it hit me. That mile post was in the middle of a long ,open stretch of beach. There was no shade. I could see people up ahead of me for at least a mile. There were no spectators to speak of because most people had gone to the finish to cheer people in. Those that were there has stopped cheering for people a hour ago. I was holding my pace but my brain was starting to say "stop you fool". That's when I saw Beau. There was a fellow up ahead of me who took a step and collapsed to the pavement. He got up and tried again. His right knee kept giving out. I couldn't watch it. I ran over to him to see if he was OK. He was fighting hard. I grabbed his arm to keep him from going down again and let him lean on me for a few steps. I said "stop running, try to walk first. It's only 1.5 miles, keep moving forward. Only try to run if it will support your weight." He thanked me and started moving again. We wished each other luck and kept going.
Imagine forever. That's how that last mile felt. I finally turned the corner back into town and still had .75 miles to go. I was getting antsy. When will it end? This is still not harder than a 300km. This is horrid. This is not worse than riding a 200km on the tandem in April when you're out of shape. Stupid brain stop fighting and run!
And there I was at the 26 mile marker. 0.2 miles left. I was turning the corner onto the finishing straight and the people were cheering. OK there weren't a lot, but still it was the Carrier Dome in my head. I sped up. I sped up more. I was sprinting. I could see the finish. Bill was taking my photo. They announced my name, I waved to the crowd (yeah I'm a total dork) and I slowed down because I felt bad passing the woman just ahead of me at the line. Its a race, but come on now! I crossed the line in 4:46. They draped me with my medal and my space blanket and I slowly limped out of the chute to say hi to Bill and my parents.
First aid for the knee was rendered in the form of ice pack and "walking it off". I went to the local school to get a commemorative shirt and some food. Cindy's family found me and said she was out on the course and that she wasn't last. After a bit I wandered back to the finish and started back tracking on the course. Soon we saw Cindy's pink shorts coming around the corner about a half mile out of the finish. The girls were running with her. I hopped out in the road to wait for her. We all ran together around the corner and down the finishing straight. Cindy ran the last 50 feet alone to (very loud) cheers. She crossed the line under her goal in just under 5:59!

Now I'm trying to convince her to run the Flying Pig in May!!
Pleasant Valley Road Race, Maryland
By Mel Westminster



I did the Pleasant Valley RR in Maryland on Saturday. It was a first time event, they had a great turnout, good marshalling, neutral feeds, friendly and helpful promoters and volunteers, a few locals waving and cheering along the route, a decent course…all around, the event was actually pleasant, aside from the brain simmering heat. Note to self – don't wear a black helmet on a 95+ degree day. That may have contributed to the awful headache I got on the 2nd of 4 x 10mile laps which made me wonder if I was having an aneurysm or something (yes I'm a slight hypochondriac).
What's the first you thing you do when you arrive at a race, and before you register? Well, on the fourth trip to the port-o-potties and all of a sudden feeling REALLY sick to my stomach I started worrying that I must have a stomach virus or maybe food poisoning. "I shouldn't race. I feel sick." After a brief rational moment I realized it must be nerves and not some mysterious illness. I reassure myself (with my internal coach kicking in) "Just get out of the friggin' jon, to the start line, and then the upset stomach feeling will magically go away once the gun goes off". And sure enough it did.
We had a decent field of 43 women or so. It was an open women's race, but they were scoring the cat 3s separately for the series. I started near the front of the group but once we started going I suddenly was at the back of the pack. Damn. I'm a little sketched out by the size of the pack since I hadn't ridden in a group larger than 8 or so all year. And so as it goes with riding at the back, I got yo-yo'd all over the place and my quick brake grabs, overlapping of wheels made me think I was the freakshow at the back who didn't know how to ride in a pack. "Watch out for her," I chuckled about myself in frustration of my own lack of experience.
The group stayed together for the first lap until the only real hill, the one through the feedzone. At the end of the first lap those unsuspecting riders silly enough to reach for a bottle on a 90+ degree day, got dropped. The group split and in the end only those 10-15 or so that hung on during the split would finish. I and 2 others were caught off-guard but with a lot of hard work and battles with self doubt, we were able to close that gap after 15mins of all out TTT to catch back on because the group's pace had slowed up finally, thank god!
Once back in the pack, I took a few mins to enjoy the leisure pace of the group before questioning what the point of the "race" was. As I watched the race "unfold" the image came to my mind that the pack was like a sleepy lioness. She would let a little mouse go out for a little bit, while she would doze in the hot sun with half-open eye. When she felt the mouse was just about out of reach, she would stretch out her big paw and pull the mouse back in. This game continued on a few times and even I played it. In the end the frustrated little mice wanted to get away but knew they couldn't.
We get near the finish (which is at the top of the feedzone hill) and the pack all of a sudden is awake. I'm not sure what happened other than I was on the wheel I had marked as a likely winner and when she pulled off, there were only two others just a little ahead that had come around on the side. I tried to catch them but went too late. And so I rolled across the line 3rd overall, first in the cat 3s. Pretty cool.
Doing well in this race gave me confidence, finally, in myself, my training, and my little yellow adviser.

By Stephanie White
This past Friday I participated in the Jr. Mountain Bike National Championships at Mt. Snow Vermont, specifically in the Cross Country event. The cross country course at Mt. Snow is a classic New England loop, with a lot of climbing, a .5 mile long mud bog, and a rocky, rooty, terrifying descent.
Essentially, the course climbs to the top of Mt. Snow, a climb broken up by the mud bog and a few technical sections, and then descends to the finish. My race was only 2 laps long, but in the muddy conditions of the day each lap took over 50 minutes. I knew from the beginning that winning this race would qualify me for the World Championships in Ft. Williams, Scotland. Talk about motivation!
I got a good start and followed a DEVO rider named Essence Barton up the first climb. We got a gap on the rest of the field and held it until the end. The climb on the first lap was tense, as we both knew it was between the two of us now. I felt strong and Essence gave no sign of feeling tired.
When we got to the descent I made sure to go in front because Essence, being a downhiller, could easily get a gap here. It turned out not to matter, however, because Essence quickly passed me and had a 35 second gap by the end of the descent. I spent the next 1/3 of a lap chasing her down and caught her, but knew I had to drop her on the climb if I wanted to win.
I opened up a gap on the climb and started the descent with about 20 seconds on her, but Essence caught me halfway through the descent. After that things got scary. There was no way I was going to let Essence beat me on the descent, not when I was the stronger rider and the better climber. I hung with her, pushing myself to go far faster than I wanted to, but miraculously did not crash. 2/3 of the way down the descent there was a short climb, where I hammered and opened up another gap on Essence.
I managed to maintain this gap down the rest of the hill and along the flat to the finish. I was nearly crying as I crossed the finish line and greeted my friends and family as the new Jr. Cross Country National Champion! I leave for Scotland, and the World Championships, on September 1st!
A special thanks to my parents, my sister Libby, my "cycling aunt" Kelly, and my boyfriend Jeff, who were all there to help me and have been so supportive of my cycling. Also thanks to Alex Burgess, Melanie, and Judd, who were cheering in the feed zone, and Morgan and Tim, who were in the pit ready to help with a mechanical problem. I am fortunate to have the support of all of these people and of all the Bellas out there. Thanks!

One of our younger Velo Bellas, Alicia Styer became the 2007 US National Junior 8-10 year old XC Champion last Sunday morning. Nervous yet steely eyed prior to the race, Alicia rolled to the start line intent on smashing the competition, or atleast making it to the top of the first climb without passing out.
As you can see, she not only didn't pass out, she had a smile on her face! Ah, to be younger again…
After tagging along with Catherine Maier (Rad Racing and in an older age category) Alicia was heard to grumble "no gifts" under her breath, and launched a vicious (albeit short) attack on her companions struggling up the never ending technical climb.
For thos w
ho don't know, Rad Racing is a kindred spirit in the cycling community focused on providing juniors an excellent start in the cycling world. Rad Racing is based out of the Northwest and supported by Kona among others.
Fellow junior Catherine Maier who races for Rad RAcing in an older category.
The race ended in fine fashion with a strong sprint to the finish a full minute or so ahead of the competition. Alicia's parents report they have to pull her off the trainer in the winter time and is always pushing her father to make the bike ever that much lighter… Unfortunately, her brother wasn't terribly impressed by his older sister's accomplishment…

By Melanie "Wrong Way" Swartz
Strong Showing for Velo Bella-Kona Mud-Squad in the Mid-Atlantic
Saturday was one of the hottest days of the Mid-Atlantic series with temps in the 70s and sunny.
Power was the name of the game at the Lower Allen Classic in Harrisburg, PA with a course that was predominantly grass with quite a few tacky off-camber turns, one sandpit traversed twice, and a long uphill gravel-asphalt mix road finish all handled perfectly with our fantastic Easton Circuit tubular wheels. Diedre's power prevailed as she steadily put time between herself and 2nd place, further securing her position as the Mid-Atlantic series leader.
"Wrong Way" Swartz rode-hard to try to regain places she lost after a tumble in the sand-pit on the first lap, but regaining contact with the top-5 meant she lost a few more spots to a very respectable 9th place finish. Junior rider, Stephanie White, had a strong start but suffered a mechanical. Winfield, 1st. Swartz, 9th.
Sunday was a very different day with cool temps, rain, and lots of mud at Thompson Park in Jamesburg, NJ. The Velo Bella-Kona east coast squad showed why they are called the Mudders as they finished four in the top eight. The team relied on their experience and the flawless SRAM shifting to get around in the muddy conditions. For each racer, persevance and patience was the key since the conditions weren't suited for speed like the day before. Winfield and Swartz rounded out the podium for 2nd and 3rd, Milkowski and White close behind in 6th, 8th respectively.
This weekend the east coast squad heads south to North Carolina for the North Carolina Grand-Prix UCI C2 double header in Hendersonville, NC, while most of the team congregates on the west coast for the final two rounds of the US Grand Prix of Cylcocross sponsored by the always awesome Crank Brothers. Thanks Christina (and Lance)!
A few articles in the mass media highlighted our sucess:
Saturday's race:
http://www.cyclingnews.com/cross.php?id=cross/2006/nov06/lower_allen06
http://www.velonews.com/race/cyc/articles/11188.0.html
http://spokepost.com/
Sunday's race:
http://www.cyclingnews.com/cross.php?id=cross/2006/nov06/highland06
by Melanie and Dee-Dee
More podiums for Velo Bella/Kona…the cyclocross season is now upon us. Baltimore, MD hosted the kick-off event for the Mid-Atlantic region which brought out a record number of spectators and racers for the event. It's really exciting to see how many
women came out for the event with 16 in the elite category race and 18 beginner women for the earlier race, impressive. Below is the race report from Melanie and Dee-Dee.
***** The start, from Melanie***
Dee-Dee and I lined up alongside local Washington DC area road-race standouts and another local talent, who like cyclocross natl champ Katie Compton has her roots
in the Mid-Atlantic region, 2005 US MTB champion Georgia Gould.
The whistle goes off and out of the fury of wheels and elbows from the mad dash to the top of the paved hill and toward the finish line area, Dee-Dee emerges with the whole-shot and leads us through the first set of tricky grass off-camber turn.
Georgia was on D's wheel, and I was right behind waiting and watching. After navigating a tricky 90degree turn up and over an off-camber root and then having to
dig it in up over a little grunt of a rise, Georgia makes the pass and being on her wheel I came around as well.


With Georgia in the lead, I was wondering how this was all going to turn out. My thoughts started to wonder and then all of a sudden Georgia dropped right away into the first pit and I was in the driver's seat. (Georgia had a crooked stem from a mishap in the Men's B race which she led most of and went on to finish 3rd). I had
flashbacks of watching Christine and Barb work together as the Bella one-two punch of last year. I thought this is it, let's go.
***** The rest of the race, from the Grasshopper*****
At this point I am still fumbling with my handling through the curves carrying about zero momentum as we head into the windy section of the course. On the long grassy straight, I pull through and Melanie hops on my wheel. We power up the long double barrier run/ride up with the heat glaring down on us.

The course takes us back towards the crowds with a fast and fun grassy decent, followed by a quick drop off a curb, cross the road, and a quick bunny hop up the other curb to proceed to the natural set of barriers. Clink! Chink! My chain is off and I can't get it back on.
Melanie comes blazing by and starts hammering away. I managed to get the chain back on and worked back up to her and took over on the long windy grassy straight again. I didn't want to look back for fear Georgia might be right on my wheel….Then the smoothness came. I remembered, this is what cross is all about. The pain, the feeling of nausea from exertion AND the energy, the pizzazz, that you get when you get in your rhythm.
If only every race you could always find it. I am still searching for that magic tool to be able to do so. It is great to be back and I was extremely pleased
with how the Bellas finished up.