Melting Mann – A spring gravel road race in Vandalia, MI.
1st, Monica Tory, Women 40-49 (32 mile) (& 3rd, Women overall)
Michigan Bella Erin Lumbard brought some game to her first time riding as a Bella in one of Michigan's largest cycling races — the Killer Gravel Road Race held March 26, 2011. The race tests riders against rolling gravel roads (80%), pavement, one mile of rough two-track, rocks, sand, mud, and even snow and ice, along with 2200 feet of climbing over a 35-mile loop.
"What an awesome day it was," says Erin. "It was just 19°F at the start, and I hadn't even been on this cross bike since November. Thirty-five miles of hilly, winding gravel road and a party at the finish line — I never felt that it was cold while riding until my water bottle froze over." Erin conquered hill after hill and chased each biker in front of her, so despite the frigid temps, she stayed "toasty warm. I felt good about myself for trying something different. I love the feeling of conquering fear. But the icing on the cake was a 1
st
place in the 34 and under age group."
Her mentor, Monica took 3
rd place for the 35 + division.
Misery loves company. That is the actual race name of the race, a reference to the challenging dirt roads, deep sand, and climbs that make up this inaugural 14 mile mtb event. Also, but surely not what the promoters had in mind, I managed to create even more misery (but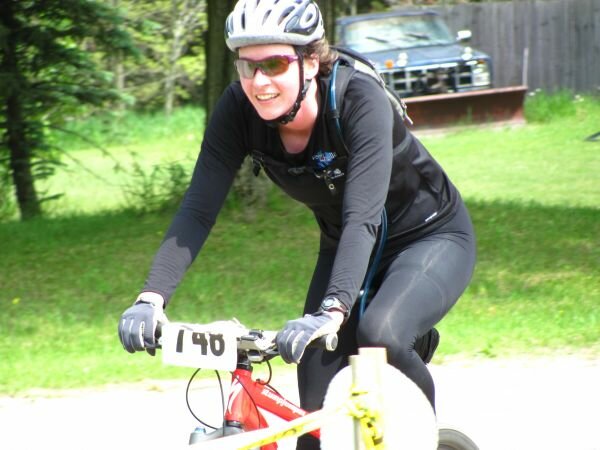 without company, thankfully) by racing a la batwoman (tights and long sleeves) on an 85oF day. ("why" is a long story involving an unfortunate encounter with poison ivy & the resulting complications which meant I absolutely had to stay out of the sun) Very sad that Shari didn't have time to get her batman mask from the car before my start time….THAT would have been flair worth remembering!
So, while not a great day for fashion statements (on or off the bike), it was a gorgeous day for a ride. I'm grateful for running into Kisscross promoter & Misery Loves Comapny volunteer Rick Plite at Yankee Springs mountain bike trail in the morning, because he reminded us of this new event and encouraged us to zip over and give it a try after finishing up at Yankee.
The race was the first of a 2 event series put on as a membership drive for the West Michigan Mountain Bike Association (the generous volunteers who build and maintain the great trails in west michigan … if you use the trails, for riding or hiking or xc skiing, please become a member or send a cash donation or come out to a trailwork day!).
Highlights:
• Great concept: Fun, FREE race to members, start from and finish at a local pub/pizza place.
• Great people
• Very challenging (but not miserable) course, made Barry-Roubaix look like a piece of cake … chocolate cake … with pink frosting & whipped cream

• Time trial start format made it easy (and unintimidating) for beginners through elite riders to participate side by side

Monica Tory, Velo Bella, 1st women 35+. Check out the full results!
Come out and check out the next FREE event in August !
PM me for details or watch the MMBA blog and facebook sites)
—Monica Tory
Kalamazoo, Michigan
…At Barry-Roubaix
The "new" spring classic of Michigan, last Saturday (3/27) marked the 2nd running of "Barry-Roubaix, The Killer Gravel Road Race." With it's ever-popular come one-come all, any bike will do format, the event has quickly become a favorite, growing to over 600 riders this year. Promoter Rick Plite (Kisscross Events) started the day off with style, sending the massive peleton out behind a sheriff's patrol car for a "neutral roll out" of a mile or two.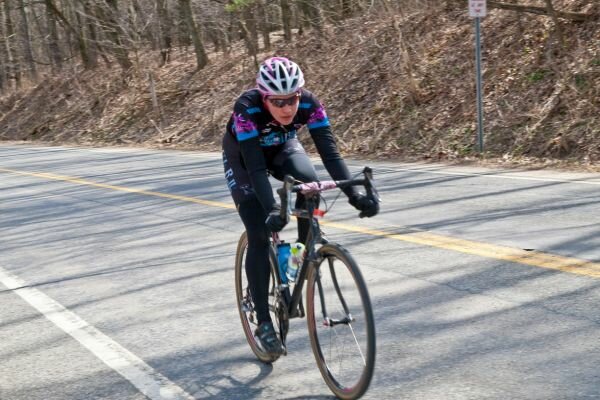 While it was an awesome experience to be part of such a large group, I have to confess that the neutral roll out was faster than I was ready for! That was a good thing, because it warmed us up quickly in the morning's 34 or so degree temps … but also not such a good thing as the crowd jostled for position, itching for the moment when the sheriff would pull off and let us all loose on the roads!
Set on the quiet country roads surrounding Yankee Springs Recreation Area, the Barry-Roubaix course is something to behold. Whether you think of it as one solid early season training ride or a very challenging race circuit, the 23, 35, or 65 miles of big rolling hills, mixed surface (pavement/gravel/sand), a dicey little two track section to test your off-road handling, and wonderfully scenic views throughout all add up to one great day out.
Once the sheriff pulled off, the pace quickened & a few crashes mixed things up. We flew down the pavement approach to the two track, and that's where things became interesting in a hurry! Thanks to a friend's dedicated course previews throughout the winter and spring, I had a good idea of which line would be forgiving.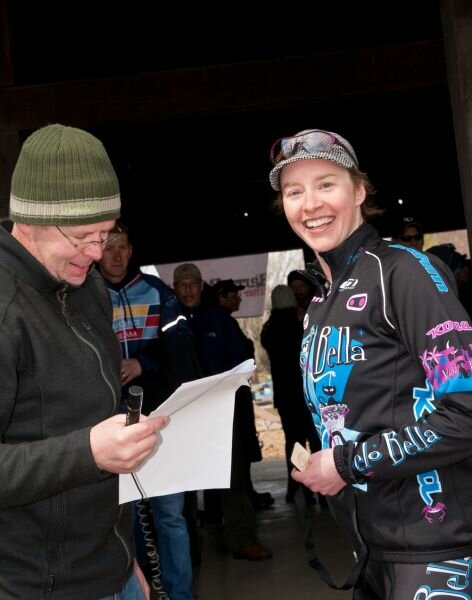 Sticking to that line & using a few strategic 'cross dismounts through that section saved time & energy for the many hills ahead. Through the hilly sections, peletons were few and far between … it seems that some of us can climb well (not me!), and others descend well (me!), making it hard to work together in classic road race strategy. Since I love to TT, it isn't surprising that I enjoyed being out on the course solo for most of the race.
I ended up very happily in 3rd, but fully confess that Kim Thomas deserved that podium spot. She attacked on a series of hills & since I couldn't respond, I got to watch her tow a long train of boys right up and over so many climbs! They just sat there and couldn't come around. Go Kim! Sadly, Kim had a mechanical near the end, which cost her precious time.
Après race, the temperatures had warmed enough to enjoy a little tailgating, a big beach bonfire, Founder's Centennial Ale, and award and raffle prizes (including goodies from race sponsor Sheila Moon!) to many, many riders.
So, what can I say …. The race hurt. A lot. Actually, a lot more than I expected. And yet, I can't help be excited about coming back for more next year and in the weeks leading up to June's Lumberjack100. Life is good!
— Monica Tory
Kalamazoo, Michigan
Results: Monica Tory, 3rd, Expert Women (35mile)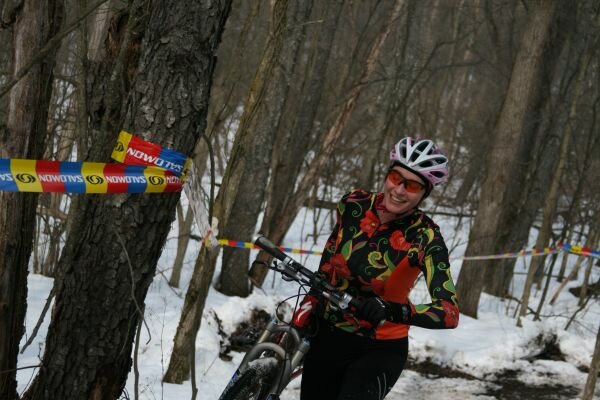 Cyclocross in February? Oh yeah!
Sure, in February, we're usually thinking more about hitting it hard on the indoor trainer, or maybe getting out for early season road rides and races. But, that sounds a little boring! After all, when a friend decides to host an informal & free 'cross race to see if the venue would work for a training or racing series later in the season, who would say no???
Many thanks to friend and trikat Rich James-Jura, who set up a tough, but sweet 'cross course on his parents' motocross setup, just west of Kalamazoo, Michigan. A sharp turn in the weather the morning of the event took us from near zero temperatures to a balmy … and super slushy 40 degrees! Deep snow quickly turned to mush, treating us to an ultimate bike handling test.
The inaugural event was a huge success, with many first time riders catching the 'cross bug. Can't wait to go back again when it's a little less muddy….and a little more rideable

More race details!
—Monica Tory
Kalamazoo, Michigan
By Monica Tory
Kalamazoo, Michigan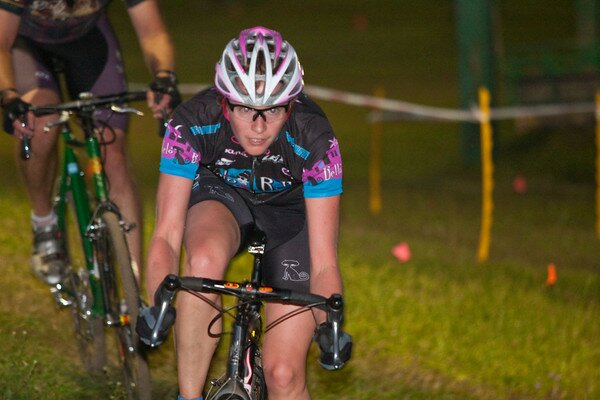 West Michigan's 2009 Kisscross cyclocross series kicked off in style at Cannonsburg ski area with a double header featuring Michigan's first ever 'cross race under the lights on 9.11.9, and a more conventional day race on 9.12.9. (Any guesses which one was my favorite???)
Did Michiganders like the night race? Oh yeah! Record turnouts for both fans and participants, and why not? Whether to watch or to ride, it's easy to hit the course after work, enjoy a pint or two of Founder's, and leave the weekend "days" free for even more adventures ! I vote for a whole night series … every 2nd or 3rd Friday under the lights anyone?
While I (unfortunately!) had precious little time to devote to cycling and fitness in the couple of months approaching this race, I did have plenty of time to think about FLAIR. After all, a night race calls for something special! Bellariffic purple tire flys did the trick and got a lot of attention from riders on the course and spectators alike. You can see the lights in action (though I'm told they looked better in person), as well as get a feel for the race/course, in this race video. (My lights and I ride by around the 2m50s mark.)
How was the course? Absolutely awesome.
Friday's circuit was fast and furious, featuring lots o' (deep!) sand, brutally bumpy hard pack grass, a short run up, a triple barrier sequence, and a nice steady climb followed by sweeping descent. Dry and straight forward early in the evening, as night fell things got much more interesting. By the end of our B race, dew was just starting to settle, making grassy corners a little slippery; by the A race that followed, those corners were downright oily and changing with every lap.
On Saturday, the course direction was reversed and the infamous stream crossing added. Optional stream crossing, that is. And even though Rick and Cathy dug out "the rock" (which did in my ankle 2 years ago), and presented me with it at registration, I promise I did not even think about doing the stream crossing. ("The rock" now has a new home in my landscaping.)
How did it all turn out? Surprisingly well! Sure, I wasn't very smooth over the barriers (and now fully understand what "neuromuscular conditioning" is for), I could have used more power, and I wasn't very confident in the technical sections. But much more importantly, I was really, REALLY happy with my races and results, and I learned something surprising:
'Cross hurts about the same amount whether I'm well trained or definitely not trained !
And that mean's there's no reason for anyone to stay home and miss out on all of the fun just because you feel untrained, missed "too many" workouts, had life events set you back a few months, etc. etc. etc. These races are as serious as you want (or don't want) them to be, there are lots of first-timers, and everyone is welcome.
The next Kisscrosss event is 10.03.09 at Highland Park (Grand Rapids, Michigan). Join us just for the race, or for the full trifecta:
(1) Watch or race at Highland Park (mtb, cyclocross bike, or hybrid ok!)
(2) Hydrate at Founder's
(3) Fuel at Porkapalooza
See you … and your flair … out there !
Results
Friday 9.11.9 Monica Tory, B Women, 2nd
Saturday 9.12.9 Monica Tory, B Women, 5th
Photo courtesy of Jack Kunnan.
By Monica Tory
Kalamazoo, Michigan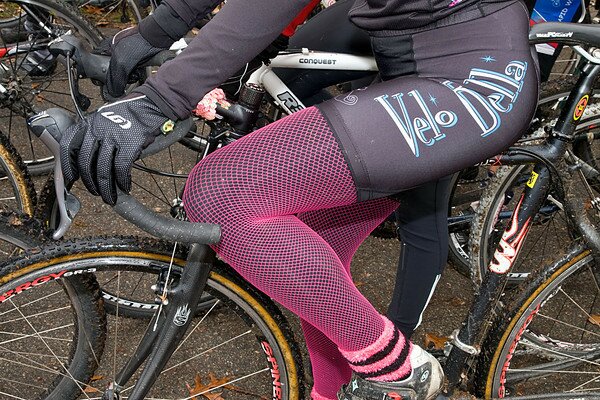 Brrr. True 'cross weather arrived in style (?) this weekend. With our local race promoter facing tough course decisions — cancel? postpone? venue change? — our race plans for the weekend were up in the air all week. We found great backup choices in Chicago & Monroe (MI), but everything came together at the 11th hour & the kisscross race went ahead at a "recycled" park. MANY THANKS to race sponsors Crazy Bastards Cross, for getting creative at the last minute & creating a fantastic course at a park we had raced at only 2 weeks prior.
Flurries of snow, gusts of wind, MUD (naturally), 33oF temps, and MORE WOMEN RACING made for a fun day out. Well, that and the post-race garage party that followed. The course was awesome for the C&B races — fast pavement start, with a bend into a set of 6 stairs (up), mixed pavement and grass into a barrier/hairpin combo, nice little straightaway, ride along a hill, a few funky descending turns through packed sand, and then …. a gushy, squooshy run up. Gushy, squooshy run up complete with TROMBONE PLAYING FAN & his cowbell-laden family! Talk about motivating! Charge !!!! Remount & descend, little bit of single track, massive mandatory puddles, gravel road, and then OILY, OILY soup for several hundred meters. Not sure if it was my tires, tire pressure, lack of skill, lack of power, or all of the above, but that section was tough. I feel bad for the folks passing me, kindly saying "on your right". I did my best to stay out of the way, honest! But the old bike was on autopilot through the slick sections. Past the oil, back to the stairs, wash, rinse, repeat. Absolute KissCross perfection, except for one thing: The A racers (which does NOT include me!) missed out on the oily fun, as the course was rerouted because of the turf damage taking place.
Click HERE for results & future race information. The KissCross series is SUPER beginner friendly, grassroots, and a lot of fun. Come out and play next week (mountain bikes are a-ok)!
Monica Tory, B Women, 5th
By Monica Tory
Kalamazoo, Michigan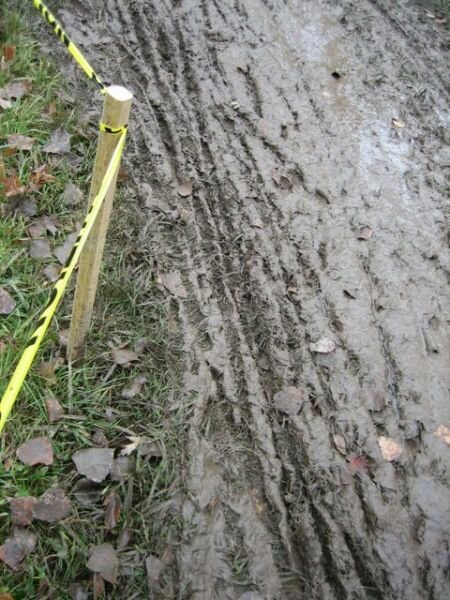 Hallowe'en got started a little early (10/25 & 10/26) at the Ontario Cycling Association's annual Hallowe'en Cross cyclocross stage race. With a serious addiction to cyclocross, and a prize for the best costume from every start in stage one, I didn't need much convincing to make the cross-border (to Canada) drive to Kelso Conservation Area to try this event. Add in free, comfy accommodations at my in-laws home a short drive from the race site & there was no way I would say no to this one! So, I dug up a flair-iriffic costume, & my husband and I made the trip.
Stage 1: "Oink"
When I awoke in the night to the sound of strong winds, and a steady downpour, I started to get a little worried. I checked the temperature …. A mere 6oC out there. Yikes. Now, don't get me wrong. I'm all for classic cyclocross conditions. Now, in my view, 6oC is certainly rideable, probably actually enjoyable. But, add in the wind and a downpour, and that sounds downright awful. Bone chilling. Hmm. I fell back to sleep, grateful to be in a warm toasty bed, and awoke a few hours later, relieved to see that although the temperature and wind were unchanged, the rain had slowed to a drizzle. The weather continued to tease through the morning, but by race time the rain had stopped, the wind had died down, and the sun was making (very welcome) brief appearances.
Arriving at the race site, we found a well-organized race, friendly volunteers and competitors, and a pretty much perfect cyclocross course. Even without the overnight rain, the course had all of the 'cross features you could ask for. A grass start into a sweeping right turn, sharp left over some tricky tree roots, through a serpentine section which featured a double barrier. Following the barrier, a nice little straightaway gave you some momentum to get through the upcoming … MUD. Did I say mud? Deep mud. Very deep. Pigs would have loved this back section of the course.
Earlier, while watching the previous race, I had assumed that riders were taking a very long time to get through that section because there was a long loop back there. Not so! The loop back there was a reasonable distance….it was just an absolute sty. After churning through the d-e-e-p, slippery mud, laughing at myself because I couldn't figure out where "the line" was through those sections, and laughing because a spectator assured me there wasn't a line, the course returned to somewhat firmer ground. Up a short steep hill (rideable for many people, but not for me), run down (for me…most people remounted at the top), around a bend & into a much longer, more gradual climb. This climb was a perfect 'cross climb . It might have been rideable under dry conditions. But with the recent rain, everyone treated this as a WALK-UP. Walk-up? Yes. If you tried to run, your feet slid out from under you! At the top of the hill there was more flat stuff, some very nice (and very difficult) off camber hairpins, and then a ripping pavement descent.
Don't you think that's perfect? Well, that's the course. Now, what about the actual race? I was happy to see there were lots more women than we have at typical races in Michigan. I got a reasonable start, ending up somewhere in the middle. The riders strung out quickly, and I lost track of how many were in front or behind me. Turns out that didn't matter so much. By the final laps (5? 6? something like that), riders were taking extended breaks to clear the leaves and mud from their bikes, and many gave up altogether. In it's second muddy race, my bike proved it's worth ! No mechanical issues at all, despite the extreme mud. I finished tired & happy, placing 2nd in the women's masters race. Happy turned to happier when I saw the prize: a little $, some schwag from Speed River Cycling, and a lovely 6pack from race sponsor Wellington County Brewery.
Stage 2: So many titles to choose from! "So that's how you steer with your body" or "An expensive day out" or "4 laps down?"
Oh, my. Did I say I was happy about no mechanical issues? That didn't last long. The course for day 2 was completely different, but just as awesome as day 1. No mud, but plenty of grass, hills, a TRUE run up, and …. a tough beach run/ride. I was determined to get a better start … and did. But the joy didn't last long. Carefully steering around a huge stick on the course, about 1 minute after the start, the rider beside me did not avoid the stick. It jammed sidewise into my chainrings (and bent them!), and I ground to a quick halt! Some kind spectators helped me remove it, and get the chain back on, and I was chasing back, but…my chain fell off. Again. And again. Eventually, it got sucked in so bad that it was a figure 8 & neither I nor the kind spectators could make it right, so I ran through the rest of that lap & then abandoned

BUT, my husband was still racing, so I stood by the side and cheered him on.
Watching from afar, I was amazed at how Jonathan took a descent/corner combo leading into the sandpit. At that moment I could REALLY see how you steer with your body. It was amazing! As Jonathan ran through the sand pit, I was still pondering the leaning phenomenon, trying to figure out how to start doing that myself to improve my cornering. Off in my daze there, Jonathan ran up to me and said, "hey, you aren't racing! Can I have your bike?" And I said, "Sure, but what's wrong with yours?" Well, that should have been obvious. That awesome lean and body steering was due to …. NO SADDLE. My bike was even more useless, so Jonathan continued on, riding the entire race sans saddle & earning the (well-deserved) respect of all of the spectators! So, day 2 wasn't a huge success … no podeedums, no beer prizes, and an expensive day out. BUT, it was still awesome & I would recommend the Kelso 'cross races to everyone !!!
Results:
Monica Tory
Stage 1 – 2nd, Masters Women
Stage 2 – 8th, Masters Women
GC – 3rd, Masters Women
See the full results!
By Monica Tory
Kalamazoo, Michigan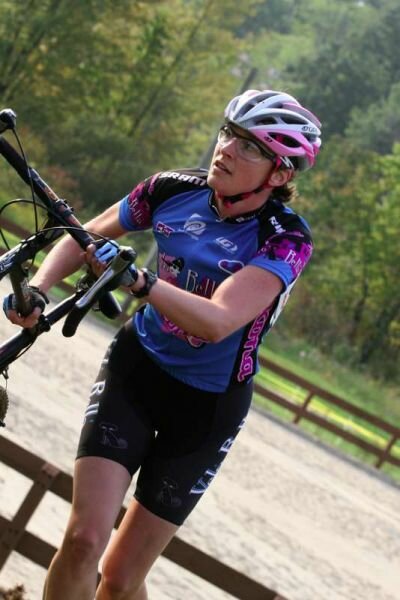 Well, one could say that this race report is way overdue, but fall is so jam-packed with 'cross craziness that it's hard to justify sitting at the computer!
The annual Michigan double cross weekend is undeservedly understated! Really. It's a great weekend of racing, yet the fields are nice and small & there's unlimited space for spectating. Free camping at the race site (wasn't advertised, so we stayed at a pricey hotel instead …. but NEXT year we'll get it right!). On site showers. UCI event, but so few spectators that you have an amazing view of the pro fields. The sponsoring bike shop (Kinetic Systems) hosts an awesome Q&A session with the elite riders afterwards … which is not only an opportunity to pick up a ton of training and racing tips, but also a chance to ask all kinds of strange questions. How strange? How about this one from my friend Kim:
"So, Jonathan (Page) … Um, I was just wondering. You know how in major league baseball, if you catch a home run ball, it's yours to keep? Well, after your saddle broke off the seatpost today, if I had run over there really fast, would it be the same thing? I'd get to keep your saddle? And, by the way, what type of saddle WAS that, anyway?"
The racing was great …. interesting courses both days, with lots of variation (switchbacks, off camber, ride through a barn, some single track, a run up, a ride up for the pros (in the big chain ring, no less) that was a run up for many of the rest of us, lots of cowbell.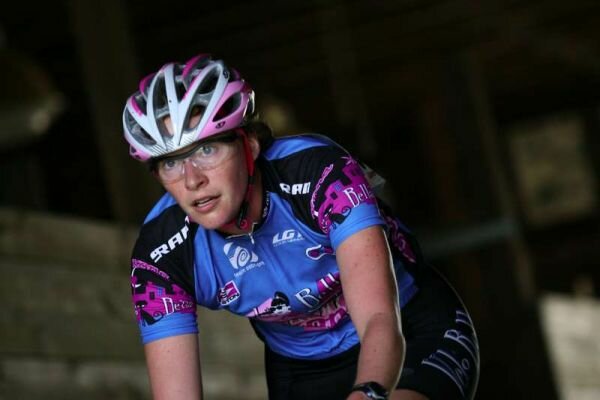 Check out the full results on cyclingnews.com!
Bella results:
9/20: Monica Tory, 4 of 6, Women's 3/4
9/21: Monica Tory, 6 of 10, women's 3/4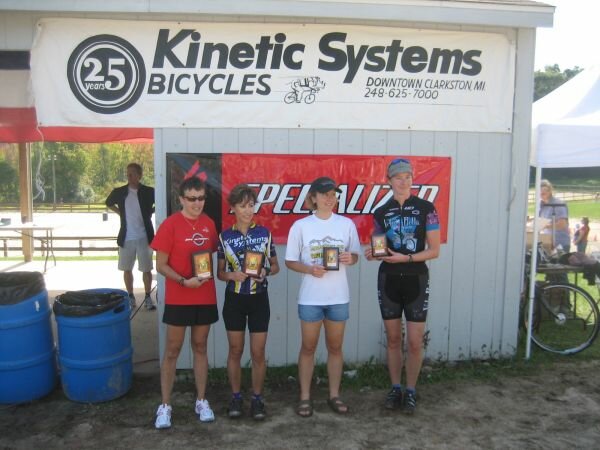 Race photos courtesy, Andrea Tucker
By Monica Tory
Kalamazoo, Michigan
The story …. "why not?"
A mere 1 day before our departure (from Kalamazoo, Michigan) for a one week "bike camp" in Nederland, Colorado, my husband and I learned that we would be arriving in Boulder right about the time that the kickoff race for the 2008 Boulder 'Cross Series was getting started. And anyone who loves 'cross knows what that means …. a scramble to figure out how to cram our 'cross bikes into / onto our car, in addition to the road bikes and mtbs that were already going to make the trip. After a few tries, helped by generous friends willing to loan various roof racks and accessories, it was obvious we weren't going to be able to bring 6 bikes with us. But FIVE bikes, that's a whole different story ! Since Jonathan's 'cross bike is smaller, and our races were at different times, we decided that sharing his bike would be a good compromise.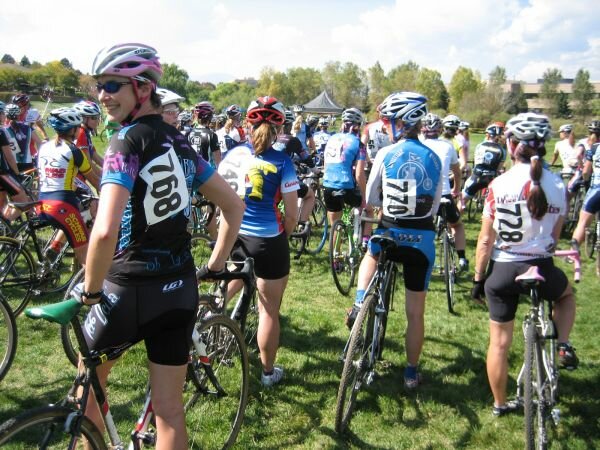 The race course …
… was almost made just for me! What does that mean? Not too technical, mixed grass and pavement. Why do I say almost made just for me? Because the skills section combination was tougher than any I'd seen. Each skill/barrier portion was pretty straight forward: #1 = a double barrier on a gentle incline, re-mount and 180-turn at the top of the hill and descend parallel to the barriers you just ran ; #2 = ride or run through a beach volleyball court, re-mount during a sharp right turn; #3 = a double barrier on a slightly steeper incline, re-mount on the way up or at the top of the hill. So what's so complicated about that? All 3 of those elements were placed back to back, and lap times were a quick 5-6 minutes over the course of the 45ish minute race. That's a whole lot more running and re-mounting than I've encountered at once, and it was both humbling (as I wheezed through the run sections…I really hope I can blame a tiny bit of the wheezing ton the altitude) and inspiring (as I now see some obvious weaknesses = new challenges that I can look forward to working on!)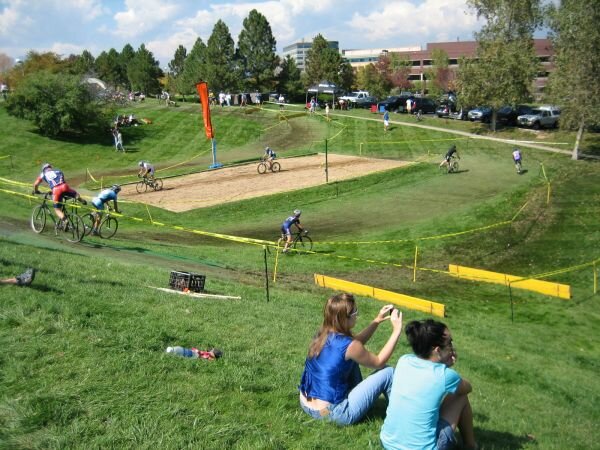 Bellas at the race … please help me NAME the mystery Bella ?
It was wonderful to meet some Colorado Bellas (avec flair, naturally) at the race! Nancy (usually racing, but cheering us on this time around) & Melani (doing her FIRST ever 'cross race!) & "Sister of Shannon" (I'm sorry ! I was a tad nervous when I met you & as a result I don't remember your name …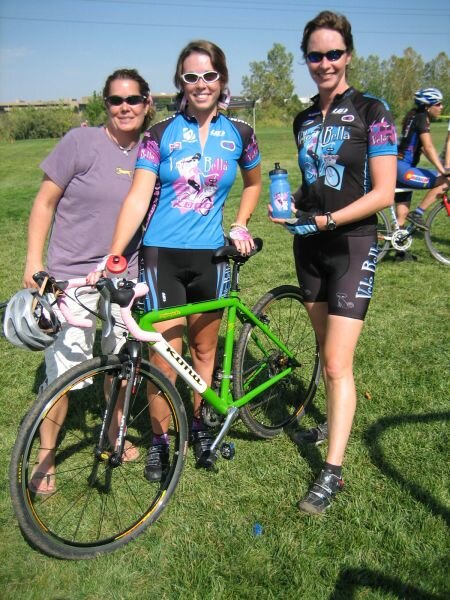 The race …
Was unlike any other cycling race I've done, simply because of the sheer number of women participating! It was wonderful, not only to line up with so many female racers, but to hear everyone talking about how fast women's participation is growing & then someone led a "cheer" to celebrate the big field and how far women's racing has come. To put things in perspective, at my "home" race series (http://www.kisscross.com), more and more women are racing, but on the co-ed start lines, there might be 3 to 6 women and 40 to 50 men in the intermediate classification. So, anyway, as I'm trying to say here, racing with other women was awesome. The starts were fast & the two groups (women's open and women's 35+) quickly intermingled. I liked the fast course & worked hard through the "on bike" parts to try to minimize the time damage from the combination of my not-so-strong running & my non-existent flying remounts (I WILL learn to do those! I think I can … I think I can …)
Clicky for Full Results!
Melani didn't finish due to injury, but will be back to try again! By the time I post this write-up, I bet she's raced over and over again !
Mystery Bella ???? Rode super strong & really made me work at the finish, but I couldn't catch you!
Monica Tory – 12th, women's 35+….and in the process happily learned that once the starting whistle goes off, all of the "why nots" really don't matter anymore. It was a great experience, and (for me) a great race & placing despite my many apprehensions before hand – racing a strange bike, trying desperately to remember the brakes are "normal" (not reversed as mine are), wondering about the effects of altitude & far, far too many hours crammed in a car. No matter what possicleobstacles I construct, CYCLOCROSS IS STILL, HANDS DOWN, THE MOST FUN YOU CAN HAVE ON A BIKE!
See you at another race soon !
Editor's Note: The Mystery Bella is new Bella, Diana Gibson. Welcome Diana!