Misery Loves Company
Misery loves company. That is the actual race name of the race, a reference to the challenging dirt roads, deep sand, and climbs that make up this inaugural 14 mile mtb event. Also, but surely not what the promoters had in mind, I managed to create even more misery (but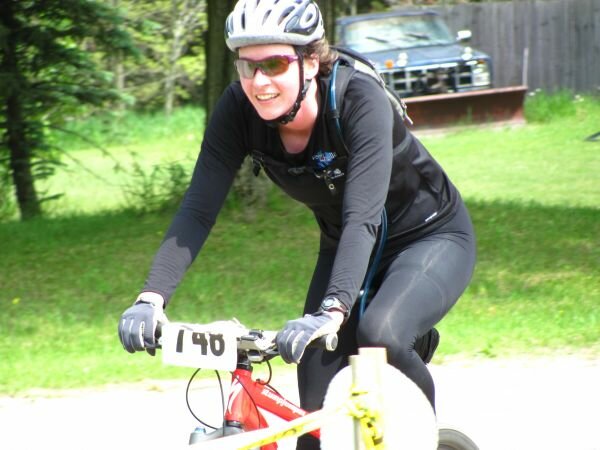 without company, thankfully) by racing a la batwoman (tights and long sleeves) on an 85oF day. ("why" is a long story involving an unfortunate encounter with poison ivy & the resulting complications which meant I absolutely had to stay out of the sun) Very sad that Shari didn't have time to get her batman mask from the car before my start time….THAT would have been flair worth remembering!
So, while not a great day for fashion statements (on or off the bike), it was a gorgeous day for a ride. I'm grateful for running into Kisscross promoter & Misery Loves Comapny volunteer Rick Plite at Yankee Springs mountain bike trail in the morning, because he reminded us of this new event and encouraged us to zip over and give it a try after finishing up at Yankee.
The race was the first of a 2 event series put on as a membership drive for the West Michigan Mountain Bike Association (the generous volunteers who build and maintain the great trails in west michigan … if you use the trails, for riding or hiking or xc skiing, please become a member or send a cash donation or come out to a trailwork day!).
Highlights:
• Great concept: Fun, FREE race to members, start from and finish at a local pub/pizza place.
• Great people
• Very challenging (but not miserable) course, made Barry-Roubaix look like a piece of cake … chocolate cake … with pink frosting & whipped cream

• Time trial start format made it easy (and unintimidating) for beginners through elite riders to participate side by side

Monica Tory, Velo Bella, 1st women 35+. Check out the full results!
Come out and check out the next FREE event in August !
PM me for details or watch the MMBA blog and facebook sites)
—Monica Tory
Kalamazoo, Michigan
---
This fabulous post was written by one of our awesome bella volunteers ~ To change this standard text, you have to enter some information about your self in the Dashboard -> Users -> Your Profile box.
---