(Long Time Bella, Liz Benishin, submits her last awesome race report before she moves on to a new team. We will miss you, Liz!!)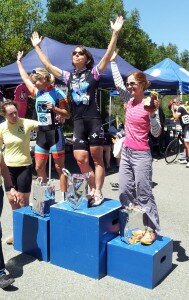 Ooooch ouch ouch as soon as I stop cramping will get to my report…I even got a big toe cramp.
Teammates Andrea and Cammy.
BH is one of my favorites. My first race as a cat 4, back when we had down tube shifters, big huge heart rate monitors and power meters were just a gleam in someone's cerebrum.
While warming up watched some guy nearly get a door prize with the Porta Potty door. That was funny. OK anyway, the race.
I think there were maybe 15 masters gals, and 20 or so 3's that we started with, including the girl who made Jennie's race her last…uh, nervous!
Had a good solid ride up the neutral promenade wall and didn't get dropped. First lap was nice and safe but Andrea reminded me not to hang in the back and moved me up through the traffic. Cammy was sitting pretty hammering away at the front, first time up the bears I tried to sit in but did have my nose in the wind more than I should have…we had a nice getaway gang, maybe 3 masters and a group of 3′, and at some point were joined by a few other masters, making 6 masters and maybe 5 cat 3's. There was some working and some sitting in, and I kind of thought with the number of MetroMints and other teams that had people up the road, and I wasn't super worried about more people joining in.
Halfway through lap 2 all the 3 took off. I tried to bridge but nobody was gonna let me go. I kind of missed their horsepower especially since I was on the edge of serious cramps. I think I peaked for bike to work day and was overtired.
Watched Cammy pretty much drill it and hammer the last lap. I tried to stay with her on the final climb but she kept pulling away, though I was able to stay with , pass, then get dropped by the Sisterhood of Cycling gal. Hung on for 3rd and a sweet spot on the podium.
Super prizes too since it was a Bay Area Women's series.
soooooo…
On that happy note, I have some news. And I was up all night Monday wondering shouldIshould'tI what to do…
I have an opportunity to join CA Technologies Racing, with Ex-pat bellas Deb Levine and Tracy Lillig, and will be switching teams. I DO know that once a bella always a bella. You guys have been super during my health challenges 5 years ago, and have been just so super awesome to race with, learn from and be buds with!
So I dab the tears from my eyes and respectfully submit my last race report.
Liz
It is a very

sad day today for our sport.
Amy Dombroski, a former Bella, was hit by a truck and killed today while on a training ride in Belgium.
For those of you who don't know her history with Velo Bella, Sabine sums it up well:
She came to us as a young U23 CX racer looking for some support. She had a great season. Won the U23 National Championships and was selected to represent the US at Worlds. USAC had no money to send riders to worlds, so we helped raise money to send Amy there. She was so very grateful.
Here is Amy's thank you letter she posted on the Boards to her Bella teammates:
http://www.velobella.org/blog/2008/01/dear-every-velo-bella-across-the-us/
We are setting up a memorial fund in her name to sponsor a female U23 cyclocross rider who is
selected to Worlds. More information on this to follow.
(photo: VeloNews)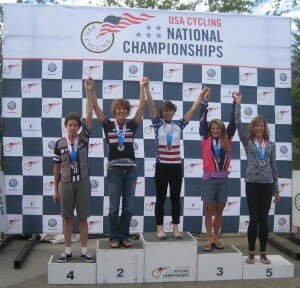 From Bend, Oregon, it's Day One of USA Cycling Masters Road Nationals which is everyone's favorite day: Time Trials!!
Camille Deluca-Flaherty won Gold in the 55-59 age group! I can verify that she looks great in that red, white, and blue jersey and I will prove it tomorrow when I have the energy to download my photos and show you her on the podium. I just wanted to get this result posted ASAP! Update–photo is now up!
Other Bellas raced hard too!
Liz Benishin took 8th in the 55-59 age group
Tomorrow, Day Two is really my favorite day: Sleep-in Day. I'm sure there's more going on tomorrow but I think it involves a bunch of boys or something.
Another Podium on Day Three: Liz Benishin takes 5th in the 55-60 Road Race!!

On Sunday, June 9th, Bella Camille De-Luca Flaherty (aka Cammy) won her category (55-59) at the Northern California/Nevada State Time Trial Championship in Sattley, CA. Now, she and her teammate, Liz Benishin (who is on the 2nd step of this podium) are almost always standing on the top of the 55-59 time trial podiums these days, so this is not surprising news.
However, her time of 28:35.6 for the 20k course set a new national record!
So a big Bella "WOOHOO!" to Cammy!!
Suzanne wasn't on our team, but many of us were there on the day she died at the Bootjack Road Race, and we all became one team that day. This is from Jill Gass:


Hello all, It has been just over four months since Suzanne's accident at the Mariposa Women's Stage Race. Someone recently inquired about how the team was doing, and if we had moved on. I think it is probably most accurate to say no…….but that we are all continuing to move through. Suzanne's teammates who were with her in Mariposa are all riding and racing, and like many of you, think about Suzanne often.
After the accident we had numerous inquiries regarding where donations in Suzanne's name could be sent, but at the time her family had not designated a memorial beneficiary. I have recently spoken to her husband, Scott, and it is his wish that something positive come out of this tragedy. And so the B4T9 Women's Cycling Team will be presenting the "Suzanne Rivera Spirit Scholarship" to the West Coast Collegiate Women's Cycling Conference (otherwise known as WCC-WCC).
B4T9 and WCC-WCC are separated by at least a full generation, but share very similar mission statements with the goal of providing women the inspiration, encouragement, and opportunity to ride and race their bikes with an emphasis on skill development and safety. Our scholarship will help provide some of the financial support needed to grow our sport. Suzanne reflected the true spirit of the joy we experience when we are on our bikes and by "paying it forward" we hope to honor that spirit.
Please check out http://wcc-wcc.com and if you would like to make a donation in Suzanne's honor you can mail directly to WCC-WCC director, Erica Pearsons, 2329 Northdrop Ave #217A, Sacramento, CA 95825.
And we continue to keep Suzanne and her family in our thoughts.
Many thanks for your support.
Jill Gass
http://www.B4T9.com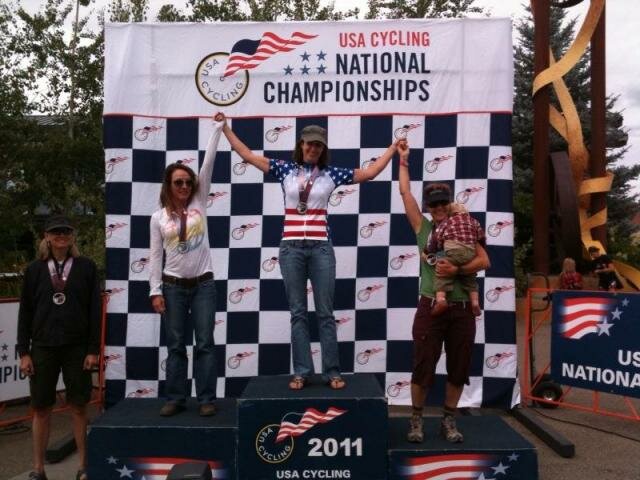 Erika Krumpelman, out of Hayden, Idaho, recently won a stars & stripes jersey and here is her report on the day:
Although normally this weekend would be the first big cyclocross race of the year in Seattle—Starcrossed—I decided to take the endurance fitness I had been building all summer and race Mountain Bike Marathon Nats in Bend, OR. I've heard that the trails in Bend are some of the best around, but I've never had the chance to ride them. On Friday, my husband and I were able to ride about 10 of the 52 miles of trails. They were dry, sandy, dusty, and fast with a few technical rocky sections that I predicted would require a quick dismount and run up.
On race morning, nerves were going strong. I had already worn a path to the bathroom and the hotel housekeepers were probably beginning to wonder if we were stealing the toilet paper. Fortunately, while I was waiting for staging, I got to meet a few of the other 40-49 year old women from around the country. A little visiting and laughing eased the nerves and I was able to get focused and ready to race when we lined up. Before hitting the dirt, we had 7 miles of gradually climbing pavement with a slight headwind. I decided to ride at a pace I knew I could maintain and see what happened. After a short time at the front, I looked back and had two ladies with me. When I pulled over the let one of them take a turn at the front, neither pulled through, so I decided to push a little harder to see if they followed. They didn't, so I continued climbing the pavement alone out front wondering if I was being incredibly stupid. Once I turned off onto the dirt, I looked back and could no longer see the rest of the field. I started working my way through the 30-39 women's field who started 5 minutes before my field. I was also catching some of the older men. Again, I was wondering if I was being incredibly stupid, but I was monitoring my heartrate and knew that I could maintain that effort for several hours. Eventually I was racing with the 2nd place 30-39 year old lady and it was nice to have company! For the last hour or so I became paranoid that something was going to go wrong— a crash, cramp, flat, chain break—anything that would bring my race to a screeching halt. When I hit the last short section of singletrack before the finish, I was able to breathe a HUGE sigh of relief. My beautiful pink Ellsworth Truth had brought me swiftly and safely to the finish line! I had won! I had actually won! After daydreaming about the possibility through endless solo training rides, it was wonderful to pull on the stars and stripes jersey and have my dream come true!
I've attached a podium picture. Thanks for reading!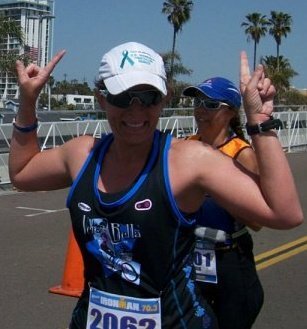 There was a GREAT Bella showing at the California 70.3 on March 27th. Our San Diego girls cleaned up at this half Ironman, with Amy Larson winning her age group and securing a coveted spot to the World Championships in Kona this fall. DeeAnn Smith, Jodi Hays and Lynn Scozzari all placed top 20 in packed age groups. Theresa Espinosa and Chris Desrochers both had fantastic races, completing the notoriously difficult bike leg in well under 3 hours.
Jackie Bickford and Shannon Faseler proved that everything is more fun with friends, crossing the finish line together. In spite of a rough day, Whitney DeSpain kept a smile on her face and finished with style.
This was Audrey Strojny, Sandra Fairchild and TracyAnn Perry's FIRST 70.3, but all three ladies raced like pros, keeping up great paces for the last leg!
Lots of Bellas also showed up to volunteer or to cheer! Amara, Anna, Becky, BJ, Carol, Christine, Gwyn, Heather, Karen, and LaDawn helped make everyone's day that much more enjoyable.
It was a FANTASTIC start to the triathlon season in Southern California. Go Bellas!!!
By Marian Jamison
Reno, Nevada
Catching up with Bike Marian
Marian has been busily training for the upcoming 'cross nationals in Bend Oregon. Apparently, it's working, because after a weekend of racing in Reno and Sacramento recently, she says she's feeling stronger. Here's what she had to say about her recent races:
Winning Beer is Rad!
Last weekend I got in another two good days of 'cross racing. Saturday at our local series, and Sunday in Sacramento.
The local race was a new venue and one of the funnest courses I've ever ridden. It was a lot of grass, a nice sand pit, some fun decending and off camber turns, fast barriers, and 2 sets of stairs to run up. It was mostly all up on the way out, and down on the way back. I love courses like that, where you can just flog yourself to the point of "I'm-going-to-die", recover, and then do it again. My legs felt so-so, but as per usual at these Reno races there weren't to many ladies present so I was able to get the W. I won beer and money, which is good because otherwise I would've been hard up to come up with gas money to get down to Sacramento the next day!
I'm currently sitting 2nd in the Sacramento CX women's A series standing, so I wanted to have another good result there and keep it that way. The course was okay, flat grass, one set of barriers, ho hum.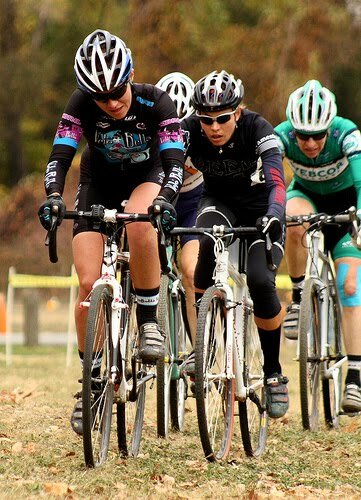 Not very interesting, but good for training the power with all those constant accelerations out of the turns. We race with the jr. men, and I made the bad mistake of starting behind one of them. The kid looked fit, but he had the slowest start of almost anyone there. I had to make some kamakaze passes and dig deep, but I managed to bridge up to the leaders! Wow, that pretty much shocked me right there.
There were 4 of us in the lead group – myself, Emily (from last weekend), Joan Gregg (who has never failed to totally whoop me), and Linda Elgart, who was riding super strong. I was tired from the day before, and mostly sucked wheel. I took a couple of pulls, suffered, got gapped off a couple times, caught back on, suffered. On the last lap I got gapped off and couldn't get back on, so I pulled off another 3rd place. The podium was identical to the first Sacramento series race of the year, but instead of getting dropped by Emily and Joan, I hung with them! Woot woot! Hells yeah, I actually AM getting stronger! The training my coach has had me doing is really going to have me peaking for nationals! Not that I ever doubted it, but it's totally radical to be able to see some substantial improvement.
Next up is the NCNCA district race in Golden Gate Park this weekend, and then I begin my northern odessey to the land of mud and cowbells (aka Portland, followed by Bend). There are over 80 women registered for nationals!
Watch for more adventures
Roll by Marian's bloggy to catch up with more adventures as she gets ready for the big day in Bend.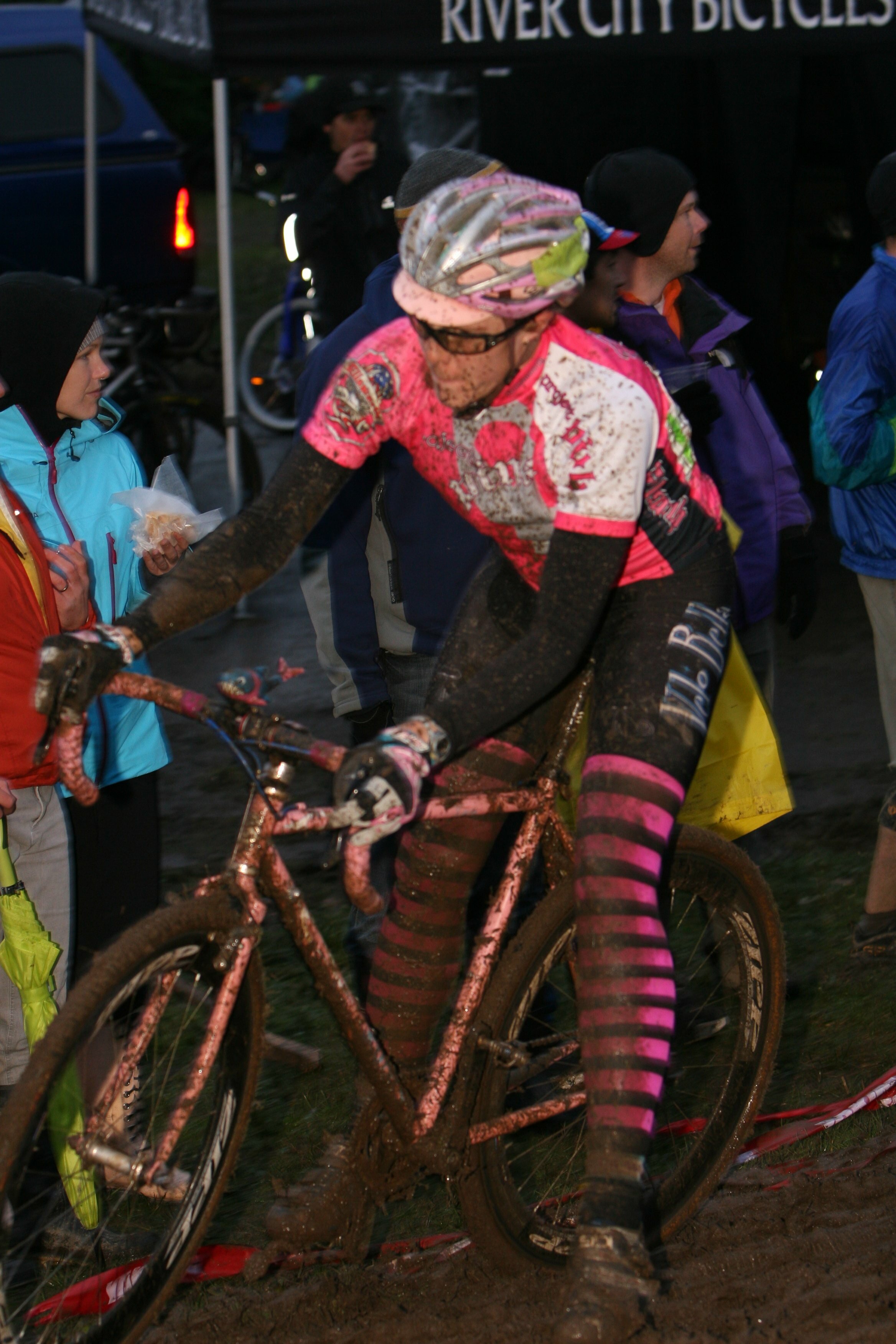 Velo Bella-Ellsworth rider Kari Studley won the Single Speed Cyclocross World Championship in über-muddy conditions. Portland hosted the race, which included a Le Mans style run to the bikes start. Kari's win granted her the privilege of wearing the Golden Bikini and ensured that next year's World Championship race will come to Seattle. Janet Hill of Spot Shot Events captured Kari and striped tights in action. Check out Janet's galleries for more images of all the wacky, muddy fun. Cyclocross Magazine also has some video and Portland Xcross has a gallery of Dirty Pictures.
Here's what Kari had to say about her big win!
Doing this event made me think back to the days of Seasame Street and the lyrics of the song "One of these things is not like the other. One of these things just doesn't belong…" Me doing a single speed race, much less the "World Championships" in Portland is pure irony… It's the similar irony I enjoy in training on a pink bike and racing in nothing but pink this whole season. If you ever get to meet me, you'll understand.
It was a dream come true to be able to give my custom painted pink with chopper flames bike the showcase it deserves and I even made a pair of sparkely pink boot shoe covers for the event, but discovered while racing in them for the Halloween race the previous weekend they wouldn't be suitable to race in if running was involved. Therefore, plan B: pink stripe tights.
The course was a complete MUDFEST. Having been raced on since 8am and rain showers in the afternoon, there was not a blade of grass to be found and mud "puddles" that went half way to your knee in depth when riding through. Half way into the race, ramps were added so that you could catch air on a couple barriers and other places in the course – very fun! And the most important part: the "Thunderdome" where people would swing overhead and/or near you as you rode through.
As there were 250 riders, it was a la mans start with the women further away from the pile of bikes, in an effort to separate the groups. Not sure how effective it was as I was into a sea of men the second I got my bike. From them on, it was navigating through riders in costumes ranging from the "man-kini (aka Borat thong)", Shiela Moon's team of boyfriends and "Tina Turner" (who corrected me when I complimented his "Pregnant Wendy Simms" costume…oops!). Although I had been advised to have dollar bills to race with, I forgot, and therefore had to ride the extra out-and-back section added to the course since I didn't have a dollar to bribe the course official to take the "shortcut." By that point, it was such a mass of chaos, I just stuck to riding my race, figuring that if I won, I was at least going to win correctly (or cheaply, as cheating was encouraged). 5 laps later, the "race" was over. I outsprinted a guy to the line in good fun, but had absolutely no idea on my overall result.
I was thrilled to hear my name announced at the Thunderdome, and did my best to change into the golden bikini in the back of a trailer in the dark (hence the sportsbra addition – I couldn't get it to stay on in a family friendly fashion!). It was also an honor to be the deciding factor in the competition between Seattle and San Francisco on who would host the event next year. See you all in Seattle!
Huge thanks to: The Sweet Spot for the bikini "preparation" help and River City Cycles team and Nuun energy drink for the tent space!
Photo copyright Janet Hill, Spot Shot Events, and is used with permission. Thanks Janet!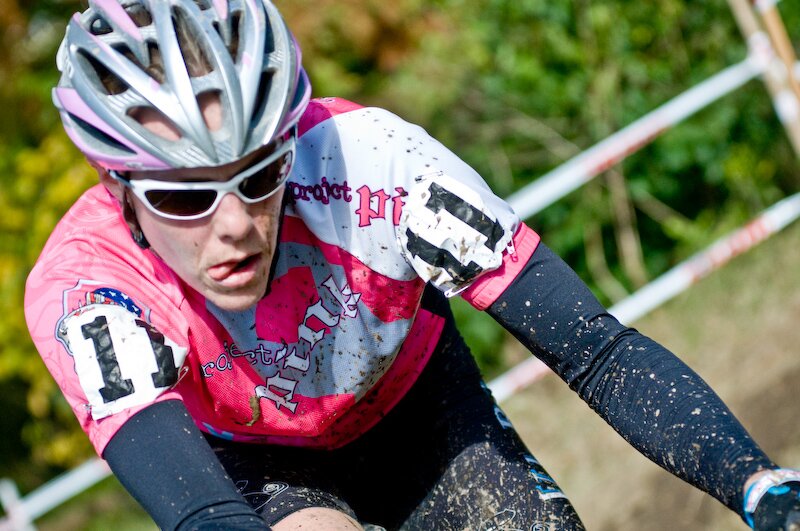 Full concentration as Kari navigates through the mud in Louisville.
Velo Bella-Ellsworth riders Kari Studley and Devon Haskell headed out to Louisville for the U.S. Grand Prix series race. Recent rains left the course muddy. Though the grass made the course look fast, the reality proved rather different as the wheels sunk into the soggy grass. The course also included a staircase run-up. Kari took 9th and Devon finished 12th. Katerina Nash of Luna won ahead of her team-mate Georgia Gould. Velo Bella alum Amy Dombroski, the current U23 U.S. National Champion, rounded out the podium. Roll over to Podium Insight for more stories from the race.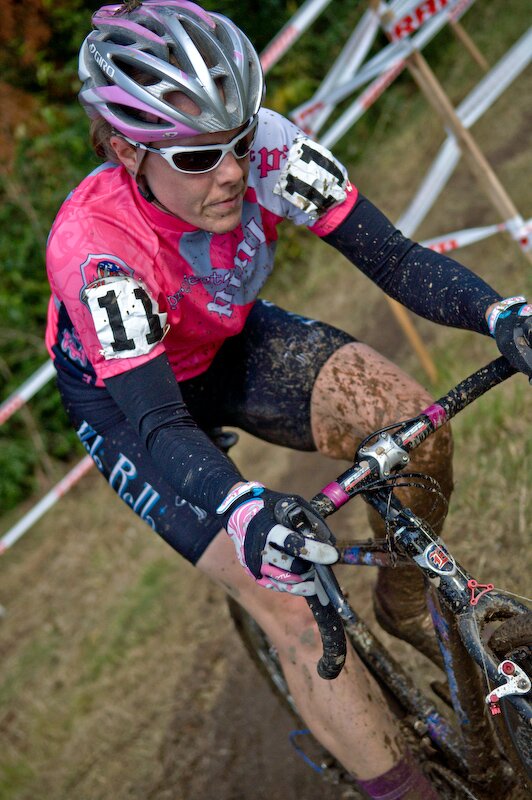 More mud for Kari.
The following day, Kari and Devon lined up for a second day of racing at the Derby City Cup. Sunny skies greeted the riders for this second day of fun in Louisville. But the mud still lingered and the course included a staircase and flyover. Kari bettered her pervious day's result to finish 7th, while Devon took 11th in the deep women's pro field. Luna again dominated the field as Nash took a second straight win. Amy Dombroski of Richard Sachs finished second, followed by Alison Dunlap of Luna. Check out the full story at Podium Insight.
Keep up with all Kari's adventures on her blog, Studley Racing. Want to know about the Velo Bella-Ellsworth pro cyclocross team? Check out our Pro Cyclocross Introduction.
Thanks to Lyne Lamoureux of Podium Insight for the use of her photos from the Louisville Grand Prix. All photos this page copyright Lyne Lamoureux and are used with permission.