Chasing BatGirl
By Josie Stubenrauch
Columbus, Ohio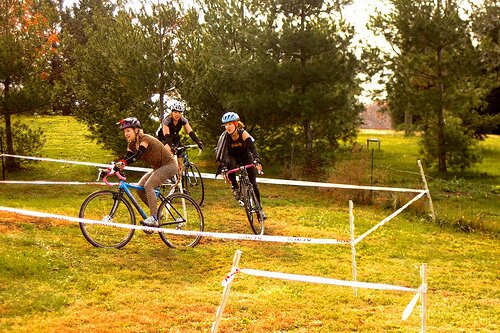 I did my first cross race this past Saturday, Halloween, and had a blast! I knew it'd be a good race to do as my first one, since costumes were encouraged and I knew that would relieve some of the pressure. The race was put on by our local cross group, Cap City Cross, who also doesn't take themselves too seriously. I did the women's C race with 5 other women, who were all very friendly and encouraging at the start line.
Conditions were cross-like: It had been raining the previous 12 hours, it was overcast and 50 degrees, and the course was a mix of mud and grass, all bumpy. I rode the course once, very slowly, before the race. My only goal was to not fall in the pond during the extremely muddy off-camber section that went around one length of the pond.
Our race was 30 minutes, which I didn't think would be too bad, since we're all used to longer rides, etc. WOW was I wrong! After 3 laps, I thought it would be time to finish, and I was not too excited when they waved me on for a 4th lap! The picture below was taken during lap 2, where I was with BatGirl and a goth chick….I tried to pass them both, but BatGirl passed me again. She cheered me on the rest of the way when we would pass somewhere in the maze of the course.
I ended up 4th out of 6th, which I didn't think was too bad, considering my only goal was to not go into the pond or fall off in a mud pit, neither of which I had to do! My handling skills improved 100% in those 30 minutes. I gained a ton of confidence when it came to corners and short, steep muddy uphills! My tail stayed on the first 2 laps, but it was recovered by a bystander. I am very excited to do my next race!
---
This fabulous post was written by one of our awesome bella volunteers ~ To change this standard text, you have to enter some information about your self in the Dashboard -> Users -> Your Profile box.
---