My First CycloCross Season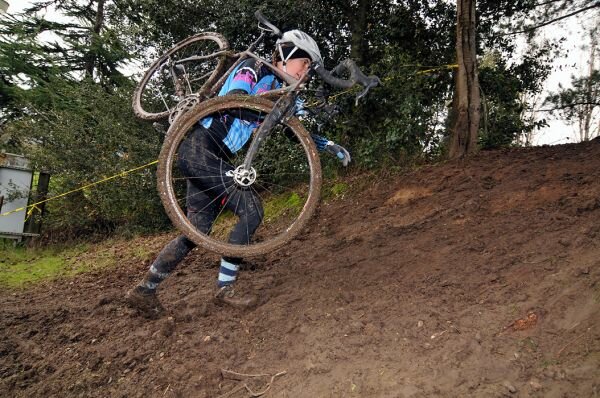 AND it was rad… and hard, and fun, and….
I will do it again next year. Hopefully better.
I rode in some surf city races, cccx and the one Peak Season. I accomplished my goals. One being to race, two to not come in last (That happened the Halloween Surf City Race), and the third to get one of those beers from Santa Cruz Ale Works.
I did drop out of one race, it was a low for me. I was so frustrated with how clumsy I could be with mounts and dismounts, the super technical stuff, and how slow I could be. But I came out of it with a new attitude. No more dropping out, and to just have fun!
Yesterday was my first muddy race, and boy was it muddy. I fell three or four times. I lost count. The last lap was all about staying on my bike and finishing. I was so glad I did because I got Santa Cruz County Cyclocross Champion for womens C's!!! I don't know what it means, but I got a great hat out of it!! Thanks Sheila Moon!
It was awesome to meet new women. Thank You Mary for your encouragement and guidance. Dionne, I hope to see you out at more races. And to the whole cyclocross crowd, you are rad!
Now to catch up on housework I have neglected for the last few months!
Rachel Wolff
Santa Cruz, California
---
This fabulous post was written by one of our awesome bella volunteers ~ To change this standard text, you have to enter some information about your self in the Dashboard -> Users -> Your Profile box.
---