By Allie Burch
Patterson, New York
This weekend was like your very favorite sandwich stacked high between two pieces of moldy bread.
Destination: Windham, NY
Purpose: Regain some ground on the season by landing a top 5 spot in the National downhill event
Thursday night my friend Shawnee and I drove the short distance to our rented condo near Windham resort where the other six occupants would arrive at various times throughout the night and early morning.
Friday morning started with a leisurely breakfast, a logging in to do a bit of work, and then heading over to the venue to register and for our scheduled afternoon practice. Omen number one: No other pros were there registering or waiting in line for Cat 1 practice to end. DAMN! The schedule had been changed to an every-catagory-for-themselves all-day conglomeration. I now had exactly one hour in which to get my bearings started on the course.
This wasn't that big of a deal. I had seen the new features at the end of the course, a wooden drop and two large doubles, and as I watched the guys roll the first double, coast, pedal then sail effortlessly over the last set, I figured I'd probably just roll them at first and check them out like I normally do. After all, they were nothing to be scared of.
I knew the course pretty well already. The first section was from last year's national course, and the middle to bottom were from the Gravity East event earlier in the year, minus the foot of mud that covered it then.
On my first run down I swooped and pumped the fun stuff then stopped and hiked section by section to re-run it smoother and faster. The course was phenomenal. Every part of it was fun, well maintained and manageable, however at race speed is when it started getting tricky and demanding respect. I rolled down the wooden ramp as I always do on a first inspection run, hit the last berm towards the two finish doubles then rolled the first set easily. It was at this point that my head went straight up my ass.
I don't know what made me do it. In ten years of racing, I have never hit something without scrutinizing it first. Well, there's a first time for everything. I figured I'd coast, then take some hard pedals to the last set of doubles. To say that I was surprised when I got to the larger-than-anticipated lip and further-than-anticipated gap is an understatement. To my horror I was going much too slow to clear it, much too fast to slam on the brakes, but juuust the right speed to pack my front end into the front of the transition. KA-LUNK…KAPOI.I.I.I.NG!!!! I'da pulled it off, too…if it weren't for the fact my visor hooked a brake cable and basically attached my head to the handlebars. (Feel free to laugh; I cannot imagine how ridiculous this looked)
I remember thinking, "Whoa! I'm gonna pull it off! Oh no…SHIT! My head's stuck!" At that point I tried to jerk my head up, which wrenched the front wheel sideways and bucked me straight over onto my right side noggin first.
I remember hearing birds tweet and seeing stars circling as I picked myself up, dragged to the grass, dropped everything I was carrying and stumbled immediately to first-aid. (At this point I'd like to say thanks to Joanna, Sue, Lauren and anyone else who might have come in to check on me while I was having a nice little chat about head trauma with Ron the medic. They sent me on my way. Obviously, that was the end of my practice for the day, so I walked the course later instead. I'm really not sure how beneficial that was since I was suffering from a bit of random memory loss that night.
Saturday through qualifying Sunday was a delightful mix of friends, swimming, BBQing and having a great time riding the racecourse. I took one practice run on Sunday and was ready to go.
My qualifying run went pretty well up until the lone muddy section. I hit every line I wanted to and paid attention to where I could hold more speed and where I needed to brake in my race run. I was having a good ol' time laughing and whooping it up along with those on the side of the course, then I heard Sue cheering and ringing her cowbell. Maybe I just tried to come in to fast, but for whatever reason I tapped the brakes and my tires slipped right out from under me. The cheering stopped. I looked up, saw Sue, couldn't help but laugh as I quickly picked my bike up and got going again, "Hey! I never practiced falling here!" I rolled both sets of doubles this time and crossed the line in 4th behind Joanna Petterson, Darian Harvey and Dawn Bourque. Respectable, but I could definitely shave some time off my race run.
Five – hours – later. We waited and waited and waited. Finally our scheduled 3PM start arrived. This was it. I felt good. I was going to redeem myself from nearly a summer's worth of result-bummery. I had a good start out of the gate, down the chutes and across the grass. I dove into the first rocky section. CLANK! *rattle*rattle*rattle* The rattling turned to grinding, the grinding turned to only being able to ratchet the pedals to get just a little bit of power from the chain. Pretty soon there was nothing but the momentum I had and could gain from pumping anything I could. I hit the wooden drop and pumped through the last berm. My eyes were set on the first double and suddenly I was skidding in the grass and slid out. My rear wheel had totally locked up. What else is there to do but pick up the pieces and run like hell to the finish?
So, I finished. And to quote one of the all time best movies ever, "And when they pulled his body from the twisted, burning wreck, it looked like… THIS!!!!"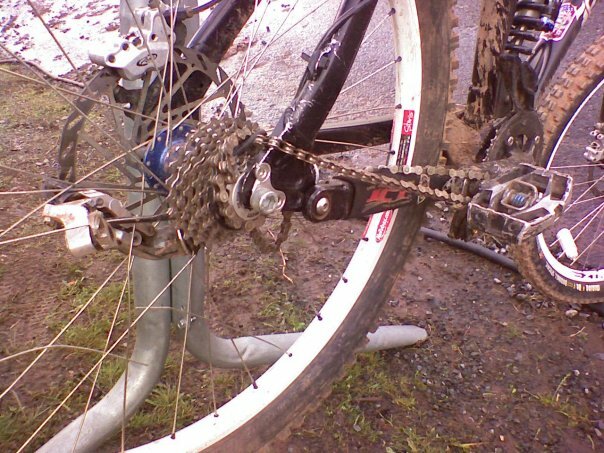 Damage toll: 1 mangled chainguide, 10 severed spokes, 1 bent rear cassette, 1 possible damaged hub, 1 twisted chain, 1 rear derailleur severed in half and one shifter cable with housing wrapped into the drivetrain. Mmm..special.
My qualifying time would have put me on the podium, so I can't really be all that upset. I'm still up there. The Dare rode like a champ and was insanely efficient. Time to rebuild and get back on the horse. There's still a lot of riding left this year!
By Connie Misket
Sandy, Utah
Angel Fire is definitely one of my very favorite courses… of course, at the same time it's also one of the most terrifying courses we ride too.
Practice Makes Perfect
I arrived at Angel Fire on Friday afternoon – too late for practice, but we immediately got the word that the pro course was the same as the DH course last year and that, miracle of miracles… the Super D course was indeed all downhill – AND gnarly technical. Woohoo!
We headed up bright and early Saturday morning for Super D practice and the course was indeed as described. I am in love with that course. There are a few really technical moves that presented a challenge just riding it and I knew they would be serious choke points during the race. My biggest fear was the start – you never know what they're going to do. But you also can't prepare for it, so I just kept practicing lines on the trail and looking for good passing areas and we had a great time.
The Super D practice was a great warmup for DH practice. Last year I felt like making it through the rock garden without crashing was something of a miracle. This year I was better prepared… I hoped. And it turned out I really was! On Saturday, I didn't crash once on the DH course. I stopped a few times and hiked back up to hit things, but rode as clean as I could ever have hoped. I was feeling great… though I was still worried that my arms get so pumped up by the end of the course that I can barely hold on. But the first day's practice was pretty much perfect.
Super D Day
Of course… that evening it started to rain. We woke up Sunday morning to beautiful sunshine and had DH practice bright and early. Kimber and I headed up to the course, stoked to see the sun because that mile long rock garden is terrifying when it's wet. Of course…. I just underestimated how much it had rained the night before. I got about 200′ into the rock garden, tapped the brakes and started sliding. I thought I'd just slide out, but my front tire washed into a hole and then I flipped over the bars. Ouch. I could feel a huge hematoma growing on my left quad.
Ugh… I sat there for a minute and started again… same thing.
I tried to stay off the brakes, but it's so slippery and steep, I'd hit something, drop the front tire and over the bars I went again, this time landing on my head. Kimber sat there with me for a few minutes and then I decided since I was feeling dizzy, I'd just walk down and get off the course so I could go ice my leg, which I had hit again, in a different spot.
Ugh. I spent the rest of the day sitting on the sofa with ice, waiting for the Super D race that evening.
We got to the Super D start and I was feeling stiff and nervous. I've had 5 knee surgeries and I don't run. Like never. Of course, I could immediately see we were doing a running start. Bleh. With some silliness where you had to put an elbow on the tape and one knee on the ground and then get up and run to your bike which was at the start line. After a few minutes scowling about the start… I decided I had better start visualizing myself running uphill fast, picking up my bike, etc. Apparently that helped, because when they started us, I was surprised to find myself somewhere around mid-pack as I grabbed my bike and headed downhill. I was also surprised to find that I couldn't reach either my front shifter OR my front brake, which had somehow gotten twisted backwards.
Uh-oh.
I had forgotten what it's like to not have a front brake and skidded like a madwoman around the first few corners. I kept trying to bump it back into place, but that wasn't possible as we were bouncing down a rock garden. I passed a few people on this initial descent, and then we got to the toughest move on the course. It's a gnarly right hand turn over some boulders onto more rocky singletrack. The girl in front of me pulled wide and slowed almost to a stop and I cut in to go for it, but then realized I couldn't slow down and crashed right over it. I jumped back up as fast as I could, trying tou get my brake lever back in a usable place and we took off again. I finally got that working again and then noticed that my handlebars were crooked by about 30 degrees… and there was nothing I could do about that without stopping so I decided to ignore it and keep going.
I passed a few more women and as I got to the swoopy steep switchbacks saw Michelle halfway down them. I rode them as fast as I could and popped out on the fire road right on her rear wheel and started pedalling like crazy to catch her. She can definitely out pedal me, but I pushed as hard as I could (thankfully I've been road biking a lot lately to get in better shape), pumped every jump and just tried my best to not get dropped so that I could try to get by her in the corners ahead. But she held the best rideable line through the next several corners and I couldn't get by.
We dropped into the last swoopy section through the trees and as we aired back on to the road towards the finish, I was pulling along side of her in the air. I landed to the inside and tried to hold the inside of the corner, but accidentally buzzed her rear tire and almost crashed. I recovered, but had lost a good amount of ground in the process. I hit the next two flat corners as best I could and right at the final corner (a nasty off camber 120 degree turn to the uphill finish), Michelle slid wide, put a foot down and I passed her on the inside in a slight drift and sprinted as fast as I could to the finish – sure at any second I'd see her catching me.
But I made it and ended up finishing 2nd! Which is my best finish to date in a Pro/Open Super D at an MSC or National race. Woohoo!
Fast and Smooth Downhill
I was feeling relieved at this point and excited for Monday's DH race. Monday morning, Kimber, Addie and I headed up to practice and started by just doing a warmup on the Super D course. I decided not to push it and call that my entire warmup and just went onto the DH course for qualifying (since we all qualify, and I was stiff, sore and my head was throbbing from landing on it the day before).
Qualifying was pretty uninspiring. I was worried about the main rock garden, but cleaned it easily… and then proceeded to crash in a spot I hadn't had issues with before. Just a silly slow speed thing where you end up stuck upside down and it takes forever to get untangled. And then I crashed again, slamming my hip into a rock… I got back up and could hear Addie coming up behind me and just pulled over to let her go… and Jen was only about 50′ behind her. I let them both go and then followed them down the 2nd half of the course to the finish.
Pretty unimpressive, but I was glad to be in one piece. I sat down at the finish and started seeing flashing lights as my migraine got worse… at which point I stumbled back to the house we were renting and took some ibuprofen and iced my head and neck for a few hours. Luckily, the migraine went away and I started feeling normal again.
Of course, at that point it started raining again! We figured we'd head up and do a run on the Super D course to warm up but we got to the lift and it was closed due to lightning. There was talk of cancelling the race if it kept up, and they had started running shuttles to get people to the top. Luckily, right as we were about to get on a shuttle, we got word the lift had opened again. And even luckier – despite the hail and rain, it didn't rain enough to get the rock garden wet. Phew!
I sat at the start visualizing the course and thinking about staying relaxed and looking ahead, and told myself that where for qualifying I was just going slow and safe, this was fast and smooth, fast and smooth….
I started off and things were feeling really good. As I got to the entrance of the rock garden, I told myself (out loud) that "this is my favorite part!!" Heh – I'm getting good at lying to myself! But it worked and I went into the rock garden with a huge smile on my face. It was beautiful – I just rode nice and clean…. all the way to the point where you think you're done with it but have to go up and over a big rock… and there is a photographer sitting right there. I slammed my left pedal into the side of the rock and got stuck. Ugh! I stood up on the rock and lifted my bike up and over it to un-jam the pedal, and jumped down to get on my bike – with the photographer flashing in my face the whole time. Thanks…
But I got back going again and rode the rest of the course clean. I still need to get off the dang brakes on the high speed fire road stuff, but I'm always so terrified that I can't hang on to the bike any more that I brake more, which makes my hands more tired, which makes me more scared, and I brake more…. Ugh.
But I rode clean through the bottom and pulled through the finish line to hear the announcer saying that I had just easily taken over the hot seat. Woohoo! There were plenty more women to come down the course, but I held on for 7th place. Big improvement from last year, as I shaved 40 some seconds off my time and moved from 15th place last year to 7th this year. Plus, I know what I have to work on and how to keep moving on up for next year…

Anyway – we had a fantastic time. It was great to be able to ride with Kimber all weekend and I'm really excited to feel like the training that I've been doing has been paying off!
By Connie Misket
Park City, Utah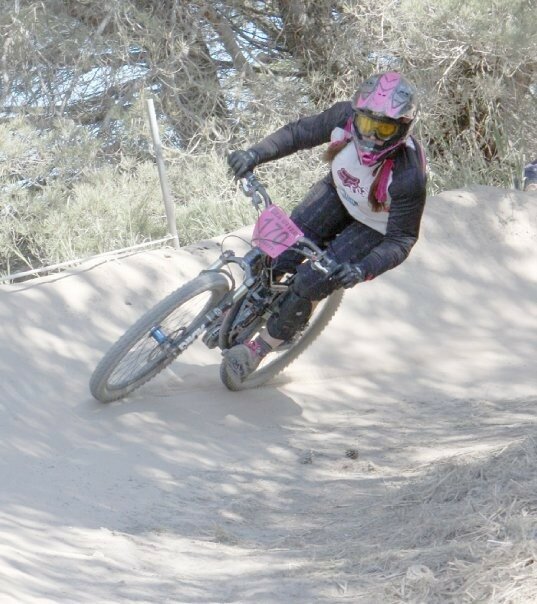 Connie railin' the berm
My #1 thing for the season is to really take control of the mental side of racing. I tend to get really nervous and not race as well as I ride when I'm in the zone/relaxed/etc, and let the jitters get the best of me. And in a sub-3:00 race – you don't have time to recover from that! I've done some coaching with Gene Hamilton in the past couple of years and have been reading a few books on this topic and that seems to be helping. I've been working on visualization/imaging and creating mental triggers to get me into the best mindset before a race so I'm able to get into the zone on command. Sea Otter always makes me pretty nervous since it's definitely the biggest and toughest field I race against all season, but I was able to focus well and did a fairly good job with this (not perfect yet, but a big improvement compared to what's normal for me). I still think I have a lot of room for improvement in getting myself really amped up to sprint hard through pedally sections, but it's a great feeling to be moving in the right direction with this.
For the skills training portion – I started out this season in February by heading down to Bootleg Canyon in Nevada with one of my teammates and 8 other women to do a women's DH camp with Gene. This really helped me start things off right. A lot of it is review (which is always good and probably the best way to get back out on my bike for the season), but I definitely learned some new things as well, and Gene gave us a lot of drills and homework to work on to improve. I love working on cornering in particular and he added in a few components I hadn't thought of before. And Gene's drills on looking ahead worked wonders for making things easier in rock gardens…. Of course, since there aren't any rocks at Sea Otter, I guess I didn't need that part, but I put it to use in that rutted up descent and tried to apply as many of the cornering concepts as possible during the first day or so of practice.
We also discussed race prep in the camp and I decided to try and focus on the little details and technique issues during my early practice runs, but once it got close to race time I worked on just turning my brain off and letting my body do what it knows how to do. Your reaction times aren't very good if you're overthinking things, so I made it a point to do several practice runs as well that were top to bottom, with as little "thinking" as possible. Of course this wasn't 100% during the race – I saw the four whoops right before the finish line and my brain got in the way and threw off my timing, but overall, things went well. I also need to continue working on jumping – I'm at the point now where I need to brake to hit my easier line over the log drop and I think I probably have plenty of speed to just hit the main line… so that's on the goal list for next year.
I was pretty happy with my fitness level coming out of winter. In Salt Lake City we just don't have many opportunities for winter riding. So this winter I took up speed skating, which was fun (and a killer leg workout) and I skied, and hit the gym. And then as soon as the weather started getting nice (but our trails are still under snow) I went and bought a road bike and started riding that. I was hoping to lose a few more pounds before the season started, but I think the scale also reflects that I gained more leg muscle this winter… which I'm not complaining about. I still need to work on sprinting harder during races (though that's getting my mental triggers dialed as much as anything), but I did a LOT of top to bottom runs at Sea Otter (including runs where I pedaled hard all the way through) and was feeling good. I know it's a short course, but I was happy with that.
My goal for the Sea Otter race was just to show significant improvement from last year by doing the above things – and while my overall result probably doesn't look that impressive, (I finished 22nd of 26 with a 2:48) I'm pretty happy with it looking at the big picture. Last year I was 31st with a 3:03. That's a big improvement on a short course and I feel like I improved in all three areas, so I'm pretty happy with that!
By Sara Johnson
Beaverton, Oregon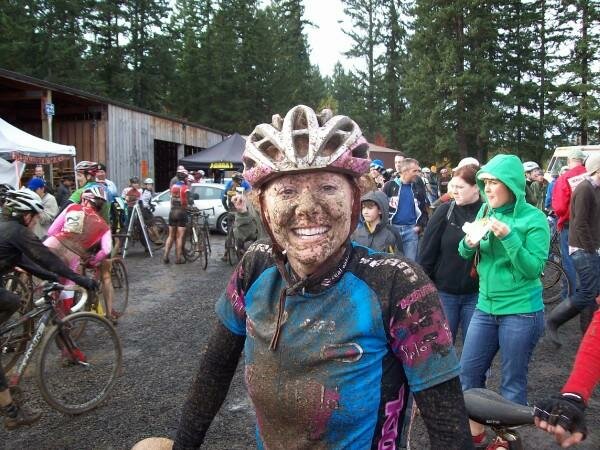 Grimy Grin
I wasn't sure how I would do in this race. There was quite a bit of all out sprinting and not too much technical stuff. Plus, it was my first muddy cross race. We had a nice clearing in the rain for our start. Had a pretty good warm up, and we didn't have to wait at the start line for too long. I had a decent start, not amazing, but definitely not as bad as usual. I'm finally learning some of the tactics. I hung out in about 7th for the first lap, then passed a couple people on one of the open paved sprint sections.
For the next 3 laps I battled back and forth from 4th to 7th. The last lap was the lucky part of the race. There was one run up that was actually rideable if you got a good run at it and no one was in your way. I was hanging out in 3rd or 4th and was accelerating up to the little hill to ride up it, right as I got to the bottom, two other girls were off their bikes getting ready to run up it and just converged on my line. Bummer, I jump off my bike totally expecting the other A women (who were smart and took it wide) to pass me on the outside while I ran up behind the two beginner women. Well, by some dumb luck, the girls moved over enough to let me through the inside line and I ended up on top in front of the other girls in my class.
Can you tell Sara is a downhiller?
I held my spot to the next area where the clusters usually happened. It was rideable, but only if you had a clean line. One of the girls I was battling with, came up on my outside and I had a beginner girl in front of me on the inside. So, jump off my bike to run around, fully expecting to get passed. Once again, the "waters parted" and I ran right through and was still in front of the pack. It was the last lap, with only an open sprint and one more barrier to the finish. I gave it what I had, hoping the other girls were suffering like I was.
Over the HUGE final barrier
I came up to the last barrier (it was HUGE by the way) jumped over it, got back on my bike neck and neck with 4th place. We were both struggling to get back in our peddles with the finish line only 25 feet away. By pure luck I got into my peddles just before she did and secured my 3rd place finish.
Tons of fun! Although I'm still picking dirt out of my eyes. Next weekend, PIR.
By Sara Johnson
Beaverton, Oregon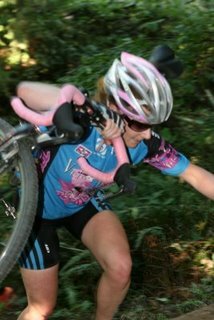 Well, I just raced my first cross crusade race…and I raced it as an A! Talk about crazy! Soo many people not just racing, but spectating too. The line up was crazy! 30 women in the A's alone. I'm not even sure how many total women were racing. Luckily, the A's get to go up to the front of the line. Since it was my first race, I hung back and started in the second line. It was a horrible start, every hole I saw would close up right as I started to take it. So, I was about 20 back in the beginning.
The race course was pretty fast and open in the beginning. Then they had us go up some huge mound of clay that had turned to concrete after the rain the night before. That was interesting to say the least! Coming down off the mound there were basically three tracks, and you picked one and were committed until you hit the bottom. Midway down, some girl went a*& over tea kettle right in front of me. Thankfully she was ok, and I missed running over her by a couple inches.
So now I'm in like 19th place??? Well, I just kept a good pace, tucked in behind some girl that looked like she knew what she was doing and just started passing people one by one. I ended up in 5th or 6th with 1.5 laps to go. Then I did what I NEVER do and I crashed! Damn! I actually went down twice in the same 180 degree sucky gravel corner, but the first time I got my foot out and basically just tapped the ground and bounced back into my pedal and started riding again. The next time around, not so lucky. I didn't get my foot out and I went down….hard. Ouch, I left a bit of thigh, butt and elbow skin on that course. Didn't rip my pretty shorts tho…yay for that!
Well, the crash also rammed my derailer into my spokes and twisted my shifter/brake levers so that my brakes were stuck on. While I was yanking the derailer out of my spokes, and twisting the levers back to semi straight, 5 girls passed me. Damn again. I tried to catch them the whole rest of the race, but my bike was basically a single speed and I was stuck in the drops the whole time because the bars twisted. I couldn't pass them, but I also didn't let anyone else get by me. I ended up 11th out of 30. Which, for my first major cross race, I think is pretty good.
Next weekend there is another one up in Washington. Got my bike all fixed up, got my new sweet 1600gram triple spoked wheel set from FSA and I'm ready to go. Making a whirlwind trip to Spokane friday night after work, visit babies and eek a quick ride in saturday and then drive to the race sight in Western Washington (a mere 6 hr drive) Sunday morning and race again. If nothing else I'll be nice and rested from 6 hours of forced sitting.
By Connie Misket
Park City, Utah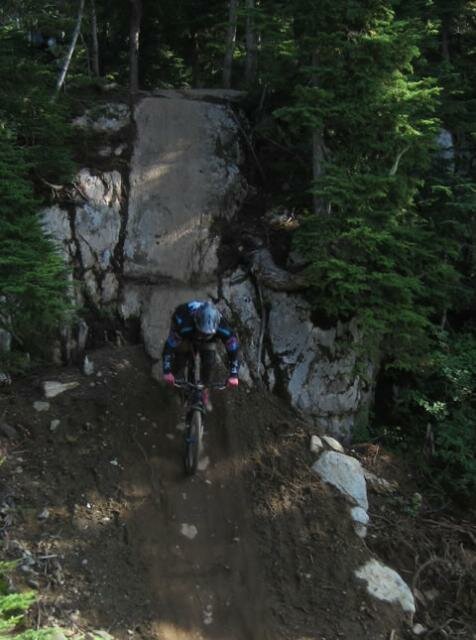 Well, I had planned to do one more race this summer, but a solid wreck at Sol Vista in the Super D put me on crutches for a bit and took me off the bike for a month. Luckily, I was healed up just in time for the 7 days of riding we had planned in Whistler! Woohoo! (My new Velo Bella DH jerseys showed up just in time for the trip too, so I was stylin!)
Anyway – we made our first pilgrimage to Whistler last year and just spent 4 days riding. It was just amazing riding in the bike park and we vowed to go back every year. This year we drove (18 hours or so) so we could bring multiple bikes, and we had 7 full days of riding scheduled. Sadly, we didn't take much in the way of pictures (pathetic, I know…).
Now that we're back – it's Moab season! Yay! This past weekend was still a bit hot so we did some trails that started way up in the Mountains and then you ride down into town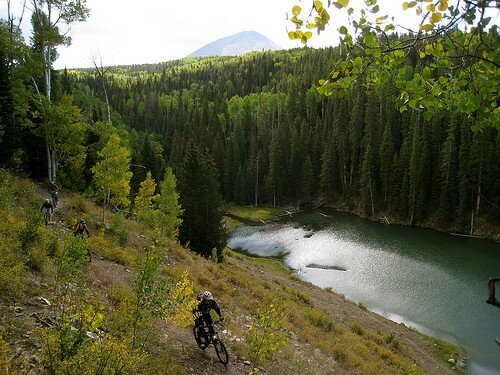 I LOVE riding through aspens: (this one is of my friend Traci)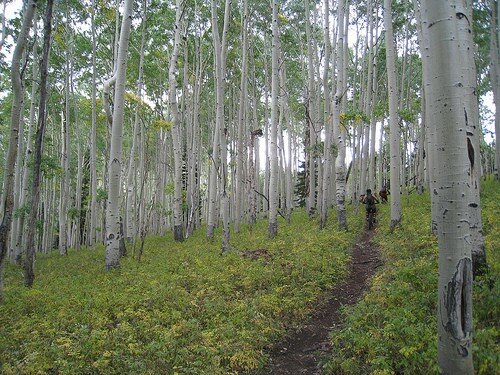 And me again, back down into what you'd recognize as Moab: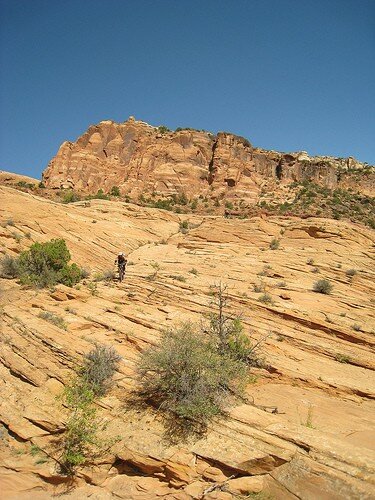 Anyway – that's what I've been up to lately. As much as I LOVE racing, there's also nothing like heading out with your friends to explore new trails and have fun riding your butts off!! I've also been learning to speed skate, which is my new addition to XC and alpine skiing as my winter cross training activities. And Kimber and I are going to make an attempt at some cyclocross too. Wish us luck!
By Connie Misket
Salt Lake City, Utah
Allie pretty much told the tale of missing Super D practice on Thursday – oops. I'd like to say we should have gotten up earlier but good grief. I got 2.5 hours of sleep after getting in to Allie's house and then getting up at 5am to build my bike…
Anyway – Shannon was a fun driving buddy and we cheered each other up on the longer than expected, somewhat circuitous drive to Mt. Snow. I figured I would just walk the course Thursday and then practice the next two days. I had planned to just race Super D – that's the only bike I brought. I was looking at an extra $250 each way to bring the DH bike – which just wasn't happening. So I figured I've been doing better in Super D, so I'd just go with that. And Kimber is injured and supposed to be "taking it easy" so she was just going to do the SD too on Allie's Nomad. Went to register and looked at the practice schedule…. no Super D practice until the race on Sunday. WHAT??? We asked, we complained, we kept complaining until we got to the race director… no luck. Too bad, no practice for you. AND – you can't buy a lift ticket and ride elsewhere – the mountain is closed except for formal race practice. Well that's sweet…
So we registered for the DH. We figured at least that way we can ride something, and we'd check it out and if we couldn't race it, so be it, but at least we'd be out riding, having fun, and getting a feel for the terrain and staying fresh on our bikes. Practice Friday went really well. I was cleaning the DH course no problem on my 6″ trail bike. Not very fast at the top – there are all these weird holes, but I felt good on the rest. The top just flew down the ski run and if you had any speed you'd get air – right into an off camber hole with rocks here and there.. I'm not sure what to compare it to, other than it looked innocent enough to ride slowly, but at speed looked terrifying. And then Friday night it rained… And then I started wrecking my guts out. The ski run stuff was slippery as hell on the wet grass, and then you got into the woods and got to ride all over the wet roots. Most of it was fine but there were 2 sections that had really off camber roots that just wanted to throw you off the side of the trail. And Saturday night it rained more…
Anyway – back to the Super D – that course was looking FUN!!! 3 climbs, which I wasn't psyched about, but they looked okay except for the last climb which had a steep part at the very end. Bleh, but I've held my own on SD courses with 3 climbs before (in Angel Fire). And the rest was rocky, rooty fun and fire road descents with water bar jumps. Anyway – traditional SD – they don't tell you what the deal is with the start until 10 min before the race. And this one sucked. Like 100 yards of running with your bike straight up the ski run. The other major event ones I've done were literally like 20 steps of running, then jump on your bike. This was LONG and steep, through tall weeds and loose rocks. I got smoked at the start. I don't think I've run a step other than for Super D's in like 5 years with all my knee surgeries. So starting from about last, I start picking people off through the woods. So far, so good. 2nd climb I got passed by 1 person but passed another. Then I got stuck behind 4 girls all trying to pass each other in the woods. No go, and I had to ride that whole section at a crawl, stuck behind the traffic jam – ugh. Passed someone else when it opened up, but got passed once again by 2 people on the 3rd nasty climb. I passed one more person in the woods, and another on the top speed/off camber descent down the ski run to the fire road, which was fun. I got to do that last pass in the air as we hit a water bar and blew by an XC girl just flying, and then nailed the flat gravel road corners as well as I've ever imagined I could… and pedaled like hell, but just missed catching Jen Tilley – who totally destroyed me on the climbs 😀 . (We totally need to do a Bella clinic where we can trade some climbing skills for some descending skills, huh? :D)
So anyway – I ended up 11th of 16. With the long running start it wasn't a DH friendly course by any means, but I had a lot of fun on the course and had a blast racing it (well… not so much as I was running up the hill wanting to puke, but the rest of it was sweet!)
So then it was time to move on to the DH. The thunderstorms were lurking in the distance, but it held off for the race, which was great. I was really nervous about the top of the course, as on Saturday when it was wet I was wrecking left and right and ended up just walking a whole slippery off camber section up top that I just couldn't stay upright on when it was wet. Luckily qualifying was at 11am and that's when our practice had ended the day before so I had my fingers crossed that it dried out a bit. And it did – at least somewhat. I went slow, but made it down the top totally clean…. and then I slid out on the corner before you get into the woods. Got up and wrecked again. And got into the woods, which had been totally fun the previous two days, but I think I was trying to go too fast and just kept on wrecking. I think there were a total of 6 wrecks in my qualifying run. Good God. Luckily my bike suffered no damage (bent derailleur hanger that our mechanic fixed – OMG do I love having a team mechanic!!!) and I just wound up with a good bruise on my calf and a jammed index finger. No big deal. I qualified 13th (of 15).
Went back up for the race run and tried to tell myself to go slower and ride clean. Which totally worked…. for 3/4 of the course. And then I hit those dang off camber roots and flipped over my bike. That one hurt. Jammed my saddle into my inner thigh. Got up as fast as I could and kept going. Slid off a second time and I could hear the whistle of a rider coming behind me as I got on my bike so I pulled off to one side of the course to let her go. But just as I was expecting her to pass, she wrecked along side me, so I took off and rode as fast as I could to get out of the trees to give her space in the open in case she needed to pass again. The bottom of the course was clean – I was flying through the rocky section (wow do I love rocks compared to wet roots) and stayed loose and smooth through the mud bog (not a straight line in sight – all the ruts dead ended into roots and rocks criscrossing this field of mud). Actually – I was really pleased with that section – it's so counter-intuitive to let off the brakes, totally relax and quit trying to steer and just let the bike find it's own line through that kind of stuff. I know that's what I need to do in my head and I didn't let fear get the best of me and just did it – and what do you know, it worked every time. Anyway – I got through that and then pedalled my butt off to the finish line for a 14th place finish.
Well, it was a moral victory, if nothing else. It's not like I expected to do well on a 6″ trail bike. I was only 3 seconds away from 13th place. And I had a blast riding and racing, and walked away with my bike and body intact (well minus some spectacular bruises on my legs). And then we got to watch Allie completely kill it on the DH course and it was so great to be there and celebrate her amazing finish.
Anyway – we all had a really great time – and not just with the riding – with the awesome host housing, swimming in the river, unbelievably good food… I'd love to do more riding on the East Coast. And I'm gradually getting the hang of this riding wet slimy stuff…
Lessons learned:
1. I just love to ride. Period. Right bike, wrong bike, wet roots, slimy off camber grass… I love it. And while I was nervous about how poor my results would be on the smaller bike – I made the decision to just go for it and have fun and it all worked out fine.

But having the right bike would have been a LOT better! And speaking of having the right bike, I think I'll be looking at getting more of a FS XC race bike for Super D's for next year… That would probably help too when it comes to improving the climbing.
2. I really need to be even more careful about picking lines and not braking through those wet, off angle roots. I wish we had more of those to practice on around here, but wow do those suckers get you fast…
3. I need to work on longer running starts and sprinting up climbs. You get so stuck on mass start Super D courses when you can't get out front first. So Kimber and I are going to try some cyclocross this winter to see if it helps with all of that.
By Allie Burch
Patterson, New York
Mike and I have recently moved to NY and thankfully it's in a spot where I can start giving back some host housing.
Kimber, Connie and Shannon Edson all arrived Wednesday evening, however Kimber and Connie were not allowed out of the plane until early Thursday morning. I picked them up from the airport and around 1am the three of us rolled in to my driveway exhausted.
We started out the next morning building bikes and loading cars. Shannon and Connie were to follow Kimber and me out, however when I pulled out of the driveway and made a right onto the road they were nowhere to be seen. I swore they were right behind us. There is no cell service where I live so we circled back around to the house retracing our 500-yard gain in search of them, but no dice. They had disappeared. That's gotta be a record!
Shannon and Connie made their way to Vermont using her directions and a rental car map while Kimber and I relied on my impeccable sense of direction. (HA!) Surprisingly we made pretty good time, that is, until we got to the Mass/Vermont Border.
A good day starts with a good breakfast:
…Or brunch, or lunch and a snack, or gorging on impulse boutique foods at the Vermont state line.
Kimber and I made our way through the last bits of Mass and into Vermont as our tummies started to get a little grumbly. Right at the state line, you know, where the road narrows and you can almost knock on someone's front door while driving by, there sat an innocuous looking little country store with "pastries and deli" painted in the window.
We weren't even all the way through the door yet and we both had our hands on freshly baked cookies the size of our heads. There was every type of Vermonty maple delight one could imagine. Maple smoked mozzarella, maple sugar, maple syrup, maple-fried-maple…it went on and on. We grabbed a sandwich, I couldn't resist a sampling of the maple pulled pork and we tugged each other the hell out of there before any more damage was done.
Down low, two slow!

We arrived, but not in time for Kimber's Super D practice. Downhill practice was later in the day, so after registering, we took the chairlift up to walk the course. It took longer than I thought an my legs started to ache already so I bailed out ¼ way down and hiked the fire road the rest of the way.
I suited up for practice and I was so tired I nearly fell asleep on the chairlift ride up. I took two slow runs in order to look the course over since I was just too exhausted to walk it and pick out lines this day.
Validation:
Friday's practice was spent on two timed cruiser runs. My arms were still ok, but I could feel the fatigue setting in. I knew I was riding better and able to conserve energy by letting the brakes go in certain sections, including a very fast section of boney, pocked shale slab that was just a tad off camber. This is usually not my style, as I don't relish high-speed sections.
The bike bucked and skipped as my suspension soaked up all of the hits. I felt the bike leave the ground and land again, only to skip over more shale-bone. With every hit I thanked God for the Stan's NoTubes guys and their strong wheel-building prowess. Clang!…Clang!…KAPOW! ……CLANG! "ooh. That sounded like a big hit I should probably check my air pressure when I get back to the pits."
I headed down for a breather and to check over my bike. I went to pump up my front tire, to which it's response was, "HISSSSssssss." What the hell? I looked down and saw the side of rim was basically folded in, however the Stan's had sealed it enough to allow me to finish my run without realizing it was slowly going flat.
A couple of other good side dings made my eyes well up with sadness for my pretty new ZTR Flow wheels. Upon further investigation moments later, Alex found that I had actually cracked the rim right in half. At that time Mike from Stan's walked up to our tent and had thankfully brought an extra set of rims I ordered. "I guess this means that I've been going faster." And in an odd sense, the fact I was going fast and hard enough to break one of their wheels kinda made me feel validated as a racer.
I noticed later, there were dead rims all over the place. I only cracked one where other people were going through two and three sets of wheels. I guess they should have been riding NoTubes.
Ice, Ice, Baby:
Saturday we were all feeling the effects of the rough long course. We were bumped, bruised, sore and tired. Since practice was held in the morning, we had the rest of the day to do what we wanted, which quite honestly for me was to sleep. Kimber suggested that we head over to the condo for ice baths. So, that's what we did, each of us taking turns in the tub with our own bag of ice for seven to ten minutes of soaking in excruciatingly cold water. YOW!
It's a little ironic, a downhill team taking ice baths and foregoing a party (Vermont's institution of the "naked crit") to head out early to offsite host housing. We then went for a relaxing swim with the dogs and friends in the Connecticut River. The swim was not, however without the obligatory "stand on an inner tube in the middle of the river" contest.
For the Record:
After Friday's…well, let's face it, disaster in the slalom qualifier, and an incapacitating uphill footrace in the Super D, we, on the Velo Bella Downhill team were faced with the very real possibility that for the first time this year there might not be a podium appearance for us at a race. It would have been so good to have a showing at the National Championships.
I guess what "They" say about momentum carrying a rider or team because I don't know what the hell happened during downhill qualifiers, but as I was laying on the ground at the tent wallowing in what I thought was a joke of a run, Alicia runs up to the tent with the shocking news: "HOLY CRAP!!! ALLIE, you qualified 4th!!!" I was in no way prepared for this information so I let out my default response while rolling on the ground: "HAHAHAHAHAHAHAHAAA!!!" But, there it was. My name, in print right in between 3, Dawn Bourque and 5, Marla Streb. Talk about a hero sandwich! (They are two of my favorite riders from when I started racing)
At two-o-clock we lined up for the final in reverse order of our qualifying run with the fastest qualifiers in the back. Marla looked back at me and gave me a "good luck!" I cracked back, probably a little too eagerly and loudly, "You too!" It was obvious that I was nervous. On a side note, I NEVER EVER thought that I would see the back of Marla's jersey from the start block. Usually, when I look back at the line of riders to follow me, she's a little speck off in the distance of top three qualifiers. Something horrific must have happened to her in qualifying, or she was just setting the bait with a slower time.
This time, I looked back and saw only three. The very fast, very aggressive and very hungry Bourque, Pruitt and Buhl. Holy Shit. Remember the "Rabbit Chase" scene from the movie "Snatch"? (Queue the music)
Marla rolled up onto the starting block but not before she said to me in low voice, "head up." We had spoken earlier and I explained that I had worked with her old coach Blair Lombardi this past spring. "Head up" is one of the fundamental keys. Just little things she does like that keeps Marla up on a pedestal as a class act. (I still wanna grow up to be like her)
Then there were four. I loaded into the start gate and to calm myself tried to make small talk with the official and give a big cheesy full-face grin to a guy taking snapshots, all without fogging up my goggles. Well, it worked and I was off. Down the right of the pocked ski run, staying loose over the steppy-steps, letting my bike work and flow under me while I hung on for dear life over my desired lines. I knew my speed was good, yet I was confident – an incredible combination that I hadn't yet been completely able to put together. I tried to gauge my run by the spectator's cheers. When I nailed a difficult off camber section, I heard a guy give a surprised "yeAH!" I thought to myself, "Hell yes that was good! You're actually nailing this!" I was then on to the high-speed "Wheel Crusher" section which I tried to stay loose and flow over, but somehow I got sucked into the weeds. I thought I was going over but managed to pull the bike out and still carry a bit of momentum, but not enough to where I didn't have to pedal like crazy into the woods.
I dove in as the course spotter blew her whistle. (course spotters communicate via whistle blows, one blow=rider through, two blows=rider down, etc) Over the rooty places that caused me a bit of trouble, then as I passed another course spotter who blew his whistle, I heard another whistle blast from behind me. "Oh my God!" I thought, "Dawn's RIGHT THERE! She's caught up already!!" New strategy – pedal like hell. . I had to basically do standing two-minute sprint intervals while maneuvering a nearly forty-pound bike. Oh, it hurt so badly. I forced myself to pedal in every single straight. Up and over the rock-drop, landing with an "OOF!" pedaling through the woods where I could and then through the last wooded section where my smarty-pants husband was yelling, "C'mon!! GO! Pedal! GO!" "I'm going, I'm going!!!" I tried to huff back, but it probably came out more like "IGUuuuuunn..BAAARF!"
The end was near. The light at the end of the tunnel of trees to the glorious finish line where bottles of water and a nice place to lie down awaited me.
"UUUUUUUUGGGGGGGGGG…whimper" I'm sure I sounded like a hippo in labor as I pedaled through the fire road chicanes, but damnit I charged. I gave 100% as I came through the finish line and I was spent. That was a successful run and I was happy with it. Although I could improve on my lines and some technical aspects, I gave it everything and that's what I had expected of myself. What I was not expecting was to hear "Allegra Burch with a time of blah blah blah sitting in third place!" My brain was doing back flips while my body fell off the bike. I tried to do the math. let's see, I'm in third, there are three faster riders, that means the lowest placing I could get today = blue. I decided just to sit there and see what happened.
Dawn came tearing through the finish, then Melissa Buhl lit it on fire. There was now only the defending Pruitt who had taken the Stars and Stripes home last year…and she came down on a flat. Just because Kathy had a flat, however doesn't mean she still didn't have a smoking time. She could still claim a podium spot, however it was not to be. She must have flatted at the very top, and there we had it. The 2008 Pro Women's National Championship podium: Buhl (KHS), Streb (Luna), Borque (Rhino), Harvey (Sobe/Cannondale) and Burch (Velo Bella)! As I'm writing this a day later I'm still kinda stunned.
Thus, we have continued to uphold our 2008 record. Every single venue that one of the DH team members has participated in during 2008 has seen one of us on the podium for at least one of the events.
Bittersweet:

My goal in the beginning of the year, before I knew we were moving across the country, was to accumulate enough UCI points to be able to race some World Cups. Specifically, I wanted to attend the two in Canada, Monte Sainte-Anne and Bromont which followed the week after. Since moving and buying a house put the financial damper on travel, training and racing, I scrapped it and focused on local stuff, which started going really well.
The podium spot at Nationals in itself gave me all the points I needed for the Monte Sainte-Ann and Bromont races the weekends after! I could go!!! Or so I thought.
The reality is, the cutoff date for all points to be accumulated for either of these two events was July 8, 2008. this means that the only US event where a gravity racer could gain UCI points was at Angel Fire, and since it was an E2 event, only a modest amount of points were granted. Basically, you had to win in order to get enough points. I could go to the last two World Cups in Australia or Austria, but I'm afraid with the price of gas, my car just won't make it there. 😉
I'm not exactly sure how it all works, if points carry over or if I've just got to do more races in Canada. I'm new to this World Cup thing, but now it's a solid goal for 2009 and I've got a lot of time to ask questions, learn, plan…and get faster.
You can't do it alone:
The support was awesome and so very very helpful. Just knowing that I could bring my bike in and someone would actually help me fix it, or wash it or tell me to sit and put my feet up was invaluable. Having a place to just sit for a while was key.
Morgan was our amazing and valued mechanic and Alex did the running, figuring out and cat-herding that is just mentally exhausting. Thank you so very very much!
By Allie Burch
Patterson, New York
"You want this! Pedal, damnit, you want this!! You're gonna watch from the sidelines again if you don't get your ass moving!!! You're run's been clean enough to get it, now GO!!"
I wish I could say that this is what I was thinking to myself as I raced toward the finish of the downhill finals at the Windam Resort in NY this Sunday, but it wasn't.
I was screaming it out loud like a damned maniac as I came out of the second to last wooded section, past mothers and children, past other spectators and probably past someone with just the right type of credentials to diagnose me as a bona-fide loony.
July 1st, 2001, NCS #3 at Deer Valley Resort in UT. That was the last time I stood on the podium at a national for a downhill event. My friend Tammy Pickerell and I took first and second, respectively in our expert class and I said hello to the pro ranks and goodbye to the DH podium. A lot has changed since then. Moves, marriage, houses and other obligations should have kept me from even trying to keep up with the newer, younger more talented racers who kept popping up, but with change comes circumstance, and circumstance can be used to an advantage.
It's funny what just the right combination of desire, confidence and chance will do. This weekend there were two major gravity races running. One, the Windham national, that seemed to draw racers traveling through to the US Nationals in Vermont next week then on to the Worlds in Canada, and two, the Mountain States Cup in Colorado that drew most of the local racers who also happened to be most of the national racers. So, the racing population of the United States was split which caused our field to be rather small, small enough, in fact to make me think I had a pretty damned good chance of getting on the podium.
I arrived late and didn't have a chance to walk the course before practice. I took a slow cruiser down and was kinda surprised at just how steep a course could get. There had been very little rain here the past few weeks and all of the dirt was powdery, but the exposed roots and rocks were still grippy. The course went straight down the mountain's fall line with a few sweeping turns in dry grassy exposed areas that, if a rider stayed low and counterbalanced, shot the bike perfectly into the next wooded section with no braking required. The weather held Friday through Sunday morning's practice runs, and the course's iambic pentameter went something like this: Bump bump bump bump skid..bump…WAHOOOOOOOO…bump.bump.bump bump clank bump…YEEEHHAAAA…
That was before the rain came.
Our small pro women's field ascended the chairlift just as the first drops started to fall. By the time we made our way over to the starting block, it was a steady rain. Twenty minutes before our starting time, the heavens let loose and we ran to the ski patrol hut for cover. What in the hell was the course going to look like now?? No one really spoke too much about it, but Lauren, who had also just moved from CA and I looked at each other, both just a little concerned about what the rain meant for those of us who haven't ridden mud in a looooong time.
I'll be honest, once my qualifying run started and I ducked into the woods, where the dirt used to be powdery and predictable, I was shocked. I no longer knew where or when to brake, my tires had a solid layer of muddy silt packed on them and I couldn't stay clipped in or on my line for anything. As I slid and surfed my way down the steeps spectators heard me asking, "What the hell???"
Once that nonsense was over, I gingerly rode the first grassy sweeping turn and stayed up, but got sucked too low to hit my line in the next wooded section. The next grassy sweeper I tried to carry a little more speed and counterbalance, but went skidding and spinning on my side as I watched the course go by. Thus went the entire run. What a debacle!
At the bottom, Lauren and I exchanged horrified glances that were then shared with the rest of the field. We all slinked off to the bike rinse to wash…everything.
The rain continued through most of the men's qualifying, but then miraculously stopped. The ladies went up for the last time to race our final. This was it.
In the words of my friend and co-dh racer Alicia Hamilton, "Giv'r Skidoo!!!" What the hell? I'm either gonna podium or come in last with a spectacular crash story. No more of this pussyfooting around in the woods crap. I was hauling in practice, why not now?
I had a good start and it felt like I dove into the first wooded section. The dirt was holding much better than in qualifying and I hit my lines with speed and caution. I hit every line except for one where I came to a near stop after nicking a tree and then my slowdown in the woods where I actually inhaled and started to choke on a glob of mud.
I carried much more speed in the damp woods than I did in qualifying, but not as much as in practice, and then I came to the second to last grassy connector where I wanted to coast. It was here that I realized I needed to take further pro-active action.
I pedaled through the grass and into the last bit of woods before the big chute and double at the finish. I stayed clipped in and pedaled through the gravel at the last sweeping turn. I braked slightly before and in the entrance of the chute and hit the double low and perfectly and jammed on the cranks as soon as I felt my tires hit the earth and on through to the finish.
I knew it wasn't my fastest run, but I knew it was faster than my qualifier. I heard my time announced and breathed, "YES!" I had taken thirty seconds off of my qualifying time. After all was said and done, I had done well enough for fourth place, just three seconds off of third.
Even though it wasn't a full field I'd be a liar if I said I'm not still thrilled. I loved every bit of it and I loved racing with the people who were there. I guess that the East Coast is kinda agreeing with me.
On a side note, I had the opportunity to meet quite a few people, one who is an eight-year-old future downhiller. (I just know it, as long as she keeps bugging her dad for that bike) and a woman who approached me and said, "you are so much fun to watch when you race! I just love watching you ride!" She had seen me at Plattekill the past weekend and then here. Something that I had never expected to hear from someone, but was I ever flattered to have her tell me that!
By Connie Misket
So to give you some background, I've been considering myself something of a Super D specialist lately. My strengths are in cornering and going fast through flowy technical trails, and probably as a result of injury and age, my common sense has kicked in a bit and I'm hesitant to push myself on bigger drops and really gnarly stuff. As a result, I've been working harder and harder at developing better riding skills (and mental racing skills) so I can ride better, but stay safer at the same time. (Heh – we were shuttling in my car the other day and one of my friends laughed that I'm the only person they know who would keep Brian Lopes "Mountain Biking Skills" and Dr. Loehr's "Mental Toughness Training for Sports" in my car…)
I used to push myself to "just go for it" and jump off of things or try to ride lines I wasn't confident on, thinking it was more about conquering fear… and well, maybe it's just the wuss in me talking, but I'm feeling like it's turned out to be more about skill after all (and occasionally learning to just say "no"), seeing as how I rarely pick up new skills when I'm sitting on the sofa recuperating.
So occasionally that means I back out of a DH race that's on a course I just don't feel comfortable on. Good or bad, this year I've stayed safe (well minus several dozen scrapes and bruises), gotten faster, and been steadily improving with my race results. Luckily, I've never seen a Super D course that scared me (well… there are some climbs that scare me, but that's a whole different story!) – hence, I've been starting to think that's my strongest event.
The NCS Course (the Pro/Expert DH course that they use for National races) has always been a challenge for me. In some ways, I like it. I've cleaned Barney Rubble (the rock garden). And I even cleaned the nasty new section above Barney Rubble when we went out to practice before the race… of course I couldn't get Barney Rubble after it and put the two together. Ugh. I love Psycho Spin… even when it's scary and blown out – it's technical steep corners are exhilarating and fun. And at least there's a go-around for the Waterfall and Bedrock drop, which I have no intention of doing – they're just too risky and high consequence for my tastes. And I've landed the finish line drop in the past… but the last time was super sketchy. It's one of those things where I've managed to ride it in bits and pieces with varying success rates on each obstacle. But thinking about trying to actually race it about makes me sick. Watching friends get hurt on this course every year – ranging from season ending to career ending injuries doesn't help either. And so I decided to put all my focus on the Super D this year instead.
The Deer Valley Super D courses are always fun. Fast, flowy singletrack, moderately technical rocky sections, fun roots and berms… no matter what course they choose, I've loved all of them. This year was no exception. The top was the same as last year, but where it turned onto Deer Crest, this year it cut back across the mountain with a steep and nasty but thankfully short climb, and then merged onto a bit of the sport/beginner DH course, and then over to Tour de Homes for some fun bermed turns. Then it cut back to a fast fire road descent jumping back onto some singletrack at speed and then a flat (slightly uphill) sprint across the ski run towards the finish – which consisted of two tricky, off camber turns to the finish line.
I was feeling pretty confident on the course, but the competition was stiff. And then they added in a crazy cyclocross style start. You had to run 100 feet or so up a hill with your bike, and then jump on the bike after crossing a second line. Um… that doesn't sound too hard, but I'd never actually jumped on my bike while running before. And my bad knees (5 surgeries) don't even like running in the first place, let alone running and trying to jump on a moving bike… I tried a few practice attempts in the start area, but my start was still nothing short of comical. I think I might as well have just stopped and gotten on my bike instead of tripping and stutter stepping as I was getting on my bike and then missing the pedals before finally getting going. Oh well… I pedaled as hard as I could down the fire road and across the first flat. I came into the first two loose corners a little hot and slid around one and lost too much speed, but stayed on the bike.
Down through the rocks and across the fun flowy part under Barney Rubble, and I remembered to raise my seatpost (that Joplin sure comes in handy) and started to shift into an easier gear well before the climb. The part right before it was too rough to do anything but hang on… I tried to stay off the brakes and keep as much momentum as possible up the climb, but the loose gravel and steep grade had me at a slow chug before I knew it. And my bike, so nice on the rough descent gets a lot of bob when I get into that type of pedaling. UGH. But I crested the top of the climb, and pedaled it out heading down the fire road again. Dropped my seatpost and changed into a big gear and charged into the Devo singletrack. Yay.
I bobbled a bit on a rock but pumped through the rolling terrain and kept on going. Once I was in the turns I somehow got off track on a very loose gravel section and was just going too fast to adjust and ran right off the trail into the bushes. Noooo…. The bushes slowed me to a stop. I was only about 2 feet off trail, but lost all my momentum. Got back on and hit the bottom berms as fast as I could. Just barely managed to stay upright on the last flat fire road corner and bombed down to the flat pedal at the end and pushed it as hard as I could to the finish.
I had started 2nd and had no idea how my time would hold up. I ended up in 3rd place, behind Joanna Petterson and Amy Laird (who finished 1st and 4th in the DH, respectively, and are such incredible riders it's an honor to be on the podium with them at all) and was really happy with that result. I also headed to my local bike shop and picked up an air shock for my trail bike to try and help out with the bobbing issues when I'm climbing. And apparently I really need to work on the cyclocross style starts too. You never know what they're going to throw in there for Super D starting line antics!
Photos by Christopher See. Used with permission, all rights reserved. Clicky for more Photos from the Deer Valley National. Mille Grazie!