Connie in Control: Sea Otter DH
By Connie Misket
Park City, Utah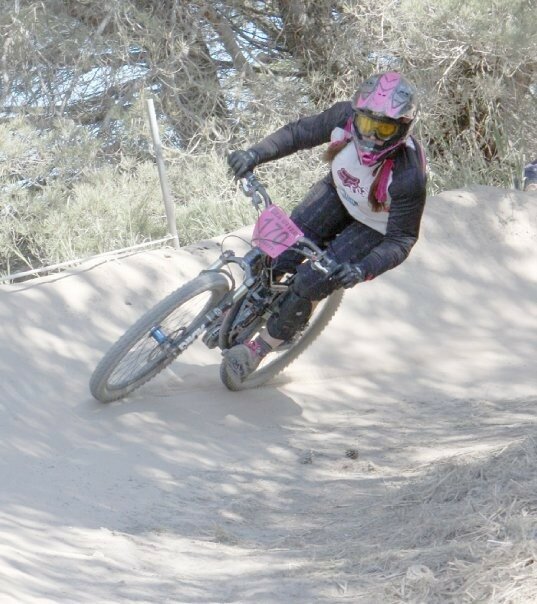 Connie railin' the berm
My #1 thing for the season is to really take control of the mental side of racing. I tend to get really nervous and not race as well as I ride when I'm in the zone/relaxed/etc, and let the jitters get the best of me. And in a sub-3:00 race – you don't have time to recover from that! I've done some coaching with Gene Hamilton in the past couple of years and have been reading a few books on this topic and that seems to be helping. I've been working on visualization/imaging and creating mental triggers to get me into the best mindset before a race so I'm able to get into the zone on command. Sea Otter always makes me pretty nervous since it's definitely the biggest and toughest field I race against all season, but I was able to focus well and did a fairly good job with this (not perfect yet, but a big improvement compared to what's normal for me). I still think I have a lot of room for improvement in getting myself really amped up to sprint hard through pedally sections, but it's a great feeling to be moving in the right direction with this.
For the skills training portion – I started out this season in February by heading down to Bootleg Canyon in Nevada with one of my teammates and 8 other women to do a women's DH camp with Gene. This really helped me start things off right. A lot of it is review (which is always good and probably the best way to get back out on my bike for the season), but I definitely learned some new things as well, and Gene gave us a lot of drills and homework to work on to improve. I love working on cornering in particular and he added in a few components I hadn't thought of before. And Gene's drills on looking ahead worked wonders for making things easier in rock gardens…. Of course, since there aren't any rocks at Sea Otter, I guess I didn't need that part, but I put it to use in that rutted up descent and tried to apply as many of the cornering concepts as possible during the first day or so of practice.
We also discussed race prep in the camp and I decided to try and focus on the little details and technique issues during my early practice runs, but once it got close to race time I worked on just turning my brain off and letting my body do what it knows how to do. Your reaction times aren't very good if you're overthinking things, so I made it a point to do several practice runs as well that were top to bottom, with as little "thinking" as possible. Of course this wasn't 100% during the race – I saw the four whoops right before the finish line and my brain got in the way and threw off my timing, but overall, things went well. I also need to continue working on jumping – I'm at the point now where I need to brake to hit my easier line over the log drop and I think I probably have plenty of speed to just hit the main line… so that's on the goal list for next year.
I was pretty happy with my fitness level coming out of winter. In Salt Lake City we just don't have many opportunities for winter riding. So this winter I took up speed skating, which was fun (and a killer leg workout) and I skied, and hit the gym. And then as soon as the weather started getting nice (but our trails are still under snow) I went and bought a road bike and started riding that. I was hoping to lose a few more pounds before the season started, but I think the scale also reflects that I gained more leg muscle this winter… which I'm not complaining about. I still need to work on sprinting harder during races (though that's getting my mental triggers dialed as much as anything), but I did a LOT of top to bottom runs at Sea Otter (including runs where I pedaled hard all the way through) and was feeling good. I know it's a short course, but I was happy with that.
My goal for the Sea Otter race was just to show significant improvement from last year by doing the above things – and while my overall result probably doesn't look that impressive, (I finished 22nd of 26 with a 2:48) I'm pretty happy with it looking at the big picture. Last year I was 31st with a 3:03. That's a big improvement on a short course and I feel like I improved in all three areas, so I'm pretty happy with that!
---
This fabulous post was written by one of our awesome bella volunteers ~ To change this standard text, you have to enter some information about your self in the Dashboard -> Users -> Your Profile box.
---