Piper's Cranking in Colorado
By Piper Ehlen
Winter Park, Colorado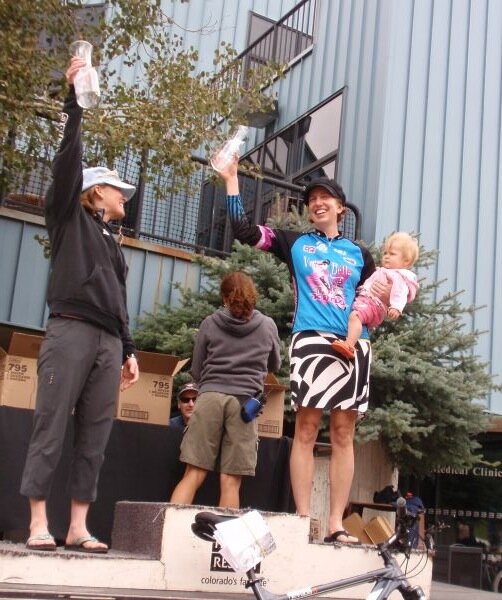 When I began training for this season in May (yes, living at 9,000 feet my bike season doesn't start until May, when the snow melts and the trails start to dry out!) it had been 7 months since I had given birth, and I didn't feel very ready for a competitive bike season. However, I am also a super competitive person and was on my bike as much as possible all summer training for the 5 mountain bike races in my town. That is, training as much as possible while also working full-time and raising a baby…
My results in the first 4 races were not superb:
Race 1, Hill Climb: 7th
Race 2, Cross Country Super Loop: 7th
Race 3, Point-to-Point: 9th
Race 4, Crankworx Colorado Cross Country: 5th
(All results are in Sport Women 30-39)
Not a stellar year so far, but I knew that the series finale race (the "King of the Rockies") would highlight my strengths, climbing and endurance, in this 26-mile, 4,000-foot-climb race. Going into the series finale race, I was in 3rd place for the overall series. While I didn't want to put too much pressure on myself for the race, I also knew that I needed to finish 3 spots ahead of Jill (names have been changed to protect the innocent…) to keep my 3rd place. And if I was really feeling on, I could move into 2nd place by finishing the series finale race 6 spots ahead of Mary.
So, with that, the pressure was on. Race morning, I was feeling good. A nice 45-minute warm-up and to the start line. As always, they started all Sport women at the same time, so we don't know who is in our age class. The first 3.5 miles of this race are on dirt road, then we move to pretty narrow single-track, which climbs and climbs and climbs for about 3.5 miles. I knew that I wanted to get to that singletrack ahead of most, so that I wouldn't be passing girls on the narrow singletrack. As I see the trailhead of the singletrack, I give a big push to pass some girls and start the singletrack in 3rd. Pretty quickly, 2 girls pass me, so now I'm in 5th. I decide that following these 2 girls helps me keep my pace, so I sit pretty tightly to their wheels. We reach the top of this first climb after about 45 minutes of racing, and I'm ready for the 4-mile descent. I'm the first to admit that fast, rocky descents are not my strong point, and are where I usually lose ground to competitors. This time, however, I was feeling fast and pretty quickly passed one of the girls in front of me. OK, now I'm in 4th. What is this, no one is passing me? Could I actually be getting better at downhills??!!
After Spruce Creek, we hit Flume, which has a slight decline. As I was afraid of, the 5th place girl passed me again on the descent, so now I'm back in 5th. I hope that I can make up time on one of the 2 climbs we have coming up. At the next hill I crank crank crank but cannot pass the girl in front of me. I push hard, thinking I will try again on the next hill, which is coming soon.
We start climbing D2 and pretty soon I pass the girl in front of me. 4th again, but can I hold onto it through the next descents? Then I see another girl ahead. I crank and get to her wheel. I start chatting with her (it's a long climb, might as well make friends!) to see if she's in my age class or not. She says she's 26 and asks me how old I am – as I'm passing her I say I'm 35 and she responds "no way!" Really? You think a 35-year-old couldn't pass you? I start to tell her I also had a baby 10 months ago but she's too far in my dust to hear me.
OK, now I think I'm in 3rd, but have no idea how far back any of my competitors are, and know that I am about to start a series of descents that could ruin my lead. So I'm still pushing pushing pushing and make it through the descents with no one passing me.
Finally, at mile 24, we head into the last bit of singletrack, a mellow climb until the finish. I'm going pretty strong and pass a few guys, but don't see any women and don't hear anyone behind me. With about a half-mile left, I feel the fatigue set in, and I feel myself slowing down. Come on, you can do it! I yell to myself. At last, I see the finish line. Crank crank crank and I'm done.
I'm psyched to have finished 3rd, my first podium of the season. And as I check the results, I see that Mary (who was in 2nd for the series standings) finished 11th – I do the math again and again but am pretty sure I just beat her out of 2nd place for the series!
I bring my daughter up to the podium for the awards and as the first place finisher comes out she's carrying a baby also! I feel we get extra loud cheers and the announcer says "these women are working twice as hard!" True! He also says he expects to see our next generation on the podium in another 15 years – me too! (And, although I was glad to see the winner also had a baby, I have to say she finished 9 minutes ahead of me and 8 minutes ahead of 2nd place – time to move up to Expert, sandbagger!)
Race 5, King of the Rockies: 3rd Sport Women 30-39, also 3rd Overall Sport Women.
Winter Park Mountain Bike Race Series 2009 Sport Women 30-39: 2nd place
---
This fabulous post was written by one of our awesome bella volunteers ~ To change this standard text, you have to enter some information about your self in the Dashboard -> Users -> Your Profile box.
---