San Diego Bellas Rock the House
By Raja Lahti
San Diego, California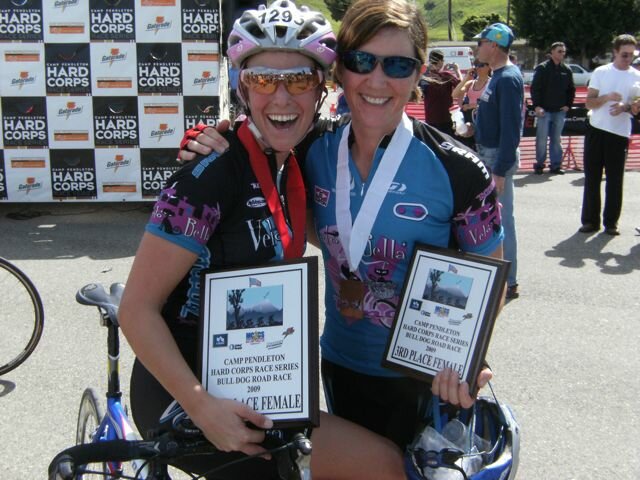 Our "little" local group of Velo Bellas has been growing in the last 2 years, and today, we rocked the house! And sooo close to a podium sweep…..
The Bulldog Road race is run by our local Camp Pendleton Marine base. I can't tell you how much I enjoy the Marine's running events. Shit gets done. Fast. Races are organized, on time, on schedule and the music is always on overdrive to get you pumped. Kudos to the race organizers. The best part though, are the Marines. The cheer section is AMAZING. Split down the middle, half will cheer you and get you energized. The other half… well, remember in the movies when the Marine is yelling at the top of his lungs, eyes like daggers, face as red as a tomato, veins bulging, and along with the projectile spittle, the vocal cords manage, "that all you GOT??!???" Yup, that'll get ya movin'.
The women's race had a whopping 96 riders to finish. Wow…. great turnout. Most racers hadn't ever done a road race before. And then there are the handful of crazy riders who know what pain they're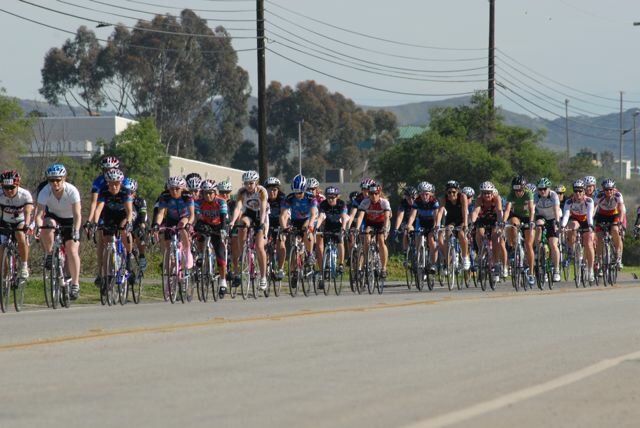 about to endure. We were the last group to go off which means we're sifting through the men in front of us that aren't hanging. My husband also raced his first road race today with team Moment Cycle Sport. They had a group of 5-6 riders and managed to get the men's overall win! Go Moment!
I'm not an experienced road racer. I've done 5 road races in the last 3 years, nada mucho. That is however, an average of 4.5 races more than most of the field. To all the Bellas around me I advised them to stay near the front to avoid any crashes, but not to pull. If someone wanted to pull 100 ladies down the street, sweet. I just believed it didn't have to be us. It isn't a race to get out there, it would be a race to get home.
So in a nice big group we stayed. No attacks. No madness. Yet. Then I attacked. We had about 800 meters to a downhill, then a sharp left turn, then "The Hill". There's only 1 major climb on the course, it's half way through, and guaranteed the top riders would make a move here. For the last 2 years I've climbing ok, but never even saw the lead group break away because I was already behind. This time I was going to be the leader up the hill and if someone was going to attack, they'd have to pass me. And I'd see them. Half way up Jen (Yake) Neuschwander & I were riding side by side in the front. Then comes Christine Silcox. This was now a Bellaton! 3 Bellas leading at the front up the climb. The followers were just marking us, so I yelled for a little help up front. Two other girls came up around us to take the lead. The thought was to get someone else to work a little when it flatten out so we weren't out in front the entire time. It was a good thought, but then the 2 of them took off (We'll call them Colnago girl & Girl 2) and just simply dropped all of us. Jen & I worked together to catch the 2 of them up front along the top & downhill, but they were hammering.
Once down the hill Jen & I had collected 3 more. We were now a group of 5, we could catch them. We organized, 30 second pulls. Annamarie (unattached) would simply rip our legs off when she hit the gas. She's now been recruited to Bellanation. Jen, Christine, Annamarie, myself and Tiny girl (don't know her name) worked and worked but just couldn't catch these 2 girls. Impossible. They've got to crack. They've been TTing for 10 miles! Finally on the final stretch we start to close in on them. Rapidly. But would we have enough real estate to make it in time?
I've screwed up the finish enough times to know better than let up even for a second. It's a complex left-right-left to the finish. Jen took the last pull before the first left. Just as she looked as she was going to pull off, I said to her "don't stop now! They're right there, we deserve this!" So she kept hammering. If she had slowed, she would have lost all power through the turns and there isn't enough straight chute to get real estate back. I launched around the right corner and took the risk and hit it as hard as I could. I passed Girl 2 entering the chute. I was closing on Colnago girl, but she hung on for the win. You go girl. Nice ride.
As I crossed the finish line – it occurred to me. I just placed 2nd overall! Not age group. Not top ten. PODIUM! Weeeeeeeeeeeeeeeee! Looking back, the overall win would have been nice-but the teamwork we showed ROCKED and I couldn't ask for more. Even better was Christine placed 3rd overall & Jen 4th. Those two are a testament to hard time spent on the bike makes for massive improvements. We all did something today than we couldn't have done 2 years ago. Dave caught the final turn to the chute when I passed Girl 2 on his crackberry.
Thank you to ALL the Velo Bellas – you ladies ROCK! Not to mention the hardware… Ooh là la!!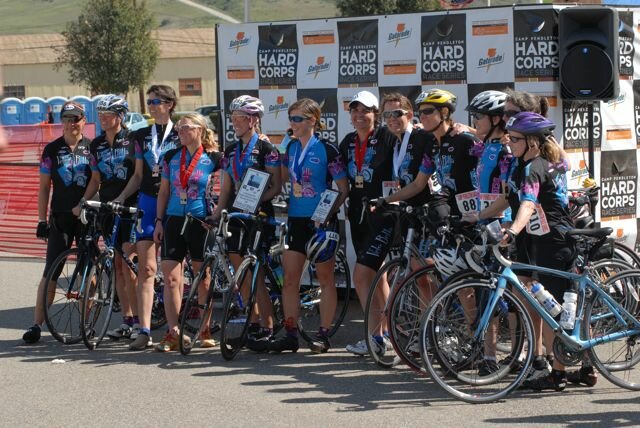 Bella Results!
Raja Lahti (2nd Overall, 1st Age Group)
Christine Silcox (3rd Overall, 1st Age Group)
Jenn Neuschwander (4th Overall, 2nd Age Group)
Beth Callhan (3rd Age Group)
Erin Horan Gonzales
Sandra Fairchild
Madelyn Horton (3rd Age Group)
Vicki Jones
Lynn Scozzari
Sherry Mesman
Cindy O'Grady (1st Age Group)
Jackie Bickford (2nd Athena)
Whitney DeSpain (3rd Athena)
---
This fabulous post was written by one of our awesome bella volunteers ~ To change this standard text, you have to enter some information about your self in the Dashboard -> Users -> Your Profile box.
---