By Raja Lahti-McMahon
San Diego, California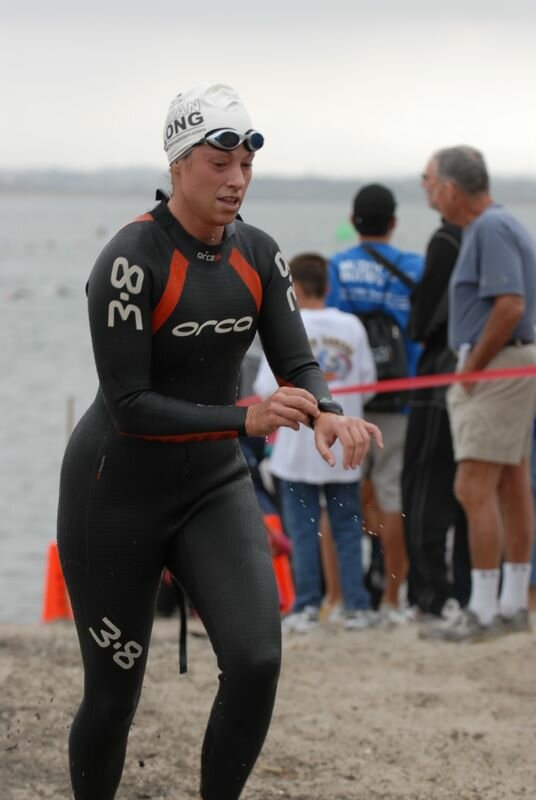 So it's now nearly the end of April and my indeed season eyes-wide opener was back in March. The Superseal Olympic Distance triathlon is run in conjunction with the Superfrog Long Course triathlon. My husband had signed up for the long course – so a few of us thought we'd have fun with the early season race and do a relay. Not exactly a training race.. but one to just bring out some strengths and have fun. After all.. there was also prize money to be had…
So, Stacy Dietrich signed us up – Velo Bellas & Fella. Nick "The Dolphin" Abramson would swim the double loop beach entry/run swim course. His stellar 53 min Ironman Canada swim says it all. He has gills. I would do the bike. A 56 mile time trial of pure bella bellisma. The skin was going on, the aero helmet & the disk coming out to play. Of course Stacy did tell me I had to bike a sub 2:20 or she wasn't going to do the run…. 'cause of course she would have to run a sub 1:45 half marathon… in deep sand.
Then… she found out she was prego. As ridiculously excited as I am that one of my best buds is having offspring… it now left a whole in our plan. So.. 2 weeks before the showdown I signed up for the full olympic distance Superseal.
My swim had been behind par due to an annoying shoulder injury, so I would only hope for the best I could do for the day. My biking has been feeling good. After the great Velo Bella cycling camp in January up in San Luis Obispo I felt like I could push it harder & longer than I had before. My run is coming along. I'm not a fabulous runner, so learning to suffer has been, well.. painful!
Last year's race was cold, windy with ridiculous swells. This year, it was calm and overcast. I'd been told it was a fun race so I just figured I'd enjoy the adventure. Race reports are nice.. but the best part of the reports are the crazy thoughts that go through one's mind when wondering why they paid money to feel like a bag of poo.
So, I survived the swim. Not horrible. "Could have been worse" I thought. Of course, friend Neily Mathias racing for GoMichellie.com (also wife of coach Peter Clode), finished the swim over 6 minutes in front of me. I've love to tell ya I was swimming backwards with my hands tied behind my back – but reality strikes… I'm no fish. No gills. In fact, when I take my goggles off, it ooks like I've been hit by a train. Positively the nastiest site for a Bella to behold. I've included a visual for posterity. Now.. Where's my bike??!?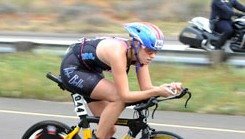 I had a good ride, but I must say, I liked my bike clock & my watch split better…. not sure where the 2 minutes went.. but both clocks posted a 1:07 n'change bike split. My official split 1:09:12. Needless to say, any sub 1:10 split at this time of year is a decent split. In any case, it felt pretty solid, so no real complaints.
I hadn't done much in the way of brick training this year. For non-tri-geeks, that's a workout where you bike, run, bike, run until your legs are mush. If aliens had landed during a brick workout.. I can only imagine they'd go home because clearly we're a self torturing species. But when you hit sand on the run.. you're wishing you did more bricks. I opted instead to go off-road and run on top of the ice plant. Not something I've tried before… and not sure I'd recommend it either…
I've got just over a half mile to go, and I get run down. Shannon Harris pulls up along side of me and she's looking good. Good rhythm & pace and she's outpacing me big time. "Please tell me you're in a different age group" I said in whatever voice I had left. "33". "Oh shit". It went something like that.
I must say, Shannon gets the best sportsmanship award. She voluntarily carried me to the finish. She kept up her pace and I just tried to speed up to hang with her. "Let's work together" she said. That kind of sportsmanship – For a split second I wanted her to beat me. She deserved it.
Then I realized I was in fact racing.. and if she was going to out run me, she'd have to do it to the line. A little tactics came into action. If I could draft off her run, in the chute maybe I could out sprint her to the finish. I wasn't going to out run her. Not today at least. We rounded the nearly 180 degree turn with about 200 meters to go neck and neck. As the lane bottle-necked, I inadvertently bumped into the flying elbow of a man reaching for the finish as well. She went to his right, me to his left, nearly tripping over a land cone. And let's just say 3's a crowd. I hit it and hoped I had enough in the tank to fuel it to the end. I put 2 seconds on her. Once we crossed the finish line we congratulated each other on a good race. We finished 1st & 2nd. She just oozes Bella vibes.
So just as there are rock stars like Shannon Harris, there are also rotten bastards. After crossing the finish line another 10 seconds or so back, this man who I inadvertently bumped elbows while entering the chute, rams into me as I'm standing there drinking some needed water. "Dude, the race is over" I said. A lady walked up to me with her child and asked, "did he just do that on purpose?!?" Yes maam, he did.
I think the entire point of this race report is about sportsmanship. It's ok to be competitive, to challenge each other. Nobody is out here to "get you". It's your own race. As refreshing as it was to race with someone like Shannon, it was also as upsetting to know that there are jerks out there that feel they are more deserving than others by instigating physical contact. Not nice. He goes on the Bella poo list.
Race to the best you can do that day. I had a decent race, but it wasn't spectacular. I'm not a pro. I have a job that consumes more time than I'd like to admit. I have a husband and friends. I got a bit lucky all the really fast girls were not in my age group. Sometimes it's a bit of talent. Sometimes a bit of tactics. Sometimes a bit of luck. It is however all about who shows up on that day to race. Yourself included. Race to have fun, to accomplish something, to improve yourself. Otherwise, don't race. Nobody likes the attitude. After all.. you paid money to be here.. so you'd better get your monies worth of enjoyment.
In the meantime, train hard and race to have fun!
Happy Riding!
By Raja Lahti
San Diego, California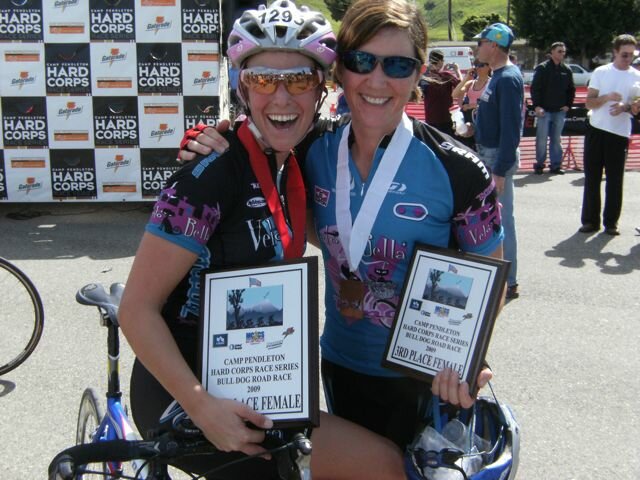 Our "little" local group of Velo Bellas has been growing in the last 2 years, and today, we rocked the house! And sooo close to a podium sweep…..
The Bulldog Road race is run by our local Camp Pendleton Marine base. I can't tell you how much I enjoy the Marine's running events. Shit gets done. Fast. Races are organized, on time, on schedule and the music is always on overdrive to get you pumped. Kudos to the race organizers. The best part though, are the Marines. The cheer section is AMAZING. Split down the middle, half will cheer you and get you energized. The other half… well, remember in the movies when the Marine is yelling at the top of his lungs, eyes like daggers, face as red as a tomato, veins bulging, and along with the projectile spittle, the vocal cords manage, "that all you GOT??!???" Yup, that'll get ya movin'.
The women's race had a whopping 96 riders to finish. Wow…. great turnout. Most racers hadn't ever done a road race before. And then there are the handful of crazy riders who know what pain they're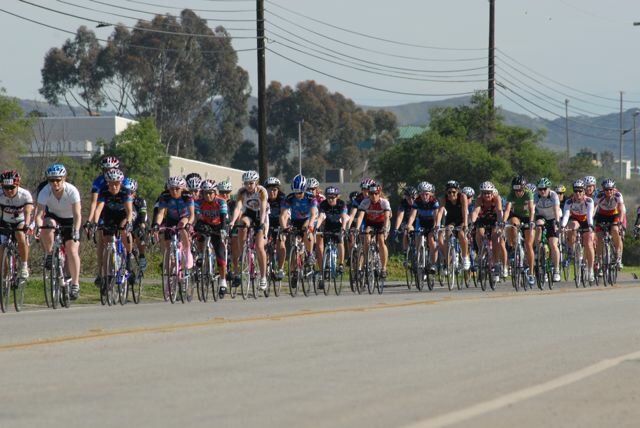 about to endure. We were the last group to go off which means we're sifting through the men in front of us that aren't hanging. My husband also raced his first road race today with team Moment Cycle Sport. They had a group of 5-6 riders and managed to get the men's overall win! Go Moment!
I'm not an experienced road racer. I've done 5 road races in the last 3 years, nada mucho. That is however, an average of 4.5 races more than most of the field. To all the Bellas around me I advised them to stay near the front to avoid any crashes, but not to pull. If someone wanted to pull 100 ladies down the street, sweet. I just believed it didn't have to be us. It isn't a race to get out there, it would be a race to get home.
So in a nice big group we stayed. No attacks. No madness. Yet. Then I attacked. We had about 800 meters to a downhill, then a sharp left turn, then "The Hill". There's only 1 major climb on the course, it's half way through, and guaranteed the top riders would make a move here. For the last 2 years I've climbing ok, but never even saw the lead group break away because I was already behind. This time I was going to be the leader up the hill and if someone was going to attack, they'd have to pass me. And I'd see them. Half way up Jen (Yake) Neuschwander & I were riding side by side in the front. Then comes Christine Silcox. This was now a Bellaton! 3 Bellas leading at the front up the climb. The followers were just marking us, so I yelled for a little help up front. Two other girls came up around us to take the lead. The thought was to get someone else to work a little when it flatten out so we weren't out in front the entire time. It was a good thought, but then the 2 of them took off (We'll call them Colnago girl & Girl 2) and just simply dropped all of us. Jen & I worked together to catch the 2 of them up front along the top & downhill, but they were hammering.
Once down the hill Jen & I had collected 3 more. We were now a group of 5, we could catch them. We organized, 30 second pulls. Annamarie (unattached) would simply rip our legs off when she hit the gas. She's now been recruited to Bellanation. Jen, Christine, Annamarie, myself and Tiny girl (don't know her name) worked and worked but just couldn't catch these 2 girls. Impossible. They've got to crack. They've been TTing for 10 miles! Finally on the final stretch we start to close in on them. Rapidly. But would we have enough real estate to make it in time?
I've screwed up the finish enough times to know better than let up even for a second. It's a complex left-right-left to the finish. Jen took the last pull before the first left. Just as she looked as she was going to pull off, I said to her "don't stop now! They're right there, we deserve this!" So she kept hammering. If she had slowed, she would have lost all power through the turns and there isn't enough straight chute to get real estate back. I launched around the right corner and took the risk and hit it as hard as I could. I passed Girl 2 entering the chute. I was closing on Colnago girl, but she hung on for the win. You go girl. Nice ride.
As I crossed the finish line – it occurred to me. I just placed 2nd overall! Not age group. Not top ten. PODIUM! Weeeeeeeeeeeeeeeee! Looking back, the overall win would have been nice-but the teamwork we showed ROCKED and I couldn't ask for more. Even better was Christine placed 3rd overall & Jen 4th. Those two are a testament to hard time spent on the bike makes for massive improvements. We all did something today than we couldn't have done 2 years ago. Dave caught the final turn to the chute when I passed Girl 2 on his crackberry.
Thank you to ALL the Velo Bellas – you ladies ROCK! Not to mention the hardware… Ooh là la!!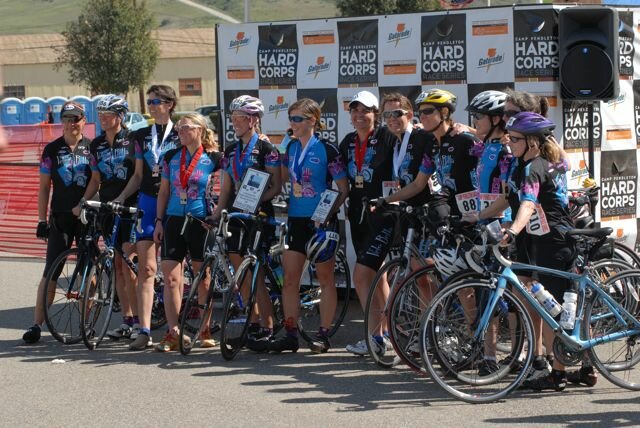 Bella Results!
Raja Lahti (2nd Overall, 1st Age Group)
Christine Silcox (3rd Overall, 1st Age Group)
Jenn Neuschwander (4th Overall, 2nd Age Group)
Beth Callhan (3rd Age Group)
Erin Horan Gonzales
Sandra Fairchild
Madelyn Horton (3rd Age Group)
Vicki Jones
Lynn Scozzari
Sherry Mesman
Cindy O'Grady (1st Age Group)
Jackie Bickford (2nd Athena)
Whitney DeSpain (3rd Athena)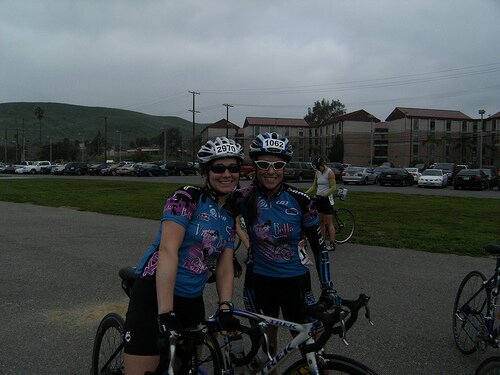 Stacy and Raja demonstrate one of their three sports
Velo Bella triathletes are busily preparing for the 2009 edition of the Wildflower Triathlon. Wildflower runs 1-3 May 2009 and includes Long course, Olympic distance, and mountain bike events. Bella Raja Lahti writes:
Never gone? You're missing Woodstock of Triathlon! With world champions guaranteed to show… along with 20,000 of your best friends – it's not to be missed! Don't "do" triathlon? How about the mountain bike/off road race? Or a relay? Like to climb… then you need to try a little Nasty Grade! Distances are Sprint (off road), Olympic (1500 swim, 40K bike, 10K run), or Long Course (1.25 mile swim, 56 miles bike, 13.1 mile run).
So far three Bellas have signed up to participate in the May party. Raja Lahti, Stacy Dietrich, and Lynne Branchflower have all sent in their entries and are hard at work training for the big day. We can't wait to here all about their adventures!
By Raja Lahti-McMahon
San Diego, California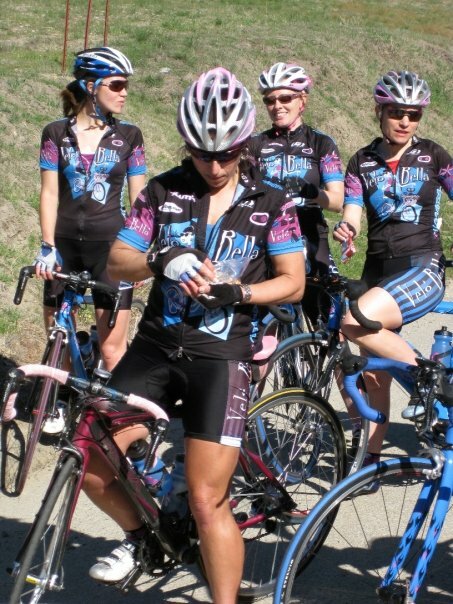 Wow! I had an amazing weekend with 30 of my fellow Velo Bellas, hotties on bikes, up in San Luis Obispo. We had Bellas from all over California, even one from North Carolina! Some had just started riding in the last 6 months, others were seasoned racer chicks.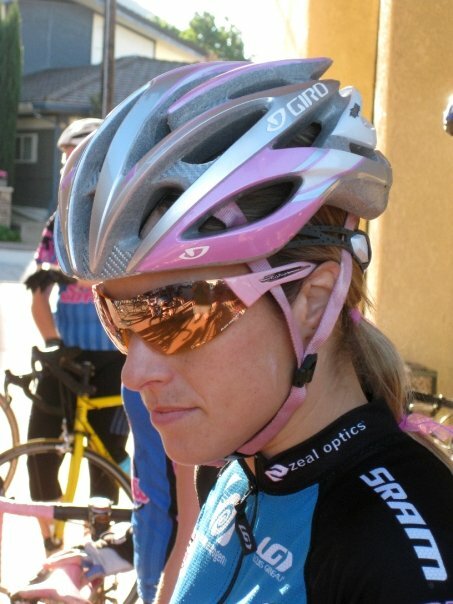 Then there were the boyz… A local racing group provided escorts, sweeps, tire changers extraordinaire and last but not least.. some mighty fine calves for all viewing needs. (Yup, he's the one wearing the Velo Bella bibs!) When suffering, a good pair of calves will do.
We even had paparazzi!
Daily rides ranged from 25 miles to 75 miles of amazing farm roads and a skills clinic run by Michael Hernandez … a former San Diego triathlete now wicked cyclist in the Bay Area. Or AKA Sabine's Boy Toy… Ooh là là!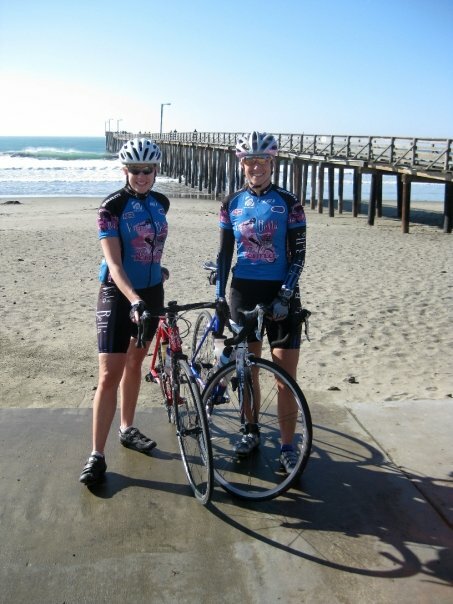 Our own Ryan Hostetter (Girl Ryan) provided most excellent organizing, routes and most importantly, INSPIRATION! And Sue.. well, she just likes spanking boys. I think they call her SueNami! Marian… Virgin Blood is Vegan Safe… Cathy from NC, the track guru turned mommy…if you ever thought you didn't want kids, have a little chat with Cathy. And the rest of the Bellaistic crew, what fun!
Laura and Sabine (pronounced like Sabina)…Mama Bellas! They are the perfect personification of Velo Bella – pink hair, endless humor, killer smiles, giggles and energy & motivation that never ends.
If you've ever wanted motivation to do more, be more…. Welcome to Velo Bella.
So next year… you don't want to miss it! Who's in?
I can't even tell you how proud I am to be a Velo Bella!
Happy Riding!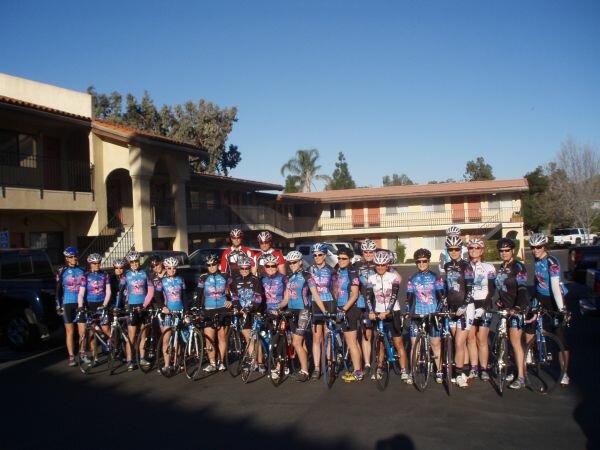 by Raja
I'm back…
…and I think I could sleep for week…
While I would love to report back that I came home as the W30-34 nationalchamp…. you all would know I would be hallucinating and perhaps in some serious sleep deprivation. I didn't go to Nats to win. 'Cause of course, I'm already a winner. If I happened to qualify for Worlds, that would have been amazing, and very very scary. But I didn't. And I'm really ok with that! Let me explain…
Dave leaned over and looked at me with a little twinkle in his eyes, "Did you ever imagine that when you did that first Mission Bay triathlon on your, mountain bike that you would be here two and a half years later?"
Actually no. It hadn't even occurred to me.
My road in triathlon to date has been short and fun. I've now had 1 year of coached training, so you won't hear me complaining about my perceived "lack" of performance at Nationals this year. I managed to miraculously slice 4 minutes of my swim time. I couldn't have been happier.
The bike didn't go as I'd hoped, but that was my own fault. A newbie error. I was hell bent on using the disk. Was it a head game? Having the disk gave me confidence? Setting up in transition prior to the start I had noticed the disk loosing tire pressure. Down from 130 PSI to 80 in about 10 minutes. No holes, tire looked good, I pumped it up again to give it another test. Pumped to 150 PSI. (Which takes a feat of strength for me since that's far more than I weigh!). In the rush to get everyone out to close transition, I felt the tire, maybe a little lower, but not nearly as bad as before, tightened all the valves and left. If I got out of the water and the pressure was significantly lower, I'd just change my wheel prior to leaving transition. If it felt pretty solid, the leak wasn't that bad.
In a nut shell, I think I shot myself when I didn't change the wheel. I'm usually very solid on the bike. Steady. Aggressive. Fast. This time the bike felt squirrelly on the downhills and squishy on the uphills. With about 1500′ of climbing and almost continuous turns, my legs were toasted and my time was slower than it should have been. I asked someone on course if my bad wheel looked low, "no, well yes, but not flat" was the response I got. That's about how it felt. It definitely wasn't so low I couldn't ride. But I found I was riding very conservatively on the downhills & corners. No risks. Within the first 2 miles of the ride I passed the first crash victim. Even Nats isn't immune to crashes.
When I racked my bike and hit the first of 7 hills on the run, I knew my chances of qualifying for Worlds was done. I got kind of excited…
You see, Dave & I got married in May. Since then I have been training like a mad woman. Honeymoon? That would have to wait until after training. If I qualified for Worlds, that's an entire summer of training and the first week of our honeymoon spend racing in Europe. As exciting as that may have been.. I haven't really been in the sport long enough to know what I'm really doing. So now that Worlds wasn't going to be an option… all I can think about is how great Italy is going to be in the fall… and we can take the road bikes and ride where ever we want in Italy…
So while I was suffering like a beast on the run, it occurred I had a lot to be happy about. Breaking my back/pelvis 8 years ago had made me a stronger person. Who knows if I'd even be racing triathlon or cycling if it hadn't had been for that accident. I really was just excited to be doing something extraordinary.
Some things I learned:
1. Jim was right.
2. Starbucks coffee is better than their danishes.
3. Starbucks sandwiches are better than their coffee.
4. It doesn't pay to be stubborn.
5. Got a lot of training left to do!
6. Bellas ROCK! Ashley Erickson did GREAT! placing 10th in her age group.
Nikki Shue also did great in her crazy age group!
Happy Racing!
by Raja
I'll take that Oh La La with a side of Kona!
Swim till you're weazing
Ride till it burns
Run till you wanna puke
Don't forget to wipe the boogies before the photo op…
I think the phrases "You Go Girl!" and "Girl Power" took on a whole new meaning at the Danskin Women's Triathlon. If you've ever heard Sally Edwards speak – to too would be clamoring away powered and ready to race. I actually wanted to swim by the time she was done giving us the "You're Fabulous" cheer. Amazing…
Not that I did very well in the swim… but I know how to ride a bike.. and kinda know how to run up hills…kinda sorta…I just fake it really well ;o)
I won my age group at the Danskin Women's Triathlon in Los Angeles and was 4th overall out of nearly 700 women. I'm good with that.
Is it ok to be completely and totally surprised when you've just done well??
REDONDO BEACH TRIATHLON – What a cute little tri-thingy!
It's a swimmer's race, so I just wanted to get the swim practice. It was actually one of the nicest ocean/ beach start swims I've been to. The water was crisp & refreshing.. and clean! The waves were coming, but at least after last year's Los Angeles Tri experience.. it was manageable.
The bike is a speed bump. 6 miles. Better hurry. Especially if you're a sucky swimmer like I am.
The run is 2 miles, winding in and around the Redondo Beach Pier. Basically it's a test of getting up to speed after every corner. It was fun though… (at least until you had to run past the greezy fish stand….blaaahhhhh …)
I ended up winning my age group and placing 3rd or 4th overall. Neily Mathias, my coach's wife, won hers too! (Except she's a wicked swimmer) I'm pretty sure Neily won the entire race. Last time I checked, she was 2nd.. but I'm pretty sure the girl who "won" missed a bike lap… otherwise her bike split beat most of the men …. and that girl can ride. I'm suspicious.. . oh well…. I hope she had didn't miss a lap and kicked everyone's a$$ on the bike…..
Both races were a ton of fun.. and I recommend them to both seasoned triathletes and newbies!
Now.. on to Nationals at the end of the month…. gulp….