Ronde van Brisbeen, Highland Circuit Race, CA
7th, Soni Andreini Poulsen, Women 4
19th, Angela Aldrich, Women 4
Wards Ferry Road Race, CA
9th, Elizabeth Benishin, Women Pro/1/2
12th, Erika Donald, Women Pro/1/2
NOVA National (NMBS#1), CO-TT
26th, Natasha Cowie, Pro Women
27th, Alex Fabbro, Pro Women
The Tennessee Bellas were out in force for the SERC #2 race at Chickasaw Trace Park in Columbia, TN, on Sunday, March 25. Three Bellas hit the trail in three categories, and the formidable cheering section kept the faith throughout the hot race day temps.
THE BELLAS RACE!
Angela Brown started with the first wave of one-lap Beginner Women racers at 9:00 am. Despite losing her chain twice because of a bike mechanical, she turned in a 00:60:47 lap on the 9-mile loop to take 6th place (revised to 6th from 7th because of a junior participant, according to usacycling.org).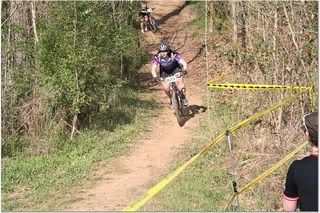 Jennifer Moorehead challenged the Sport Women with a 4th place win in two laps on the 9-mile course. Jennifer's lap times were 00:52:70 and 00:53:99, respectively.

Sandy Kern started in the heat of the day with the Pro/Expert Women. After a strong start, a bike mechanical kept Sandy from completing the third lap of her race.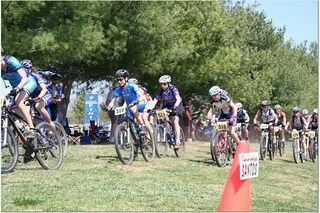 Additional results can be found at www.goneriding.com
THE COURSE AND ADDITIONAL RACE NOTES
The day was peppered with crashes off of a hill at the beginning of the course (thank goodness our Bellas made it safely through). One accident appeared to be serious. The rider was taken by air to Vanderbilt medical and is doing fine now with what appears to be no lasting damage.
Here is a crash photo from another race and some additional course notes from Dustin Greer, who is currently the #1 ranked semi-pro XC racer and a big Bella supporter.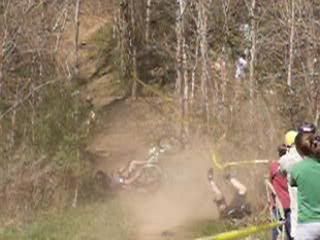 "It was a humid 87 degrees today when the Pro/Expert wave went off at 12:30. The trail was loose and the powder was deep in some areas. A lot of riders were complaining of chainsuck during their pre-ride on Saturday as they couldn't keep enough lube on their chains to combat the dust."
"The course was almost exactly the same course used last year. One section was rerouted…that was the downhill that overlooked the dump, which has been moved farther into the woods. Also the finish climb was moved from the pavement into the grass on the left side of the road. The loop was just over 9 miles long. It began with a long drag in the grass that lead to a dirt road and onto a long pavement stretch, which by the way, will not be used next year. At the end of the pavement comes the famous (or infamous whichever way you look at it) steep downhill to the lower field and into the singletrack. The singletrack is rocky for the first mile, including one steep climb covered with rocks. Some of the rocks were removed making the climb much easier. After this section comes the River Trail which is flat and really fast. The Ravine Loop then takes you into a slalom section through a bamboo forest before you climb up to Rick's Trail which descends back down the hill. Then its into the Trail of Tears which features all the climbing with the worst being the last climb up to the dump. The new downhill takes you into the final section called the Black Hills Trail. These last two miles are rough and fast. There is a little climb that takes you back out to the start/finish. It's an uphill in the grass for the last 400 meters to the finish line."
Great Job Bellas!!
by Nicole
It all started innocent enough! A road trip for a road race. What was supposed to be Mid-Atlantic Velo Bella Team's first race of the season turned out to be a solo affair for me! With one teammate jumping ship, and another in the middle of a last-minute move, I headed down to Charlottesville, VA on my own.
Once there, I suddenly realized I had NO CLUE what to do! I had participated in one training "crit", got my butt whooped, and suddenly was about to be thrown to the wolves for a 30mile circuit for my first real race! What was I thinking?!
I met up with a gal Denise, whom I'd met a few weeks prior at the aforementioned training crit, and we headed out for a fantastic dinner in historic downtown C'ville. The weather was fabulous–a wonderfully warm early spring evening, reminiscent of a mid-summer San Diego night!
Being all too familiar with the early mornings of Triathlon race day, it was a wonderful treat to sleep in until almost 8:30, as my race wasn't to start until 12:30! I cleaned my bike, packed my things, and headed down for my usual pre-race meal of oatmeal, coffee, banana, and toast. It was cool outside, but not a cloud in the sky. A beautiful day for a ride!
I arrived at the race base camp with plenty of time to spare, registered for the Women's Cat 4 race, and met back up with Denise. We sat around and by 11 were starting to get ansy. We met another gal named Julia, who was also unattached to a team, and the three of us headed out for a 25 minute warm-up ride. By this time, the weatherman should have been hiding in shame–it was not going to be a high of 68 like he predicted. It was well over 75 degrees and it wasn't even noon! Poor Julia had a long-sleeved Under Armor jersey on and was melting. After much convincing, Julia changed into an extra jersey I had, and between me, Denise and Julia, we were quite the VB Pink site!
High noon, and 100 women were lined up on the shadeless asphalt, waiting for direction. 12:30, well past race start time, and we still had no idea. by 12:45, the nutrition I'd taken was wasted, we were all starting to run out of liquids, and the porta-potties were calling. But we didn't want to miss the 3 mile "roll out" to the start, so noone dared leave their ride. Finally at 1:15, the race director made her appearance, and we headed for the start. Once we arrived, we had 7 more minutes to wait between waves. I looked around and the girls were dropping like flies! No, not like you think–noone fainted, but there were no porta potties, and well, when you gotta go, you gotta go! Everywhere around me girls were just squatting and taking care of business! There were cops, mothers, fathers, kids, everyone around, but wow, I had never seen anything like it! It was hillarious! About this time I decided that I could no longer ignore nature's call, and so I dropped trou' with the best of them! Ahh, relief! I was now ready to race!
Or so I thought. Man, these biker chicks are FAST! We averaged 25 mpr for the first 10 mile loop. Right before the race I was told "no matter what, no matter how much it hurts, stay with the pack!" And I tried. I hung on for 1.5 loops, about 15 miles, but my heartrate was over 180 the entire time, I just couldn't hang with these monster women! So, I fell off the front pack, but we had left the rest of the field so far back, I suddenly found myself in familiar "time trial" territory, and finished the remainder of the course alone.
That is, until the last 200m of the race. I knew they were there, I could feel them creeping up on me, but I simply had nothing left. There was no way I could fend off a pack of 5 working together when I'd done 15 miles of solo rolling hills, headwinds, and one monster hill. With less than 20 feet to the finish, 3 of the 5 passed me and I squeaked in at #18.
Top 20 was my goal, I will now have a USA Cycling rank, but wow, road races are HARD! All I could think was "Thank GOD I don't have to go run a half marathon now!"
by jen g
I am the Teen Program Director at a YMCA. The St. Croix Valley YMCA in Hudson, WI, to be specific. I have been bike commuting to Hudson from St. Paul, which as all cyclists know, bike commuting equals quality of life. Now, if you go back to the first sentence, you'll notice that I work with teens – middle school aged kids to be exact. So, the other day when leaving the YMCA with my sweet orange bike and my snazzy spandex Bella kit, a number of my teens got a complete look of horror on their faces. "What are you wearing??!?!" was exclaimed with the deepest embarrassment and concern I could have ever imagined from these kids. It was so entertaining. I think I'm inspiring them….. 😉
Barb and hotpinkevil and me wandered out in the evening for a short 60 minute ride. Barb mentioned nifty hill training technique, so you get better at climbing. Hopefully, it will work. The hill by the Weiseman didn't seem as insurmountable today. Though, I think the is the first time I actually climbed it when I wasn't dead tired.
Anyways.. it was pretty eventful. Cracks are out to tip you over. and it is broken glass season in MPLS. It's the season between way to flippin' cold season and construction season. Guess that it's best to figure this out on a training ride…
SERC #2, Chickasaw, Columbia, TN
6th, Angela Brown, Beginning Women
4th, Jennifer Moorehead, Sport Women
dnf, Sandy Kern, Pro/Expert Women
Taken from comments–Barb
"Anyway, I just got in from a ride and made myself 2 sandwiches. As I'm making them, I realized that about this time of year, I start craving mayonaise. I slather it on a la "Undercover Brother." Gad I love the stuff, but only when I am riding hard. The other food I've started to crave is spaghetti sauce. OK, I've finished my food and my mayo cravings are settled down until next time."
Sounds tasty as hell. One of the nifty thing about actual seasons (as opposed to microclimates and rainy season/not rainy season)… is that food and food cravings vary throughout the year. I'm a big food geek(Alton Brown is a hero)… and I gotta admit I ride so I can eat lots with less consequences. I know it's spring and riding season is starting again when I start craving smoothies after a ride and peanut butter, banana and honey sandwiches. Summer comes around and it's all about -anything- from the grill. After many years of not eating very much red meat (and a couple years vegan), last summer I started eating burgers again. I get home from riding a couple of hours, and the boyfriend and roommate say "hey… we've been grilling burgers… want one?" while handing you a plate. Cyclocross season is all about tasty cheesy pasta.
Though my favorite all season post ride food has got to be the San Francisco (Mission district) burrito. We used to have a place that was easy to find…. but that tanqueria (which are few and far between in the frozen tundra) has moved and I can never remember where it is…
So… what are all you guys' favorite post ride foods? Favorite tanquerias (CA people…. lemme know! I tend to crash in random places when I'm out there!)?
Hanford Criterium, CA
2nd, Heidi Horton, Women
9th, Ryan Hostetter, Women
11th, Tracy Loper, Women
Berkeley Bicycle Club Team Time Trial, CA
3rd, Monica Nielson/Elizabeth Benishin, Women 1/2
3rd, Erika Donald/Linda Locke, Women 80+
5th, Julie Porter/Doug Miglaw, Coed
Fish Knob Time Trial, MI
4th, Dianna Rose/Mark Carroll, Tandem
1st, Monica Tory, Women 30-39
3 hours just isn't enough. It is enough to get started though.
We went over water bottle drills–pick up the water bottle standing on the ground and put it down again.. and cornering. Baba told many tales of racing, with emphasis on dictating the pace for the peloton– it was all well and good and informative and cool, but… dammit.. what about just staying in the peloton….
that would be a victory for this webdork.
Tuesday night clinics will be starting in April… and we gots pacelines and riding leaning on each other to go over. Having done both these skillz on the track, it's WICKED good fun. The more the merrier. So, bellas, come on out.
And if anyone has a 52-54cm older road frame or a track frame… I'm in the market. My current commuter fixed gear is far too small. I can't do more than 15 miles/day without my back screaming at me. So… new (to me) bike time… Drop me a comment if you know of one.