Four Days of Soaring High
By Sarah Clatterbuck
California
This week I attended my first training camp ever with the Velo Bellas. They lured me in with promises of quiet roads that I like to ride on the Central Coast, lots of wine and good times. They conveniently omitted the part about the PAIN, but that's OK, because it was a good kind of pain.
Rick and I drove down Friday night to stay in San Luis Obispo with the other girls at the lovely Sands Inn for the long weekend. I heard there were waffles at the breakfast buffet, so I was pretty sure it was my kind of place.
Saturday morning, we headed down to breakfast where I began meeting team mates I did not yet know – Suenago, LilyBella, Becky, Bethany and Raja from San Diego. All in all, there were about 30 Bellas for the weekend plus about 10-12 male companions, so we easily over crowded the breakfast room. To my pleasant surprise, the waffles were "real" – not toaster waffles. They had a batter dispenser and you poured it over the iron, closed and flipped, at which point a countdown would commence. Even the boys seemed capable of making their own waffles, so everyone was happy. Yum!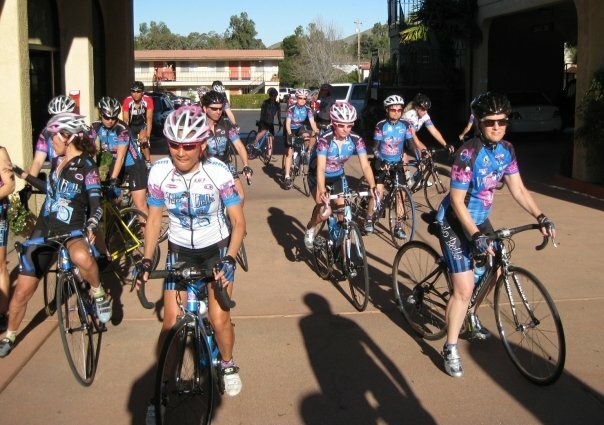 Bellas roll out for Saturday's training ride
At 9:00, we met up in the parking lot ready to ride. Well, almost ready. After about 40 minutes of socialization and hugs and picture taking, we were ready. Ryan and Tyler and Tyler's team mates were our escorts for the weekend, which was cool. We had route masters and sweepers! It was sunny and beautiful. We finally rolled out and only got about a mile before we realized we were missing the Fresno girls. Apparently, they were hung up in the fog belt. We waited about 10 minutes in a hospital parking lot (seemed like a bad omen) and then they rolled up. It was on! We rolled down Orcutt road through the vineyards. Everyone was focused and on-form. The pace was brisk but comfortable. It was pretty amazing seeing a 40 person double pace line snaking through the Edna valley. It felt like I want racing to feel – it was like the first 3 hours of a Tour de France stage where everyone just hums along at a good clip and chats, making a colorful rainbow through the countryside.
We turned left up Lopez Road toward Lopez Lake. I was pretty stoked to be stuck in the pack up the first real "grade" of the day – the grade up to Lopez Dam – and I felt pretty comfortable. Apparently some were already getting shelled out the back. Yay! After winding around the lake, we turned right on Hi Mountain Road – one of my favorite rides in the area. It is about a 6 mile out and back. It seems flat, but it's really a constant 2-3% grade with a few kicks of 5-ish percent and the last half mile kicking up to 10% and finally about 15% for a final, short assault. The pace stayed really high as we started up the grade, and I finally got shelled about 1 mile from the end. But, I looked back and there were lots of folks behind me, so not so bad. I humped my way up the final assault and enjoyed an energy snack at the top. We started the descent. I was looking forward to some quality recovery. But, someone (I won't name any names) decided to "race" down the mountain. So, my heart rate was just as high going down as up. And, I wasn't even able to catch on to the attacking group, not that I really tried too hard, since I wasn't in that mode yet.
After the descent, a good chunk of riders decided to call it a day and head back. It would have been a 50 mile ride at that point. But, I decided to push on for the next out and back, which was Huasna Canyon – another lovely ride. I was feeling good after recovering and still hanging in with the pack. We took a cutoff, which introduced a steep little digger on School Road right before getting into the canyon. I stood to get over the digger with the pack, which turned out to be a bad idea. I pretty much burned my last match doing that and got shelled shortly after entering the canyon grade – I just could not recover. Huasna is structured much like Hi Mountain – a constant 2-3% grade for 10 miles with about a half mile 7% section at the end. Rick and I skipped the end of the canyon – pulling over about 5 miles in in a shady patch to eat and wait for the group to come back. We had a good view to see when they'd be coming. As soon as we saw the front of the pack, we started riding and easing into the pace. There was a splinter pack that caught and passed us before the end of the canyon and then stopped at the mouth where we also stopped to re-group with the main pack. We selected the "rolling" option to return to town rather than the "climb" option. The "rolling" option was on Corbett Canyon, a connector road we use a lot when visiting my parents. I was able to stick with the pack over the stair-stepping climbs of Corbett and back to town (barely). Thanks to Sabine for going to the front and slowing it down as I was starting to feel some pain as we slogged up the gentle grade. We ended with about 70 miles of hard tempo riding.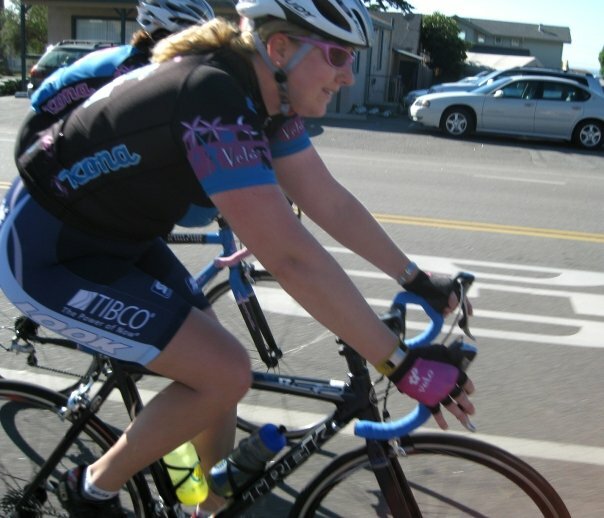 Sarah rocks the kit mash-up
Saturday night, we all went out for dinner at a local pizza place called Village Host. Yeah, we pretty much took it over, except for two tables. It was a BYO wine dinner (oops. We didn't get the message). Fortunately, there was plenty to go around. We later went to a martini bar/dessert lounge and had "lava cakes", which as you can imagine were fabuloso. The best part of the night was riding 6-up in Marian's Buick Roadmaster station wagon. I was having serious flash backs to junior high when my friend Katie's mom would drive all of us to the mall in hers. That thing is just enormous.
Sunday was skills and race drills. But first, there were waffles, of course. We met again at 9:00 – and rolled out at a leisurely 9:40ish again. Love it! We rode for just over an hour as a pack – up Orcutt Road, across Tiffany Ranch to Corbett Canyon to Highway 227 back toward town. I rolled off the front on Corbett with the idea of sag climbing the stair step. But, I ended up being a dork and finishing with a gap. Sorry guys! That was lame. I should have just moved up in the pack. We arrived at an unfinished neighborhood off 227 by the airport that had complete streets, but no houses – a perfect crit course. I was a big block with a little uphill and corresponding downhill. We did some skills then headed on the course for some mock crits/bridging drills. Oof. I experienced feelings I haven't had in a while. But, it was very race-like while still being safe, which made it so, so fun. There were even some unplanned counter-attacks, which really mixed things up in our group. We also had a pro-photographer, Carson Blume, along, who made us look really fast and furious. Some of the group headed out for an extended ride. Others of us rode back to chill by the pool and drink beer. I love the ride they were doing, but heeded the call of the recovery time.
Sunday night, we descended on Vallarta Restaurant with no reservations and 30 people, which kind of threw them, but they were very accommodating. My mom and dad were able to join for dinner, so that was cool. The restaurant was close to the hotel, allowing margaritas to be consumed and we could stagger back. Mom and Dad stuck with the requisite Diet Coke, since they were driving. It was a festive time, and Carson did a nice slideshow of the pics after dinner. Sweet! Again, we ended the evening fairly early.
Monday promised an "easy" ride along the coast to Cayucos. I was hoping that "easy" would be the case, since I was starting to feel like I was at a stage race. We did actually start at a nice, leisurely pace. Everyone seemed a little bleary-eyed and unfocused, so I left a bigger gap than normal in front of me. We had just gotten out of town on Highway 1 near the "Men's Colony" when I saw some bad swerving going on a few rows up and a rider go down. Fortunately, everyone else was able to stop without going down or running her over. It was Susie. Apparently, she'd hit a HUGE rock, lost the bars, was almost able to steer out of it with her body above the top tube, but then lost it. I was so sad, since she was looking forward to seeing the ocean all weekend. It seemed like she probably had broken ribs, so a friend was called to take her to the hospital while we finished off the ride.
The rest of the ride was nice and mellow. Everyone got a little more focused after that. We enjoyed ample tail winds and another warm and beautiful day with salty air. After 45 miles, we ended back at the hotel, did a quick change and quick lunch at Firestone and headed home.
On Tuesday, it was the BIG DAY. The college had set up a viewing room with breakfast for us to enjoy the inauguration. Unfortunately, there was no heat, so it was a lifelike Washington, D.C. experience. It was a little weird sitting teary-eyed with co-workers that I don't know well yet. But, we were all moved to some extent by the historic moment, so it wasn't like I was an anomaly. Even those who didn't vote for Barack seem pretty excited and moved by what the moment in our history represents. I feel like we are all pulling for him and rowing in the same direction – at least for the moment. I hope this sentiment lasts and we can work together (even where we differ) to make this a better nation for all of us.
After all the physical exhaustion, thrills and emotional highs, I felt like a deflated balloon yesterday afternoon. I was back to the mundane. At least I feel like the work I'm doing is making a difference and will contribute to that better society that I want to be a part of. So, time to put down the intervals and winervals and start with some bookervals!
---
This fabulous post was written by one of our awesome bella volunteers ~ To change this standard text, you have to enter some information about your self in the Dashboard -> Users -> Your Profile box.
---