Jano's Report: Delta Lake Tri, August 22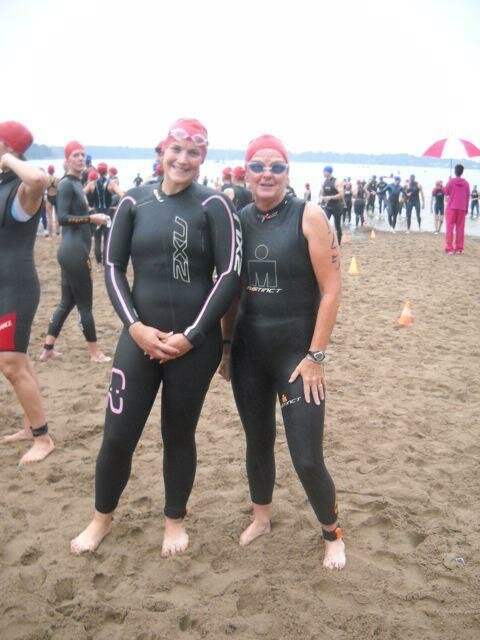 Kristen M and Jano posing at the start.
Waking up knowing it was going to be a very rainy day I was not too concerned, because I like to be cooler for triathlons, well, careful what you ask for!
I had my very big and cool support crew – husband Hans. It is so much easier to have someone there to say "hold my glasses", "hold my wetsuit", "go get me a coffee", "find me the bathroom!" I saw Kristen and we discussed various extremely important strategies. :o)
Off we go! Men first, women second. It was a tight out and back course. I really love the swim when just a few years ago I was terrified. Anyway, off to bike felt slower in transition but OK.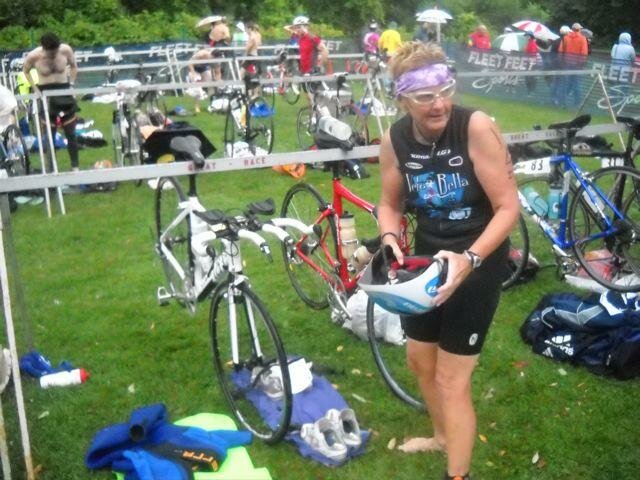 Felt great to be on bike and I was using a borrowed aero helmet to try in race. I look like a character out of star wars according to my son. Cool!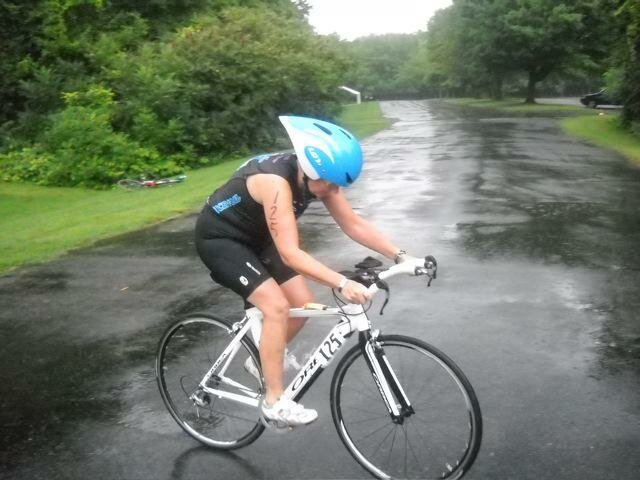 At mile 5 I noticed glass and then, boom FLAT!!!!! Crap. A frickin' beer bottle, I HATE beer bottles!!!!! I have learned to be patient and not dwell, so I got off tried to compose to change it. Wow, new tires HARD to remove with one tire iron, RAIN with grass, grit, more rain but I managed after about 10-15 minutes which felt like an eternity…I must practice flat changing more….Got back on bike praying to the tri gods that it will hold. Two out and back turns fairly rolling flat course, POURING now! A little discouraging to get back to transition and seeing I am way behind.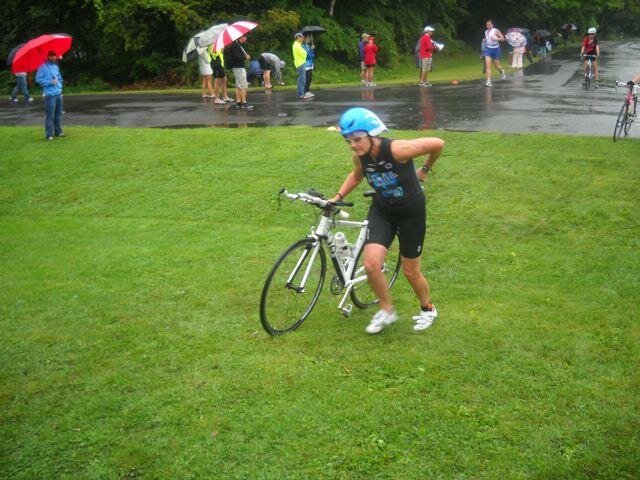 Buck up! off to run 3 loop course around Delta Lake campground nice course.
Ended up 4th in 50-59 age group. Not worried, I was happy to have continued whole race with a fairly good attitude, not getting hard on myself….big improvement this year.
Kristen did well; she came in 2 in her 30-34 age group. All-in-all a great course recommend it to all.
Last pic, this is husband Hans "celebrating" our son Lars' 13th birthday post race. Note gleam in Dad's eye…
---
This fabulous post was written by one of our awesome bella volunteers ~ To change this standard text, you have to enter some information about your self in the Dashboard -> Users -> Your Profile box.
---