Name of race – Carpinteria Triathlon
2. Location of race (State)
Carpinteria, CA
3. Date of race Sept 26, 11
4. Name, placing and category
of all bellas: Raja Lahti, 35-39. 2nd age group. 5th Overall Female
5. Link
to results – http://results.active.com/pages/displayNonGru.jsp?pubID=3&rsID=117805
6.
Podium or other type of pics if you have them.




Carpinteria Triathalon, CA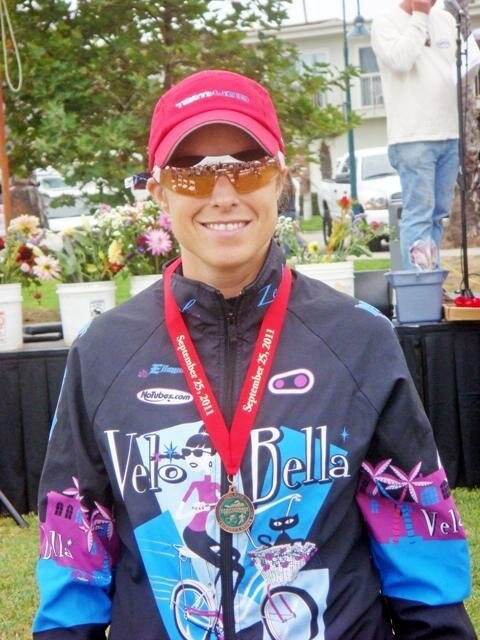 2nd, Raja Lahti, Women 35-39
Kisscross Highland Park (Grand Rapids), MI
2nd, Erin Lumbard, Women C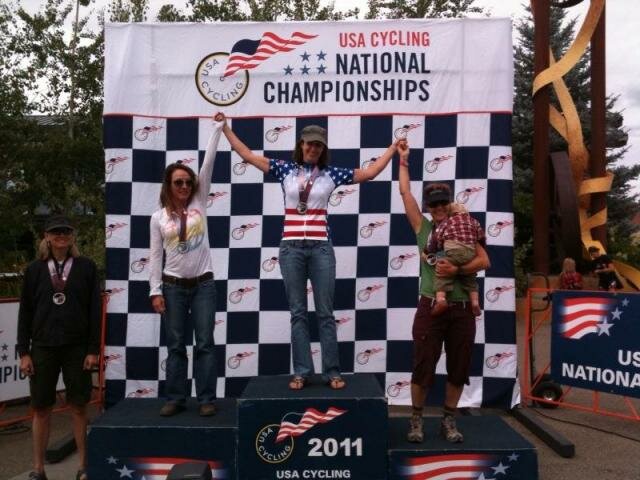 USA Cycling MTB Marathon National Championships, OR
1st, Erika Krumpelman, Women 40-49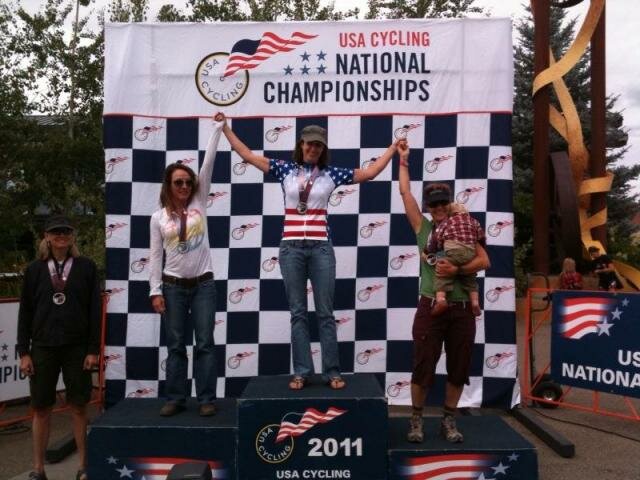 Erika Krumpelman, out of Hayden, Idaho, recently won a stars & stripes jersey and here is her report on the day:
Although normally this weekend would be the first big cyclocross race of the year in Seattle—Starcrossed—I decided to take the endurance fitness I had been building all summer and race Mountain Bike Marathon Nats in Bend, OR. I've heard that the trails in Bend are some of the best around, but I've never had the chance to ride them. On Friday, my husband and I were able to ride about 10 of the 52 miles of trails. They were dry, sandy, dusty, and fast with a few technical rocky sections that I predicted would require a quick dismount and run up.
On race morning, nerves were going strong. I had already worn a path to the bathroom and the hotel housekeepers were probably beginning to wonder if we were stealing the toilet paper. Fortunately, while I was waiting for staging, I got to meet a few of the other 40-49 year old women from around the country. A little visiting and laughing eased the nerves and I was able to get focused and ready to race when we lined up. Before hitting the dirt, we had 7 miles of gradually climbing pavement with a slight headwind. I decided to ride at a pace I knew I could maintain and see what happened. After a short time at the front, I looked back and had two ladies with me. When I pulled over the let one of them take a turn at the front, neither pulled through, so I decided to push a little harder to see if they followed. They didn't, so I continued climbing the pavement alone out front wondering if I was being incredibly stupid. Once I turned off onto the dirt, I looked back and could no longer see the rest of the field. I started working my way through the 30-39 women's field who started 5 minutes before my field. I was also catching some of the older men. Again, I was wondering if I was being incredibly stupid, but I was monitoring my heartrate and knew that I could maintain that effort for several hours. Eventually I was racing with the 2nd place 30-39 year old lady and it was nice to have company! For the last hour or so I became paranoid that something was going to go wrong— a crash, cramp, flat, chain break—anything that would bring my race to a screeching halt. When I hit the last short section of singletrack before the finish, I was able to breathe a HUGE sigh of relief. My beautiful pink Ellsworth Truth had brought me swiftly and safely to the finish line! I had won! I had actually won! After daydreaming about the possibility through endless solo training rides, it was wonderful to pull on the stars and stripes jersey and have my dream come true!
I've attached a podium picture. Thanks for reading!
Luna Bar Triathalon, CA
13th, Julie Porter, Women 40-44



Southern California/Nevada Cycling Association Elite State Track Championships, CA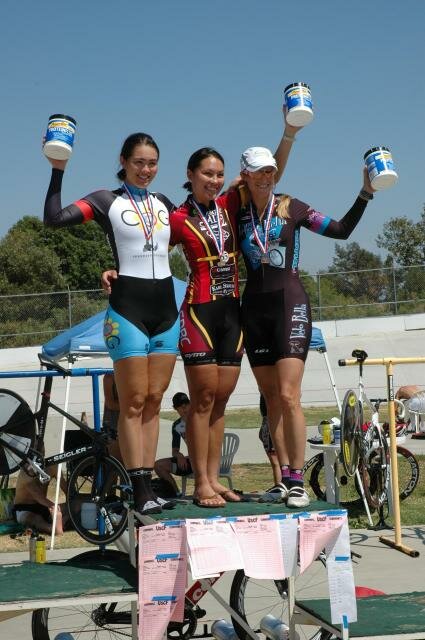 4th, Raja Lahti, Women's 3K Pursuit
3rd, Raja Lahti, Women's 500 Meter Time Trial
Kisscross Plaster Creek (Grand Rapids), MI
1st, Monica Tory (Mootika), Women 'A'
1st, Monica Tory (Mootika), Women 'B'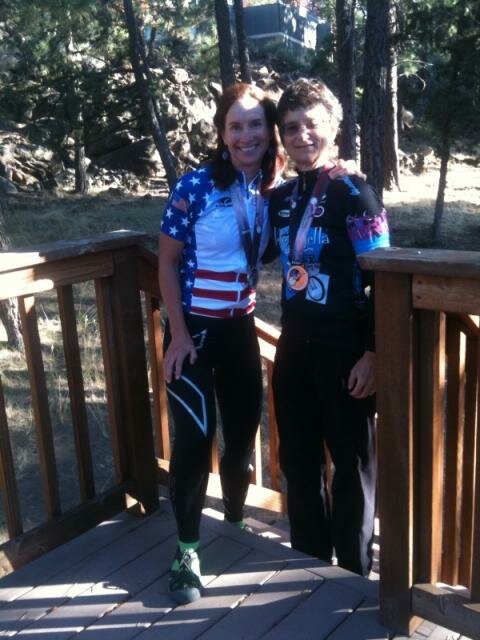 USA Cycling Masters National Road Championship, OR
5th, Marsha Kirschbaum, Women 60-64 Individual Time Trial
1st, Liz Benishin & Julie Kaplan, Tandem Women 110+ Time Trial
18th, Andrea Atkins, Women 40-44 Criterium
7th, Marsha Kirschbaum, Women 60-64 Criterium
1st, Liz Benishin & Julie Kaplan, Tandem Women 110+ Road Race
by Marsha Kirschbaum:
The West Coast got lucky this year with Masters Nationals being held in Bend, Oregon. We stuffed our Prius to the max with the TT Bike and Road Bike and all of the wheel choices that I owned and headed up to Bend where we shared a house with 2011 Bella National Champion Liz Beneshin and 2011 Bella Supporter National Champion Julie Kaplan. We got lucky as our house was within minutes from the courses. I entered the ITT and criterium.
No matter how much research one does for the courses, they have surprises for me when I actually see them. This year's TT course was very technical with a gradual climb out and descending return to a 90 right turn onto the technical part which everyone nicknamed The Lollipop due to its shape. The "stick" consisted of a few sweeping rollers through high desert terrain of sage brush type plants and a few pine trees. There was construction on this part of the course as the whole area looked to be a planned development surrounding a golf course, and contractors were laying pipe along side of the road. The "stick" went into a round about — Bend is full of these things — which started the "lollypop" circle. This became my first challenge, how to take this thing at speed as we headed into it going downhill. I practiced this about 10 times trying to get the right lines and getting the shift timing for the hill that started right after. The next challenge for me was the left hand turn in the middle of a down hill, which after the turn was made became a short steep uphill. After a few chacanes and another round-about, you were back to the stick and the return trip to the finish.
The morning of the ITT was cold. Lucky for me, as I don't do so well in the heat. Down the ramp I went and had to curb my excitement a little so I don't blow up on the climb for this first part of the course. I knew I had to save my energy for the LollyPop w/ its rollers. I hit the first turn around and now I can turn the gas on a little more for the downhill. I was flying along around 29 -31mph. Up comes the first 90 degree right turn. What the heck is that orange fencing? It seems that due to the construction, the organizers have divided one lane into two lanes for us, leaving the other lane for construction works and their vehicles. Ohhh this is going to be a tight turn. I'm around it and driving my legs inside the little orange chute made of fencing and cones. At last I am past that and feel a lot freer w/out those boundries. Now comes the round-about and I take it as fast as I dare, hands on the sides, in as straight a line as possible which exit takes me close enough to the curb but I'm okay. Up and over the hill and set up for the next left turn into the middle of the hill. I take it fast enough that I can let the momentum take me over the top of the hill without having to change gears. It's flat for a little while and then down I go still in the bars into the chacane. Oh Sh_t! Yes, they did pave over the dirt like they said they would, but the construction equipment is still there and it makes for a narrower road. I come out of the bars and tap my brakes just a little to make my turn. After that I know I can stay in the bars and pour on what power I do have as the road is wide and very slightly downhill to another left hander. I'm through the development gates, which are now open to us (on recon – we had to trip them with a car or duck under), over a slight rise and now the right hander back through the round-about, which I pedal through, to the "stick" part of the course and return. As I drop over the last down hill I see the one lane divided part of the course with a course marshall waving her flag and saying 'go to the right, go to the right" My brain cells are starting to die off or dehydrate and I'm thinking, which right? There looks like 2 rights or a right and a center. In my confusion, I slow slightly, finally figure it out and enter the "chute" again for the finish. My time is good enough to get me on the podium in 5th place! I am very pleased.
I entered the criterium the next day as — well — it was short compared to a road race, after the ITT, and when I entered the course only had 4 corners. When I got there, the course was still short, but the location changed and 4 corners were now 7. On the day of the crit, Bend had a freeze warning with an admonition to its residents to protect tender vegetables. Based on the good advice of my housemates, I warmed up in the house, driving to the course with just enough time for a couple of practice laps. The good news is that I stayed with the pack the whole way. My legs however weren't up to any sprinting and yelled at me when I tried. I did have a lot of fun though and finished 7th.