Help send Amy Dombroski to Worlds in Italy, and donate to Breast Cancer research and look stylie as a bonus.
Thanks to the generous support of DeFeet, Velo Bella is pleased to offer these special wooly warm calf length socks.
Price is $12/pair and 25% of proceeds go to Breast Cancer research, while 75% will help send Amy to CX Worlds.
Contact if interested, but hurry!!
More info HERE
(Here is Andrea's report on the Bellas win in the Northern California/Nevada Team Trial Championships in the 35+ category, held in Davis CA at the Steve Dunlap Memorial Time Trial):
I finished my warmup, zipped up my skinsuit, donned my aero gear and headed to the start.
I was ready.  Prepared, fit, warmed up, pysched.  Except I had to pee.  But we were lining up for the start
in 3 minutes.  Not enough time to execute the skinsuit-porto-potty gymnastics required.  I rolled up to my
teammates, and realized I had left my water bottle at the car.  It's Davis.  It's hot.  It's windy.  I need 
water.  With T minus 3 minutes I sprinted to my car through the dirt and gravel.  I couldn't believe they were 
starting us in a gravel driveway!!  I grabbed my bottle, hopped on my bike, and then decided I DID have time to 
take a "natural break."  I meandered over to the park bathrooms, and did my thing, taking time to wash my hands 
thoroughly with soap and water.  As I was scrub-scrub-scrubbing, I could hear the officials calling our team.  
EEEEEKKKK!!  I'm gonna miss the start!!!  I ran out of the bathroom, hopped on my bike, and started pedaling as 
fast as I could back through the gravel.  And then I woke up....     When I realized it was just a bad dream, 
I got out of bed, ate breakfast, packed my gear and drove to Davis, where they DID park us in a gravel lot!!   

When Liz texted me last week about joining her in a 4 person team, I immediately blurted out, "Heck no!"  
Actually I used a different word, but it is very bad.  After my knee jerk reaction, I allowed myself to 
consider it.  Hmmmmmm...let's see.  A few years back at the Pinole 2 person TTT, I was taking a pull on a 
slight uphill grade at a heart rate of 183 when Liz rolled by me and said, "Here!  Get on my wheel and 
recover.  The big climbs are coming up!!"  I dropped in behind her and drafted.  My heart rate dropped to 181 
and never came down.  And the real nightmare was the 4 person TTT on Altimont where I contributed to our losing 
the district championship to the other team by 8 seconds.  Even though I tried to forget it, I keep thinking, 
"if they'd only cut me loose sooner!!!'  Both times I practically barfed.  One of those times I cried.     
Then my inner coach kicked in and convinced me to consider the positives:  it would be great practice for 
Sattley, maybe I would learn something by TT'ing with other women who are strong, I'm more fit this year, I 
have aero equipment, and IT'S FLAT!!!!!!     I'm in.  And excited.  Maybe we can get the medal and cool 
Champ jersey!!   Leading up to the race I was relaxed and in "the zone."  Heidi called me just as I was 
exiting I-80.  She said she was lost.  She had just exited I-80 too, so it was easy to find her.  The highly 
visible Golden Arches served as our landmark.  Note to self:  purchase ice cold Coke on way home.  We 
arrived, checked in and warmed up.  I took care of all my pre-race routines with plenty of time to spare and 
carried my bike across the gravel to the PAVED road where the start was.     The first half of the race was 
glorious.  Flat, warm, and fast.  I took some solid pulls, and even felt that I could go faster, faster, 
faster!!  But Yvonne and Liz had warned us to reserve energy for the last half, which was into a strong 
headwind.  Making the turn to the North, Liz took the first pull into the wind.  I was on her wheel.  Heart 
rate:  181.  Oh No!     "EASE!" I cried.  She did.  All this time I'm worried that the Velo Girls are gaining. 
Must keep pushing.  Must keep pushing.  When my turn at the front came, I rotated straight to the back.   
Recover, recover, recover. Recover?  OMG!  These girls are STRONG.  We got a respite when we took a jog to 
the East.  But in a short while we were on the final headwind leg to the finish. Again I had to ask for the 
pace to ease and I began to wonder where the Gosh Darn finish line was.  Finally, we could see it in the 
distance.  We pushed hard.  We finished strong, all together, and I didn't quite throw up after crossing the 
line.  I waited to be sure no Velo Girls showed up within the start gap.  We were safe!  WE WON!!!   We 
waited a while for the podium, which was not big enough for teams of 4, but we managed, with 3 on top and 
Heidi mugging for the camera on the lower step:
District Champs!
We got water bottles, T-shirts, medals, money and NCNCA Champion socks, plus the link to order fancy State 
Champ kits!! Gold Medals!

It was a great day, with great teamwork, and it felt bad in a good way.  Or good in a bad way.   Thanks to
Yvonne for orchestrating this, to Heidi for her natural ability and sheer willpower, and to Liz for renting 
my legs rather than ripping them off!   In fact, other than ALMOST blacking out once and ALMOST puking once 
during the race, the only other negative is that the socks were too big: Podium pup modeling medal and socks.
They really DO extend several inches out in front of her.  We REALLY need to talk to the Sock Guy about 
this!!

 Thanks for reading,
 Andrea
By Beth Welliver
Pacific Grove, California
I used to think I was a distance runner. It must have been a phase to transition me from my soccer playing days to something else. I ran a few 1/2 marathons and did a full marathon and was all ready to tackle a 50-km trail run, but running hurts after awhile and I skipped the 50K. Then I moved to California and just had to buy a bike. But I was still all about the long distance thing, so I thought I should do long distance mountain bike races, and really for no reason other than that I thought I was some sort of endurance athlete or that I wanted to be some crazy endurance athlete, and I had a mountain bike that I sort of knew how to sort of ride on singletrack. So last year I did the craziness of Boggs 8-hour mountain bike race on a brand new full-suspension that I sucked at riding. But I survived and had so much fun that I decided to do it again…and bring people with me! Somehow Natasha and I convinced each other to do it (she says I convinced her, but I think it was really her idea to do it this year).
So fast-forward another year. I figured out how to ride my full-suspension bike at a reasonable, yet still significantly slower than most, downhill speed. And I gained a lot of cycling fitness and all that in the last year, too. But I also did a lot of track racing and cyclocross and crits–pretty much the opposite of marathon mountain bike races, but whatever. The pedals go around just the same. Oh, and I'm rocking some serious "thesis fitness" right now as I'd like to call it…I've been lucky to get 1.5 hour rides in about three times during the week and maybe eeked out 3.5 to 4 hours on either Saturday or Sunday, but rarely did I ride on both Saturday and Sunday (except for that stupid Madera thing) in the last 3 months due to demands of finishing my master's thesis. So I really had no expectations going into Boggs this past weekend. I was hoping to match the same number of laps I had finished the year before, but I had no idea what would happen.
Before I get into the bloody details, I have to thank the unbelievable support crew we had! Terry waited patiently at the starting line for the entire 8 hours, keeping Natasha and I hydrated and fed all day long. Natasha's hubby Aaron was there for most laps and made sure we had the right food and lubed my chain when it needed it. Plus Hernando was there and up to his usual heckling shenanigans while Sabine made sure we were all taken care of and saved the day with a cookie for me (more on that later)…plus the three of them all got to go ride the sweet trails up there while we were racing, so it worked out great.
Now for the race…there was this racer announcement meeting at 8 and races were supposed to start at 8:30. Well, the guy talked until 8:25 so I had about 5 minutes to go change and get back to the line. I literally rolled up, set my foot down, and then they started us. Luckily I had 8 hours to get warmed up. The course was exactly the same as the year, so at least I knew what to expect. The first few laps went by easily. The weather was gorgeous, the trails were perfect, the fellow racers were cordial and friendly. There were guys on unicycles and couples on tandems and the fabulous Lorri Lown rocking some awesome pink socks to go with her awesome pink bike (not gonna lie, I'm a little jealous)…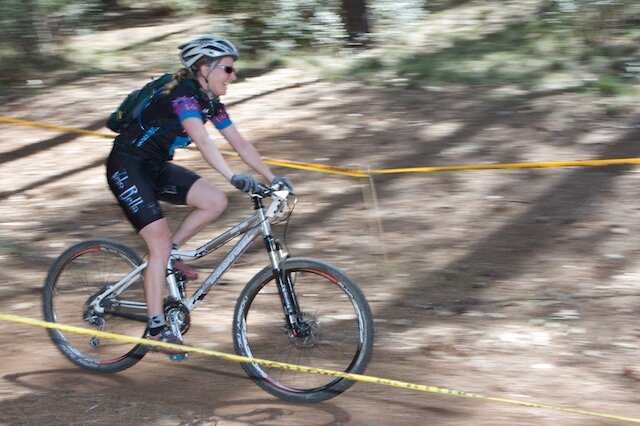 Around 1 pm, people started getting a little crabby. I was still happily frolicking along at my "thesis fitness" pace, but some people wanted to go much faster and wanted me to get out of there way. Most likely because around lap 4 I started going really slow. The "thesis fitness" was catching up with me. After the 4th lap I got the great reassurance from Terry of "you'd better hurry up if you think you're going to do 3 more laps" and "Natasha is about to lap you". Now, I fully expected Tash to lap me, so I was cool with that. She was actually racing as opposed to my putzing. Plus she knew all the secrets of endurance racing after doing the 24-Hours of Adrenaline a ridiculous number of times, like drinking Mountain Dew in between laps. So I made a deal with myself…go until I finish 7 laps or until Tash passes me–then I could drink beer.
Off I went for lap 5…holy cow I'm slow. And my hamstrings hurt. But I made it back around. Terry fueled me up and sent me off and told me to hurry up. So I started out on lap 6. The course had one big fire road climb early in the lap, then some fun, rolling singletrack for awhile, and then a monstrous death march of a climb that went for about a mile up a fire road and then another mile up some singletrack. The first climb was taking its toll on me, but I survived. Unfortunately my hamstrings were getting so tight that it hurt to pedal or stand on my pedals, so I just sat on my saddle and coasted through a lot of the next section. Then came the second huge climb. I noticed that I was getting so defeated that I was starting to do that whiny weird gasping breathing thing I do when I'm on the edge of a melt down and about to cry. So I decided, this is it. I'm only doing 6 laps this year. No one could fault me with all the moving and school and lack of training and general crap we're dealing with right now. But it was less than I did last year, which frustrated me, but not enough to care to do another lap. So I suffered my way to the top of the climb. The Boggs folks were smart when they designed that course though…roughly the last 1.5 miles back to the start/finish area was fun downhill. So the meltdown didn't fully come to fruition and I swooped my way back to the venue where the support crew was there to see me say, "I'm done". Too bad I was still smiling from the last downhill section so they didn't believe me. Plus I looked like a big dofus with my helmet all askew on my head, so no one would take me seriously anyway.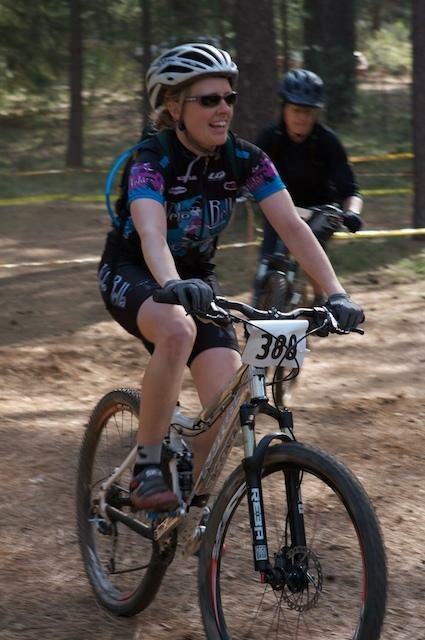 I was all prepared to convince Terry that I was done. He'd talked me into doing another lap last year, so I knew what tactics he'd use to get me to do another lap. I was ready to counter him. But then Aaron said, "its only 3:15, you have have over 2 hours to finish this last lap. You have to do another one". Uh, okay…Then Sabine says, "just stretch for a second and you can go back in a few minutes, you don't have to go right now." And then she said the golden words, "Do you want a cookie?" Yes, YES!! COOKIE! And to top it off, it was a sugar cookie. An unbelievable soft and oh-so-sugary sweet homemade sugar cookie. So I ate my cookie and drank my cytomax while the crew tended to my bike. I told them I would do another lap but I might be crying when I finish. That's how hard the last lap had been for me. Hernando said he'd have a beer to put in my hand when I finished, so fine. I'll go do the damn lap.
Shockingly, lap 7 was not so bad. Maybe because I knew I was absolutely done at the end of this lap because there wasn't time to do another one. Or maybe the after taste of the sugar cookie for the first part of the lap just made me happy. Or maybe because the crew had totally rallied me to get out there and do it. I sucked it up on the climbs and let go of the brakes on the downhills and just decided to have fun with it. My hammys didn't hurt as much any more and I finally had all the fast lines figured out. I made it almost to the very tip-top of the last climb and heard a familiar voice behind me, "Hey Wellie, can I get by?" Yay! Tash was finally lapping me…I knew she was really close to the chic just ahead of her in the expert category, so I was so excited to see her go flying by me and start down the final descent! She rode so hard and was absolutely crushing it for 8 straight hours! Unbelievable. She wound up finishing 3rd in the solo expert category, just 20 seconds behind 2nd place after 8 hours of racing. Awesome!
I cruised down the last little bit of singletrack, pretty tired, relieved to know I was almost done, and going faster than I'd ever ridden that section. That made me happy because improving my downhilling ability has been a slow and frustrating process. I'm still pretty slow at it, but I'm getting faster, and more importantly, more confident with speed in technical sections. I think my final lap ended up being faster than laps 4 thru 6, so I can't complain about that. And I was able to finish with a smile on my face. I did the same number of laps as last year but I think I finished those 7 laps at least 45 minutes sooner than I had the year before. I ended up 2nd in the solo sport category, well behind 1st place, but happy to have survived.
So that was it, last race in NorCal. I'm glad it was a fun one and that I got to share it with some great friends. And extra thanks to Terry for putting up with this whole cycling thing. He's out there at nearly every race, always supporting and helping and cheering and pinning numbers and manning the feed zones and keeping track of water bottles and taking some sweet pictures…and he doesn't even like riding a bike. I'm pretty darn lucky!
Cazenovia Triathlon
Sunday 8/10/08
Tri-Day!
I had been looking forward to this triathlon since the start of the summer, however, life turned pretty hectic and I wasn't able to be as consistent with my workout and sleep schedule as I'd wanted to be. Oh well, life happens! Since the start is just a couple of miles from my house, I had planned on bicycling to the park. And typically, I prefer to arrive at the venue with at least two hours to spare (crazy, I know…pity poor Janet who frequently carpools with me!) However, upon crawling out of bed, I was immediately conscious of the very relentless rain coming down. I scratched the idea of arriving early and savored breakfast and coffee, even took a few minutes to check the weather forecast. The radar showed that the rain had already moved off to the east and with nothing behind it, I figured we might have a decent day. Having tortured my long-suffering boyfriend (Dave) with my tri-day exuberance (he's not a morning person!) and since the rain had stopped, I decided I'd better get going. On my way past Captain Kate's house, I noticed her car was open and she was loading her stuff for her trip to Auburn to compete in the Great Race. Forgetting that it was still early, I hollered out "Happy Tri-Day!" Pity her poor neighbors (anyone sensing a theme here…?) Sometimes my enthusiasm just can't be contained. I did look pretty unprepared for a triathlon; since it was wet and rainy I had street clothes and a rain jacket over my tri outfit. I must have been a sight pedaling through Cazenovia! Kate snapped a quick picture, we exchanged wishes of luck and we were both off.
Registration, chip pick-up, body marking and transition set-up all went very smoothly. I had a bit of trouble deciding what time I wanted to put on my wet suit, as transition closed at 8:00 when the Olympic-distance athletes started. That left me with 45 minutes before my start. Ultimately, the weather dictated that I put it on earlier than later, because I was starting to get cold. I did manage to get a glimpse of Janet running from the swim finish to transition…she had a fantastic swim time and really hustled up the hill to transition. That would be the last I saw of her until the finish! Finally it was time for the first of the sprint waves. Wisely, I had seeded myself in the fourth and final wave. I spent the last few minutes conversing with two other women who were very nervous about the swim. One, doing her first ever tri, started sobbing a couple of minutes before we started. The support displayed from all the other women was very moving and once again, I felt tremendous pride in being involved in an incredible group of people.
The swim pace started fast and I rather surprisingly found myself sticking pretty well to the pace and feeling almost comfortable to boot. I settled into a somewhat steady rhythm and tried to maintain that pace. When I finally had the presence of mind to look for the first buoy, I realized I had strayed quite a bit into the center of the course. I corrected, slowed down and did fairy well for the rest of the swim. I sure wasn't able to run up the hill to transition nearly as fast as Janet, though!
T-1. Well, what could go wrong, did go wrong. My wet suit caught on both arms and both legs, my socks didn't want to go on my feet, I had trouble getting my bike off the rack and to top it off, I was a couple of paces away from my spot when I realized I forgot my race belt with my number. I had to set my bike down and go back for the belt. What fun.
Here's what I look like when I'm trying to quell those evil voices that keep nagging me when I'm not doing so well. I was just thankful that the swim and T-1 was over and that I was finally able to get onto my favorite leg. In case you're wondering, this bike course starts on a fiendishly steep hill out of the parking lot and onto the main road. Leaping onto the bike in traditional tri style is pretty difficult for most people (though I have witnessed Janet mastering it!) and impossible for me. I have to get one foot clipped in before I even think about moving forward. Once onto the main road, it's mostly down hill or flat; then there's a 90-degree right turn and you're climbing another steep hill. To add some excitement, the race organizers offered a hill prime for the fastest time up the hill. Now, I had told myself before the race that I shouldn't bury myself on the hill prime and I thought I was okay with that decision. Once the timing mats were in sight though, that competitive spirit took over and I was giving it all I had.
To my great disappointment, the results of the hill climb were not posted, so I have no idea how I did (I do know that I didn't win, though). I didn't feel as good on the bike course as I usually do, but I did have a better swim and run time than last year, so I guess training is paying off and the three events are evening out for me. I purposely held back a little on the bike, hoping for something left for the run, but I don't really think that strategy worked. I don't think the time I made up on the run was worth what I spent on the bike leg. Oh well, each race there's something new to learn! The good part, though, was that I felt pretty strong on the run; I was even able to crack a smile when I saw Dave on the sideline with the camera! It turns out that I probably held back a little too much on both the run and the bike as I finished feeling better than at any of my previous triathlons. My biking and running could certainly handle the step up to Olympic-distance, but I'm sure my swimming couldn't; so that will have to wait until next year, as I had originally planned. I will conclude my triathlon season in six weeks at the Finger Lakes triathlon in Canandaigua, NY. I've set a goal of 26 minutes or less on that run; lofty but I'm pretty sure I can do it. Now I'm off to go running so I have a chance of reaching that goal!
Completely stolen from The Guiver/Flavill Enterprise
1. Image and style shall be your primary concern. When suffering, one must focus first on maintaining a cool, even composure, and second on performance. Winning races is an added talent, and only counts if said velo bella cyclist wins with appropriate style.
2. You shall NEVER, under any circumstances, wear plain black spandex shorts or any team kit containing non-prominent Velo Bella Logo's.
3. The Socks must extend no less than 2cm below the main bulge of your calf muscle, and shall never extend further than 1cm past the primary calf muscle bulge. All socks shall be pink in colour with prominent logo placement.
4. Cycling shoes must be of pink colour only!
-in certain circumstances, other colours, such as world
cup stripes are perfectly acceptable and encouraged.
-Red shoes are NOT ENDORSED by this group.
5. If pink cycling shoes are not available where you reside, pink booties with prominent logos shall always be worn.
6. You're bike frame must contain more than 3 colours, and must always fit tastefully with your wheel selection.
7. Zipp's are to be used as training wheels ONLY. You shall race only on pink Lightweights and occasionally pink Bora's if no lightweights are accessible.
8. Ridiculously stylish eye wear is to be worn at all time without exception. Along with pink fluff and pearls.
9. In most circumstances, hair shall be kept tied back with pink or blue girly stuff, and matching helmet shall be worn (again with prominent logo placement). Under NO CIRCUMSTANCES shall a clashing helmet colour be worn with your velo bella kit.
10. In several cases, it is deemed acceptable to have short hair. In this event, hair shall be neatly slicked back in maximum velo bella-styling, and helmet shall be worn with fluff attached. Stylish sport eyewear shall be worn at all times while exercising this option.
11. A prominent line where your kit ends and where your tan begins is essential to your image. Artificial tanning is banned, the tan shall reflect the level of training commitment.
12. All podium shots (pictures) shall be taken with the velo bella-rider wearing team kit and appropriately matching casual velo bella shoes (such as flip flops). Socks shall remain within the guidelines above. The rider is expected to display an appropriate amount of cleavage (if available) while receiving kisses/trophy.
13. The seat shall ALWAYS be pink along with the handlebar tape, and must be made in Italy or France.
– Exceptions to this rule are seats or handlebar tape
containing the following colours: Blue,
Olympic Gold, French flag colour combo.
14. You shall not, under any circumstances, acknowledge the presence of a cyclist riding a bike costing less than $4000 USD in a public place. This could be severely detrimental to your image.
15. Legs will be SHAVED year-round. ABSOLUTELY NO EXCEPTIONS. In some cases, certain hair removal creams endorsed by succesful bella's are deemed to be acceptable.
16. A rider will ALWAYS have liniment applied to her legs before appearing in public.
17. Facial hair will be restricted to one or two hairs, and even this is discouraged. Moustaches are EXPRESSLY PROHIBITED.
The only exception to the facial hair shall be very SHORT sideburns–these are acceptable at the discretion of Kate or a similar authority figure, on a case-by-case basis.
18. Pink ceramic bearings shall be used at all time on both training and race bikes.
19. Any physical activity, other than cycling, is STRONGLY DISCOURAGED. This includes any form of work or housecleaning and their derivatives (this includes mowing).

20. You shall never rearrange your package while riding. Adjustments regarding seating/hanging comfort are to be done in private in order to preserve image. ***Disregard***
21. In a circumstance where any cyclist ever displays aggression or disrespect towards you, you shall ride up uncomfortably close to them and slap them in the face with your team issue gloves. (Which must be pink/blue/black)
22. In the event a motorist disturbs your ride, you shall proceed to ride up beside the car, form a clenched fist and bang the trunk of the car while doing your best attempt to sound irritated in French. Wild arm/head are strongly encouraged to enhance the apparent rage. Sometimes crying really loud helps.
23. Training is based solely on feel while racing is be guided by sensations and instinct. A real Bella cyclist never gives in to scientific training methods.
25. ALL BIKES shall feature personalized nameplates next to ones home town located on the top-tube within 10 cm seat-tube ON ONE SIDE ONLY.
26. Pedals MUST be either Speedplay, Time, or Look. No other pedals are to be considered and ANY form of Shimano product is STRICTLY FORBIDDEN. If one is found possessing Shimano pedals, title of Bella cyclist will be stripped immediately.
27. Coffee is a necessity and as such must be consumed strong (ie. espresso) on a patio in Italy in full kit, it shall be drunk black. Sugar is STRONGLY FROWNED UPON. The only milk present shall appear frothed on top (if at all). Of course Baileys is considered an cream full of nutrients and should be used as a post ride recovery drink.
28. All pre and post-race activity will be conducted under a gazebo (this includes massage, interviews, and looking fantastic) leaving one in reasonable distance of the NY-sun to top up your enviable tanlines or pose for photo's.
29. Post-race, you must be utterly tied to your mobile phone, making endless calls to your incredibly attractive euro-boyfriend or important executives from modelling agencies. This will be done under the protection of the post race gazebo.
30. ABSOLUTELY NO FORM of seatbag, frame pump, mud guard or mirror shall come within 2 meters of the bike.
31. Team bikes will be built up so that they violate the UCI weight limit, in order that weights might be attached to the frame to demonstrate its superiority and lightness.
32. Pink bar tape shall be kept in pristine pink condition and NEVER extend further than 3cm past the hoods (exception during spring classics, where standard bar tape wrapping is allowed). This state shall be achieved either through daily cleansing or frequent replacement. These jobs will NEVER be performed by the cyclist as you must maintain your image.
33. Motivational music during training MUST consist of Alanis Morisset, or deep-trance hard-style london techno hereby known as Chomba Wamba. NO EXCEPTIONS.
34. Nothing short of a pink fluff (manufactured by Micheals, joan fabrics) will be used. The only exception is special blue or black fluff which can be preferable in some situations (such as jen our tomboy) where colour coordination is key. Ex. black cage with pink/blue team kit.
35. A pearl necklace is STRONGLY recommended for mountain races, stage races and citizen races.
36. While soloing in for a victory, you will ensure your jersey is fully zipped and straight, so all title sponsors are clearly visible. You will then smile and flex arms while pointing skywards. The projection of ones fatigue is EXPLICITLY FORBIDDEN in ALL CIRCUMSTANCES.
37. When appearing in a photo spread for sponsor's products, one shall appear either fully nude or in full Armani little black dresses. Smiling is prohibited in these instances.

39. And lastly, make sure you notice every other woman out there riding against you, drooling over the fact that you are on the most fun team with the coolest looking kit! Bella's rock.


In late September I was scrambling, pleading to find someone to support me in cyclocross, for a team to ride with. My procrastination was getting the best of me again. I began searching the results for team ideas from all the 2006 local races and from nationals, then Googling the names in attempt to find some sort of contact information. But then what? What to write when you know it is far too late in the year for a team director to welcome you aboard? What to write for yourself when you know it is your own fault for assuming things will work out? Things always work out, right?
Well, actually, yes…everything worked out splendidly. Alex Burgess, Velo Bella – Kona Team Director called me back the next day. Without the normal formality of a phone conversation, Alex got right down to business. "Ok, I remember you being a peanut, so will a 47cm frame work?" "That was a Selle San Marco saddle you were riding right? Was it the Aspide or the Blaze?" "Sidi shoes, right? Kids shoe or do you have to wear triple layers of socks to fit into an adult shoe?" "And your helmet…that Giro looked like a melon on you…we'll get you their smallest size."
Geez, I thought, creepy, who is this guy? This guy is one of the most selfless people in the cycling world. See him in his pink suit with his purple boa – his life seems to be centered on supporting women in this world of a man-dominated sport.
Well that was easy. But then he asked for my goals…something I have never been very good at communicating. I can't remember what I stumble-mumbled out, but after Alex said "…hmm…" I knew it wasn't what he was looking for. "How about you go out there and race your bike when you want to and have fun, and smile for goodness sake!" Wow, pretty laid back and relaxed; this will be a low key year.
From there things turned into a whirlwind of a year. I started riding faster, and with the 2006 U23 title, Alex wanted me at the USGP's. So I started traveling and not only was the support incredible, but I was meeting new Velo Bellas on my new team every weekend. After traveling to races alone last cyclocross season, I embraced this amazing new change, and was so excited to have fun, smart and smiling teammates. I never did meet every single one of my seventeen teammates, but my 2007 cyclocross season as a Velo Bella has left me forever a Bella.
To all the Velo Bellas who made my trip to Worlds possible, I cannot thank you enough; your generosity and support has been overwhelming. Truly, this trip would not have been possible without the plethora of outreach from the Velo Bella family. I am having the time of my life here in Italy and Belgium, racing my bike, enjoying eye-opening new experiences, sampling new and delicious foods, and loving every second. I am happy that I have been able to be a part of the Velo Bella story and look forward to the coming years.
Amy
Treviso, Italy
By Natasha Cowie
Boulder Colorado
Yesterday was the Colorado State Cross Championships in Lyons. It was essentially forty-five minutes of utter stupidity, plus warmup time, although it totally wasn't warmup. It was more like, hey, I'm already dumb enough to be out here in fourteen degrees racing my bike, why don't I ride around for another hour first in order to bring my core body temperature down about fifty degrees and make sure that I feel like I've been sitting in liquid nitrogen. And then I'll claw my way across the frozen tundra to the start line and stand there for another five minutes so that hypothermia can fully set in before the announcer yells go and everybody immediately runs into each other.
Jen and Amy demonstrate race preparation.
The pictures tell everything. Thanks to Chellie and Jim (Tim) and Beth for taking them and for being great great cheerers and cow bell ringers. I would tag your blogs here as a token of my gratitude, except that as I mentioned last post, I do not know how to tag other people's blogs in my own, and this probably makes me an inferior life form. I mean, Amy probably thinks it does, but then she's always damaging my self-esteem anyway, and trying to steal my wheels and stuff. sniff. You're so mean Amy.
It took approximately 52 minutes and two mugs of ovaltine (the classic chocolate malt flavour, in the orange container) to put all this on, and by the time I was finished dressing, I had to pee. It was a long morning.
It takes work to look like a seductive doofus.
And then we raced through the playground from hell frozen over.
So snowy.
Then the race was over, and Amy won some badass socks and a silver medal. Jen tried to steal the entire stack of gold medals, which is as good as winning them if you can get away with it. Everybody hallucinated the whole way home. And the best part! After the race we had snacktime!
Thanks again to everybody who cheered and took pictures. and way to represent Bellas. we had Shannon G, Mo, Amy, Jen, and me. The flair was taking over the field.
Hey, it totally wasn't cold enough. Time to head to Kansas City for the nationals afterparty.
Oh, I think there's a race there too.
She may be humble, but our new NY Bella has style and speed. (Check out the polka-dot socks) She claims it was another tough race for her and that she was caught between two women with 4 laps to go, when her former teammate from the old MinM team did drop off, and Katina had to attack on the last half lap, managing to squeeze out a win by a few seconds. That's all you need!
Good luck in Cooperstown for race #3 in the series, and keep us posted!
By LiLynn Graves
Ithaca, New York
The little town of Ithaca, NY has some of the strongest riders and most humble and supportive of all. I am lucky to have joined these amazing athletes the past few years and participated in the town races held every Tuesday evening after work starting right after the spring forward time change, and lasting right up until the lack of daylight forces us to hold the infamous "pink slipper race."
The true meaning of the name means the summer road races have come to a close, but the legend of the "pink slipper" is so much more meaningful that these folks actually train for this event. There is no set date, there is no purse, there are no actual prizes, but the sincere commitment to the legend is taken so seriously that the casual gathering in the parking lot after the race to ask who won is burned in each riders memory for that entire year until the next "pink slipper."
The actual slipper does exist. It was a strappy pink sandle found on a ride along the side of the road about ten years ago and picked up by a rider which he placed on his handlebars not knowing the future of such an item. From there the legend began and a few years later a beat up old brown berkinstock was added for the B group of riders. They felt they needed a shoe to shoot for also. Now the races have at least 60 folks per race so we have A, B, and a C group.
Last night a most appropriate, run over silver ballarina shoe, found next to a dumpster up on campus was donated to the C group. So the race was a great success and with the weather looking like tornados threatening the race, I was the only chick. Feeling a little nervous about the weather and if I had a chance at winning such an important event, I put on every piece of velo bella war fare I could find. Sleeveless jersey, sleeved jersey over, arm warmers, team shorts, team socks, team vest, pink helmet, pink wheels, pink handlebar tape, pink fluff, team gloves, and I smoked the boys in the C's. I got my name on the silver slipper!
By Angela Brown
Columbia, Tennessee

I raced on Sunday (my first Sport class mtb race), which turned out to be the muddiest race I've completed thus far. The Lock 4 Challenge II was held at Lock 4 Park in Gallatin, TN, on Sunday, September 9. Rain was falling when I left the house, but I had missed the first race in this series because of a twisted ankle, and I wasn't about to miss the second because of Mother Nature.
I arrived to a steady rain. Rumor has it that the place turns into a mudpit when wet. This was only my fourth time on the trail. All three of my previous rides had been in the drought conditions. Sketchy, dry dirt is a challenge in and of itself, so really I don't care either way. Different conditions, different challenges. I proceeded to the sign up table and listed my new racing category: Sport. Already I felt better!
Right during our warm-up and line up time of 9am, the sky opened up and soaked us all in a steady downpour. At least it was a warm rain. Water dripped off my helmet, soaked my socks, and fogged my glasses to the point of no use. When I made fists with my gloves, it was like wringing out a damp dishrag.
With four Sport women lined up to go, the Sport class guys took off ahead of us and chopped up the trail into a soupy mud. I took the first section of the trail through mud that was thick enough, in some areas, to lose a shoe in if you were hiking it.
It continued to rain through part of my first lap, making some sections of the trail very, very interesting. There are parts that will send you down a hill and into the lake if you're not careful. I attacked those cyclocross-style, dismounting and carrying my bike through, then getting back on. My only scratches of the day were from doing this, so I'm not convinced this was a good idea.
Then, I felt myself going down and slowed enough to land softly into some shrubs…face first. My face was covered in leaves. I hope it made some kind of pretty pattern. The turtles came out to play and I dodged at least three on the trail.
The second lap, the water had either receded some, or drained, because things went much better and faster. In my last three miles, the expert guys started catching me (their race started later) so I knew I had to get this thing over with. I stood up to crank it out for the uphill finish.
For my first Sport race, I took 2nd place on the 17.5 mile total course in 2:07. And I slept like a baby Sunday night!
I went for a dip in the lake at Lock 4 afterwards with some friends….fully clothed to wash the mud off of everything. I even had mud in my teeth, and slung it in my eye at one point. You haven lived until you've attempted an eyewash while moving on a bike, lemme tell ya…..
Thanks for reading!