By Boa Boy
Dawn broke over the North Carolina hills to reveal a gorgous valley below our rented house. Shannon Gibson, Barb Howe, Jennifer Tilley, Natascha Cowie and Erika Krumpelman journeyed to Banner Elk, NC contesting the sixth round of the NMBS this past weekend. Morgan Styer and his family joined to support the team and do a little racing over their own.
The XC race began under threatening skies but relented long enough for the girls to complete three laps with an average time of about 42 minutes per lap. Shannon had to withdraw after taking a flying leap off her bike during a tricky decent. Fortunately, her ballet skills came into full use and while ending up spread across a large boulder, walked away from the race with minor injuries to race the following day.


Barb Howe continues to improve her fitness and competitiveness on the circuit with a season high 23rd placing in XC and a strong showing at the Short Track on Sunday.
After finishing 3rd in the U23 Nationals race, Natascha "Clunk" Cowie suffered a bit during the XC race, but recovered well enough to post a fantastic first national-level pro Short Track race on Sunday. Natascha is one to watch for the future. In the meantime, anyone know of any jobs in the Boulder, CO area?
Jen Tilley returned to racing after a long month of illness and no training to post a respectable 33rd placing in XC. Jen has begun transitioning to cross and looks forward to a strong season this year after sitting out last year with a severe collar bone injury.
Erika Krumpelman exemplifies all that a Bella can be. This was her first year as a pro and at the experienced age of, well, older than most of her competitors, Erika battled through adversity and injury to complete a successful season. While her results were never to her liking, Erika is one tough competitor and an excellent role model for all of us reading this blog. Battered, bruised, scarred and perhaps even broken, Erika never quit, never gave in to the second thoughts or the doubts so common amongst bike racers and perservered to finish her season this past weekend with a solid showing in the XC. Barely able to move Sunday morning after a close encounter with a tree on Thursday during practice, Erika cheered her teammates on from the side lines and I am proud she elevated her status to pro. Thanks Erika and CONGRATULATIONS on a fine season.
The final round of the NMBS is in two weeks in Snowmass, CO and I invite ALL VBs in attendance to use our tents as their own and enjoy yourselves while preparing for the races.
Till then
Have fun,
Alex
Northern California/Nevada District Championship Criterium, NV
2nd, Katie Norton, Women 30+
2nd, Monica Neilson, Women 45+
Northern California/Nevada District Road Race Championship, CA
5th, Erika Donald, Women 40+
6th, Sue Lovecchio, Women 40+
10th, Laura Sanchez, Women 40+
12th, Soni Andreini Poulsen, Women 40+
1st, Monica Neilson, Women 45+


By Stephanie White
This past Friday I participated in the Jr. Mountain Bike National Championships at Mt. Snow Vermont, specifically in the Cross Country event. The cross country course at Mt. Snow is a classic New England loop, with a lot of climbing, a .5 mile long mud bog, and a rocky, rooty, terrifying descent.
Essentially, the course climbs to the top of Mt. Snow, a climb broken up by the mud bog and a few technical sections, and then descends to the finish. My race was only 2 laps long, but in the muddy conditions of the day each lap took over 50 minutes. I knew from the beginning that winning this race would qualify me for the World Championships in Ft. Williams, Scotland. Talk about motivation!
I got a good start and followed a DEVO rider named Essence Barton up the first climb. We got a gap on the rest of the field and held it until the end. The climb on the first lap was tense, as we both knew it was between the two of us now. I felt strong and Essence gave no sign of feeling tired.
When we got to the descent I made sure to go in front because Essence, being a downhiller, could easily get a gap here. It turned out not to matter, however, because Essence quickly passed me and had a 35 second gap by the end of the descent. I spent the next 1/3 of a lap chasing her down and caught her, but knew I had to drop her on the climb if I wanted to win.
I opened up a gap on the climb and started the descent with about 20 seconds on her, but Essence caught me halfway through the descent. After that things got scary. There was no way I was going to let Essence beat me on the descent, not when I was the stronger rider and the better climber. I hung with her, pushing myself to go far faster than I wanted to, but miraculously did not crash. 2/3 of the way down the descent there was a short climb, where I hammered and opened up another gap on Essence.
I managed to maintain this gap down the rest of the hill and along the flat to the finish. I was nearly crying as I crossed the finish line and greeted my friends and family as the new Jr. Cross Country National Champion! I leave for Scotland, and the World Championships, on September 1st!
A special thanks to my parents, my sister Libby, my "cycling aunt" Kelly, and my boyfriend Jeff, who were all there to help me and have been so supportive of my cycling. Also thanks to Alex Burgess, Melanie, and Judd, who were cheering in the feed zone, and Morgan and Tim, who were in the pit ready to help with a mechanical problem. I am fortunate to have the support of all of these people and of all the Bellas out there. Thanks!

One of our younger Velo Bellas, Alicia Styer became the 2007 US National Junior 8-10 year old XC Champion last Sunday morning. Nervous yet steely eyed prior to the race, Alicia rolled to the start line intent on smashing the competition, or atleast making it to the top of the first climb without passing out.
As you can see, she not only didn't pass out, she had a smile on her face! Ah, to be younger again…
After tagging along with Catherine Maier (Rad Racing and in an older age category) Alicia was heard to grumble "no gifts" under her breath, and launched a vicious (albeit short) attack on her companions struggling up the never ending technical climb.
For thos w
ho don't know, Rad Racing is a kindred spirit in the cycling community focused on providing juniors an excellent start in the cycling world. Rad Racing is based out of the Northwest and supported by Kona among others.
Fellow junior Catherine Maier who races for Rad RAcing in an older category.
The race ended in fine fashion with a strong sprint to the finish a full minute or so ahead of the competition. Alicia's parents report they have to pull her off the trainer in the winter time and is always pushing her father to make the bike ever that much lighter… Unfortunately, her brother wasn't terribly impressed by his older sister's accomplishment…

One of our younger Velo Bellas, Alicia Styer became the 2007 US National Junior 8-10 year old XC Champion last Sunday morning.
Full story and pics here

By Stephanie White
Congratulations Stephanie and best of luck at Worlds in Scotland!!
Read Stephanie's report here
Velo Bella wins
Naked Crit

Velo Bella Crushes the Field at the US National Naked Crit Championships!
Mt Snow, VT
July 21, 2007
Four members of the 2007 VB-K Pro MTB team contested the 2007 National Naked Crit Championship Saturday night taking home Stars and Stripes and a wad of cash.
Amidst giant crowds of interested onlookers of ALL ages, a mixed field of male and female athletes representing Cross Country, Down Hill and Trials disciplines bore all to achieve glory. After a few warm-up laps and the occassional "feed," your Bella sisters toyed with the field before dropping the Tilley Hammer and launching Barb Howe to victory.
The first team to arrive and survey the scene, our athletes casually rode in circles staying warm and checking things out before deciding whether or not the contest was worthy. Fortunately, after a stop in the tech zone where Head Bella Wrench Boy Tim Brennan gathered clothes and distributed small cap-fulls of warming liquid, our racers took to the course joining an ever increasing number of male and female contestants riding all manner of two-wheeled machines.
While their male competitors launched off the front in the first few laps vainly attempting to display their, well, prowess; our ladies grabbed wheels and tucked-in to conserve their energy before setting-up the Pink, Purple and Blue train for sprinting star and Queen of the Galaxy, Barbarella. Our train firmly in place, Natasha "Clunk" Cowie cranked things up leaving the boys bewildered and out of the breath.
Spent and covered in sweat, Clunk pulled off letting Shannon Gibson take over. Powerful thrusting legs further distanced our ladies from the trailing boys, but alas one final attempt to preserve dignity from a young Down Hilling male brought things a bit closer before Tilley The Hammer thundered forward.
With the bit between her teeth and an eye on the cash, Tilley launched an aggressive assault ultimately sacrificing her body for the team colliding with the offending down hiller at the start of the bell lap.
Seeing her chance and filled with rage over The Hammer's fall, Barbarella took over the reigns and whipped forward displaying the power only a two time World Cross Team member can. With a final race ending explosive sprint, Barbarella shot across the line arms thrust to the sky with victory and a wad of cash in her hands.
Velo Bella had two teams at the Lock 4 Xterra Blast in Gallatin, TN. All relay teams at the event were grouped into a single category. Team 1 placed 7th out of 16 teams at the event….outstanding, considering the co-ed grouping! Team 2 DNF'd because of a flat tire on the mountain bike portion, but still had smiles all around. Just look at that post-race pic for proof!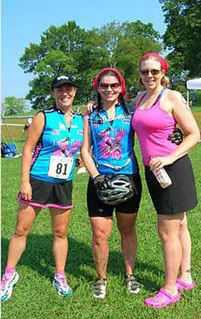 At the awards ceremony, Dee Davis won entry to Xterra nationals by winning a Gatorade chugging contest, and Missy Hulbert took a second dip in the lake that day (fully clothed!) to win a gift certificate for gear on the Xterra website. Who says the fun has to stay within the race clock?!?
Team 1: Missy Hulbert (swim), Jennifer Morehead (mtb), Molly "BB" (run)
Team 2: Abby Olson(swim), Angela Brown (mtb), Shelly Collins (run)
We ain't afraid of no dirt!