A lot of the Bellas here like snow. I'll have to get someone to blog about the cross country skiing that goes on here… 'cause I don't. do. that.
Anyhoo, Maria has been ski racing this winter… and here's one of her Birkie exploit.
By Soni Andreini Poulsen
At a bike race somewhere in California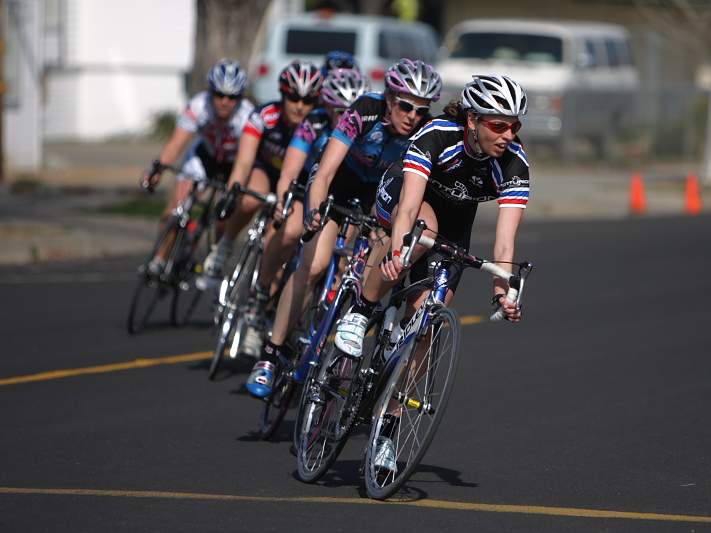 Somehow, I got my best start of the last 2 years and was in the front into the first turn. Happily, Tracie took the pole from me and I rode her wheel for the first lap. It was so great to have her right in front of me. I just followed her line and it gave me much confidence that I could corner on this course. Really, this is the first crit I've done where I wasn't nervous about every corner and losing ground on most of them.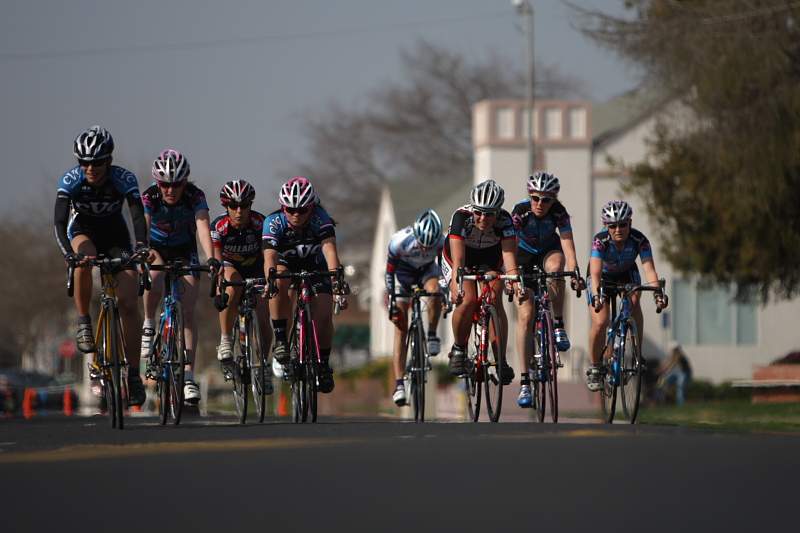 Then Tracie started attacking and attacking and attacking. I countered once, but I was pretty dang pooped from the rest of the weekend and could only do so much. Laps 22 down to 10 seemed to last forever, and I kept thinking they were forgetting to turn the lap cards. I just wanted to try to stay in to do something at the end.

So then Tracie attacked and Ry and I kinda patrolled and controlled as best we could when we could. The last 10 laps (of this 34 lap, one hour race) went a little slower so I knew I could stay in at that point and so got myself in position with 3 to go. Then at 2 to go Tracie went again hard! I almost got dropped and seriously questioned my ability to do my last lap attack that Ryan and I had planned.
But I went anyway, just a bit before the start/finish line and just kept it down. After turn 3, I really felt my power dropping and thought I might pull off. I didn't think I was much help anymore, but Ryan yelled "keep going!" And so I did.
OUCH!
I was ready to die/quit again after turn 4, but then Jeff yelled at me to keep digging, and that kept me going for one more turn
OUCH!
I finally had to pull off after turn 5 because I barely made the turn. I couldn't see straight!
Ry had positioned herself perfectly. When I pulled off, there was one gal between us and she was then in the wind and had to go too early, with Ry on her wheel…
And that was all she wrote. Ry made it look easy!
I don't think the field knew what hit them. We missed all the primes, but we all got t-shirts. Most importantly, we all had a blast and put on a good show for the crowd!
Click for more super-fab photos. All photos courtesy of Steve Weixel, Santa Barbara, Cali. Used with permission. Mille Grazie!
Snelling Road Race, CA
8th, Jenna Kowalski, Women 3
17th, Marian Jamison, Women 3
17th, April Hamlin, Women 4a
17th, Sherri Lehman, Women 4b
21st, Thea Rusthoven, Women 4b
BMW Performance Center, SC
3rd, Jamie France, Women 4
Donaldson Center Road Race, SC
10th, Kristen Weinacker, Women 4
16th, Jamie France, Women 4
When: Sunday March 16th, 3-5pm
Where: Bella Barb's house at 3039 36th Ave S in Minneapolis
Who: All you Bellas, friends and acquaintances interested in Velo Bella
Why: To talk about the great things Velo Bella will be doing this year, sign up for the Ironman bike ride, and put names to faces and meet our wonderful local sponsors
Dinuba Criterium, CA
1st, Ryan Hostetter, Women
7th, Soni Andreini Poulsen, Women
8th, Tracie Nelson, Women
Photo by
Rick Rasmussen
CCCX MTB #2, Fort Ord, CA
2nd, Lisa Zaffarese, Beginner Women
3rd, Cindy Shambaugh, Beginner Women
9th, Michelle Perez, Beginner Women
5th, Katy Kintz, Junior Women 18 & Under
1st, Daphne Hodgson, Sport Women 45+
2nd, Beth Welliver, Pro/Expert Women
.
Norlund Construction Corporate Criterium, CA
13th, April Hamlin, Women 3/4
15th, Katie Norton, Women 3/4
.
5th, Ryan Hostetter, Women Pro/1/2
6th, Tracie Nelson, Women Pro/1/2
9th, Marian Jamison, Women 3
10th, Soni Andreini Poulsen, Women 3
2008 Stump Grinder Winter XC, Los Olivos, CA
2nd, Alex Fabbro, Pro/Expert Women
Kona 24 Hours in the Old Pueblo
1st, Team Weapons of Ass Destruction, 5 Person Co-Ed 200+
(1 Bella Shannon Gibson, 4 Fellas)
.
Cantua Creek Road Race, CA
1st, Ryan Hostetter, Women 1/2
2nd, Sue Lovecchio, Women 3
5th, Marian Jamison, Women 3
7th, Laura Sanchez, Women 3
8th, Soni Andreini Poulsen, Women 3
4th, April Hamlin, Women 4
Cherry Pie Criterium, CA
39th, Natasha Perry, Women Pro/1/2/3
2nd, Andrea Monroe, Women 35+
6th, Julie Porter, Women 35+