photo Sabine Dukes

Peak Season Cyclocross Race #1–Harbor High School, CA
1st, Beth Welliver, Women B
5th, MissMary Perez, Women C
By Jen Tilley
Boulder, Colorado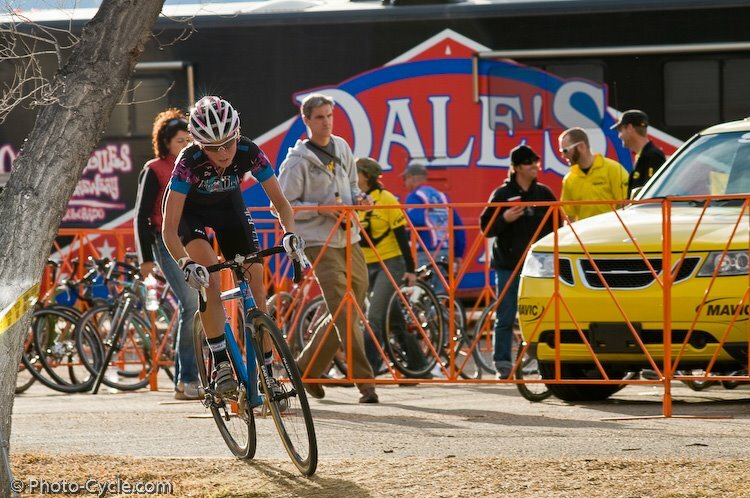 Jen Tilley, Colorado State Championships, Dec. 7th 2008.
The weather was sunny and warm, being a balmy 68 degrees for the last cross race of the season. All season this year the weather has been amazing, definitely not typical cross conditions…
It turned out to be a great race with a good turnout for the women. I ended up 4th with a sprint to the line. With it being one of my better races of the season, it was a great way to end the year. Now its time to relax, spend some time on the snowboard and eat some good food!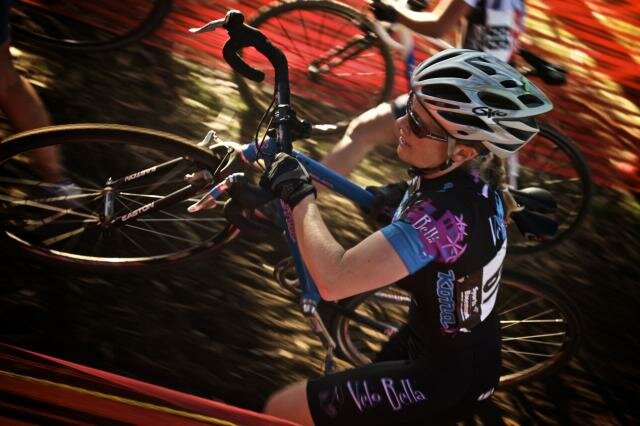 Beth Welliver, on the run at Golden Gate Park. Bay Area Super Prestige, Race #4.
Photo copyright, Terry Welliver, used with permission.
Central Coast Cyclocross Series #6–Fort Ord Day Camp, CA
4th, MissMary Perez, Women C
3rd, Amy Abele, Women 45+
1st, Brenda Mai, Junior Women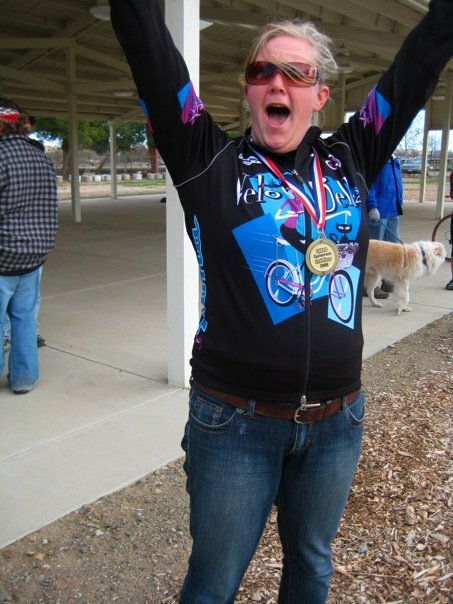 LARPD Cyclocross Series #8, CA
2nd, Yvette Crockrell, Women 35+
2nd, Rebecca Dyas, Women C
7th, Brittany O'Dale-Ming, Women C
USA Cyclocross National Championships, MO
3rd, Anna Milkowski, Women 30-34
16th, Melanie Swartz, Women 30-34
1st, Amy Dombroski, Women U23
5th, Amy Dombroski, Elite Women
8th, Deidre Winfield, Elite Women
11th, Kathy Sherwin, Elite Women
16th, Kari Studley, Elite Women
21st, Anna Milkowski, Elite Women
37th, Melanie Swartz, Elite Women
46th, Maria Stewart, Elite Women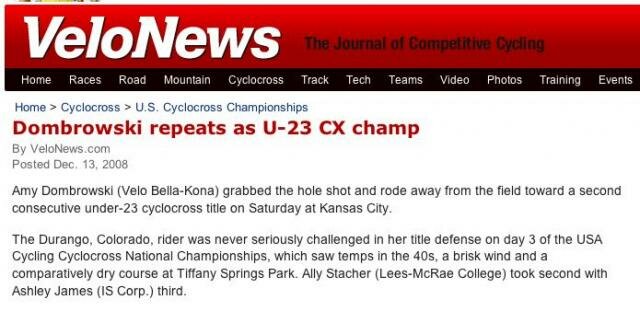 Velo Bella's Amy Dombroski won her second straight U23 national cyclocross championship Saturday in Kansas City, Kansas. Head over to VeloNews for the whole story, and check back here for Amy's report of her adventures!
2008 Capital Cross Classic, VA
1st, Deidre Winfield, Elite Women
USGP of Cyclocross #6 – Portland Cup #2, OR
8th, Anna Milkowski, Elite Women
15th, Barbara Howe, Elite Women
20th, Kari Studley, Elite Women
21st, Shannon Gibson, Elite Women
22nd, Maria Stewart, Elite Women
24th, Shannon Holden, Elite Women
NBX G.P. of Cross / Verge New England Championship Cyclo-Cross #9, RI
5th, Anna Milkowski, Elite Women