Bay Area Super Prestige Cyclocross Series, CA–Final General Classification
7th, Beth Welliver, Women B
8th, Michelle Perez, Women C
15th, Rebecca Dyas, Women C
16th, MissMary Perez, Women C
25th, Janet Lafleur, Women C
36th, Brittany O'Dale-Ming, Women C
2nd, Andi Mackie, Women 35+A
6th, Kathleen Bortolussi, Women 35+A
Bay Area Super Prestige Cyclocross #5–Coyote Point, CA
19th, Janet Lafleur, Women C
20th, MissMary Perez, Women C
2nd, Andi Mackie, Women 35+A
5th, Kathleen Bortolussi, Women 35+A
SoCal Cross Prestige Series #11–High Desert Cross, CA
6th, Cindy O'Gracy, Women 35+
1st, Hannah Eckvahl, Junior GIrls 10-14
NBX G.P. of Cross / Verge New England Championship Cyclo-Cross #8, RI
23rd, Ivy Luhrs, Women 3/4
4th, Anna Milkowski, Elite Women
USGP of Cyclocross #5 – Portland Cup, OR
6th, Amy Dombroski, Elite Women
12th, Barbara Howe, Elite Women
16th, Kari Studley, Elite Women
20th, Shannon Gibson, Elite Women
22nd, Maria Stewart, Elite Women
NBX Grand Prix of Cross #1, RI
4th, Anna Milkowski, Elite Women
By Monica Tory
Kalamazoo, Michigan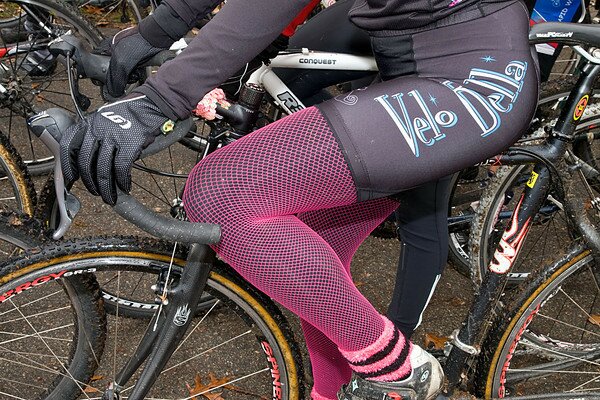 Brrr. True 'cross weather arrived in style (?) this weekend. With our local race promoter facing tough course decisions — cancel? postpone? venue change? — our race plans for the weekend were up in the air all week. We found great backup choices in Chicago & Monroe (MI), but everything came together at the 11th hour & the kisscross race went ahead at a "recycled" park. MANY THANKS to race sponsors Crazy Bastards Cross, for getting creative at the last minute & creating a fantastic course at a park we had raced at only 2 weeks prior.
Flurries of snow, gusts of wind, MUD (naturally), 33oF temps, and MORE WOMEN RACING made for a fun day out. Well, that and the post-race garage party that followed. The course was awesome for the C&B races — fast pavement start, with a bend into a set of 6 stairs (up), mixed pavement and grass into a barrier/hairpin combo, nice little straightaway, ride along a hill, a few funky descending turns through packed sand, and then …. a gushy, squooshy run up. Gushy, squooshy run up complete with TROMBONE PLAYING FAN & his cowbell-laden family! Talk about motivating! Charge !!!! Remount & descend, little bit of single track, massive mandatory puddles, gravel road, and then OILY, OILY soup for several hundred meters. Not sure if it was my tires, tire pressure, lack of skill, lack of power, or all of the above, but that section was tough. I feel bad for the folks passing me, kindly saying "on your right". I did my best to stay out of the way, honest! But the old bike was on autopilot through the slick sections. Past the oil, back to the stairs, wash, rinse, repeat. Absolute KissCross perfection, except for one thing: The A racers (which does NOT include me!) missed out on the oily fun, as the course was rerouted because of the turf damage taking place.
Click HERE for results & future race information. The KissCross series is SUPER beginner friendly, grassroots, and a lot of fun. Come out and play next week (mountain bikes are a-ok)!
Monica Tory, B Women, 5th
By Amy Dombroski
Burlington, Vermont
Woke up to an overcast day with some frost on the windshield, but no white stuff on the ground. We packed the car up for day 2 of psychocross – this time out to Morrison at Bear Creek Lake Park. Dry roads until about 15 miles outside of Boulder, then I had the first bad weather test for my new little dunebuggy.
I suited up…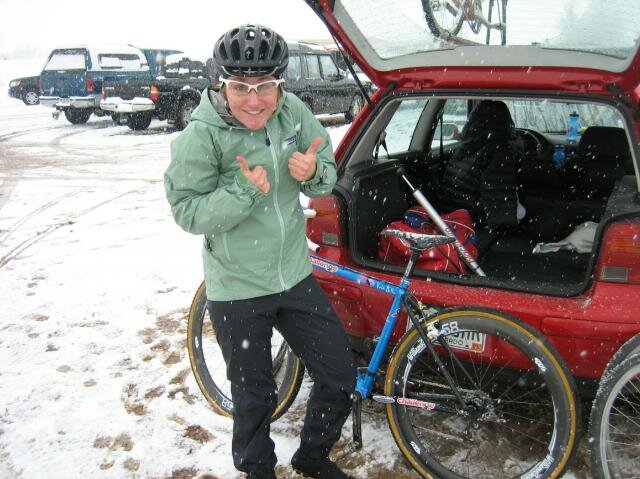 …and hopped on the course, and quickly fell off my steed, multiple times. It was like ice skating in Sorrel boots. I gave the course my middle finger and hunkered in the car, not wanting to race.
But who wouldn't want their bike to look like this?!
It was pretty purdy. And who knows what Portland and Kansas will deliver for conditions?
The secret to having fun was low tire pressure, and staying all loosy-goosy like a noodle. It was definitely a good core workout!
And good to practice my skills – my running skills, bike handling skills, numb-chuck skills, and pitting skills.
Chellie was out cheering her lungs off and snapping these kicking pictures. Thanks!
By Beth Welliver
Pacific Grove, California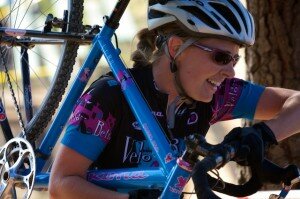 Oh my. It was hard, it was fast, it was full of suffering. I'd been doing a fairly good job of keeping my fabulously scary 'cross suffer face hidden far away until the end of today's race. Then it came screaming back in full force on the final sprint. But we'll save that bit for the ending…
Today was the NorCal district championship for the A's and the master's, but for us B's it was just a regular old CCCX race. But that definitely didn't stop the fast girls from showing up! Lindsay Collins had missed a few races but was back for this one along with the usual suspects – Niki B and Melanie. Right from the gun, or whistle I guess, Lindsay shot up the hill with the rest of us giving chase for the whole first lap. Then on the 2nd lap Lindsay had a little gap on the rest of us when we came around a corner…first we saw the cloud of dust and then there she was picking her bike up. I didn't get to see her after the race but I know she got back on and finished well, so hopefully she's okay!
So now the battle has whittled down to Mel and I. I got a little gap but then nearly killed myself when I tried to start running before unclipping heading up the run-up, so she caught me. That's the reason for the smile in this picture…I was laughing at my retardedness and at the spectator that gave me a "whoa Beth!" as I struggled to keep my feet and wheels on the dirt.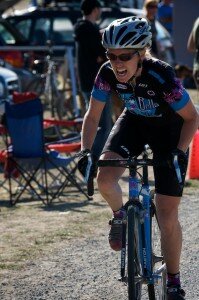 Mel got ahead of me starting up the long climb to the finish line going into the last lap and since she's a much stronger climber than me, she got a little gap. I had to fly down the back side to catch back up and get on her wheel again. We were neck and neck headed toward the last run-up. I was able to duck in close to the tree on the run-up and cut to the inside of her and get my bike down on the singletrack just head of her's. So I now had the lead going into the last bit of the course, but knew that the big ol' hill was just a few twists and turns of the course away.
Here's where I turned scary. I knew I had to crush it up this hill to hold Mel off…as in sprint like its a points race on the track but up the hill. So I stood up. I stomped and pulled as hard as I could on my pedals. And I made the scariest suffering face ever! Its really hard to be panting like a dog and gritting your teeth and hoping that your heart isn't going to explode out of your chest all at the same time. But it worked and I held her off for the win! Terry actually fired off about 10 frames of this suffering beast, but I'll protect the innocent and only post one on here.
It was so much fun to race today against great competition. The mental strategery (that's right, I just used the word "strategery") of being in a race with challenging terrain and fast competitors made it interesting to say the least.
Hats off to Jasmin Parsins…she's a high schooler at Foothills High School in Pleasanton who is hanging in strong with the B's this year and grabbed that 5th place podium spot today. She along with fellow high schooler and B racer Lainey Aldridge from Harbor High are going to be ones to watch in the future I'm sure!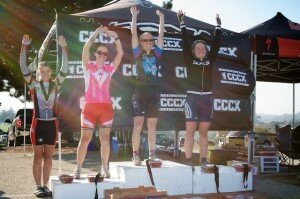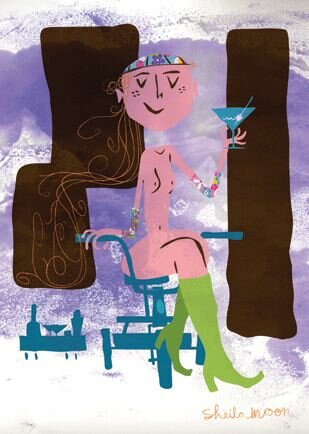 The fabulous Sheila Moon will hold her Third Annual Holiday Sale and Party this Saturday, 6 December. Shop from 10.00 am to 6.00 pm. Then, party until the moon goes down.
Location:
Sheila Moon World Headquarters
4701 San Leandro Street, Unit 102J
Oakland CA 94601
Phone: 510.535.9923
Public Transport: Fruitvale or Coliseum BART. Bike Valet available. Street Parking Available on San Leandro and 47th Streets, PLEASE DO NOT PARK IN THE COMPOUND!
Adult Beverages will be served!
If you can't make the sale, head over to the Sheila Moon website and shop from your couch. All Spring 2008 clothing is 25% off, with "Close-outs" discounted to 50% off.
Happy Holidays!