Suffer Face
By Beth Welliver
Pacific Grove, California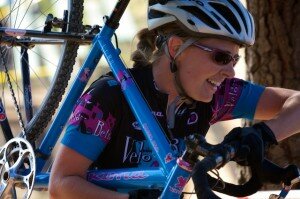 Oh my. It was hard, it was fast, it was full of suffering. I'd been doing a fairly good job of keeping my fabulously scary 'cross suffer face hidden far away until the end of today's race. Then it came screaming back in full force on the final sprint. But we'll save that bit for the ending…
Today was the NorCal district championship for the A's and the master's, but for us B's it was just a regular old CCCX race. But that definitely didn't stop the fast girls from showing up! Lindsay Collins had missed a few races but was back for this one along with the usual suspects – Niki B and Melanie. Right from the gun, or whistle I guess, Lindsay shot up the hill with the rest of us giving chase for the whole first lap. Then on the 2nd lap Lindsay had a little gap on the rest of us when we came around a corner…first we saw the cloud of dust and then there she was picking her bike up. I didn't get to see her after the race but I know she got back on and finished well, so hopefully she's okay!
So now the battle has whittled down to Mel and I. I got a little gap but then nearly killed myself when I tried to start running before unclipping heading up the run-up, so she caught me. That's the reason for the smile in this picture…I was laughing at my retardedness and at the spectator that gave me a "whoa Beth!" as I struggled to keep my feet and wheels on the dirt.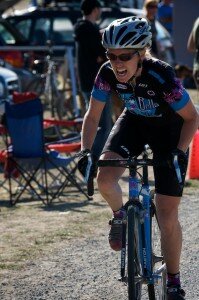 Mel got ahead of me starting up the long climb to the finish line going into the last lap and since she's a much stronger climber than me, she got a little gap. I had to fly down the back side to catch back up and get on her wheel again. We were neck and neck headed toward the last run-up. I was able to duck in close to the tree on the run-up and cut to the inside of her and get my bike down on the singletrack just head of her's. So I now had the lead going into the last bit of the course, but knew that the big ol' hill was just a few twists and turns of the course away.
Here's where I turned scary. I knew I had to crush it up this hill to hold Mel off…as in sprint like its a points race on the track but up the hill. So I stood up. I stomped and pulled as hard as I could on my pedals. And I made the scariest suffering face ever! Its really hard to be panting like a dog and gritting your teeth and hoping that your heart isn't going to explode out of your chest all at the same time. But it worked and I held her off for the win! Terry actually fired off about 10 frames of this suffering beast, but I'll protect the innocent and only post one on here.
It was so much fun to race today against great competition. The mental strategery (that's right, I just used the word "strategery") of being in a race with challenging terrain and fast competitors made it interesting to say the least.
Hats off to Jasmin Parsins…she's a high schooler at Foothills High School in Pleasanton who is hanging in strong with the B's this year and grabbed that 5th place podium spot today. She along with fellow high schooler and B racer Lainey Aldridge from Harbor High are going to be ones to watch in the future I'm sure!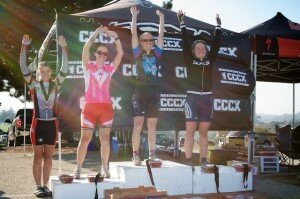 ---
This fabulous post was written by one of our awesome bella volunteers ~ To change this standard text, you have to enter some information about your self in the Dashboard -> Users -> Your Profile box.
---